You want to transfer money to your BDO savings account, but the problem is, you forgot the account number. Before you head out of the house and go to the bank, be aware that there are several ways to know your BDO account number if you have lost or forgotten it. We're here to teach you how.
The BDO account number consists of 10 or 12 digits and is assigned to every BDO depositor or account holder. A BDO depositor can have two or more account numbers since he can open and maintain several deposit accounts such as an ATM savings account, passbook savings account, time deposit, and more. The bank account number is needed for over-the-counter and online banking transactions including deposits and withdrawals.
In short, the bank account number represents a deposit or savings account and ensures that money arrives in the right place. It's important to provide the correct bank account number; otherwise, funds that are being transferred to your account might be delayed, returned to the sender, or worse, end up in another person's account.
BDO Account Number vs. BDO ATM Card Number
The ATM card number is different from the account number. The ATM card number consists of 16 digits, while the bank account number only has 10 or 12 digits. The first six digits in the ATM card number are the Bank Identification Number. Visa card numbers usually start with "4" while MasterCard begins with "51" or "55."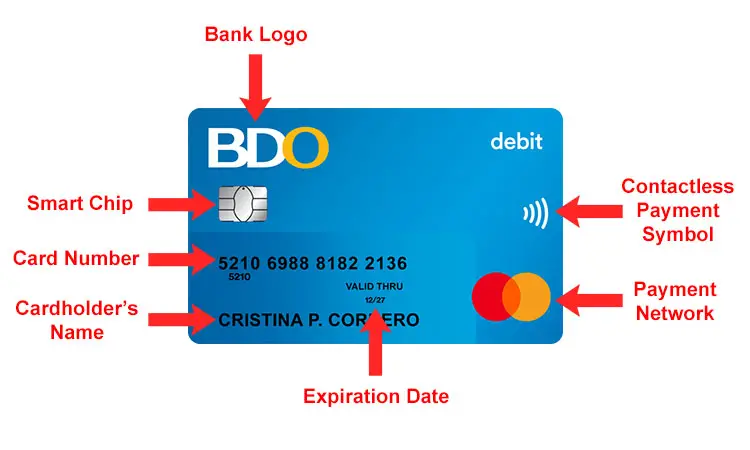 Since ATM cards usually expire after five years, BDO ATM card numbers are only temporary and are changed as soon as you get a new card, whereas bank account numbers are permanent and last for as long as the account is open.
You may notice that other banks' ATM cards have their account numbers (along with the ATM card number) printed on them. That is not the case with BDO cards. Some BDO ATM cards contain only the first 5 digits of the account number, while others have none at all.
It's probably better that way to enhance the security of your bank account. But the problem is that it becomes a bit more difficult to find your account number because instead of checking your ATM card, you'll have to look for it somewhere else. If you don't know where to look, it could take a whole day before you will know your BDO account number!
Luckily for you, there are a few ways to find your BDO account number in case you lost or forgot it. Once you've recovered your bank account number, make it a point to copy or save it in a secure location such as a private notebook or an online note-taking app like Evernote.
How to Find Your BDO Account Number
Here are some ways to recover your BDO account number if you've lost or forgotten it:
Check Your Passbook
If you have a passbook, you can use it to find your BDO account number. The account number is usually printed on the first page of your passbook.
Login to BDO Online
Is your BDO account registered with BDO online banking? Then login to your BDO online banking account to view your bank account number. On the BDO online banking website, your account number can be viewed by going to My Accounts > My Accounts.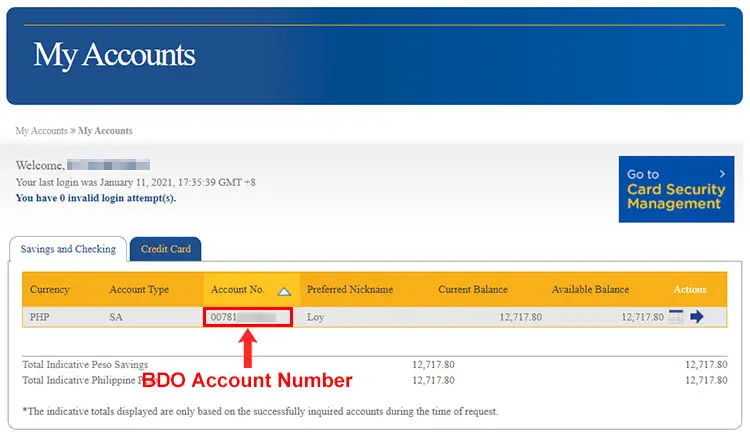 On the BDO mobile app, you can see your account number by selecting your BDO account, which will then show your account details such as the account number, available balance, account type, and currency.
Find Your Old Receipts
If you used to perform over-the-counter transactions with BDO, you might have old deposit or withdrawal receipts somewhere around the house. Printed receipts tend to fade over time but you can try looking at your old receipts and see if you can locate your BDO account number.
Call BDO Customer Service
Another way to know your BDO account number is to call their customer service hotline. Prepare a ballpen and a piece of paper, and call any of the following numbers:
Metro Manila: (+632) 8631-8000
PLDT Toll-Free Hotline: 1800-10-631-8000
Globe Toll-Free Hotline: 1800-8-631-8000
Digitel Toll-Free Hotline: 1800-3-631-8000
Bayantel Toll-Free Hotline: 1800-5-631-8000
International Toll-Free Hotline: IAC +800-8-631-8000
BDO recommends calling during off-peak hours from 4:00 PM to 12:00 midnight, Mondays to Sundays, to avoid long queues.
You may be asked to provide your personal information, so as to verify your identity and confirm that you are the real owner of the account.
Send a Facebook Message
If you're not in a hurry or if you're not able to call BDO, you can message them on Facebook instead. Send a message to the BDO Unibank page and mention that you want to know your BDO account number. You may have to provide additional proof of account ownership such as a photo of your valid ID. Don't give your OTP or password under any circumstances whatsoever.
Take note that due to the volume of messages they receive everyday, it might take more than a day for BDO to respond to your message.
Visit the BDO Branch
If all else fails, you can always visit your nearest BDO branch and request for your account number. Most BDO branches are open from 9:00 AM to 5:00 PM, Mondays to Fridays. Bring along your ATM card and a valid ID.
Final Thoughts
Hopefully, you were able to find your BDO account number without going to the bank and personally asking for it. Remember to copy or save your account number once you've recovered it, so that you may not have to spend hours searching for it. As with any vital financial information, don't share your account number with anyone else, unless you absolutely trust that person.
If you have any additional questions or concerns with your BDO account, call their customer service hotline (+632) 8631-8000. We will not be able to answer your specific questions regarding your account, so just contact BDO to get personalized assistance.