Cashless transactions have become more popular with the introduction of mobile wallets and online payment apps. One such mobile wallet is GCash, a service by Globe Telecom and a pioneer of the electronic payments industry in the Philippines. With GCash, you can pay your bills, send money to another person, buy cellphone load, and make cashless purchases using your mobile app or e-wallet.
There are many reason why GCash is preferable to real cash. One is convenience. With just a few taps on your smartphone, you can pay your utility bills, loans, credit card bills, insurance premiums, and even tuition fees! That surely beats going to the cashier and waiting in line to pay your bills.
Another reason to use GCash is safety and security. You don't need to carry cash because you can use GCash for shopping at select malls, merchants and business establishments. There's no risk of losing your money to a pickpocket because your cash is stored electronically in your mobile wallet. Furthermore, GCash has strong security features that make it almost impossible for bad elements to break into your account and steal your money.
GCash is a really useful application for people like me who prefer the convenience and security of cashless transactions. Even then, using a smartphone to pay bills and buy items may seem difficult for some users who are not that familiar or adept with modern technology.
That is why we have come up with this comprehensive GCash tutorial to simplify things for you and help you understand how the platform works. After reading this guide, you will hopefully have a better idea and understanding of the GCash mobile wallet and can use the GCash app like a pro.
How to Register for a GCash Account
First things first, you need to register for a free GCash account. You don't have to be a Globe subscriber to sign up for GCash.
The best way to register for GCash is by using the mobile app. You can still create a GCash account using a computer by going to this page. However, we recommend using the GCash app to register your account because it's much easier and quicker.
First, download the GCash app on Google Play or the App Store.
Open the GCash app and it will request for permissions to gain access to your contacts, storage, device location, and camera. Choose "Ok." Tap "Allow" on the next few steps.
Choose "REGISTER." Enter your mobile phone number and press "NEXT."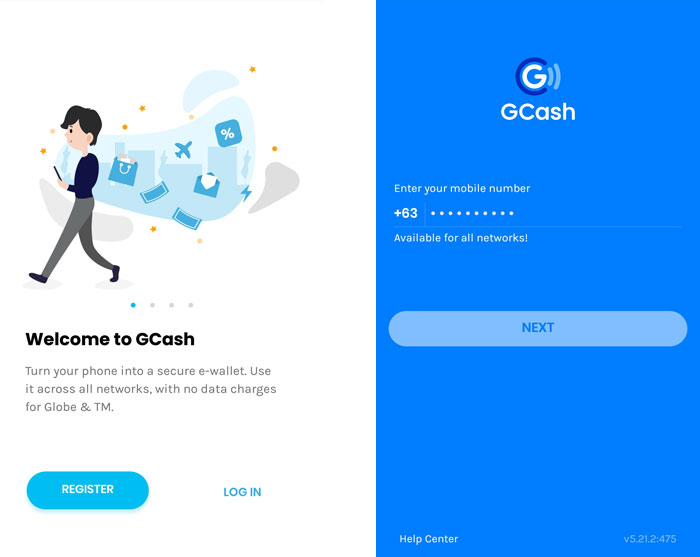 Wait for the 6-digit authentication code that will be sent via SMS. The app will automatically detect and enter the authentication code. Tap "SUBMIT CODE."
Enter your personal information such first name, last name, birthdate, address, and email. Press "CONTINUE."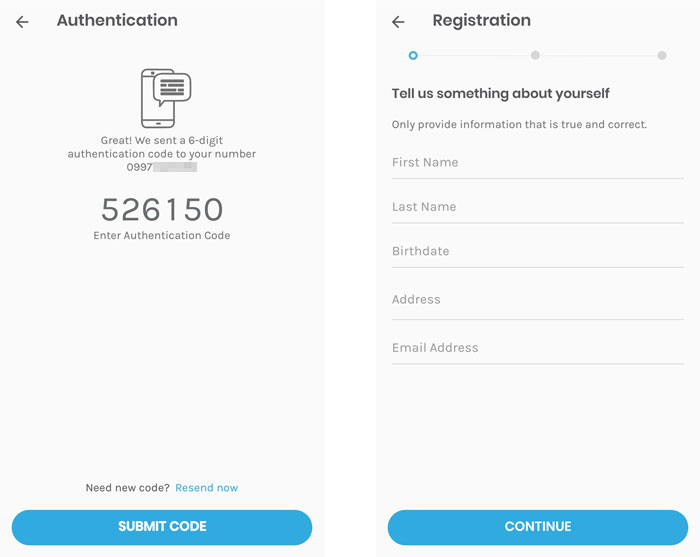 Review your information. If everything is correct, tap "SUBMIT." Otherwise, press the back arrow to make changes.
Create your 4-digit mobile PIN or MPIN. Avoid using an easy-to-guess MPIN such as 1234 or your birthday. Press "SUBMIT" to proceed.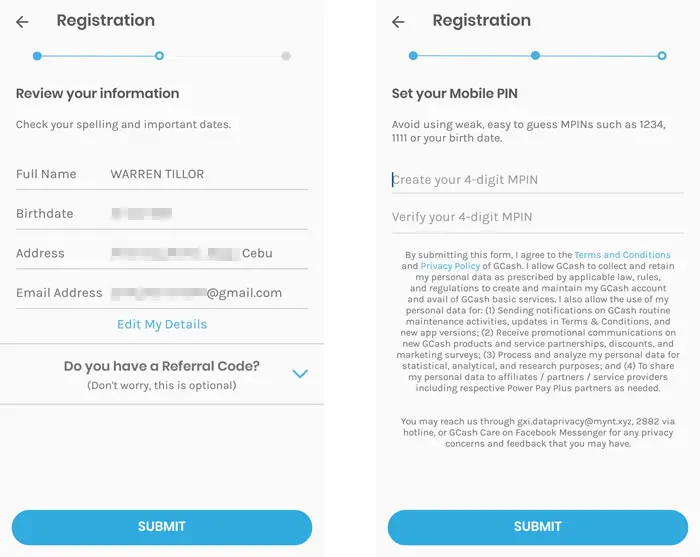 Congratulations! Your GCash account has been created. Remember your MPIN because you will use it everytime you access your account.
Tap "Proceed to Login" to automatically log in to your mobile wallet.
The next step is account verification so that you can enjoy the full features and benefits of GCash.
GCash Account Verification
Account verification is required by the Bangko Sentral ng Pilipinas to protect financial institutions and to ensure the security of user accounts. You might be familiar with the "Know Your Customer" process that banks and remittance centers are doing. GCash is doing the same thing by asking for proof of your identity. This helps prevent the creation of fictitious accounts for the purpose of money laundering and other nefarious activities.
You can still use GCash without account verification, but you will be limited to offline (over-the-counter) cash-ins, bill payments, buying load, and paying with QR code. You won't be able to send or request money, cash out your GCash balance, perform online cash-ins, and many more. To take advantage of the full features of GCash, it's highly recommended to upgrade your account to fully verified status.
Basic (unverified) accounts are also limited to a wallet size of ₱50,000 compared to ₱100,000 for semi-verified and fully verified accounts. Unverified accounts have a monthly incoming limit of ₱50,000 and a daily outgoing limit of ₱40,000, while fully verified users can enjoy monthly incoming and daily outgoing limits of ₱100,000.
GCash has three verification levels:
Basic Level. This is an unverified account with lower wallet size and spending limits. Features are limited and basic level users cannot send money or perform cash-outs.
Semi-Verified. You can opt for this level if you don't want to submit a copy of your valid ID. Only a selfie is required. Your status will be valid for only one year.
Fully Verified. This level gives you full access to all the features of the GCash app, as well as the maximum wallet size and transaction limits.
Check out the table below for a full feature comparison between the three verification levels:
Take note that all users can request money, but only semi-verified and verified users can pay a money request. All users regardless of verification level can also buy the GCash Mastercard but only semi-verified and verified users can use it. ATM and over-the-counter withdrawals are limited to ₱20,000 per transaction.
These are the differences in terms of transaction limits:
Go here to learn more about GCash account verification levels. To learn more about transaction limits, visit this page.
How to Verify Your GCash Account
Account verification is a one-time process and only takes a few minutes. First, tap the hamburger icon on the top left of the screen and a slideout menu will appear. Tap "Verify now" to start the account verification process.
Prepare a valid ID. Here is a list of valid IDs:
Universal multi-purpose ID (UMID)
Social Security System (SSS) ID
Government Service Insurance System (GSIS) eCard
Driver's license
PhilHealth card
Tax identification number (TIN) ID
Voter's ID
School ID with photo
Home Development Mutual Fund (HDMF) or Pag-IBIG ID
Senior citizen's ID
Barangay clearance
Professional Regulation Commission (PRC) ID
Integrated Bar of the Philippines (IBP) ID
Government office or government-owned and controlled corporation (GOCC) ID
Department of Social Welfare and Development (DSWD) certification
Maritime Industry Authority (MARINA) ID
Alien Certificate of Registration
Overseas Filipino Worker (OFW) ID
Overseas Workers Welfare Administration (OWWA) ID
Seaman's Book (SIRB)
Company IDs issued by private institutions registered with, regulated, or supervised either by Bangko Sentral ng Pilipinas (BSP), Securities and Exchange Commission (SEC), or the Insurance Commission
Certification from the National Council for the Welfare of Disabled Persons (NCWDP)
With your ID ready, tap "Get Fully Verified."
Choose your ID from the list.
Take a photo of your ID, placing it inside the rectangular frame with blue borders. Tap "SUBMIT" when done.
Next, pose for a selfie. Position your face within the frame and tap "Next."
Complete the application form. When you're done, tap "Next." Check the box signifying your acceptance of the terms and conditions, and then tap "Confirm."
Wait for the text message informing you that your GCash account has been fully verified. This will take more or less 30 minutes.
You can also have your GCash account verified at any Globe store or GCash partner outlet such as Bayad Center and Cebuana Lhuillier. Refer to this page for a list of GCash partners.
To have your account verified at a GCash partner store, you have to fill up a GCash service form and have your photo taken. You will also receive a text message informing you that your account has been verified.
How to Load Your GCash Wallet (Cash-in)
To use GCash for shopping and paying bills, you will need to add funds to your wallet.
Using the GCash app, tap "Cash In"and choose from a list of over-the-counter, online banking and remittance options.
For your ease and convenience, you can use your phone's location service to find the nearest cash-in outlet. Simply tap "View nearby Cash-In Locations" to do so. Make sure that your mobile data is turned on and the location mode of your GPS is set to high accuracy.
Over-the-Counter Cash-In
Fund your GCash wallet at any of these over-the-counter cash-in outlets:
Cebuana Lhuillier Pawnshop
Palawan Pawnshop
Villarica Pawnshop
Tambunting Pawnshop
Globe Store
Bayad Center
ECPay
Expresspay
Digipay
PERA HUB
7-Eleven
SM Business Center
Robinsons Business Center
Puregold
LBC Express
TouchPay
Shell Select
eTap / Pay & Go
For pawnshops (Cebuana Lhuillier, Tambunting, Palawan Pawnshop and Villarica) and payment centers (Globe Store, Bayad Center, ECPay, PERA HUB, Expresspay and Digipay), tell the cashier that you would like to cash in to your GCash wallet. Fill out the GCash Service Form and write down your GCash mobile number. Give your payment and valid ID, then wait for the text confirmation of your cash-in transaction.
For supermarkets and department stores, go to the SM Business Center, Robinsons Business Center, or Puregold Customer Service center. Fill out the GCash Service Form and include your mobile number and cash-in amount. Present your valid ID and give your payment.
For machine cash-ins (Shell Select, TouchPay and eTap/Pay & Go), choose "GCash Cash-In" and enter your 11-digit GCash mobile number. Enter the cash-in amount and insert your cash payment. Get the receipt and wait for the SMS confirmation.
After receiving the SMS confirmation, check your balance on your GCash app. It might take some time for the cash-in transaction to reflect on your account, so don't worry if your balance still shows zero. Give it half an hour at the most. If you still haven't received the money, open a support ticket.
Online Banking Cash-In
GCash offers the ability to transfer funds from your bank account to your GCash wallet. The following banks allow you to cash in from your bank account:
BPI
RCBC
UnionBank
Asia United Bank (AUB)
Metrobank
Maybank
PSBank
Tap your desired bank from the list. You may have to enroll your bank account by entering your online banking username and password (as with the case of BPI and UnionBank), or by logging in to your bank's website or mobile app and performing a fund transfer to GCash (for AUB, Maybank, Metrobank and PSBank). Just follow the instructions for your specific bank.
You can also enroll your MasterCard or Visa debit card (up to 3 cards are allowed). This makes it possible to fund your GCash account using a debit card from any bank, including those not in the list of supported banks. Enrolled cards have a cash-in limit of ₱1,000 per month. You may verify your card to increase your transaction limits.
Remittance Cash-In
You can fund your GCash account using Western Union or MoneyGram. All you have to do is to enter the expected amount and the reference number or MTCN.
If you have a PayPal account, you can instantly cash in from PayPal to GCash. We have a tutorial here on how to transfer money from PayPal to GCash. Take note that only Philippine currency can be transferred from PayPal, which means that you'll have to convert foreign currency to pesos first.
Things You Can Do With GCash
GCash is truly an all-in-one mobile wallet and online payment platform with a wide range of financial services. With a verified GCash account, you can perform several transactions that used to be done in person, such as paying your electric bills or buying cellphone load.
We'll take you each step of the way and explain how to perform each transaction using the GCash app.
Send Money
You can send money to another GCash user instantly. Just make sure that you have enough balance to cover the transaction.
These are the options for sending money to another person:
Express Send. Send money to another GCash user and he/she will receive it almost instantly.
Send with a Clip. Just like Express Send, but with a photo, audio or video attached. Great for special occasions like Christmas.
Send Ang Pao. In Chinese tradition, ang pao is a red envelope containing cash and given during holidays or special occasions. You can send a virtual ang pao with a few clicks.
Send to Bank. Choose from dozens of banks including BDO, BPI, PNB, DBP, LandBank and more. Just enter the recipient's name and account number (it can be your own).
Withdraw Money (Cash Out)
This option is hidden and you can access it by clicking "Show More" and tapping "Cash Out" under "Fund Management." This should be the first thing that users see upon opening the app, since many Filipinos are unbanked and rely mainly on remittance centers to send or receive money.
You can use the cash out option if you don't have (or don't want to use) a bank account. You can withdraw your money over-the-counter using any of these cash out locations:
Palawan Pawnshop
Villarica Pawnshop
Tambunting Pawnshop
Puregold
Bayad Center
Expresspay
SM Business Center
Robinsons Business Center
Just like with cash-in transactions, you will have to fill out a GCash Service Form and present a valid ID.
You can also withdraw your money from any Bancnet ATM using your GCash MasterCard. If you have none, you can easily order one by filling out the GCash MasterCard order form and paying a ₱150 fee. Tap "ATM Withdrawal" and then "Order Online" to get started.
Pay Bills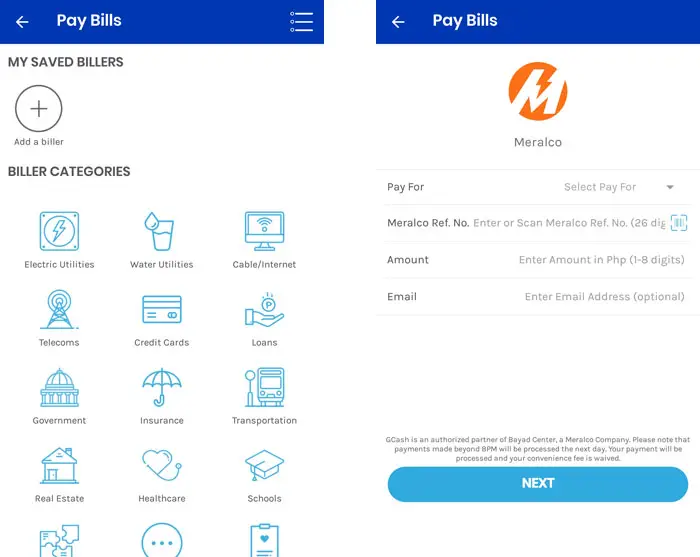 Pay your bills with just a few taps on your smartphone. Tap "Pay Bills" and select the category of the biller (electric utilities, water utilities, telecoms, etc.). Then choose the biller and enter your account details and the amount to be paid. Some billers also accept GCredit.
These are the types of bills that can be paid via GCash:
Electric utilities (Meralco, VECO, etc.)
Water utilities (Manila Water, Maynilad, Waters Philippines, etc.)
Cable/Internet (Cignal, Converge ICT, Globe at Home, SkyCable, etc.)
Telecoms (Globe Postpaid, PLDT DSL, Smart, etc.)
Credit cards (BDO, BPI, Citibank, HSBC, PNB, etc.)
Loans (Asialink, Cashalo, Home Credit, etc.)
Government (BIR, NBI, Pag-IBIG, DFA, etc.)
Insurance (AXA, Manulife, Pru Life UK, etc.)
Transportation (Cebu Pacific, PAL, EasyTrip, etc.)
Real estate (Camella Homes, DMCI Homes, Sta. Lucia Realty, etc.)
Healthcare (Fortune Medicare, Medicard, etc.)
Schools (Adamson, Ateneo, UE, etc.)
Payment solutions (GCash Mastercard, HirNa, PesoPay, etc.)
Others (Caritas, Grab, Red Cross, etc.)
Buy Load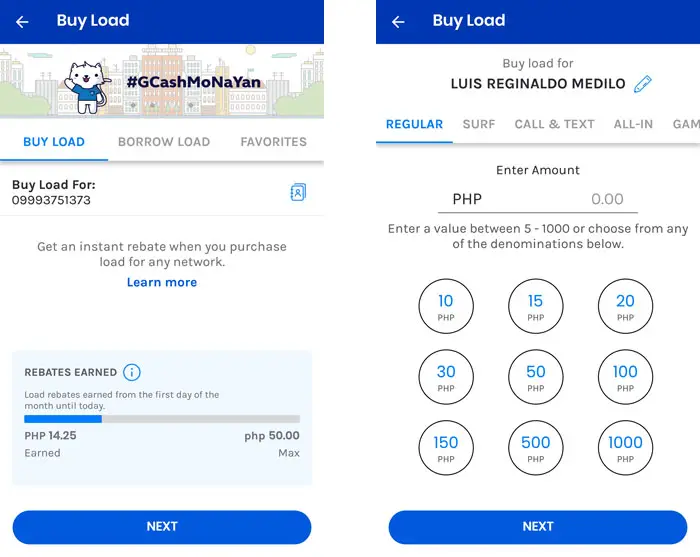 Buying cellphone load is one of my favorite features in GCash. Whenever I need to call or text someone, I turn to GCash to top up my prepaid load balance. GCash offers generous rebates on load transactions so you get to save a little money on your prepaid load. For every ₱100 load, you get a ₱5 rebate so that means you get a 5% discount.
Here's the process in buying load in GCash:
Tap "Buy Load" on the GCash app.
Press the number under "Buy Load For" and enter the recipient's mobile number, or tap the phonebook icon to choose from your contacts. Tap "Next."
Enter the amount or choose from any of the denominations listed, whether regular load, surf promos, call and text promos, and more. Press "Next."
Tap "Confirm" to complete the load transaction. Wait for the prepaid load to arrive in a few minutes.
The Borrow Load service is no longer available but you can soon borrow cellphone load with GCredit. To apply for or avail of GCredit, tap "Manage Credit."
Use GCredit
Don't worry if you run out of cash. With GCredit, you can pay for your purchases or bills even if you don't have enough money in your GCash wallet.
GCredit works like a credit card. Simply shop at a a GCash QR-accepting merchant, tap "Pay QR" on your GCash app, and then select GCredit as your payment option. You can also pay your bills on the GCash app using GCredit.
To avail of GCredit, tap "Manage Credit" and confirm your email address. Fill out the GCredit application form and wait for the confirmation message.
GCredit is linked to your GScore, which is a trust score assigned to every GCash user. Your GScore increases the more you use and spend money on Gcash. The higher your GScore, the higher your credit limit. You can see your GScore in your user profile. Learn more about GCredit here.
Pay QR
Instead of paying in cash for your groceries, food, clothes and other items, you can pay for them by scanning a QR code. There are over 60,000 merchants that accept GCash QR payments. Just look for the sign that says, "Gcash Accepted Here."
Here is how to pay using QR code:
Tap "Pay QR" on your GCash app.
Tap "Scan QR Code."
Scan the merchant's QR code by aligning it within the frame.
Enter the amount to be paid and choose the payment option.
Review and confirm the payment.
Wait for the text message confirming your transaction.
You can also generate a unique QR code or barcode on your GCash app and then have it scanned by the cashier using a QR scanner. The amount will be deducted from your balance after the cashier's terminal successfully reads the QR code. Tap "Generate Code" to generate the QR code.
Save Money
Powered by CIMB, Gcash's Save Money feature allows you to deposit and withdraw money just like a real bank. Users can enjoy the highest interest rate in the country at 3% annually.
You can activate auto-deposit and GCash will automatically deposit money into your CIMB account on the scheduled date.
There's also a "piggy bank" where some of your rebates and cashbacks in the form of GCoins will be stored.
Invest Money
GCash makes it easy for ordinary Filipinos to become investors and gain access to various investment funds. You can invest amounts as low as ₱50.
Tap "Invest Money" and answer a short questionnaire to determine your risk profile. You will receive an email and SMS confirming your participation in GCash Invest Money.
Choose an investment product that fits your risk profile, monitor any changes in your investment value, and redeem your investment anytime you want. To invest in a product, tap "Subscribe" and enter the amount you want to invest.
GCash to Bank Transfers
You can withdraw your GCash funds to over 40 partner banks with no service charges. No enrollment is necessary. Just provide the recipient's name and account number as well as the amount.
GCash to bank transfers are facilitated by Instapay so the recipient will have the money within minutes.
Online Shopping
GCash can be used in online shopping websites such as Lazada and Shopee. You don't need to use the GCash app to pay online. Just enter your GCash mobile number during checkout and then enter the OTP sent via SMS as well as your 4-digit GCash MPIN.
You can also use your GCash Mastercard to pay for online purchases since it's a debit card that's widely accepted by most merchants and sellers. You can even use it to shop at stores that accept credit or debit cards.
Another option is GCash American Express Virtual Pay. It's a virtual debit card that allows you to purchase from international websites with no annual fees. GCash AMEX Virtual Pay comes with a free US shipping address from My Shopping Box so you can buy from Amazon and other US-based stores with lower shipping fees.
Important GCash Tips and Reminders
You can help save the environment by activating GCash Forest. For every transaction or activity, you'll earn "green points" that will be used to plant trees in the Ipo Watershed Forest Reserve in Norzagaray, Bulacan. The more you use GCash, the more you help in saving Mother Nature!
On the GCash app, you can swipe from the right to launch the QR code reader. Scan the store's QR code and enter the amount to be paid.
Your GCash wallet size is the total amount of transactions in a month, including cash-ins, withdrawals, bill payments, and bank transfers. So if you've already exceeded ₱100,000 in total transactions (the maximum wallet size for verified users) for the month, you can no longer use GCash and you'll have to wait for the next month.
You can set up security questions to make your GCash account more secure. Just go to "Settings" and tap "Account Authentication" to get started.
You can use the same GCash account on multiple devices. However, you can't use it at the same time on two or more devices.
Take care of your MPIN as it's the password to your Gcash account. Never share it with anyone. For added protection, set up security questions in the settings.
GCash works on Globe and TM numbers with no data charges, so you don't need to subscribe to an Internet data promo.
Conclusion
GCash makes it easy for ordinary people to enjoy the ease and convenience of cashless transactions, allowing them to pay their bills or transfer money using their mobile device. You don't need to carry bundles of cash when you can use your GCash e-wallet to pay for anything. What's more, GCash is safe and secure, so you don't have to worry about theft.
We hope that you've familiarized yourself with GCash and how it works. If you have any questions or problems with GCash, call 2882, visit the helpdesk or send a message on Facebook. You can also comment below and we'll try our best to answer.