Do you know that you can transfer funds from your BDO account to another bank in the Philippines? Thanks to the Bangko Sentral ng Pilipinas and InstaPay, you can move your money from one bank to another in real time through the Internet.
InstaPay is an Electronic Fund Transfer (EFT) system that allows customers to transfer funds almost instantly between accounts of participating BSP-supervised banks as well as non-bank e-money issuers. Individuals, businesses and government institutions can send and receive money, or make payments, in real time with no limits at up to 50,000 pesos per transaction. Transactions can be performed anytime of the day, 24 hours a day, 7 days a week, through online banking websites and mobile apps by participating banks and e-money issuers.
With InstaPay, customers will no longer have to personally go to banks and payment counters to transfer funds or make payments. Everything can be done online. The receiving party will receive the transferred funds in full, but charges may apply to sending parties.
So how do you transfer money from one bank to another, say BDO to BPI?
How to Transfer Funds From BDO to BPI (Or Other Local Banks)
First, make sure that you have an active BDO online banking account. If you don't have a BDO online banking account, sign up here.
Step 1: Log in to your BDO online banking account. Enter the one-time password (OTP) sent to the mobile number connected to your account.
Step 2: After successfully logging in, hover your mouse cursor over "Send Money" and click "To Another Local Bank."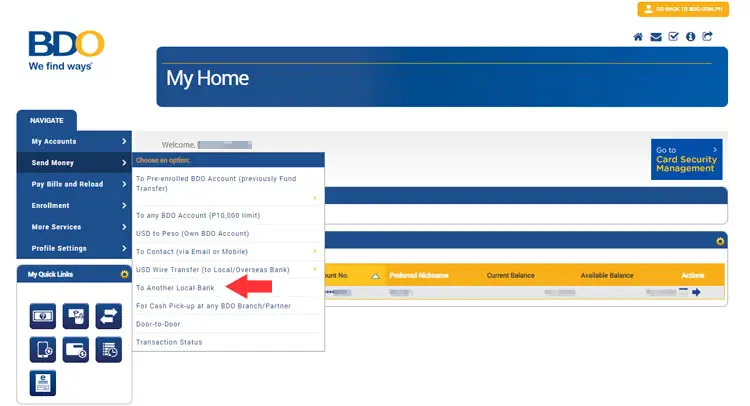 Step 3: Fill out the sender and receiver details, as follows:
Settlement Type: Credit to Another Local Bank
Transaction Type: Credit to Other Bank
Transfer From (your BDO account)
Amount (the amount of money you want to send)
Destination Bank (choose from the dropdown list of participating banks)
Destination Account Number (enter the bank account number of the recipient)
Receiver Name (name of your recipient)
Mobile Number (cellphone number of your recipient)
Purpose of Transaction
Take note that if you are transferring money to a BPI account, you must choose "BPI / BPI Family Savings Bank via InstaPay" and not "BPI Family Savings Bank 10-Digits." BPI is different from BPI Family Savings Bank.
You may also check "Save as New Template" to save your provided information for future use. Click "Submit" when you're finished.
Step 4: Review the information you provided to ensure that they are correct, then click "Continue."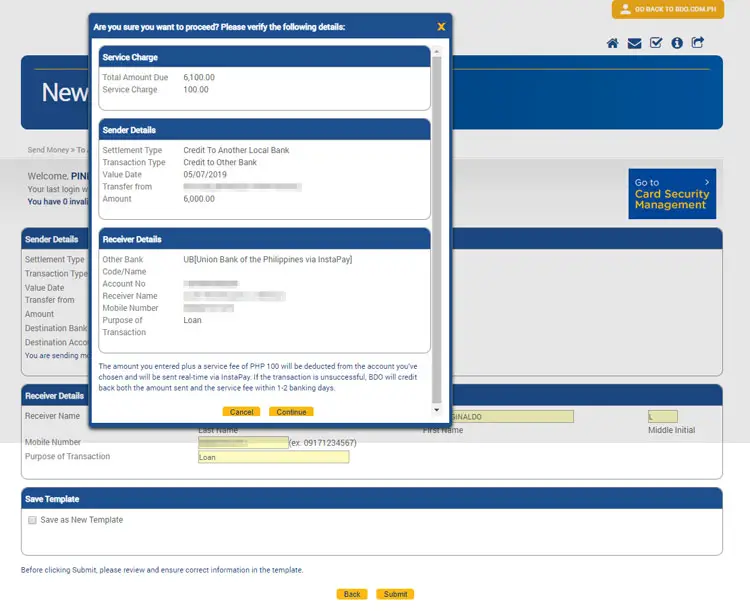 Step 5: Enter the one-time password (OTP) sent to your mobile number.
Step 6: You will be informed if your transaction is successful. Take note of the reference number.
Participating Banks
These are the banks where you can transfer money from BDO via InstaPay:
Asia United Bank
Bank of Commerce
Bank of the Philippine Islands
China Bank
China Bank Savings
Chinatrust Bank
Development Bank of the Philippines
Dungganon Bank
East West Bank
Equicom Savings Bank
G Exchange, Inc.
Isla Bank Inc.
Land Bank of the Philippines
Malayan Savings Bank
Maybank Phils.
Metropolitan Bank and Trust Company
Omnipay, Inc.
Partner Rural Bank (Cotabato), Inc.
Paymaya
Philippine Bank of Communications
Philippine Business Bank, Inc.
Philippine National Bank
Philippine National Bank Savings
Philippine Savings Bank
Philippine Trust Company
RCBC Savings
Rizal Commercial Banking Corp.
Robinsons Bank
Security Bank
Sterling Bank
Sun Savings Bank
Union Bank of the Philippines
United Coconut Planters Bank
Yuanta Savings Bank
How to Transfer Funds Using the BDO Mobile App
Do you know that you can transfer money through InstaPay using your BDO mobile app? Here is how to do it:
Launch the BDO Personal Banking mobile app (available on Google Play and the App Store) and log in using your user ID and password. Tap SEND MONEY and choose "To Another Local Bank."
Enter the sender and receiver details such as transaction type (credit to other bank), amount, destination bank, destination account number, receiver's name, receiver's mobile number, and purpose of transaction.
If you're transferring money to a BPI account, you must select "BPI / BPI Family Savings Bank via InstaPay." BPI is different from BPI Family Savings Bank.
Also fill in the template name and template description. The transaction will not proceed without you doing so. Click "CONFIRM" to proceed.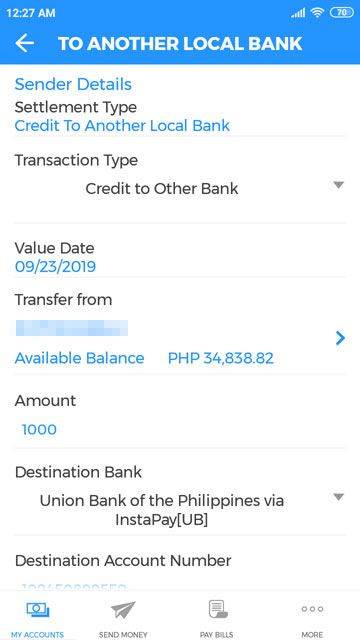 Review the transaction details. If everything is correct, click "CONTINUE."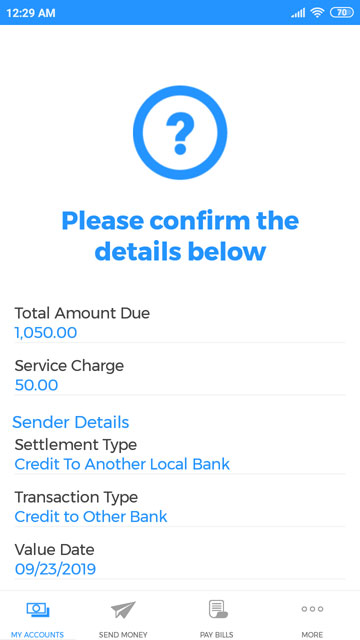 Your money has been successfully sent! The transaction will take some time to reflect on your account, so be patient. You can also check with your recipient if the money was received on his end.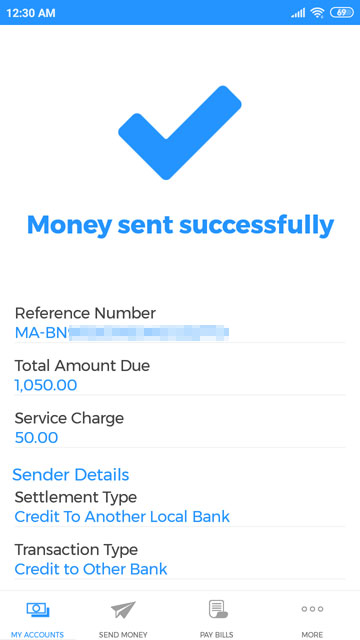 Frequently Asked Questions
How much is the transfer fee?
The transfer fee from BDO to other banks (e.g. BPI, Metrobank, Landbank) is ₱25. Online BDO to BDO transfers are free.
When will the money arrive at my recipient's bank account?
Transfers are credited to the recipient's account almost immediately.
What are the minimum and maximum transaction limits?
Customers can transfer funds up to ₱50,000 per transaction with no limits per day. The minimum sending amount for BDO is ₱100.
What if I entered the wrong name or account number?
Transfers are credited with finality, so if you accidentally entered the wrong account number, contact your bank immediately. If the person or account number doesn't exist on the receiving bank, the money will be returned to your account within 2 days. Call BDO at 631-8000 if you erroneously entered the wrong recipient name or account number.
Conclusion
As you can see, transferring money from BDO to another bank is relatively simple and easy to do. There's no need to personally withdraw money from BDO and deposit it to another bank when you can simply do it online through InstaPay. If you have any questions or problems regarding fund transfers from BDO, contact the BDO customer support center at (02) 631 8000 or the domestic toll-free number 1-800-10-6318000.