Many people prefer to use a laptop or notebook computer for a variety of reasons. Unlike PCs or desktop computers, you can carry your laptop anywhere you go, and it has a built-in keyboard so there's no need for external hardware or accessories. But when the keyboard gets damaged, you may want to disable the laptop keyboard in order to replace it with an external keyboard.
Disabling a laptop keyboard can be quite tricky. Since it's built in or hardwired to your laptop, you can't easily detach or remove it unlike with a PC. You might have to hire the services of a computer technician who will open your laptop to replace its built-in keyboard.
If your laptop keyboard gets damaged or acts strangely, you can disable it so that you can use an external keyboard instead. In most cases, you don't need to disable your laptop's built-in keyboard since the computer can support multiple keyboards at once. However, if your laptop's damaged keyboard is causing problems (a jammed or stuck key for example), then you might have no choice but to disable it completely. Disabling your laptop keyboard will also prevent accidental keystrokes.
Some tutorials on the web advise users to uninstall the keyboard drivers. The problem is, Windows can be quite stubborn and will immediately reinstall the drivers. In some cases, the keyboard will continue to be functional despite uninstalling or disabling its drivers. The solution is to force Windows to use incompatible drivers which will cause the keyboard to stop functioning completely.
Step-by-Step Process to Completely Disable the Laptop Keyboard in Windows 10
A word of warning first. Make sure that your laptop supports an external keyboard via the USB port. Nothing is worse than disabling the laptop keyboard only to realize that you can't log in to Windows because you can't use an external keyboard.
First, right-click the Start or Windows icon on the bottom-left corner of the screen.
Select "Device Manager."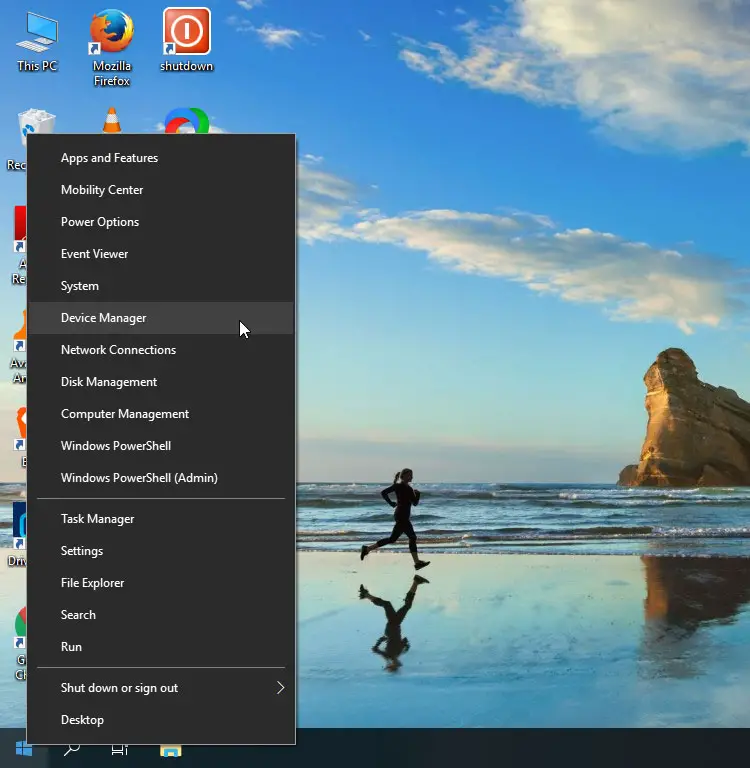 The Device Manager will show a list of hardware and devices connected to your computer.
Double-click "Keyboards" and it will show the name of your laptop keyboard, usually "Standard PS/2 Keyboard."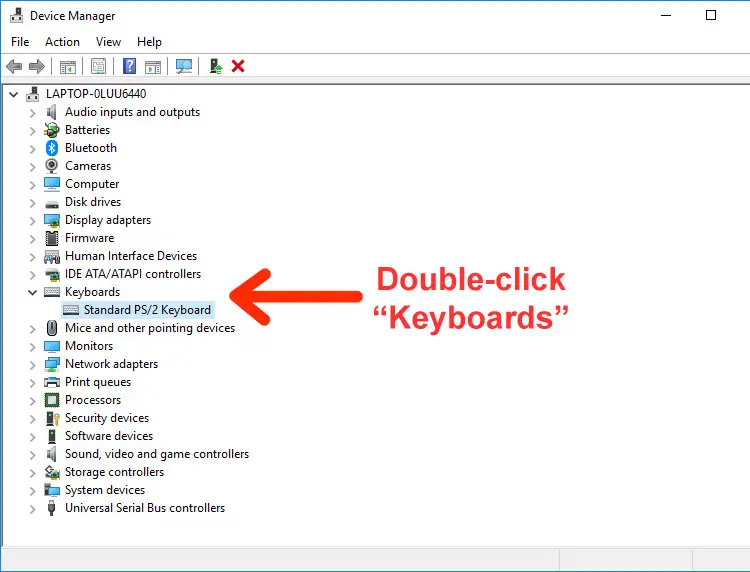 Right-click on that keyboard and then select "Update driver."
A dialog will pop up. Choose "Browse my computer for driver software."
Click "Let me pick from a list of available drivers on my computer."
Your laptop keyboard's driver will be shown. What we'll do is to intentionally choose an incompatible driver so that the keyboard will no longer work.
Uncheck the box next to "Show compatible hardware."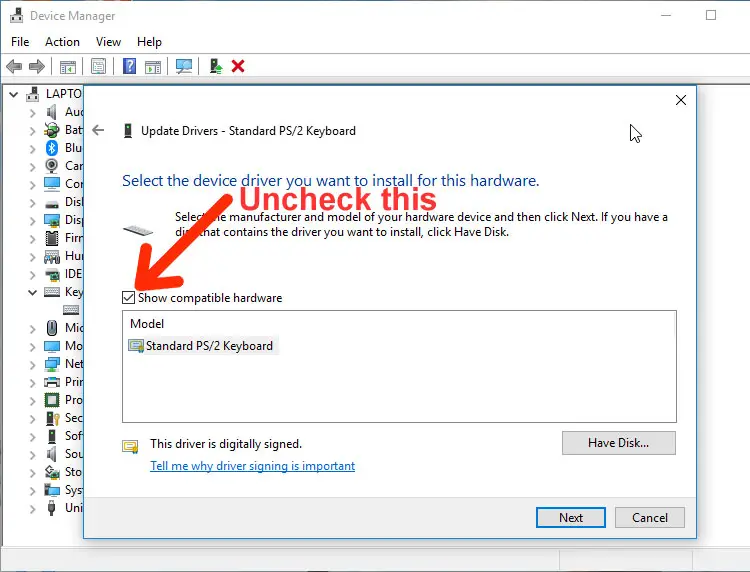 A list of hardware devices will be shown, organized by manufacturer and model.
Scroll down and choose a manufacturer, and then select a model (except for your laptop's default keyboard driver which is "Standard PS/2 Keyboard").
In this example, we will choose "Toshiba" as the manufacturer and "Toshiba USB 109 Japanese keyboard" as the model. After selecting the model, click "Next."
An "Update Driver Warning" dialog will appear. Click "Yes."
Wait for a few seconds as Windows installs the device driver.
After Windows has successfully updated the drivers for your keyboard laptop, click "Close."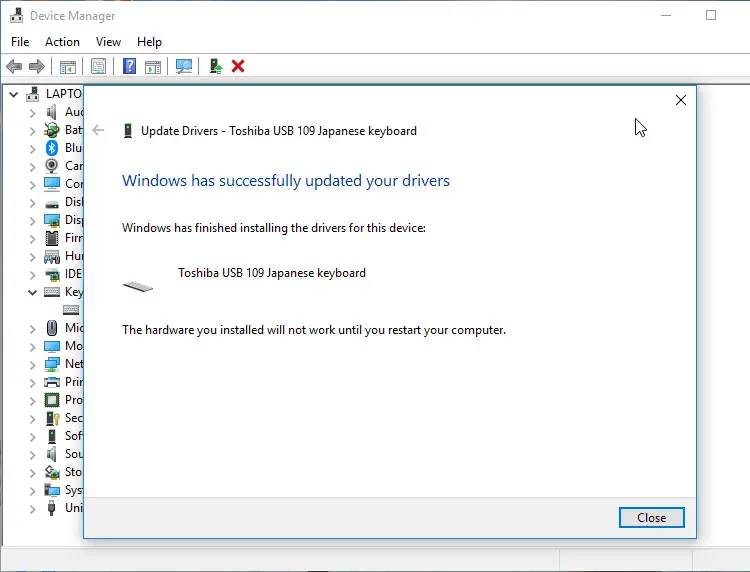 Your laptop will ask if you want to restart your computer. Click "Yes."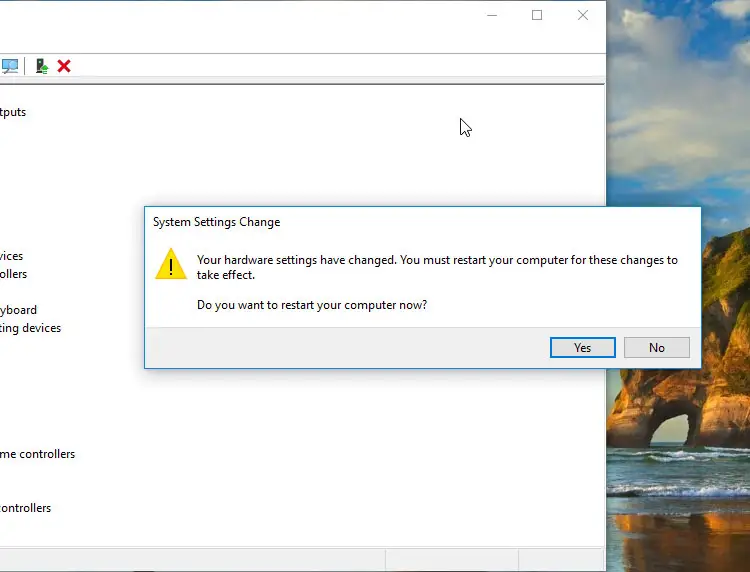 After restarting your laptop, its keyboard will no longer be usable. You can now attach your external keyboard.
If you want to re-enable the keyboard, just go back to Device Manager and choose the keyboard's default driver (in this case, "Standard PS/2 Keyboard"). Your laptop keyboard will immediately be reactivated even without restarting the computer.
Did This Help You?
As you can see, disabling your laptop keyboard in Windows 10 is not that hard. The good thing is that you can easily re-enable a disabled keyboard if ever you change your mind, so this is not exactly a permanent fix.
If you have any problems with disabling a laptop keyboard in Windows 10, just leave a comment below and we'll try our best to help.