Thanks to the Internet, anyone can invest in the stock market from the comforts of their homes or offices. In the Philippines, one of the most popular online stock brokers is CitisecOnline or COL Financial. We'll teach you how to open a COL Financial online stock trading account using your computer or mobile phone, and without submitting any paperwork.
Online stock brokers like COL Financial and BDO Nomura make it possible for small individual investors to buy and sell stocks through the Philippine Stock Exchange. Before the Internet, investors had to call their brokers and the latter will be the one responsible for buying stocks on behalf of the client. People usually read the newspapers or watch TV to check the prices of stocks.
Nowadays, everything is computerized. Investors can just use a computer or mobile phone to check the prices of stocks, place orders, and track their performance. Online stock brokers also enabled investors to pay lower commissions on trades compared to full-service brokerages.
Anyone can open a stock trading account at COL Financial, regardless of economic standing, education, or financial capacity. With a minimum deposit of only ₱1,000, even the smallest investor can start trading stocks. You don't have to hire the services of a stockbroker or visit the stock exchange. Everything you need to buy and sell stocks can be done online using your COL Financial online stock trading account.
So are you excited to learn how to open a COL Financial online trading account and start investing in the stock market?
Opening a COL Financial Account Online
Do you know that you can open a COL Financial account through their website? Opening a stock trading account previously involves downloading application forms and sending them to their office. But now, COL Financial allows you to open an account by filling out an online application form using your computer or mobile device. This is easier, quicker and more convenient than sending an application form by courier and waiting for approval.
Here are the things that you need to prepare for the online registration:
A valid government-issued ID
Bank information
SSS/GSIS/CRN and TIN (for employed or self-employed)
Blank sheet of paper for signature capture
Birth certificate (for minors only)
Open the COL Financial online registration website at https://signup.colfinancial.com.
Click the "GET STARTED" button.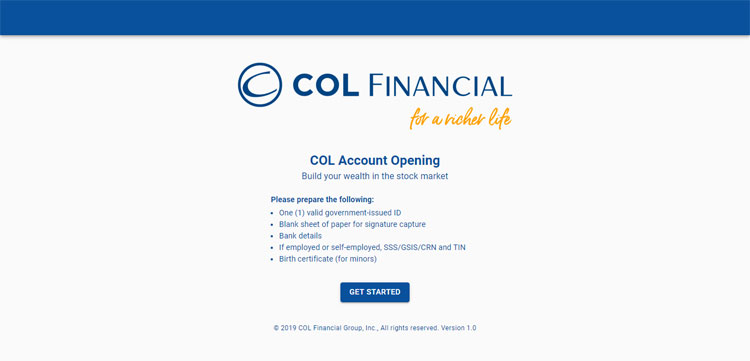 Read the online securities trading agreement and then click "AGREE."
Enter your first name, middle name (optional), last name, email address, and mobile number.
Solve the captcha by checking the "I'm not a robot" box, and then click "NEXT."
Check your email for the verification instructions. Click the "Verify Email" button inside the email.
Enter the one-time password or OTP that you received via SMS, and click "VERIFY."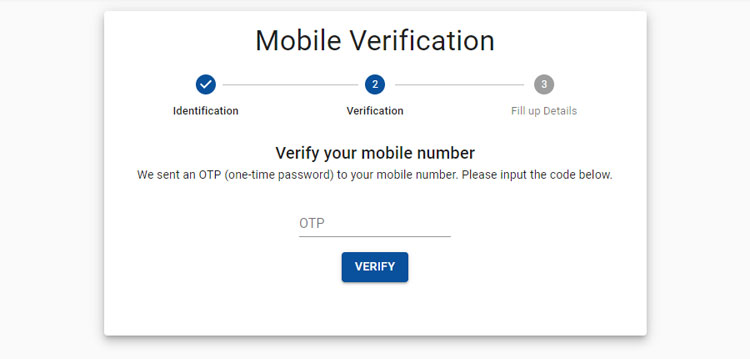 Click "NEXT" to proceed to the next step.
You will receive another email telling you that your email address and mobile number has been successfully verified. The email also contains links to continue your application or cancel it.
You can leave the application process anytime you want and come back at a later date or time. The system will automatically save your progress. Just click the "Continue My Application" button in the verification email to continue where you left off.
Select your preferred account type, either individual, joint or ITF. Click the "SELECT" button of your chosen account type and then click "NEXT."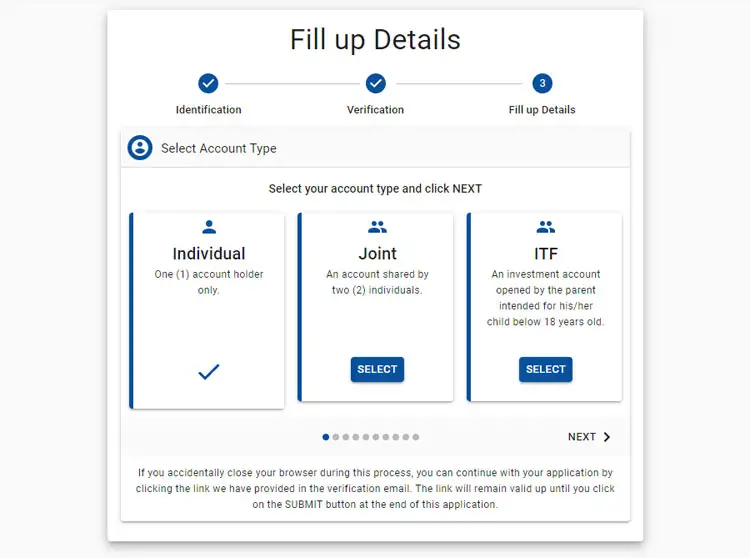 Enter your personal information including civil status, gender, birthdate, country of birth, citizenship and residence. Click "NEXT."
Enter your contact information. The email address and mobile number are already filled, so type in your present address as well as permanent address. Click "NEXT."
This step is where you choose your employment status and enter your work details.
If you're employed or self-employed, fill out your occupation or work position, as well as the name and address of your employer or business. You will also have to provide your tax identification number (TIN), ID and ID number. Click "NEXT" to continue.
Answer a list of "yes or no" questions as honestly as possible. When you're done, click "NEXT."
Create your financial and investment profile. Choose the estimated value of your assets, net worth and annual income, and select your sources of funds. Click "NEXT."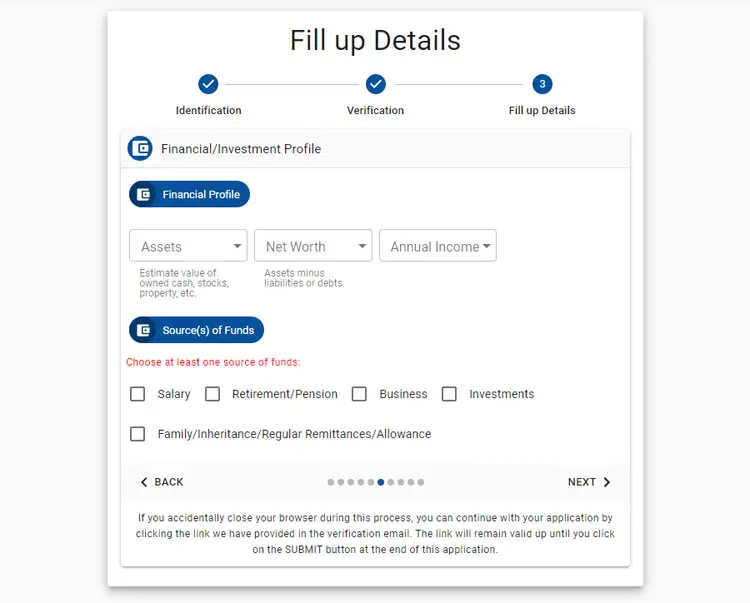 Undergo a Client Suitability Assessment (CSA). This is where COL Financial will assess your risk profile so they can offer you a list of more suitable funds. Your risk profile will be shown after answering the questions. Click "NEXT" when you're done.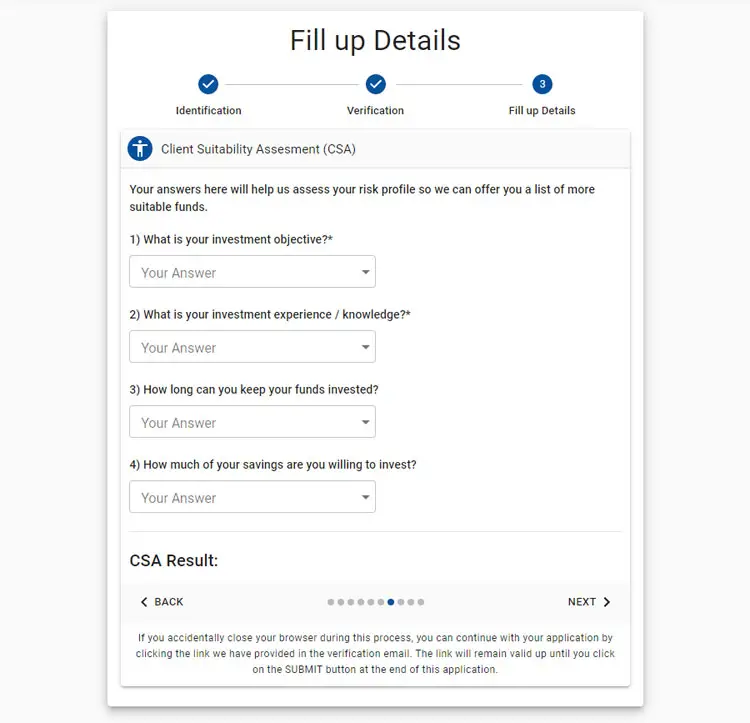 For your withdrawal information, choose your withdrawal option, whether credit to bank account or check pickup.
If you choose "Credit to Bank Account," select the bank name and enter the bank branch and bank account number. Click "NEXT."
You'll be asked to provide identification requirements. Place your valid ID on a blank sheet of paper, affix your signature three times, and then take a clear photo of it. Click "TAKE A PHOTO" to take a picture or "UPLOAD FILE" to upload the photo.
You'll also have to take a clear picture of the back portion of your ID and upload it.
Finally, take a clear selfie picture of yourself without sunglasses, and then upload it.
Click "NEXT" when you're done uploading all identification requirements.
If you're ready to submit your application for a COL Financial account, click "SUBMIT." Otherwise, click "BACK" to return to the previous steps.
Wait for your account to be activated within 48 hours. You will receive an email with your 8-digit COL reference number after your application is approved.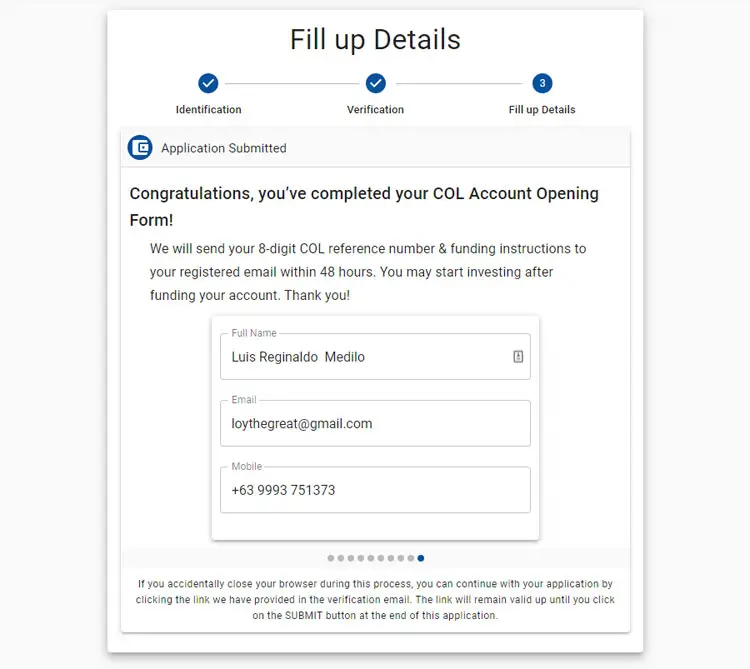 Video Verification Process
As part of COL Financial's Know Your Client (KYC) policy, you will be required to undergo a video verification call which usually takes less than 3 minutes.
COL Financial will send you an email with instructions on how to conduct the video call and a link to book your appointment.
On the appointment page, choose the date and time when you wish to conduct the video verification.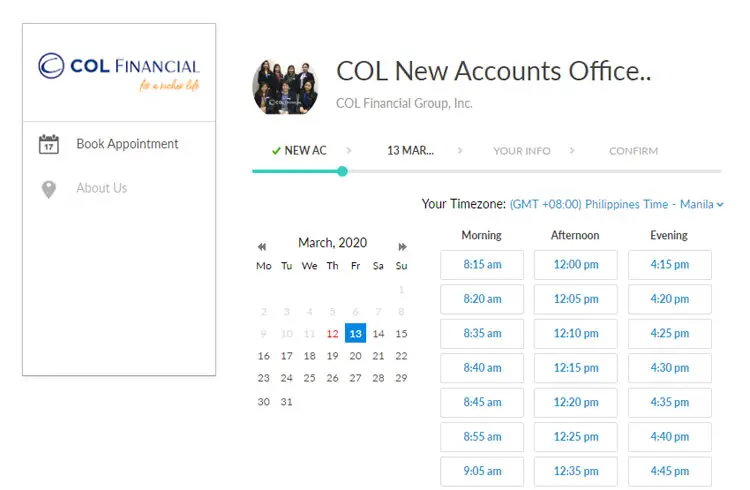 Provide your name, email and mobile number.
Under "Additional Information," choose or enter your preferred video app (Skype, Viber or IMO) and provide your Skype, Viber or IMO number.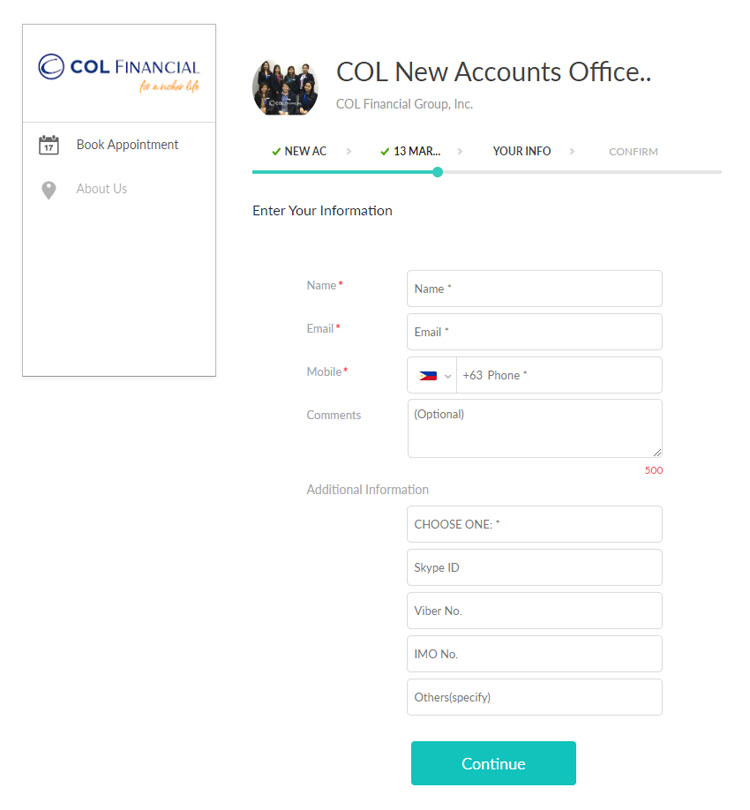 After your appointment is confirmed, you will receive email and text reminders close to your scheduled appointment time. Be sure to have your ID ready before the video call. COL Financial will send you a message on the app about 5 minutes before the scheduled appointment time. After you reply to the message, a COL Financial account officer will call you.
You will be asked to hold your ID below your chin and answer a few questions. The video call usually takes less than 3 minutes.
You will receive a welcome email after the video verification call. This email contains your COL Financial account number and instructions on how to fund your COL Financial account. Unfunded accounts will expire after three months.
Adding Funds to Your COL Financial Account
To activate your COL Financial account and start investing, you must first add funds to it.
You can fund your COL Financial account via online banking or over-the-counter. These are the partner banks where you can fund your COL Financial trading account:
BDO Unibank
Bank of the Philippine Islands (BPI)
Metrobank
UnionBank of the Philippines
Chinabank
Asia United Bank (AUB)
Robinsons Bank
To add money to your COL Financial stock trading account through online bills payment, log in to your online banking account and make a bills payment transaction to "COL Financial Group, Inc." as the biller.
For over-the-counter transactions, fill out a payment slip at a partner bank and write "COL Financial Group, Inc." as the company name and your COL account number as the subscriber or account number.
You may refer to this page and this PDF for the exact instructions on how to fund your COL Financial account with each bank.
Once COL Financial has confirmed receipt of your funding, you will receive an activation email with your account password. It contains your COL username and temporary password.
Log in to the COL Financial website and enter your username and temporary password. You will be requested to change your password. After changing the password, you will have to log in again using your new password.
Good Luck!
Opening a COL Financial account is a great way to get started with stock market investing. Be sure to familiarize yourself with the ins and outs of the stock market before you invest your hard-earned money. Attending stock trading seminars conducted by COL Financial is one way to enhance your knowledge in stock market investing.