The GCash MasterCard is a prepaid debit card for GCash users. Using a GCash MasterCard, you can pay for your online and in-store purchases and withdraw cash from over 20,000 BancNet and MasterCard ATMs all over the Philippines.
The GCash MasterCard works like any other debit card so you can use it to pay, shop and dine without paying in cash. The card can be swiped at a point of sale (POS) terminal just like you would do with any ordinary credit or debit card. But unlike other debit cards that are linked to bank accounts, the GCash MasterCard has no minimum maintaining balance or annual fees.
You can also use the GCash card to make purchases or payments online at Lazada, Shopee, Amazon, and other online shopping websites where credit and debit cards are accepted. And since it's a prepaid card, you can easily manage your budget and never worry about getting charged for rebills. You can top up your GCash wallet with enough money to cover your purchase and use your GCash debit card to pay for it.
The GCash MasterCard can also be used to withdraw money from your GCash wallet at over 20,000 BancNet and MasterCard partner ATMs all over the country. So if you transfer money from PayPal to your GCash wallet, for example, you can use your GCash MasterCard to withdraw the cash from an ATM.
In this guide, I'll teach you how to get your own GCash MasterCard prepaid debit card as well as how to use it for cashless transactions like online shopping. But first, make sure that you already have a verified GCash account. Read this article to learn how to sign up for a free GCash account and have it verified.
How to Apply for GCash MasterCard
It's easy to get a GCash MasterCard. There are three ways to apply for the card: through an online order form, through the GCash app, and at partner convenience stores.
Through the Online Order Form
Just go to the GCash order page here and fill up the required information including your GCash mobile number, name, delivery address, and contact number.
At the bottom of the form, don't forget to check the box saying that you agree to the terms and conditions and privacy policy of GCash. Click the black "Next" button to proceed.
Review your submitted information and if everything is correct, click "Submit Verification Details."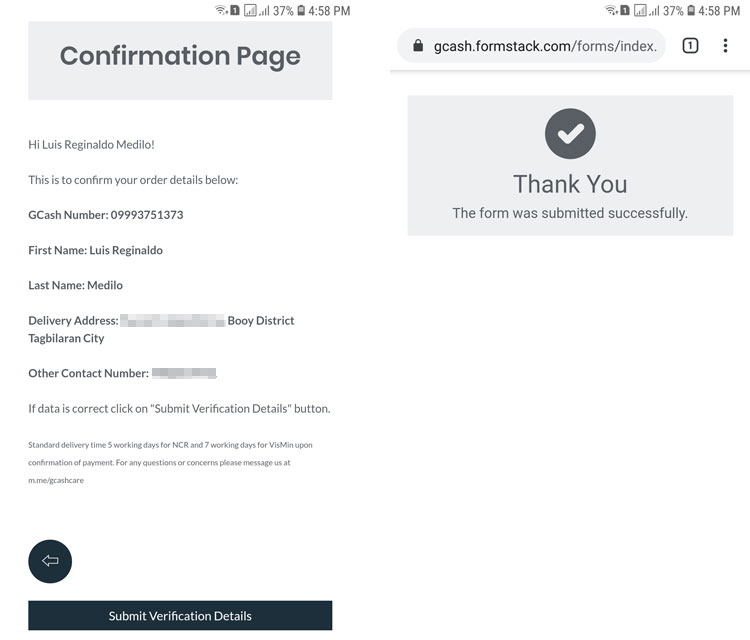 Your application has been submitted. The next step is to pay for your card. Go here to learn how to pay for your GCash debit card.
Through the GCash App
You can also order your GCash card through the mobile app. Open the GCash app and enter your 4-digit MPIN to log in. On the home screen, tap "Show More."
Next, tap "Cash Out" under "Fund Management."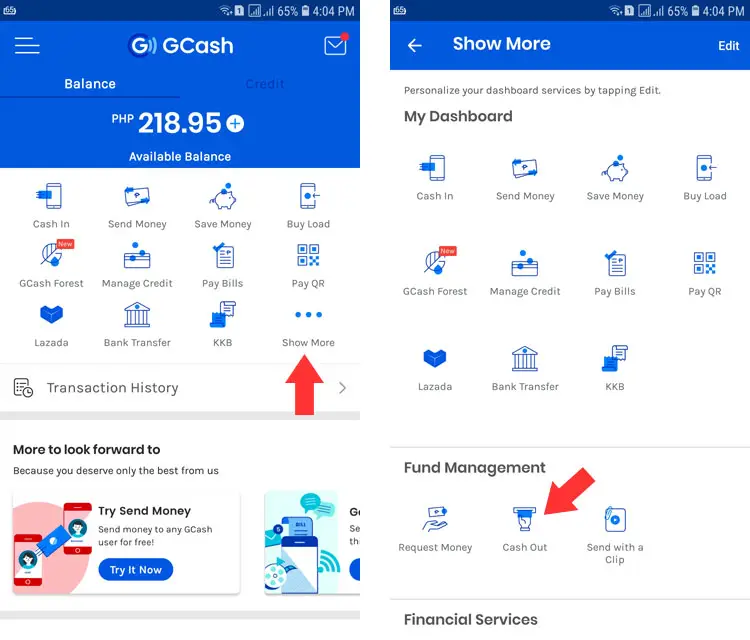 On the cash out screen, tap the "DELIVER" button.
Fill up the required information in the order form and check the acknowledgment box. When you're done, click the black "Next" arrow button.
Review your provided information and then click "Submit Verification Details."
If the submission was successful, proceed to the next step which is to pay for your GCash card.
Through Partner Convenience Stores
You can also get your own GCash MasterCard at partner convenience stores like Ministop, Lawson, All Day and 7-Eleven, and at Robinsons Business Centers. Just pay the ₱150 fee to buy the card.
How to Pay for Your GCash MasterCard
If you ordered your GCash MasterCard online or through the app, you will have to pay the ₱150 fee before it will be delivered to your doorstep. Make sure that you have at least ₱150 in your GCash wallet before you proceed with the payment.
Open your GCash app and log in using your MPIN. On the home screen, choose "Pay Bills."
Tap "Payment Solutions" in the list of biller categories.
Choose "GCash Mastercard" from the list of payment solutions.
Enter your mobile number, amount (₱150) and email address (optional). Tap "NEXT."
Review your payment information. If everything is correct, press "CONFIRM."
Take note of the reference number as you will need it in case you require assistance with your payment. Look out for the text message confirming that the payment was completed and that your GCash card order will be processed.
Wait for Delivery
Your GCash prepaid debit card will be delivered by courier to your provided delivery or shipping address within 10 days after payment.
In my case, I received the card in 5 days. It's inside a thick envelope printed with instructions on how to activate your card and other information.
Be sure to sign the back of the card for it to be valid and acceptable in stores.
How to Link Your GCash MasterCard
In order to start using your GCash MasterCard, you must first activate it by linking it to your GCash wallet. Otherwise, you will not be able to use the card since its source of funds will be your GCash wallet.
To link your GCash card, log in to your GCash app and tap the hamburger icon on the top-left corner. Select "My Linked Accounts" and then tap "GCash Mastercard."
On the next screen, tap the "LINK CARD" button.
Enter your 16-digit card number and then press "Link Card."
The linking will be successful if the card number you provided is correct.
Under the GCash terms and conditions, only one type of GCash MasterCard can be linked to a GCash wallet.
Once your card is linked, you can start using it for online and in-store purchases, as well as ATM withdrawals.
How to Use Your GCash MasterCard
There are two primary ways to use your GCash MasterCard:
Shopping online or in stores
Withdrawing money from a BancNet or MasterCard ATM
Shopping Online and in Stores
The GCash MasterCard can be used to pay for online purchases and subscriptions in websites and shops where MasterCard debit cards are accepted. You can use it to subscribe to Netflix or buy items from Amazon, for example. Just provide your GCash card number, expiration date and the card security code (located at the back of the card). In most cases, your GCash card will be accepted unless the website only accepts credit cards, but not debit cards.
Your GCash card will draw its funds from your GCash wallet, so make sure that you have enough funds to cover the purchase.
If you're wary about using your bank-issued credit or debit card to make online purchases, you can use your GCash MasterCard instead. Since it's a prepaid debit card, there's minimal risk involved unlike with credit cards. Even if your card details are stolen, your loss will only be limited to the amount in your GCash wallet.
The GCash MasterCard is just like any other debit card. You can use it to pay for your purchases at establishments where MasterCard is accepted, anywhere in the world. It can even be swiped at a POS terminal or credit card reader.
Withdrawing Money From an ATM
You can also use your GCash MasterCard to withdraw money at any BancNet or MasterCard ATM anywhere in the Philippines. If you're outside the Philippines, you can still use your GCash card to withdraw money from a MasterCard ATM, but take note that there's a ₱150 fee per transaction. The local ATM withdrawal fee is ₱20 per transaction.
The minimum withdrawal amount is ₱500 per transaction while the maximum daily withdrawal amount is ₱50,000.
Your GCash MasterCard is valid for 5 years. After the expiration date, you can apply for a new one with a different card number.
Final Thoughts
The GCash MasterCard is definitely worth getting since it's a safe and hassle-free way to pay. And since it's linked to your GCash wallet, you can easily track your purchases on your smartphone. You also don't have to worry about annual fees, interest and maintaining balances.
If you have any issues or concerns with your GCash MasterCard, call the GCash hotline 2882 or (02) 782-2882, or send an email to [email protected].