Investing in stocks is one of the best ways to grow your money. It might sound daunting at first, but good thing that there are online trading platforms that allow you to become a stock market investor with just a few clicks of the mouse and taps of the keyboard. One of them is BDO Nomura.
BDO Nomura Securities is a joint venture between BDO Unibank and Japan's Nomura Holdings that provides stock brokerage and investing services to Filipinos and Philippine residents locally and overseas. The BDO Nomura online trading platform allows BDO account holders to start investing in the Philippine Stock Exchange using a computer and an Internet connection.
On the BDO Nomura website, it says that it aims to provide stock brokerage services to overseas clients and to eventually connect local investors to international stock markets. Imagine being able to buy shares from Walmart or Apple while in the Philippines! At the moment, it's not yet possible but the company is working on it, if we're to believe them.
Opening a BDO Nomura account is relatively easy and doesn't cost anything. You're not required to pay an initial deposit unless you're ready to buy stocks. There are no documents to submit, either. You only need a BDO account (a personal savings account will do) to start trading stocks using BDO Nomura.
Step-by-Step Guide in Opening a BDO Nomura Account
Anyone of legal age, 18 years old and above, with a BDO online banking account can open a BDO Nomura account.
Here are the steps on how to open a BDO Nomura account:
Step 1: Go to the BDO Nomura website here.
Step 2: Click "Starting Out" or hover your mouse over "5 Step Account Opening" and click "Learn More." Refer to the screenshot below. Alternatively, you can go straight to the next page by clicking here.
Step 3: Click the "Sign Up" button at the bottom of the page.
Step 4: Log in using your BDO Online Banking username and password. If you don't have a BDO Online Banking account, you can enroll here.

Step 5: Enter the One-Time Password (OTP) that was sent to the mobile number linked to your BDO account.
Step 6: Read the Instruction and Consent. Choose the BDO Beneficiary Account and tick the box next to "I have read, fully understood with the Instruction and Consent." Click "Next."
Step 7: Read the Terms and Conditions carefully. Tick the box next to "I have read, fully understood and agreed with the Terms and Conditions." Click "Next."
Step 8: Fill up the Investor Profile. Click "Next" when you're done.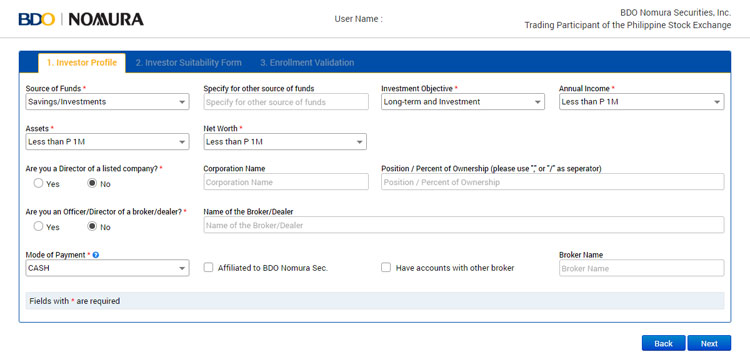 Step 9: Answer the Suitability Assessment for Securities Investors. This questionnaire helps identify your investment, return expectation and risk appetite. Click "Next" when you're finished.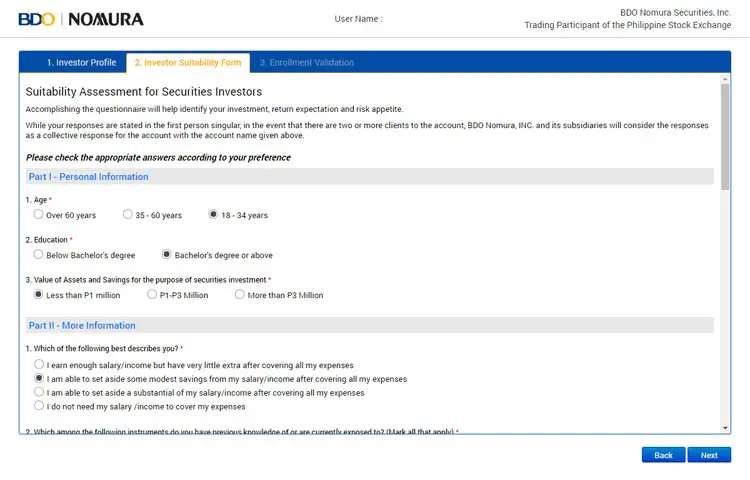 Step 10: Under Enrollment Validation, choose the Referral Unit and Referring Branch. The referring branch is where you opened your BDO account. Just type the location of the branch and it will automatically make suggestions.
Enter the correct captcha code and click "Submit."

Step 11: Review and double check all the information that you provided. Click "Submit" to submit your application.
Step 12: Sit back and relax while you wait for the approval email. Online applications submitted after 3PM will be processed on the next banking day.
The confirmation email contains your unique Customer Code and the assigned BDO Nomura Settlement Account number and looks like this:
You can fund your account by logging in and using the "Deposit/Funding" facility. There you can transfer funds from your BDO savings or current account to the BDO Nomura Settlement Account. Funds transferred before 10PM will be credited to the BDO Nomura Settlement Account the next trading day.
After your funds have been successfully credited, you can now start trading!
Conclusions
There you have it. Anyone can be a stock trader and investor by opening a BDO Nomura account for free. Just make sure that you have studied stock market investing as it can be tricky at times. Investing in stocks can be quite lucrative, but it can also be a surefire way to lose money if you're not careful. Good luck with your trading ventures!