Have you ever wanted to post a PDF document on your Facebook timeline so that you can share it with your friends? Facebook currently doesn't allow you to post a PDF directly on your timeline. Fortunately, there are workarounds that will help you post a PDF on Facebook without converting it to another file format.
As everyone probably knows, you can only post text, images, videos and GIF to your personal Facebook timeline. There's no option to post documents like PDF and Word to Facebook, unless you upload them to a file sharing service and share the link.
There are several reasons why you might want to post a PDF on Facebook. One reason is if you want to make the document available to all your friends and followers. You can send a PDF to your friends via Messenger, but that might be too tedious and time-consuming.
So if you want to post a PDF on Facebook, there are two ways to go around it.
Using a Facebook Group
If you are a member of a Facebook group or an administrator of one, you can use that group to post a PDF on Facebook.
Keep in mind that most Facebook groups have specific rules on what you can post. Some group admins will remove or ban you from the group if you publish a post that doesn't abide with their rules. If you have your own Facebook group, then the better, since you have complete control over what you can post to that group.
In order to post a PDF to a Facebook group, you will need to use a web browser on your desktop or laptop. This method doesn't work on the Facebook mobile app or even on a mobile browser.
First, go to the Facebook group where you want to post the PDF.
Once there, go to where you can create a post and click the "More" link. Select "Add File."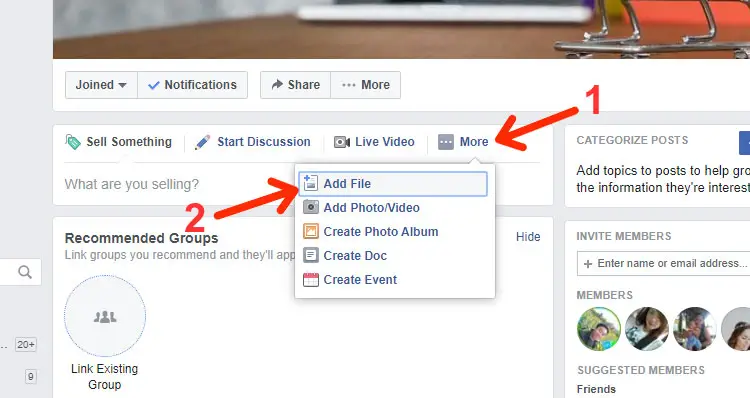 You will now have the option to upload the PDF document.
Click "Choose File" and upload the PDF that you wish to post. Once the file is uploaded, click the "Post" button.
Voila! Your PDF is now uploaded to Facebook. Other users can download the document by clicking on the post.
So far, only members of the Facebook group can view your post. To share the PDF with your friends, just click "Share" to share it to your timeline, a Facebook page or another group. You can even send it via Messenger.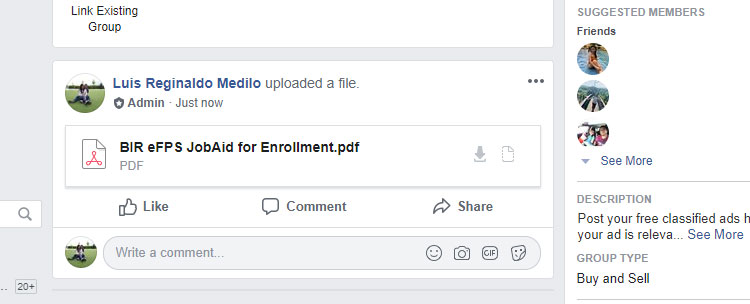 Make sure that the original post on the Facebook group is not deleted for it to remain accessible after sharing it to your timeline or page. If it's deleted, it will show a message that says, "This content isn't available right now."
Using Dropbox
If you don't want to use a Facebook group, you can still post a PDF to Facebook using a file sharing service like Dropbox. What you can do is upload the PDF document to Dropbox and then share the link to your Facebook timeline or page. Your friends and followers don't need to sign up for Dropbox in order to download the file.
For this method, you will need a Dropbox account. You can sign up for free here and get 2GB of storage.
Open the Dropbox app (download from Google Play and the App Store) and tap the kebab icon (three vertical dots) on the right side of the file. Select "Copy link" and a unique link will be generated and copied to the clipboard.
Go back to Facebook and paste the copied link to the "Create Post" box. Press "POST" to post the link to your Facebook timeline.
That's it, you have successfully posted your PDF document to Facebook. You can share it anywhere on Facebook just like any other post.
Don't delete the PDF from your Dropbox account if you want the file to still be accessible to everyone. If you delete the file from Dropbox, other users will not be able to view or download it.
This method will also work for other file sharing services like Google Drive, Microsoft OneDrive, Box and Mediafire. The key is to upload the PDF to those accounts and generate a unique link that you can share on Facebook.
There you have it. You just learned how to post a PDF on Facebook. If there are other ways to share a PDF document on Facebook, we will add them to this article in the future.