Online shopping is one of the conveniences of modern life, and what better way to do some online shopping than to buy from Amazon? Unfortunately for many Filipinos, buying from Amazon is not as easy and straightforward as one would expect. Some items for sale in Amazon are not eligible for shipping and delivery to the Philippines. There's a solution for that, however, and this is where our Amazon Philippines buying guide comes in handy.
You might see something that catches your attention on Amazon, and if you're lucky, you can buy it even if you're in the Philippines. Amazon now allows sellers to ship to more than 100 countries including the Philippines.
Buying Directly From Amazon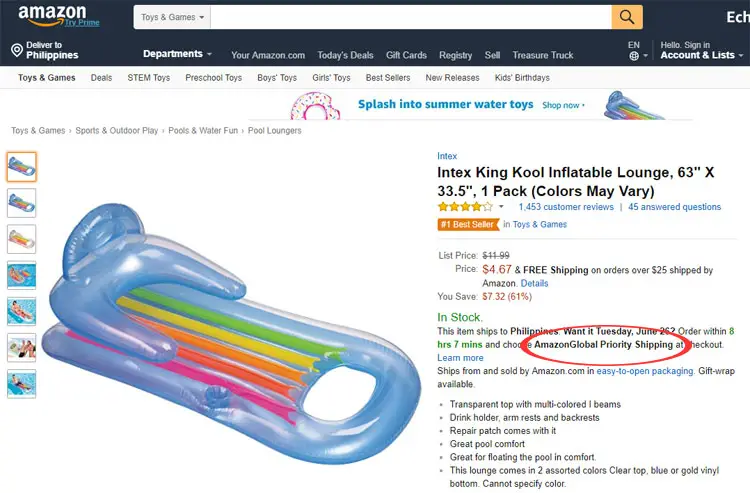 I highly recommend that you use the courier shipping option (Amazon uses UPS), not USPS or Philpost.
These are some reasons why you should not use Philpost for Amazon shipments:
UPS deliveries are faster than Philpost – usually only 3 to 4 days.
You don't have to deal with customs and import fees, as these are already computed and included in your order. UPS has brokers who deal with customs fees.
Your package is delivered straight to your doorstep. There's no need to go to the local post office and pay an additional fee to have it "released."
Your package is insured and tracked. It gives you the peace of mind knowing that your package is not lost and will arrive on time.
Don't let Philpost handle your Amazon orders if you don't want to shell out more money. There are horror stories of pilfering or theft of packages from overseas going through Philpost, as well as unrealistic and exorbitant customs fees and taxes. I'm not saying that Philpost is bad, but since you're already paying a significant amount of money for your Amazon orders, it's better to have a reputable courier company deliver your packages, where it's tracked, insured, and generally taken care of. Those are things that you cannot be assured of at Philpost.
Shipping From Amazon to the Philippines
There are three types of shipping times for Amazon Philippines:
Standard shipping (18-26 days)
Expedited shipping (5-10 days)
Priority shipping (3-6 days)
Standard shipping costs $4.99 per shipment/item, expedited shipping costs $13.99 per shipment/item, and priority shipping costs $29.99 per shipment/item. You can find more information here.
Buying From Amazon Using a Third-Party Forwarding Service
Some items do not allow for direct shipping to the Philippines. Items that don't usually ship to the Philippines are electronics, household tools, kitchenware, and health products.
In that case, you may need to hire the services of a third-party forwarding service that will allow you to buy those items even if you are in the Philippines.
This is also a good option if the import fees calculated by Amazon are prohibitively high and it's cheaper to use a third-party service instead.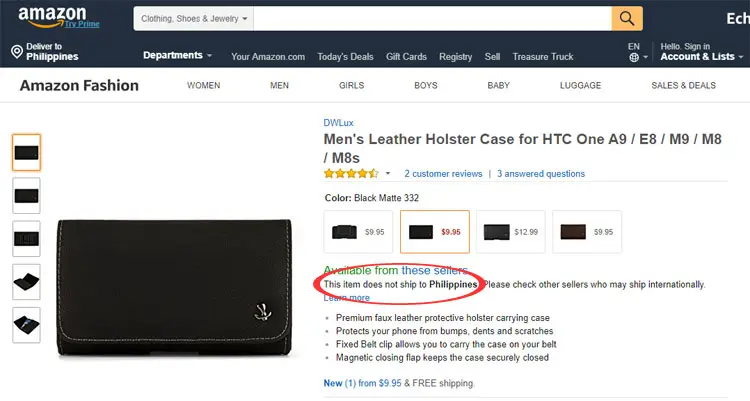 What these third-party services do is that they will provide you a U.S. address that you can use as the shipping address at Amazon. When your order arrives at their warehouse, they will then forward your package to your address in the Philippines.
Let's take a look at these third-party forwarding services, how much they cost, and how long your package will arrive.
Shipping Cart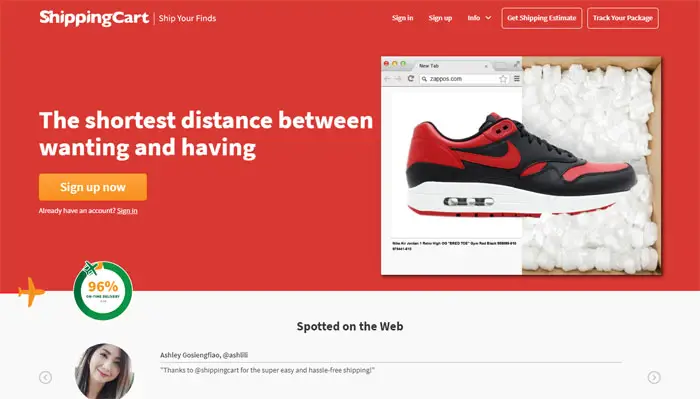 Shipping Cart is one of the most popular Amazon to Philippines delivery services. Shipping Cart offers its customers the ability to purchase goods from online stores in the U.S. and have them delivered to their address in the Philippines. Shipping Cart will provide a free U.S. address, as well as an online interface to consolidate their items, pay for shipping, and ship those items.
How to Use Shipping Cart
Sign up for a free Shipping Cart account.
Shop at Amazon and use the free U.S. address that Shipping Cart provided. Don't forget to include your Shipping Cart account number.
Shipping Cart will notify you via email when your package arrives at their warehouse.
After processing, Shipping Cart will email you again when your package is ready for checkout and shipping.
Check out your package and pay the shipping fee. If you have multiple packages, you may consolidate them into one shipment.
After payment, your package will be shipped to your Philippine address.
Use the provided tracking number to track your package online anytime at the Shipping Cart website.
Expect to receive your package in 10 days via air cargo and 45 days via sea cargo. Some Shipping Cart users have reported receiving their packages within 5 days.
Shipping Cart charges $6.99 per pound for air cargo and $1.75 per inch for sea cargo (unlimited weight). Air cargo with special handling entails a rate of $11.99 per pound. A fixed transaction of $10 will also be included.
To get a more accurate shipping estimate, use their online calculator.
Johnny Air Cargo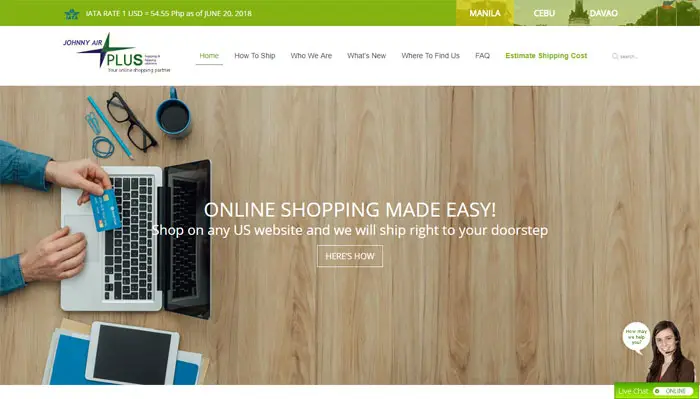 Johnny Air Cargo or Johnny Air Plus is another freight forwarding and cargo shipping company that can forward your Amazon purchased products to your Philippine address.
How to Use Johnny Air Cargo
Create a free account at the Johnny Air website. You will need to upload a copy of your government-issued ID.
Go to Amazon and buy your items using any of the U.S. addresses of Johnny Air Cargo. Check out this page for the addresses that you can use as a shipping address.
Confirm your order details and tracking number through email at [email protected]. Tell them where you want your package to be picked up. Note: door-to-door delivery is only available to Metro Manila residents.
Johnny Air Cargo will then ship your package to the Philippines. Track your package on their tracking page.
Upon arrival of your package, Johnny Air Cargo will text or email you that your package is available for delivery or pickup.
Pay the shipping fee upon pickup or delivery.
Your package will usually arrive in one week from the date of shipment. To determine the shipping cost, use this handy tool.
My Shopping Box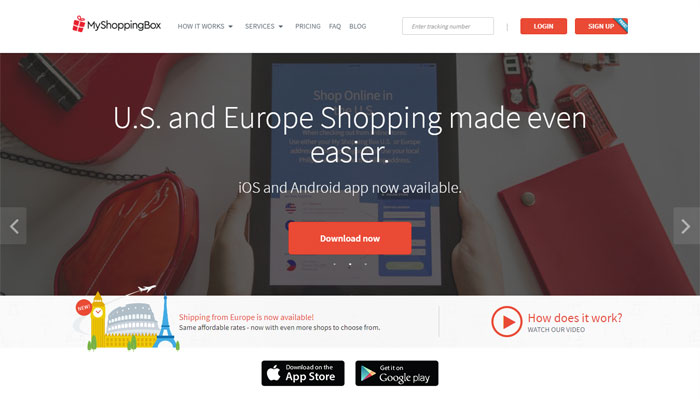 Shopping in the U.S. and Europe is easier with My Shopping Box (MSB). Upon sign-up, you will receive a personal MSB address where you can have your items shipped to. You will have your own personal storage space at an MSB warehouse in the United States or Europe.
My Shopping Box delivers straight to your doorstep, whether you have your items shipped by air or by sea.
How to Use My Shopping Box
Sign up for a free account at the MSB website.
When shopping at Amazon, use your personal MSB address as your shipping address.
Upon arrival at the MSB warehouse, My Shopping Box will upload your package details to your account within 2-3 days. You'll receive an email notification once your package details have been uploaded.
Pay the shipping and delivery fee.
MSB will then ship your package and deliver it to your doorstep.
Delivery takes 10-12 days by air, and 45-60 days by sea. Rates start at $5.99 per pound for air freight and $2.99 per pound for sea freight. To calculate your shipping fees, use this online tool.
Jinio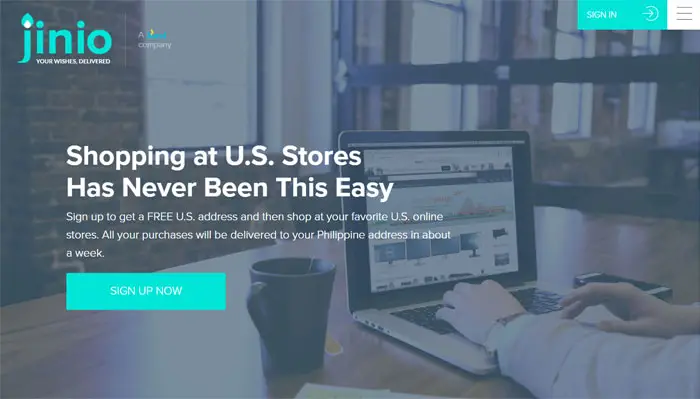 Jinio is a service by Xend that gives you a free U.S. address just like the ones mentioned above. Jinio offers free consolidation so you can save up to 80% on shipping fees.
How to Use Jinio
Register your free Jinio account.
Buy your item from Amazon and use your Jinio personal U.S. address as your shipping address.
As soon as your order is received at their Connecticut warehouse, the shipping fee and other applicable fees will be emailed to you.
After payment, Jinio will ship your package to the Philippines. They will inform you when your package has arrived.
Pick up your package at the Xend Mandaluyong office. You can also have your order delivered to your Metro Manila or provincial address using 2GO, AP Cargo and other reputable freight forwarders. There is an extra fee for door-to-door delivery.
It usually takes 7-15 days for your package to arrive in the Philippines. Door-to-door delivery will take an additional 2-3 days for Metro Manila addresses and 5-7 days for provincial addresses.
Shipping fee is $5.99 per pound for non-electronic items and $8.49 per pound for electronic items. Door-to-door delivery fee is $0.75 per pound. Use this online calculator for a more accurate estimate.
HopShopGo
HopShopGo is owned by PayPal so you can be assured of its reliability and trustworthiness. HopShopGo has PayPal's Buyer Protection, giving you comprehensive protection if your transaction has a problem, such as if your item didn't arrive. PayPal will refund the full purchase price plus the shipping fee in that case.
HopShopGo also has a BuyForMe concierge service where they will buy the items on your behalf. This is useful if you are unable to make a payment with the online store or if the store doesn't accept orders from your location.
How to Use HopShopGo
Sign up by clicking the "Sign in with PayPal" button.
Shop at Amazon and use your personal HopShopGo address as your shipping address.
Once HopShopGo receives your order at their U.S. warehouse, they will send you a notification. You can have your items stored while you buy more items, and then have them consolidated or repacked to save on shipping costs.
When you're ready to have your package shipped, pay the shipping fee and other charges at your HopShopGo account.
HopShopGo will ship the package to your Philippine address.
You will receive your package in 3-4 days for express shipping and 5-8 days for standard shipping. Express shipping fee is $18.80 for the first 0.5 kg and $4.80 for every additional 0.5 kg. Standard shipping fee is $14 for the first 0.5 kg and $4 for every additional 0.5 kg.
Conclusion
With Amazon's international shipping option as well as third-party forwarding services such as Shipping Cart, Johnny Air Cargo and My Shopping Box, you can shop to your heart's content. You'll no longer have to beg a friend or relative in the United States to buy a product that you like on your behalf. Just use these aforementioned services to buy from Amazon Philippines – and be willing to pay extra.