Are you interested in working abroad? Before you submit your resume, make sure that you have taken the Pre-employment Orientation Seminar (PEOS) from the Department of Migrant Workers (formerly the Philippine Overseas Employment Administration or POEA). This seminar is a pre-requisite for employment abroad and those who take it can acquire the PEOS certificate which can be used for job applications with a POEA-accredited recruitment agency.
The PEOS used to be conducted in POEA training centers all over the country. Would-be overseas Filipino workers (OFWs) would spend precious time and money to go to POEA training centers just to take the PEOS. But with the advent of the Internet, aspiring OFWs can now take the PEOS online in the comfort of their homes using their computer or smartphone.
Why Take the PEOS Online?
PEOS Online is a collaboration between the POEA and Workabroad.ph for the easy and convenient access to information and training on overseas job applications and life as an OFW. It contains 8 learning modules that take about an hour in total to complete.
Each module consists of a short video narrated in Tagalog and a slideshow presentation. After watching the video or slideshow, you will need to answer the review questions. You must have at least 3 correct answers before you can proceed to the next module. Otherwise, you will be taken back to the lessons until you get the required correct answers.
So why do you need to take the PEOS? Aside from getting the PEOS certificate which can be used for overseas job applications and pre-employment processing with the POEA, PEOS will also tell you everything you need to know about working abroad. Through the PEOS learning modules, you will learn how and where to apply for jobs, how to avoid illegal recruiters, how to stay safe while working abroad, how to live life as an OFW, and many more.
With PEOS Online, you don't have to go to a POEA branch to take the PEOS. Just use a computer or smartphone with Internet access and you will have your PEOS certificate in less than an hour. PEOS Online is available to anyone, so you can still take it even if you have no immediate plans to work abroad. It's chock full of information that's not only relevant to aspiring OFWs, but also for Filipinos in general.
How to Take the PEOS Online
First, you need to visit the PEOS Online website at https://peos.dmw.gov.ph. On the homepage, you can see two options:
Professional and Skilled Workers
Domestic Workers
Unless you're planning to work as a domestic helper or worker, click the first option which is "Professional and Skilled Workers."
Next, fill up the form on the right to create a free account. Include a working email and a unique password. Make sure to remember or save your password as there's no option yet to recover a lost password.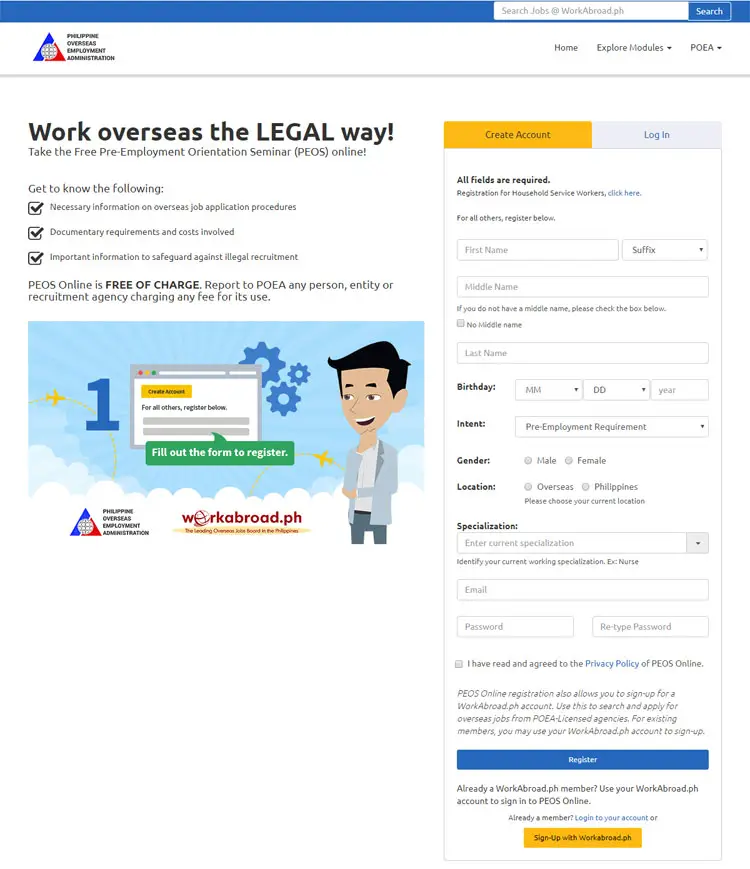 After entering your personal details, tick the box next to "I have read and agreed to the Privacy Policy of PEOS Online" and click the "Register" button.
You can also use your existing WorkAbroad.ph account to log in to the PEOS Online website – no need to create a separate account.
Review your account details and make sure that everything is correct, and then click "Confirm."
Congratulations! You have now successfully registered for PEOS Online. Read the instructions and start the online seminar by opening the first learning module.
Be sure to save or copy your account information because there's no option to retrieve a lost password. If you lost or forgot your password, you can request assistance from the POEA by emailing [email protected].
PEOS Online Learning Modules
PEOS Online consists of 8 learning modules, and each module takes about 7 minutes to complete. Here's the list of modules available in PEOS Online:
Module 1: PRICEST – contains general information about working abroad. PRICEST stands for physical mobility, relationships, income and expenses, career movement and job security, environment, skillset, and time.
Module 2: Job Search – contains information on where to apply for overseas jobs, what documents are required for job applications, and the importance of having an Overseas Employment Certificate (OEC).
Module 3: Forewarned, Forearmed – contains important information about illegal recruiters as well as the different forms of illegal recruitment.
Module 4: Get the Prices Right! – contains a list of pre-departure fees including government-mandated fees and placement fees.
Module 5: Seal the Deal – contains a list of the minimum provisions required in the overseas employment contract.
Module 6: Get Country Cozy! – learn how to familiarize yourself with the host country, including the climate, culture, lifestyle, religion, dress code, currency, and many more. This module will also teach you social media etiquette to avoid getting in trouble with employers and the authorities of the host country.
Module 7: Staying Healthy and Keeping Safe – contains information on the top health and security risks that OFWs regularly face.
Module 8: POEA – Caring All the Way – contains a list of POEA regional offices and extension units.
Each learning module has a short review or test composed of 5 questions. You will need to get at least 3 answers right to proceed to the next module. Don't worry if you fail the review. You will be taken back to the lessons and you can retake the test until you pass it.
Get Your PEOS Certificate
After completing all the modules, you will be shown a summary of all the information that you've learned. Click the "Print your Certificate of Completion" button to generate your PEOS certificate which you can include in your pre-employment processing with the POEA. To print the certificate, click the Print button on the upper-right corner of the screen (see the screenshot below) or type Ctrl + P on your keyboard.
That's it! You now have successfully completed the POEA Pre-employment Orientation Seminar and got your PEOS certification of completion. The next step is to apply for jobs abroad, ideally through a POEA-accredited and licensed recruitment agency. Beware of illegal recruiters and scammers, especially those you found on social media sites. Good luck!