As a Landbank depositor, you might already have a Landbank iAccess account where you can view your account balance and transactions. However, several online banking features like fund transfers and bills payment are not available by default and require further activation. So in this article, we'll teach you how to activate fund transfer in Landbank iAccess so that you can transfer money to other banks.
There are two ways to enroll in Landbank iAccess: through online and via branch enrollment. Online enrollment allows you to enroll to Landbank iAccess using your computer or mobile phone, while branch enrollment requires you to fill up a form and submit it to the Landbank branch.
The downside of online enrollment is that, by default, you will not have access to financial transactions such as fund transfers and bills payments. You can only perform non-financial transactions like viewing your account balance and transaction details or reporting a lost ATM card. To be able to perform financial transactions, you will have to activate these features by visiting a Landbank branch.
The good news is that you can now activate fund transfer features without going to the Landbank branch. So how do you activate fund transfer in Landbank iAccess online without leaving the house?
Landbank Fund Transfer Activation Process
For this article, we'll assume that you are already enrolled with Landbank iAccess and you want to activate fund transfer features for your account. If you are not yet enrolled with LBPiAccess, read this article to learn how.
Step 1: Download the Landbank iAccess enrollment form
Download the Landbank iAccess Enrollment and Maintenance Agreement (LI-EMA) form here. It's a PDF file but you can open it in Google Chrome.
Step 2: Print and fill out the form
Print the LI-EMA form on a letter size or A4 bond paper. The form has a total of four pages including the terms and conditions.
If you don't have a printer, you can fill out the PDF online through this link (make sure that you use a computer, not a mobile device, to fill out the form). After filling out the form, download it and attach it to the email you'll be sending.
Fill out the enrollment form with the appropriate information. Write in block or capital letters.
Date – Write the date for today.
Account and Contact information – Write your account name, birthdate, home address, email address, TIN, gender and other personal details. If not applicable, write "N/A."
Account to be Enrolled and the Desired Services

Account Number – Write your 10-digit Landbank account number.
iAccess – Check this box.
Account Type – Write "I" for individual account or "J" for joint account.
JAI No. – This stands for joint account indicator. Write "0" for individual account and "1" or "2" for joint account.
Fund Transfer – Check both boxes for "Source" and "Destination."

Signature over Printed Name – Sign the enrollment and maintenance agreement form as well as the Landbank iAccess terms and conditions on the last page.
Refer to the image below for the correct procedure in filling out the enrollment form.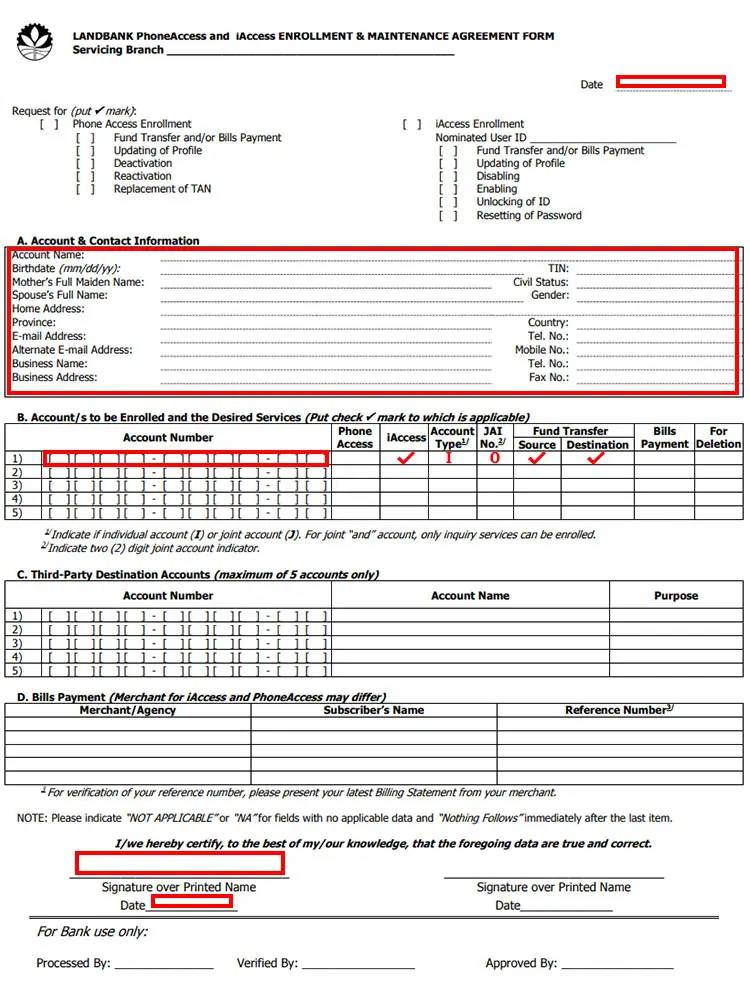 Step 3: Scan or take a photo of the form and your valid ID
Review the accomplished and signed enrollment form to make sure all the information is correct, and then scan the form. If you don't have access to a scanner, you can take a photo of it instead. You may also use an app like CamScanner to scan the form using your smartphone.
Scan or take a clear photo of a valid ID as well. Examples of valid IDs are SSS ID, UMID, passport, voter's ID and postal ID.
Save the scanned copies or photos as JPG, PNG or PDF files.
Step 4: Email your servicing branch
Open your email and send the scanned copy or photo of the enrollment form and valid ID to your servicing branch.
You can find the email address of your Landbank servicing branch using this network locator page. This PDF document also has a list of Landbank branches and their addresses (use it if you have trouble using the network locator).
For example, if your servicing branch is Buendia Branch in Makati City, you should send the email to [email protected].
Here is a template of the email you may send. Write "Activate Fund Transfer" as the subject.
Hello Landbank,
I would like to request activation of fund transfer service for my Landbank account (xxxx-xxxx-xx).
Attached is a copy of the Enrollment and Maintenance Agreement Form and my valid ID.
Thank you and looking forward to hearing from you.
Sincerely,
(Your Name)
Don't forget to attach the scanned copy or photo of the enrollment form and ID before sending the email.
Step 5: Wait for activation
Wait for your servicing branch to validate and process your activation request. This will take about 3 banking days, unless Landbank requests additional information.
You will receive an email from [email protected] after activation of the fund transfer feature.
Once the fund transfer feature is activated in Landbank iAccess, you can easily transfer money from your Landbank account to other banks like BDO and BPI. Just login to the Landbank iAccess website or mobile app to perform fund transfers to another Landbank account or to other banks.
Conclusion
Activating the fund transfer feature in Landbank iAccess does take a little bit of work and patience, but in the end, it's definitely worth it. After all, it's too much of a hassle to go to the bank just to transfer money. Thanks to Landbank iAccess' fund transfer facility, you can do it online in the comfort and convenience of home.
For your questions and concerns, call (02) 8 405-7000 or 1-800-10-405-7000 (PLDT toll-free outside NCR) or send a message on Facebook.