Landbank iAccess or LBPiAccess is the online banking facility of the Land Bank of the Philippines and the Overseas Filipino Bank where clients and depositors can access their accounts, pay their bills, transfer funds to another account, and more.
With LBPiAccess, Landbank customers can check their account balances and perform other banking transactions using a computer or mobile device with Internet access. This is really helpful for busy people who don't have the time or motivation to personally visit a Landbank branch or ATM. LBPiAccess is available and accessible 24 hours a day, 7 days a week (except during scheduled maintenance).
Maybe you're a government employee who wants to know if your salary has been released. Instead of going to an ATM to inquire about your balance, you can use Landbank iAccess to view your account balance using your computer, laptop or smartphone. Long lines usually form at ATMs during paydays as employees are eager to withdraw their salaries. You can save yourself from the hassle of queueing at ATMs by enrolling your Landbank account with LBPiAccess.
The following Landbank accounts are eligible for enrollment in LBPiAccess:
Savings account with ATM card
Current account with ATM card
Regular current account
Regular interest-bearing current account
Interest-bearing current account with ATM card
Only individual peso accounts, either single or joint accounts, can be enrolled in LBPiAccess. Passbook accounts are not eligible for Landbank iAccess enrollment, as well as dollar accounts.
There are two ways to enroll in LBPiAccess: online enrollment and branch enrollment. Let's talk about each one and how to enroll your Landbank account.
Landbank iAccess Online Enrollment Process
You can enroll in Landbank iAccess online using your computer or smartphone. Only accounts with ATM cards can be enrolled through the LBPiAccess online enrollment system.
While it's convenient to register your account by yourself, one disadvantage is that your account will have limited access. Your access will be restricted to non-financial transactions such as viewing your account summary and transaction details. You won't be able to transfer money to another account or pay your bills. If you want to perform fund transfers and bill payments, you will have to enroll in LBPiAccess by visiting a Landbank branch (branch enrollment).
Anyway, if you don't have any plans to send money and you only want to check how much money you have in your account, then enrolling in LBPiAccess online is the way to go. Follow these steps to enroll your Landbank ATM account with LBPiAccess:
Step 1: Open the Landbank iAccess Website
Open www.lbpiaccess.com on your web browser. Click "Enroll Now!" on the top-left portion of the page, as indicated by the red arrow on the screenshot below.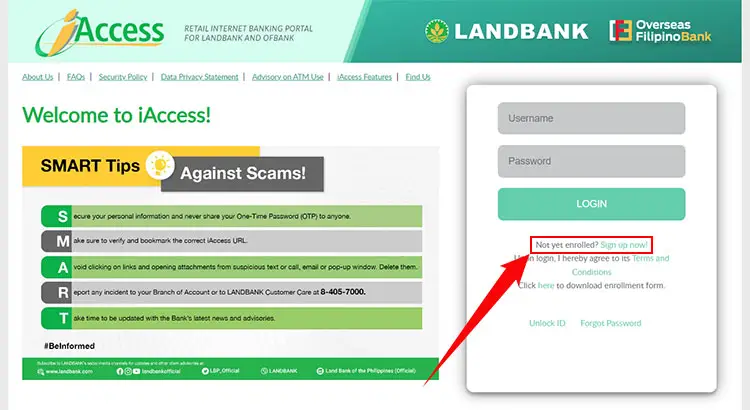 Step 2: Accept the Terms and Conditions
Read the Landbank iAccess terms and conditions carefully. Scroll down to the bottom and click "I agree."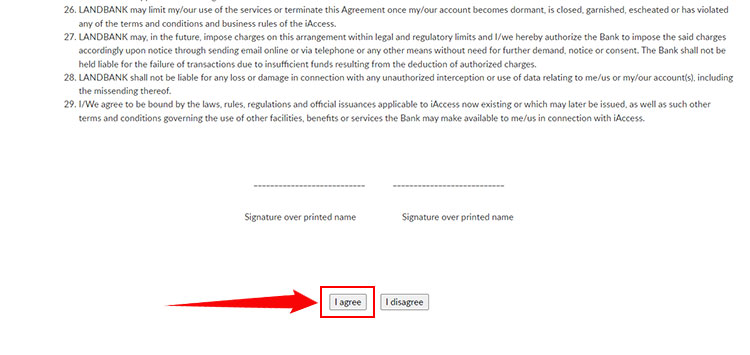 Step 3: Enter Your LBPiAccess Account Information
Type in your account and personal information. Fields with red asterisks are required.
ATM Account No. – this is the 10-digit bank account number listed in your ATM card, and not to be confused with the 16-digit debit card number. Your ATM account number is usually located below your name and starts with "SA" for savings accounts.
ATM PIN – the 4-digit code that you input during ATM transactions.
JAI – stands for joint account indicator. Enter "0" for individual accounts and "1" or "2" for joint accounts.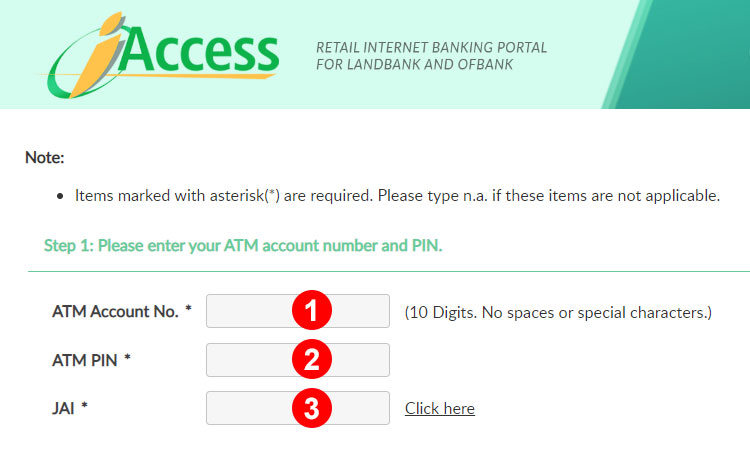 Important: Include your TIN if you provided it when you opened your Landbank account. Otherwise, your online registration will be rejected and you will have to register again.
Create three security challenge questions and set your iAccess ID (letters and numbers only).
Solve the captcha code ("I'm not a robot") and click "Submit" when you're finished. A pop-up message will appear. Click "OK."
Step 4: Review Your Information
Carefully read and review your provided information. Scroll down to the bottom. If everything is correct and accurate, click "Confirm." If you want to make any changes, click "Back."
Step 5: Wait for the Activation Email
Your Landbank iAccess registration is now being processed. Wait for the email informing you that your enrollment has been approved.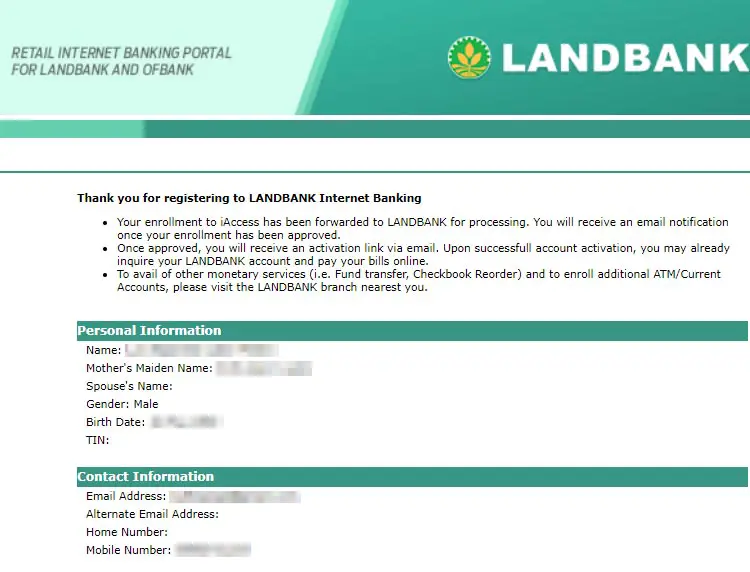 You will usually receive the activation email within 48 hours. If 48 hours have elapsed and you have not yet received an email, call Landbank customer care at (02) 405-7000 (Metro Manila) or 1-800-10-405-7000 (PLDT domestic toll-free).
Step 6: Activate Your Landbank iAccess Account
You will receive an email with the subject "Activation Code with OTP." Click the link inside the email and enter the provided one-time PIN (OTP).
The OTP will expire in 960 minutes or 16 hours. So don't waste any time – activate your account as soon as you receive the email.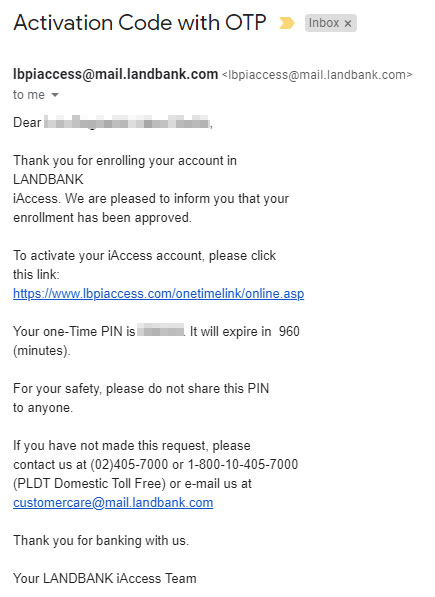 Enter your iAccess ID and the activation code or OTP. Click "Submit." A pop-up message will appear. Click "OK."

Answer the three security questions (which you created during enrollment process) and nominate a password. The password must be 7-15 characters and consists of letters or numbers. Click "Confirm" when you're done. Click "OK" when prompted by a pop-up message.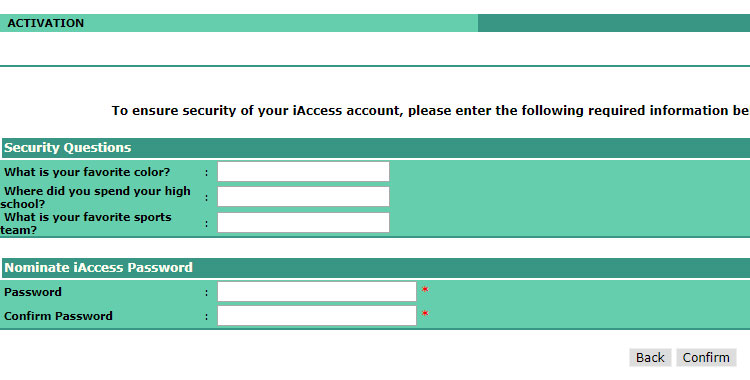 A message will show that you have successfully registered to Landbank Internet Banking. Click "Log in here" to log in to your LBPiAccess account using your iAccess ID and password.

Step 7: Log in to Your LBPiAccess Account
On the right side of the screen, you can see the login form. Enter your iAccess ID and password. It's recommended to use the virtual keyboard next to the password field to enter your password, especially if you're using a public computer. Click "Log in."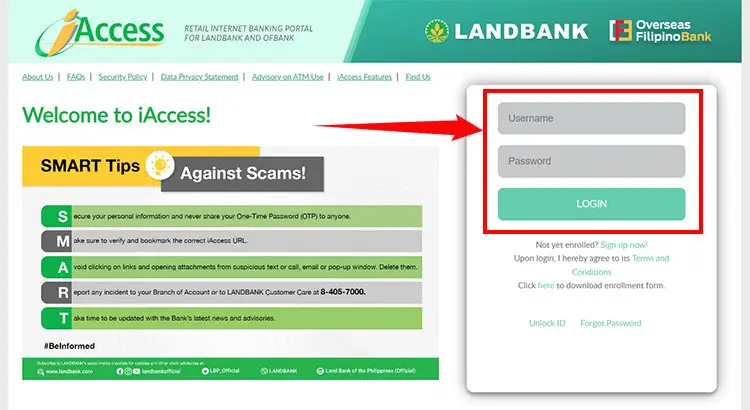 You can now use your LBPiAccess account to check your account summary and view transaction details.
Don't forget to log out if you're using a public computer.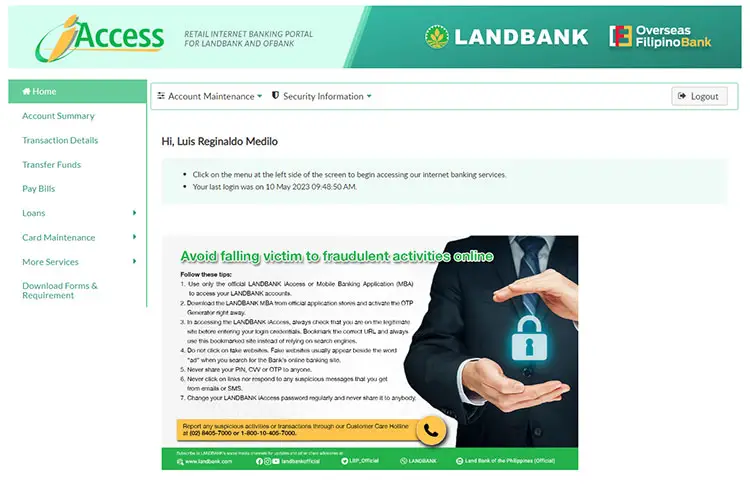 That's it! You have successfully enrolled for Landbank iAccess online banking. For additional features such as fund transfers and bills payment, visit your nearest Landbank branch.
Landbank iAccess Branch Enrollment
If you want the ability to transfer money to another Landbank account, pay your bills, or order checkbooks through the Internet, you should definitely enroll with LBPiAccess by visiting the nearest Landbank branch.
Branch enrollments are applicable to both savings and current accounts, except those with passbooks. These are the requirements for LBPiAccess branch enrollment:
Valid ID
Duly-accomplished and signed LandBank iAccess Enrollment and Maintenance Agreement form (LI-EMA). Download the form here.
Go to the New Accounts section and tell the officer in charge that you want to enroll your account with LBPiAccess. Give your ID and LI-EMA form to the officer, who will process your application. The officer will then tell you when your LBPiAccess account will be activated.
You can also enroll multiple accounts. To do that, choose a servicing branch, which should be one of your depository branches and the branch that you prefer to be your LBPiAccess account administrator.
Activate More Landbank iAccess Features Online
You can now request the activation of these iAccess features online without going to a Landbank branch:
Fund transfer
Updating of mobile number
Updating of email address
Just follow these steps:
Download the iAccess enrollment form here.
Fill out the form as correctly and accurately as possible. Check the "Source" and "Destination" under the "Fund Transfer" column.
Submit a scanned copy or clear photo of the accomplished and signed enrollment form together with a valid ID to your servicing branch's email address.
Wait for the branch to validate and process your request.
For any questions, message the Landbank official Facebook page or call (02) 8 405-7000 or 1-800-10-405-7000 (PLDT toll-free outside NCR).
What You Can Do With LBPiAccess
As was mentioned before, enrolling with LBPiAccess online restricts your access to non-financial transactions while enrolling at a Landbank branch allows you to perform both financial and non-financial transactions. So what are non-financial and financial transactions?
Non-Financial Transactions
Account summary – View your enrolled account's current balance, available balance, hold and float amounts.
Transaction details – View the transaction details (account history) of your enrolled deposit accounts for up to 60 days.
Report a lost or stolen ATM card – Block ATM transactions after reporting your card as lost or stolen.
Check status inquiry – View the status of checks issued from your checking account.
Returned check deposit inquiry – View the details of returned check deposits.
Financial Transactions
Fund transfers – Transfer funds from your enrolled account to your other Landbank account or to your nominated third-party Landbank account. You can transfer the amount immediately or schedule it on a future date. A transaction reference number will be provided as proof of the transaction.
Bills payment – Pay bills online through LBPiAccess. You will have to write down your preferred billers or merchants in the LI-EMA form during branch enrollment.
Checkbook requisition – Order checkbooks for your checking account. If your checkbook request is approved, your account will be debited for the cost of the checkbook, and you will have to pick it up at your Landbank depository branch.
For more information about what you can do with LBPiAccess, check out their FAQ page.
Landbank Mobile Banking App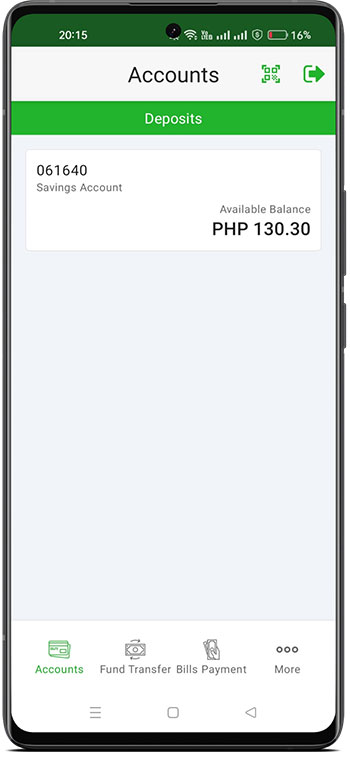 Landbank also has an online banking app that you can download from Google Play or the App Store. Enrollment in LBPiAccess is required to avail of the features available in the app, such as:
View your savings or current account balance
View your Landbank credit card or cash card balance
View transaction history and account information
Transfer funds from your enrolled account to another Landbank account or to any BancNet member bank
Pay bills to 80+ merchants
View foreign exchange and Unit Investment Trust Fund (UITF) rates
Find Landbank branches and ATM sites
Request checkbooks
Perform lock and unlock functions through the "Mobilock" module
Generate a One-Time PIN (OTP)
Take note that financial transactions such as fund transfers and bills payment are available only to branch-enrolled LBPiAccess accounts.
Personally, I prefer using the Landbank mobile app over the web version. The app is lightweight and takes up only 6MB (as of this writing), which is smaller than most online banking apps. I don't need to type the LBPiAccess website address on my web browser and enter my login info everytime (this is possible by enabling Quick Balance in the mobile app).
To use the Landbank mobile app, make sure that you have enrolled your account with LBPiAccess and that it's already activated. At the moment, there's no way to enroll in LBPiAccess using the mobile app, so you will have to do it using a web browser like Google Chrome.
Conclusion
The Internet has really made it easier and more convenient for people to do their banking online. With LBPiAccess, you can view your balances, transfer funds or pay bills with just a few clicks of the mouse or taps of the screen – saving you the time and effort to visit the bank or go to an ATM. We hope that this short guide on Landbank iAccess enrollment will help you in your dealings with the Philippines' largest government-owned bank.
If you need help with Landbank iAcccess, just call their customer service hotline (02) 8 405-7000 or the PLDT toll-free number 1-800-10-405-7000. You can also send an email to [email protected].