Mobile subscribers, not only in the Philippines but also around the world, are always on the lookout for affordable mobile Internet plans. Subscribers look at how much Internet data they can get for the price they are paying. In the Philippines, prepaid subscribers usually register to mobile Internet promos that offer bulk Internet data with a set validity period. One such promo is Globe SURF4ALL99.
The Globe SURF4ALL99 promos gives you an incredible 9GB of mobile data for only ₱99 for up to 7 days! Not only that, SURF4ALL99 data can be shared with your friends and across multiple devices and SIMs, including Globe Prepaid, Postpaid, Platinum, Globe at Home Prepaid WiFi, Globe LTE Mobile WiFi, and TM (Touch Mobile). Amazing, right?
Up to four users can share a single SURF4ALL99 promo subscription, which means that you can save a lot of money by sharing the cost with your friends or family. The best thing about SURF4ALL99 is that it works on both prepaid and postpaid. It can even be used on WiFi devices like the Globe at Home Prepaid WiFi or the LTE pocket WiFi device. You'll no longer have to register to a different promo for your WiFi device because SURF4ALL99 is applicable to all Globe SIMs and WiFi devices.
The Globe SURF4ALL99 promo is definitely one of the most "bang for the buck" Internet data promos that you can find. Where else can you find a prepaid load promo that gives you a generous amount of mobile data that you can freely share with your friends? So if you're interested to know more about SURF4ALL99, read on to learn how to register to the promo and share your data allowance with friends and family.
SURF4ALL99 Inclusions
The Globe SURF4ALL99 promo has the following inclusion:
9GB mobile data that can be shared with your friends and family
The promo is valid for 7 days (one week) and costs ₱99.
How to Register to SURF4ALL99
You can register to SURF4ALL99 by dialing the Globe USSD code *143# and navigating to Surf4All > Surf4All 99 > Subscribe. Make sure that you have at least ₱99 load balance to subscribe to the promo.
After registering to SURF4ALL99, you will receive a text confirmation of your successful registration along with the validity period. You can now manage your group on the GlobeOne app or via *143#.
Another way to register to SURF4ALL99 is through the GlobeOne app. Download the app from Google Play (Android) or the App Store (iOS).
After adding your mobile number to GlobeOne, tap Buy Promos and then Group Data. Select the Surf4All99 promo to register it. Be sure to have enough load balance to register to the promo (your load balance is prominently displayed on the GlobeOne app).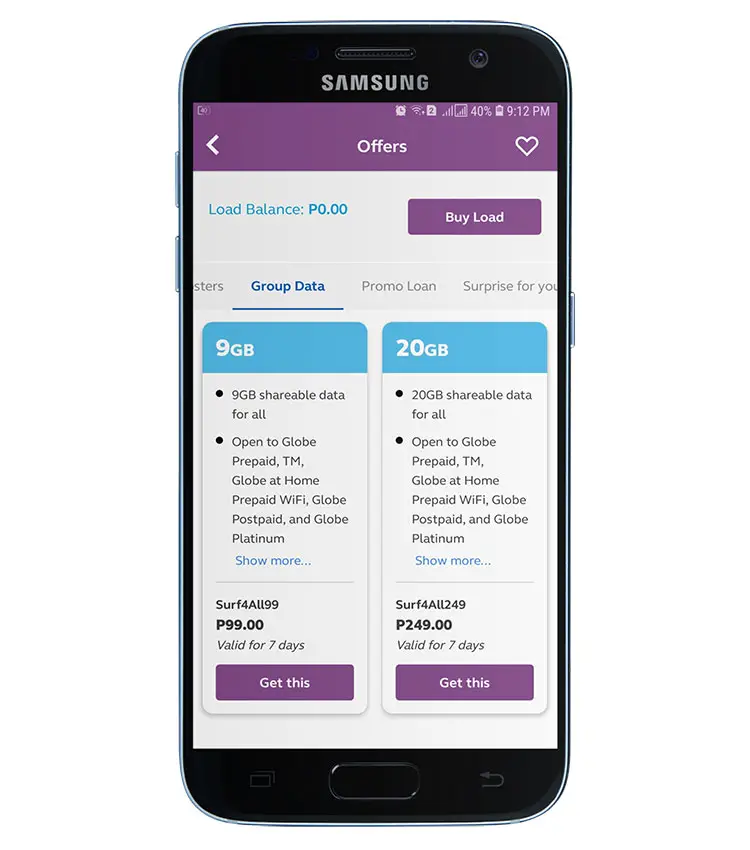 You can also subscribe to SURF4ALL99 through GCash. Open the GCash app and tap Buy Load. Enter your Globe mobile number and tap NEXT. Navigate to the ALL-TIME FAVES tab and then select SURF4ALL99 to register to the promo.
How to Add Group Members and Set Data Limits
You can share your SURF4ALL99 data with your friends and family members, but only limited to four subscribers (the owner and three members) at any given time. As the owner, you can freely add and remove members as you see fit.
SURF4ALL99 is a shared pool of 9GB data that the owner (the person who subscribed and paid for the promo) and group members can use collectively. The promo doesn't automatically allocate a set amount of data for each member; the owner is the one responsible for setting the data usage limits for each member. It's possible for a single member to consume all the data if the owner didn't set a data limit for him.
For example, a group has an owner and three members. The owner allocated 3GB for one member but didn't set a limit for the other two members. The owner and the other two members can use up the whole 9GB data allocation but the first member can only use up to 3GB.
The owner has the following roles:
Add up to three (3) members who can share in the SURF4ALL99 data allocation
Remove any member from the group
Set a data limit for each member
View and track the data usage of each member
Opt out from the SURF4ALL99 promo
On the other hand, members can do the following on the GlobeOne app:
View and track his data usage
Leave the group
To manage your group data and add members, open the GlobeOne app and tap "View More Details" under "My Data."
Under "Mobile Data Breakdown," click "Manage Group Data."
Tap "Add Member."
To add a member, enter his nickname and mobile number. Check the Terms and Conditions box and then press "Add Member."
You can now set a data limit for this member. Tap the name of the member and click "Manage Data Limit."
Choose the data cap for the member (1GB, 3GB or 5GB) and press "Apply."
Repeat the steps to add up to three members and set data usage limits for each one. To remove a member from the group, just select the member and tap "Remove This Member."
You can also change the data limit you've previously set for a member. To do that, select the member, tap "Manage Data Limit" and then choose the new data limit. Take note that changing the data limit will not reset the member's consumption back to zero. For example, if the member has already consumed his 1GB allocation and then you changed his data limit to 3GB, he can only use up to 2GB data.
If you don't want to install the GlobeOne app, you can manage your group data by dialing *143# and navigating to Surf4All > Manage Your Group. From there, you can add members, set data limits, remove members or leave the group.
How to Check SURF4ALL99 Balance and Status
To check your SURF4ALL99 balance, text DATA BAL to 8080. Only the owner can check the remaining data allowance, but members can view the status and validity of the promo.
You can also dial *143# and go to Surf4All > Status. You will receive a text message with details about your remaining data balance and promo expiration date.
GlobeOne users can easily check their promo and prepaid load balance on the GlobeOne app itself.
Need Help?
SURF4ALL99 is definitely one of the best mobile data promos for Globe subscribers who love to surf the Internet. And because its data is shareable, it's ideal for group of friends and even the entire family. Be sure to set a data limit for each group member so that everyone has the chance to browse Facebook, watch YouTube, surf the web and many more.
If you have any questions and concerns about your Globe promo, don't hesitate to call the Globe toll-free hotline 211.