Let's say that you accidentally archived a message in Facebook Messenger and you can no longer view it. The unfortunate thing is that the Messenger app doesn't provide a way to view archived messages. How do you see your archived messages in Messenger so that you can recover them?
Messenger is one of the most popular chat applications due to the fact that it's associated with your Facebook account. Other chat apps like WhatsApp, Viber and Telegram are standalone apps that require you to sign up for an account. Messenger, on the other hand, comes bundled with your Facebook account so you'll automatically get one when you register with Facebook.
One of Messenger's shortcomings is its inability to retrieve archived messages. It allows you to archive your conversations but doesn't provide a way to see archived messages. Once you archive a message, it disappears from your inbox and you will have to find a way to view it. This can be quite challenging for those who mostly use Messenger on their mobile phones.
One way to see archived messages on Facebook Messenger is to use your computer instead of your mobile phone. However, Facebook has removed archived messages from the web version of Messenger, replacing it with "hidden chats." Instead of archiving a message, you can "hide" it and it will go straight to your hidden chats folder. The hidden chats folder is not available on the mobile app, only on desktop.
Still, there's a way to see your archived messages on Messenger using your mobile phone. You don't have to use a computer because Facebook has replaced archived conversations with hidden chats, so you can no longer view archived messages on your computer browser. What you'll use instead is your mobile browser.
How to View Archived Messages on Messenger
1. Launch a browser app on your mobile phone, whether it is Chrome, Firefox, Safari or your Android stock browser.
2. Open Facebook at m.facebook.com and login to your account.
3. Once logged in, tap the Messenger icon on the upper-right corner.
If the Messenger app is installed on your phone, it will automatically launch a chat window. Close or dismiss that window.
4. You're now in your Messenger inbox. At the bottom of the page, click "View Archived Messages."
5. Congratulations! You can now see your archived messages in Messenger.
How to Unarchive Messages in Messenger
To move an archived message back to your inbox, open that message and tap the icon on the upper-right (refer to the screenshot below). Select "Unarchive" to move the message from the archives to your inbox.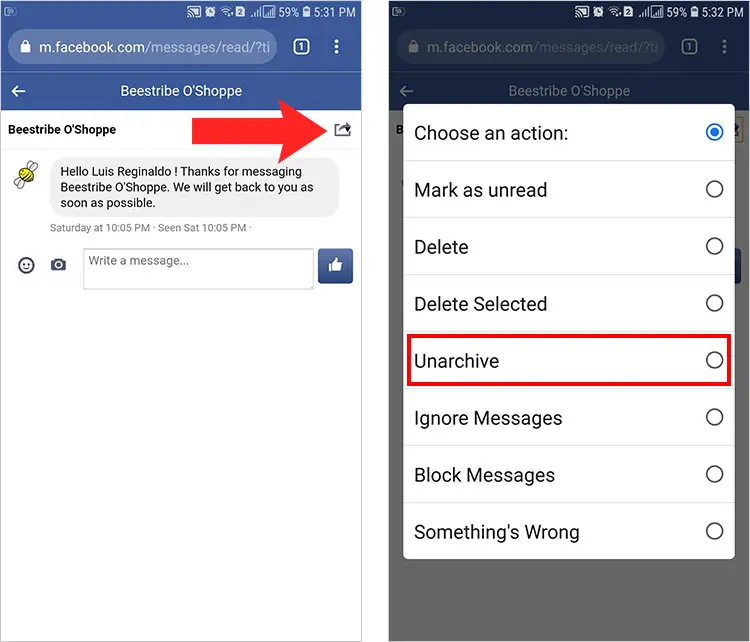 You can also access archived messages in Facebook Messenger by searching for the name of your friend or contact, and then opening your conversation. You can then unarchive that message by typing a new reply.
Your friend or contact can also reply to your message and that message will then be unarchived.
Final Thoughts
Viewing your archived messages on Facebook Messenger can be quite a task if you're only using the Messenger app. You can view an archived message by searching the name of your contact and going to your conversation, but to see all archived messages, you will have to use your phone's mobile browser.
We hope that this short tutorial helped you to see your archived messages on Messenger. If you want to know how to turn off your active status on Facebook and appear offline, do check out this article.