If you're a Converge subscriber who is currently experiencing Internet connection issues, you'll be happy to know that there are several ways to contact the company to get the prompt assistance that you urgently need. From calling the Converge hotline number to messaging their customer service team on Twitter, you can reach out to them and have your immediate concerns addressed and resolved.
Converge ICT is one of the fastest-growing Internet service providers in the Philippines, with an estimated 1.8 million broadband subscribers as of September 2022. The company competes with PLDT in offering broadband and fiber optic Internet plans such as FiberX and Air Internet, as well as cable TV via Air Cable. Converge ICT mainly operates in Metro Manila and parts of Luzon but is expanding its reach in the Visayas and Mindanao.
Although Converge ICT is known for its fast and reliable Internet service, there are times when speed and connectivity are less than satisfactory. If slow Internet is causing disruption in your work and leisure, or if your connection was abruptly cut off, then you should contact the Converge hotline and customer service to request urgent assistance and get all the answers you need.
Calling the Converge hotline number is still the quickest way to reach out to customer support, but you can also send them an email if you don't have a landline phone. Converge ICT also has a click-to-call service that lets you call their hotline number for free using your Wi-Fi or data connection. This is a great way to contact customer support if you don't have prepaid load or airtime credits on your mobile phone.
You may contact the Converge hotline and customer service to:
Know more about Converge's services,
Apply for an Internet plan,
Follow up on your application,
Request your statement of account (SOA),
Check if your account is active,
Check if your area is experiencing an outage,
Request reconnection,
Request technical support and assistance, and
Talk to a customer support agent.
Without further ado, let's discuss the various ways to contact Converge via phone, email and website. But before you call or message them, be sure to have your Converge account number (as well as your personal information) ready in order to expedite your support request. If you have forgotten your account number, you can get it from your Internet bill or statement of account (SOA).
Call the Converge Hotline Number
Customers in the National Capital Region (NCR) may call the Converge hotline number (02) 8667-0850. The NCR customer service hotline is open from 8:00 AM to 6:00 PM, Mondays to Sundays.
Regional and provincial Converge subscribers may call (045) 598-3000. The regional customer service hotline is open from 7:00 AM to 10:00 PM, Mondays to Sundays.
If you're using a mobile phone, you may call the Converge customer service mobile number 09190572428. This number is for voice calls only (SMS or text messages are not allowed).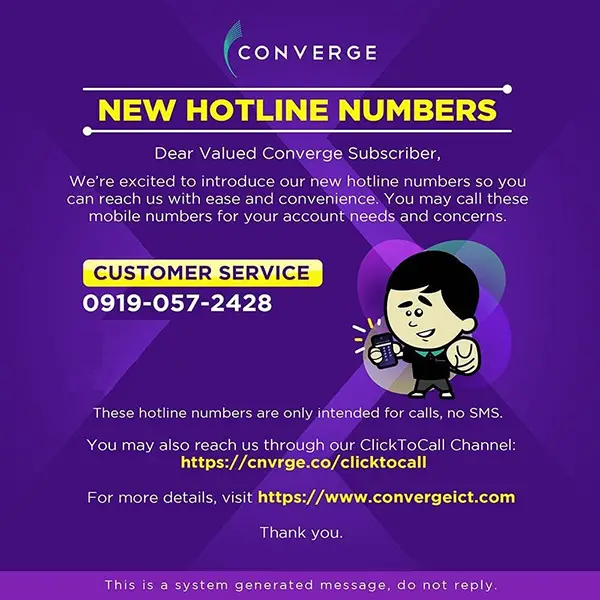 Take note that the Converge hotline is an automated answering system that lets you select your options first using your phone dialer. Just follow the recorded instructions dictated by the voice prompt and press the appropriate number on the dialer.
For example, if you are requesting technical assistance due to loss of signal (LOS) and would like to speak to a customer support agent, you may follow these steps:
Press to continue – Press 1
For residential – Press 1
For technical concerns – Press 4
Enter your account number
If correct account number – Press 1
LOS – Press 1
Talk to an agent – Press 2
English/Filipino – Press 1
Use the Converge Click-to-Call Service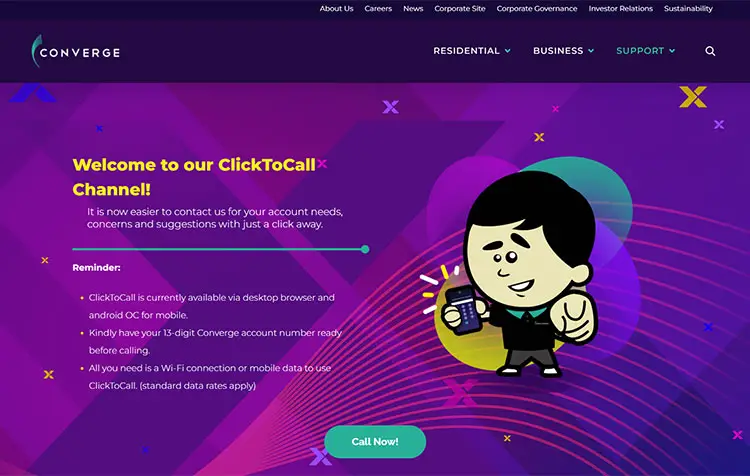 Don't have prepaid load? Don't worry because you can still call the Converge hotline through your computer or mobile phone. Thanks to their click-to-call service, you can call Converge customer service toll-free using your Wi-Fi or mobile data connection.
The click-to-call service is currently available via your desktop browser or your Android smartphone. To use the service, just visit the Converge ClickToCall Channel and then click the "Call Now!" button. Grant your browser permission to access your device's microphone and then wait for the voice prompt. Follow the instructions and choose your options using the dialer. From there, you can request to personally speak to a customer service agent.
Send a Message on the Converge Website
If you don't like talking to customer support, you can send them a message instead. To do that, choose from any of these two online forms based on your specific issue or concern:
Technical Support – For support requests related to technical issues (e.g. loss of signal, slow connection, no Internet access)
Customer Care – For non-technical support questions (e.g. billing concerns, SOA requests, new applications)
On the online form, you will need to enter your 13-digit Converge account number as well as your name, email address and contact number. Be sure to state your issues and concerns completely and accurately to hasten the resolution of your problem and to cut down on back-and-forth emails.
Converge typically replies within 24 hours, so only use the online form for questions and concerns that don't need immediate attention (e.g. to check the status of your application). For urgent and critical concerns, it's better to call the Converge hotline numbers (02) 8667-0850 or 09190572428.
Send an Email to Converge
Yes, Converge still accepts emails! Just write an email describing your technical issues or general support inquiries, and then send it to [email protected] or [email protected].
Don't forget to include your Converge account number and some personal details such as your complete name, residential address and contact number.
Submit a Support Ticket on the Mobile App
The Converge GoFiber mobile application offers subscribers a convenient way to view their billing statement, pay their bills online, apply for an Internet connection, compare plans, check signal strength, and create customer support tickets, among many others. If the app is not yet installed on your phone, you may download it from Google Play or the App Store.
To open a support ticket on the Converge app, just tap "Help & Support" and then press the "Submit a Request" button.
Send a Message on Twitter
If you have a Twitter account, you can tweet or DM your concerns to the official Converge customer support account @Converge_CSU. The company's Twitter account is quite responsive to customers' concerns and questions, so be sure to mention them in your tweet to have your issues and concerns attended to.
Final Thoughts
It's nice to know that Converge ICT offers several ways to reach them not only via phone but also through email and social media. Even if you don't have a landline phone or cellphone load, you can still contact Converge through the ClickToCall channel using your Wi-Fi or data connection. So there's no excuse not to call the Converge hotline in case you're experiencing technical issues with your Internet connection.