Is your SSS account locked due to several unsuccessful login attempts? Don't panic because there are a few ways to unlock your SSS account if it's locked. You can either unlock your SSS account manually or seek assistance from the SSS who will unlock the account for you.
As an active and paying member of the Social Security System (SSS), it's important to have a My.SSS account so that you can keep tabs on your membership. With your My.SSS account, you can view your employment records, inquire about your contributions, generate payment reference numbers, apply for a loan, and more. Many transactions that were normally performed in person can now be done online through your SSS account. It's a huge time saver, indeed.
However, it's easy to get locked out of your SSS account. If you entered the wrong password five consecutive times, you will get the dreaded "Your account is locked" message and you will not be able to login even if you provide the correct password on your next login attempt.
So what should you do in that situation? Fortunately, there's a relatively quick and easy way to unlock your locked SSS account. What you can do is to reset your SSS account password, and after changing your password, you will immediately regain access to your account. If you already know how to change your SSS password on your own, you can skip reading the rest of the article.
Unlock Your SSS Account via Password Reset
The easiest and quickest way to unlock your locked SSS account is to reset the password. For this article, we'll use the My.SSS website although this also applies to the SSS mobile app. The difference is that the mobile app asks for your username instead of the CRN or SSS number.
On the My.SSS login page, click the "Forgot User ID or Password?" link below the member login form.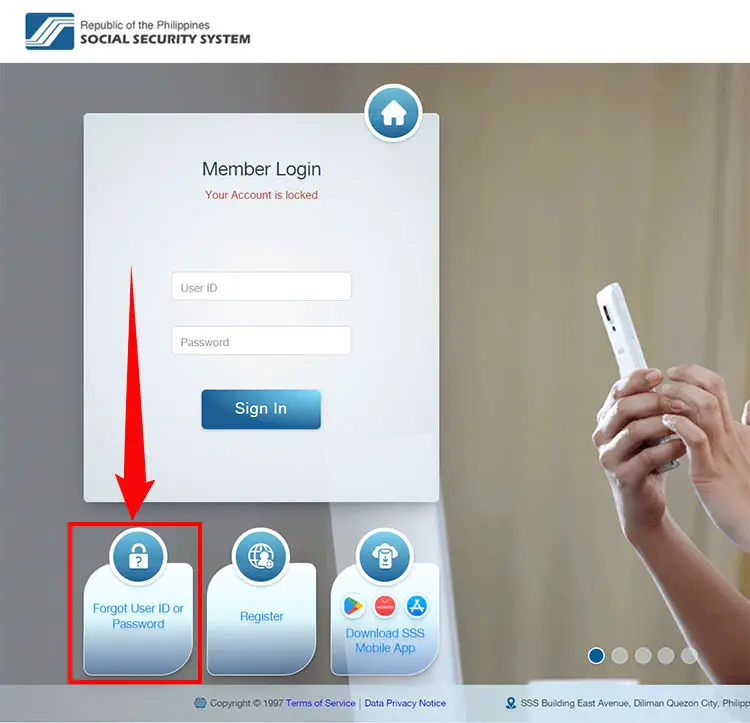 Next, enter your common reference number (CRN) or your social security (SS) number. The CRN can be found in your UMID card.
Enter the captcha code and click "Submit."
SSS will send a password reset link to your registered email. If you didn't receive an email after a few minutes, try checking the spam folder.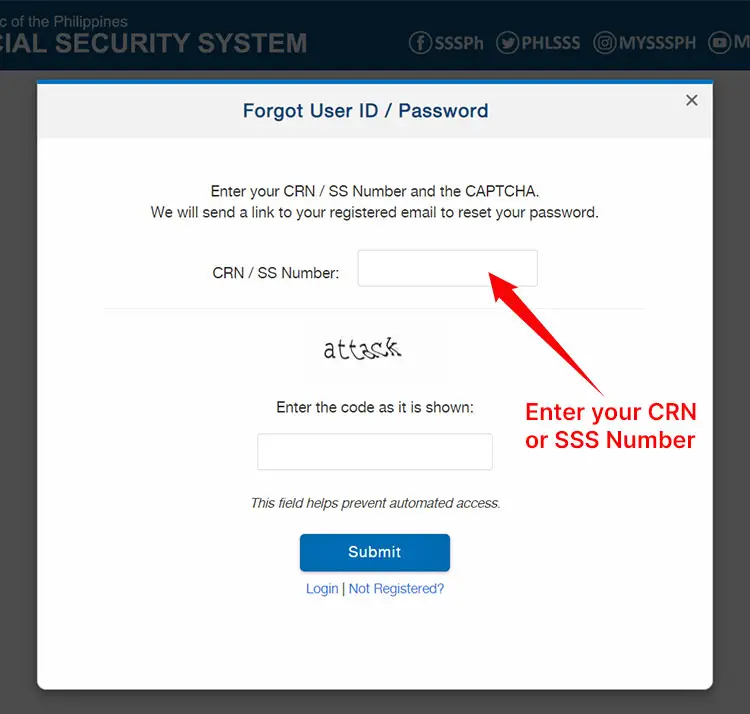 Open the email with the subject line "Password Reset Request." Click the link inside that email to reset your password.
On the password reset page, enter your new password twice in the provided fields. Here are some rules for creating your new password:
Contains 8-20 alphanumeric characters (letters and numbers)
First character must be alphabetic or a letter
Must have no special characters (examples: % $ @ *)
At least one character must be a number
At least one character must be in uppercase (capitalized)
Must not be the same as the user ID
After creating a new password, click "Submit."
A popup dialog with the message "This action will send the supplied information to SSS. Do you want to continue?" will appear. Click "OK."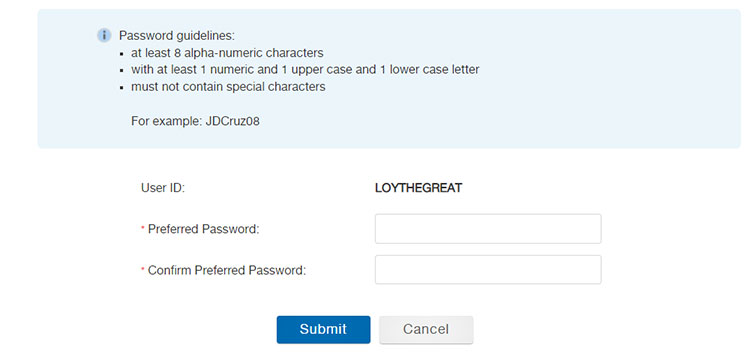 Congratulations, you have now unlocked your SSS account! You will automatically be logged in to your My.SSS account. Remember or save your new password to avoid being locked out in the future.

Send an Email
If you cannot (or don't want to) reset your password in order to unlock your SSS account, you may request the SSS to unlock it for you.
Here's an email template that you can use. Write down "Request to Unlock SSS Account" as the subject line.
Hello SSS,
My SSS account was locked due to repeated unsuccessful login attempts. In this regard, I kindly request unlocking of my SSS account. The following are my personal details for your verification:
Name: Juan dela Cruz
SSS Number: 0123045067
Address: Maria Clara Street, Tondo, Manila
Date of Birth: January 1, 2000
I have attached a photo of my valid ID for identification purposes. Thank you and looking forward to hearing from you.
Respectfully,
Juan dela Cruz
Replace the personal information (name, SSS number, address and date of birth) with your own. Attach a photo or scanned copy of your UMID or any valid ID, and send the email to [email protected] or [email protected].
SSS will usually respond in 1-2 business days, so please be patient.
Call the SSS
If you don't want to wait hours or days for a response, you can call the SSS and get your account unlocked in a matter of minutes. You may call any of the following numbers:
Trunkline Number: (632) 8 920-6401
Call Center Numbers: 8 920-6446 to 55
Toll-Free Number: 1-800-10-2255777 (1-800-10-CALLSSS)
If you are calling from your mobile phone, include the area code 2 before the 8-digit landline number. For example, 28920-6401.
The SSS call center is open everyday, 7:00 AM to 7:00 PM, except Sundays and holidays.
Visit the SSS Branch
If you still can't unlock your SSS account by emailing or calling the SSS, you can drop by at the nearest SSS branch and get help personally. Bring along a valid ID for identification purposes.
How to Unlock SSS Account Without Email
What if you don't have access to your SSS-registered email? Can you still unlock your SSS account?
If you can't change your password to unlock your SSS account because you no longer have access to your email, you can ask the SSS to change the email address associated with your SSS account. You can either send an email to [email protected] or call the SSS at 8 920-6446 to 55 for assistance.
You will be asked to provide your personal information such as your date of birth or your mother's maiden name. This is a precautionary measure to confirm that you are the real owner of the account.
Once your SSS-registered email is changed, you can reset your SSS account password to unlock your account.
Conclusion
Getting locked out of your SSS account can be quite annoying and frustrating. Thankfully, there are several ways to unlock your account. Depending on the procedure, it may take as little as a few minutes to unlock your SSS account, or as long as several days. The important thing is that you regain access to your account, so that you can view your membership records and perform online transactions with the SSS.