Got a new Globe SIM? Maybe you're a new Globe subscriber or you switched to Globe from another mobile network, and you want to activate your new Globe SIM. By activating your Globe SIM, you'll have access to Globe's nationwide 4G/LTE network and you can start sending text messages, calling your friends and browsing the Internet.
The latest Globe SIM cards are 5G-ready, which means that you can browse the Internet in 5G speed as long as you are using a 5G-capable handset. But if 5G is not yet available in your area, or if you don't have a 5G phone yet, don't worry because your new Globe 5G-ready SIM can use 4G/LTE and 3G.
If you're still using a 3G SIM, it's time to upgrade to an LTE or 5G-ready one. You can upgrade your Globe SIM, without losing your old number, by buying an LTE Upgrade SIM. Upgrade to the new LTE SIM by texting UPGRADE to 8080 using your old non-LTE SIM. Afterwards, insert the new SIM and enter the 6-digit upgrade code when prompted. You can read this article to learn how to upgrade your Globe SIM.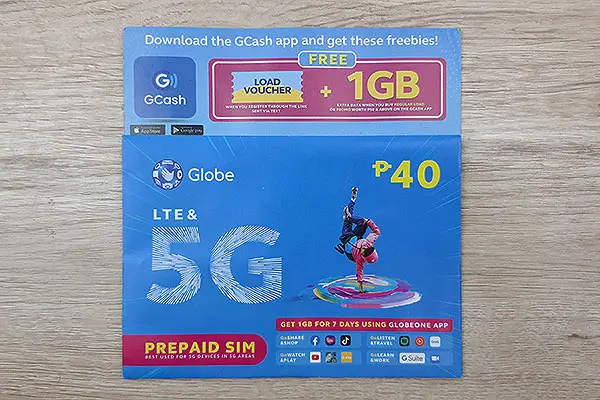 The new Globe 5G-ready prepaid SIM card comes with ₱1 load and free 1GB of mobile data (good for 7 days) which you can redeem by downloading the GlobeOne app. You will also get free ₱50 and additional 1GB data by signing up for GCash using your new mobile number.
So are you ready to activate your new SIM card? In some cases, Globe will immediately activate your new SIM after insertion as it can automatically detect the SIM. But if that doesn't happen, you can activate it manually.
3 Ways to Activate Your New Globe SIM
Follow any of these methods to activate your new Globe prepaid or postpaid SIM.
Turn on mobile data
The easiest way to activate your Globe SIM is to turn on mobile data. Insert your new SIM into your handset's SIM slot and turn on mobile data. Globe will immediately detect that your SIM is trying to connect to the Internet and will send you a welcome text message. After you receive that text message, your new Globe SIM is now activated.
Since Globe will not give you free mobile data (unless you download the GlobeOne app first), you cannot surf the Internet yet. You can download the GlobeOne app to get your free 1GB data or buy prepaid load and subscribe to an Internet promo.
Call 222
If the previous method didn't work, you can also activate your Globe SIM by calling 222. This is an automated call service and you will receive an SMS welcoming you to the Globe network as well as a summary of your load balance. If you receive those text messages, that means your Globe SIM is activated and you can now start texting, calling or surfing the Internet.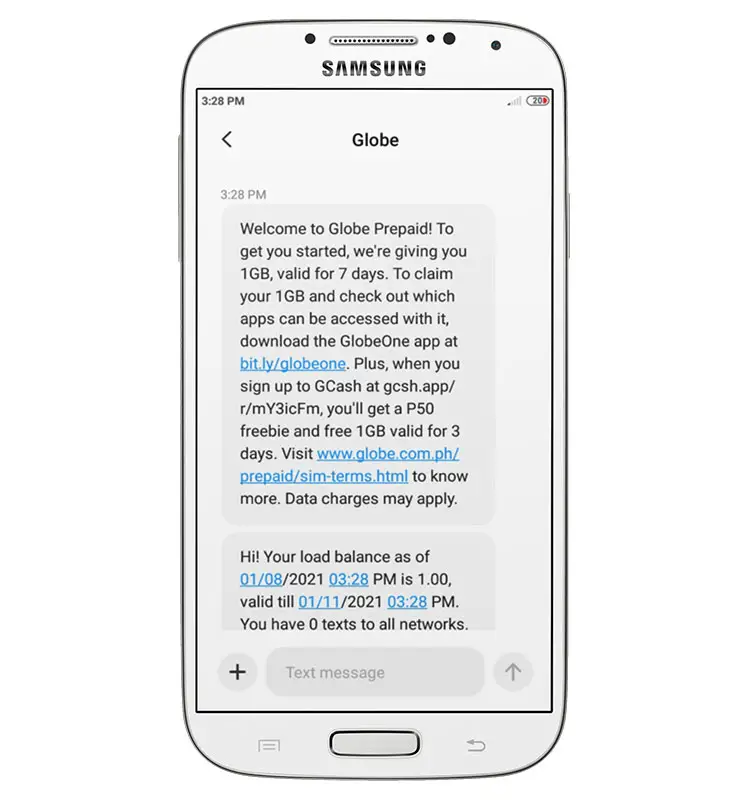 Dial *143#
Another way to activate your Globe prepaid SIM is to dial the USSD code *143# and navigate to My Account > Data Balance. You will receive an SMS response as well as a welcome message which indicates that your Globe SIM has been activated.
Frequently Asked Questions
Do I need to load my Globe SIM before activating it?
No, you don't need to top up your load balance before activating your SIM. Activation will still happen even if you haven't reloaded your Globe SIM yet.
I wasn't able to activate my Globe SIM despite following all the steps. What should I do?
If, for some reason, you weren't able to activate your Globe SIM, you may seek assistance by calling the toll-free hotline 211 or by visiting the nearest Globe store.
How do I report a lost Globe SIM?
To report a lost or stolen Globe SIM and to request a replacement, you may visit the nearest Globe store. Bring a valid ID and other identification documents.
How can I register my Globe SIM?
After activating your Globe SIM, you may proceed to SIM registration. Check out this article to learn how to register your Globe SIM.
Need Help?
As you can see, it's easy to activate your Globe prepaid or postpaid SIM manually. Be sure to load your Globe SIM to take advantage of Globe prepaid promos and to avoid possible disconnection due to inactivity.
If you have any questions and concerns about Globe, call the toll-free hotline 211 or 02-77301000 for landline inquiries.