You've got yourself a new Smart SIM. Congratulations! The next obvious step is to activate your Smart SIM so that you can enjoy the features and benefits of Smart Communications' nationwide 4G/LTE and 5G network. That way, you can enjoy optimal speed and performance when using mobile Internet.
When you buy a new Smart SIM, you may notice that it's already 5G ready. That doesn't mean that it will only access the 5G network; it can also use 4G or LTE and 3G. 5G is already available in many locations in the Philippines like the Makati Central Business District, Bonifacio Global City, SM Mall of Asia, New Clark City, as well as Cebu City, Davao City and Boracay. Initially limited to postpaid subscribers, 5G is now available to Smart prepaid subscribers with 5G-capable handsets and SIMs.
So even if 5G is not yet available in your place, it's better to acquire a 5G-ready SIM to prepare for the future. But of course, you will have to upgrade to a 5G-capable smartphone if you want to access the 5G network. If your SIM is an old one that still uses 3G, you can upgrade it to a 4G/LTE and 5G-ready SIM while still retaining your old mobile number. You can buy an upgrade SIM at any Smart store and follow these steps to upgrade your Smart SIM.
New SIM cards are normally activated instantly after insertion and the network detects the new SIM. If that doesn't happen, you can take several steps to manually activate your new Smart SIM. By activating your new Smart SIM, you will get free 300MB of mobile Internet data as well as an additional 700MB upon loading ₱30 within 3 days from activation.
4 Ways to Activate Your New Smart SIM
Turn on mobile data
One way to activate your Smart SIM is to turn on mobile data. Insert your new Smart SIM card into your handset's SIM slot and turn on mobile data. After turning on mobile data, open your mobile phone's browser (Chrome, Safari, etc.) and visit the Smart website (type smart.com.ph on the browser's URL or web address bar).
Sometimes, you don't have to visit the Smart website because Smart will immediately know that you have connected to its mobile data network. It will then send you a text message welcoming you to the Smart network.
Once you receive the welcome text message, your Smart SIM is now activated. You can now start texting, calling and surfing the Internet using your free 300MB data. Don't forget to load at least ₱30 within 3 days to receive an additional 700MB data.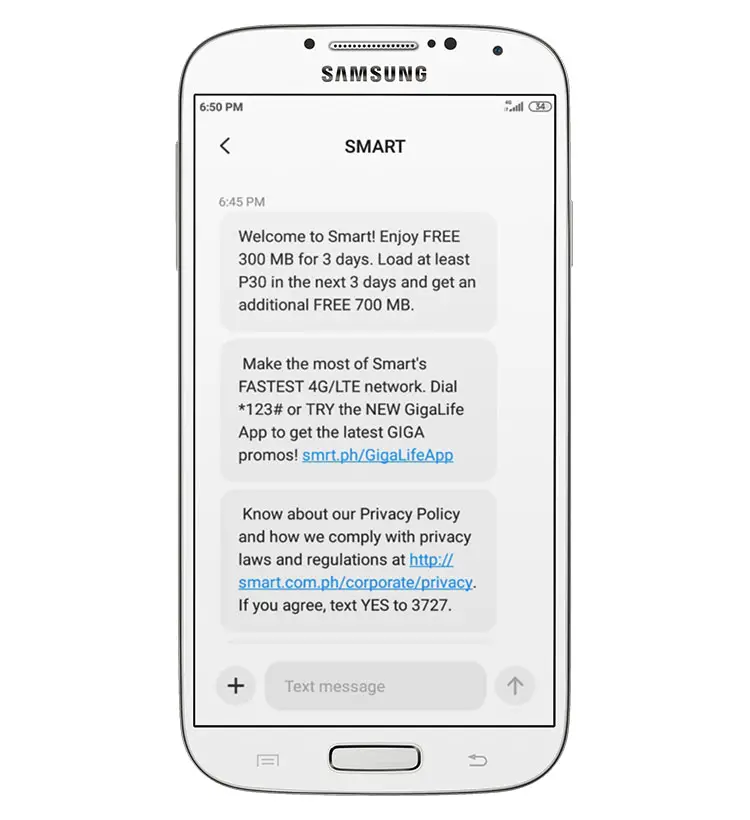 You can sign up or login to My Smart to manage your Smart prepaid or postpaid account, inquire your balance and usage in real time, pay your bills and more. You can also download the GigaLife app from Google Play and the App Store for easier and more convenient access to your Smart account on your mobile phone.
Text ?1515 to 214
If turning on mobile data doesn't work for some reason, you can activate your Smart SIM by making a balance inquiry. To do that, text ?1515 and send to 214 for free. You will receive an SMS with information about your load balance and remaining data. Your Smart SIM will then be activated shortly.
Dial *143#
Balance inquiry via SMS will end soon, so if the previous method no longer works, you can dial *143# instead. This is the Smart USSD code for your prepaid account where you can subscribe to prepaid load promos and check your balance.
To activate your Smart prepaid SIM, dial *143# and go to Balance/Services > Check Balance. Your balance will be shown in real time and you will receive a text message welcoming you to the Smart network.
The Smart website recommends dialing *214# but it shows this error: "Connection problem or invalid MMI code." It looks like that USSD code is no longer functional, so just use *143# instead.
Dial 1515
Another way to inquire about your load balance and activate your Smart SIM at the same time is to call 1515. You will get an automated response, after which you will receive a text message with your balance information. If you also receive a text message welcoming you to the Smart network, then your SIM is activated.
The service is not free and costs ₱1 per successful call, so we don't recommend this method over the free ones previously mentioned. Use this method if the other ones are unsuccessful, but be sure that you have at least ₱1 balance.
Frequently Asked Questions
Do I need to load my Smart SIM in order to activate it?
You don't need to load your Smart SIM before activating it. However, you must constantly top up your Smart balance to avoid eventual deactivation of your SIM.
What should I do if wasn't able to activate my Smart SIM?
If you weren't able to activate your Smart SIM despite following the activation steps, you may request assistance by calling the Smart hotline *888. You may also visit the nearest Smart store for personalized assistance.
Will my Smart SIM expire if I failed to activate it?
Every newly purchased Smart SIM has an expiration date printed on the package. Be sure to activate your SIM before the expiration date.
How do I report a lost or stolen SIM?
You can report a lost or stolen SIM and request a replacement by visiting the nearest Smart store. Don't forget to bring a valid ID for identification purposes.
How do I register my Smart SIM?
After you have activated your Smart SIM, you must register it in accordance with the SIM Registration Act. Read this article to learn how to register your Smart SIM.
Need Help?
There you have it, you've just learned how to activate your Smart SIM card manually. Be sure to load your SIM as soon as possible to continue using Smart and to avoid possible disconnection. You can subscribe to Smart prepaid promos to save on costs especially if you want to surf the web.
If you have any questions or concerns about Smart and how to activate your Smart 5G SIM, call *888 for free on your mobile phone or (02) 888-1111 on landline (applicable charges may apply).