Paying your PLDT bills before the due date ensures that your telephone or Internet connection remains active. It's a good thing that PLDT offers online payment options for subscribers who don't want to leave their house. One of these payment options is GCash and in this article, we'll teach you how to pay PLDT using your GCash wallet.
As a PLDT subscriber, you might know how much of a hassle it is to get your PLDT Internet or telephone line reconnected. If your PLDT line was disconnected, you can get it reconnected after settling your overdue bill and then you have to wait for a few hours before you can go back online.
To avoid the hassle and inconvenience of disconnection, you must pay your PLDT bill on or before its due date. PLDT will give you enough time to pay your bill since they will warn you of an impending disconnection via text message.
You can use GCash to pay your PLDT bill instead of going to a PLDT store or a payment outlet like Bayad Center. GCash is an electronic wallet where you can send or receive money, pay your bills, shop online, buy prepaid load and many more – all in one place. It's a convenient way to pay your bills because you don't have to leave the house; you can simply use your mobile phone and pay your PLDT bill right there and then.
If you don't have a GCash account yet, you can sign up here to get a free ₱50 bonus after you verify your account. Read this article to learn how to sign up for GCash and verify your account. After verification, you can add money to your GCash wallet using your bank account, remittance center or another e-wallet like PayMaya.
How to Pay PLDT Using GCash
Before you pay your PLDT bill, make sure that you have listed down your PLDT account number and telephone number. Follow these steps to pay your PLDT Home Fibr bill using GCash.
Step 1: Open the GCash app
Open the GCash app on your smartphone and login to your account. If you don't have the GCash app, you can download it from Google Play or the App Store.
Step 2: Select PLDT as the biller
On the GCash app, tap "Pay Bills." Under biller categories, select "Telecoms."
Choose "PLDT" from the list of billers.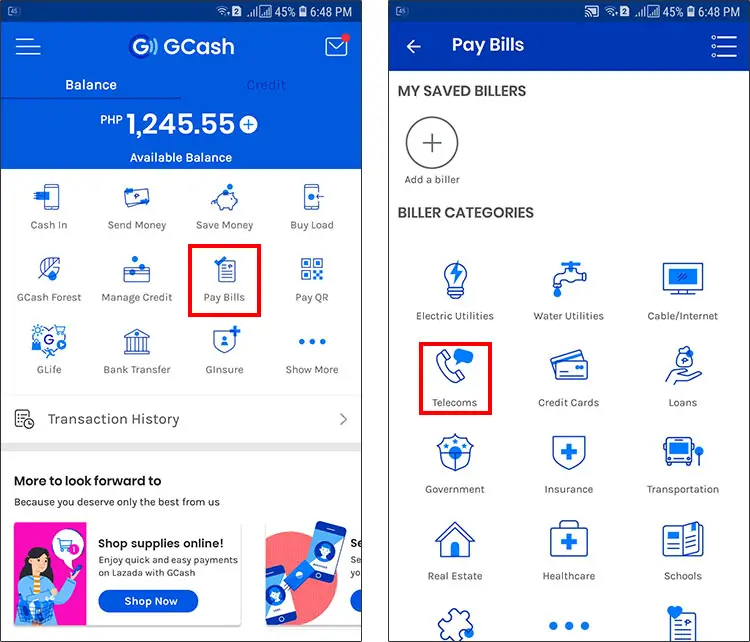 Step 3: Enter your payment details
Enter or provide your payment details as follows:
Account Number – Enter your 10-digit PLDT account number which you can find in your billing statement.
Area Code + Telephone Number – Enter your telephone number preceded by the area code. The area code should start with 0.
Service – Choose either "PLDT Landline" or "PLDT DSL." If you're a PLDT Home Fibr subscriber, choose "PLDT Landline."
Amount – Enter the amount to be paid. Make sure that your GCash balance is enough to cover the payment plus the ₱7 transaction fee.
Email – Enter your email address which is where the payment confirmation will be sent.
Click "Next" to proceed.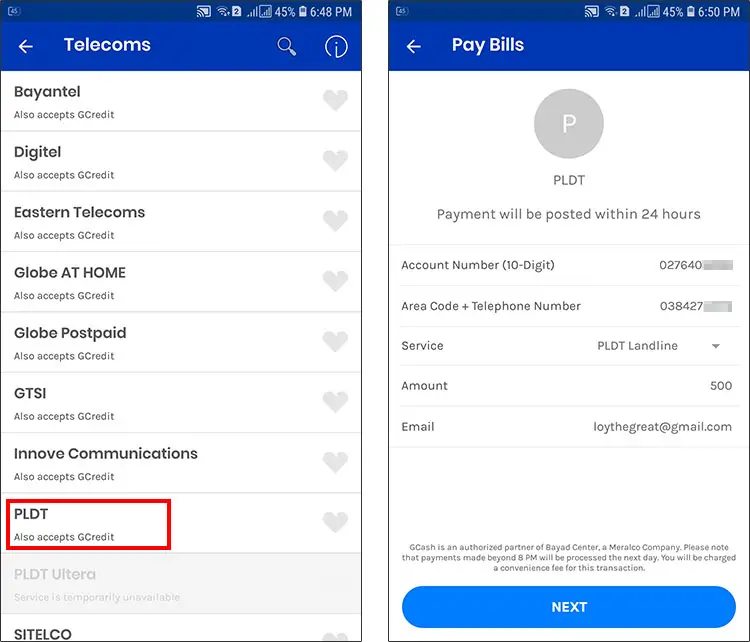 Step 4: Select the payment source
Choose your payment source, whether "GCash" or "GCredit." If you don't have GCredit, only GCash will be shown as the payment source.
Tap "Next" to continue.
Step 5: Confirm your payment
Review your payment details to make sure that everything is correct, particularly your PLDT account number.
Click "Confirm" to proceed with the bills payment.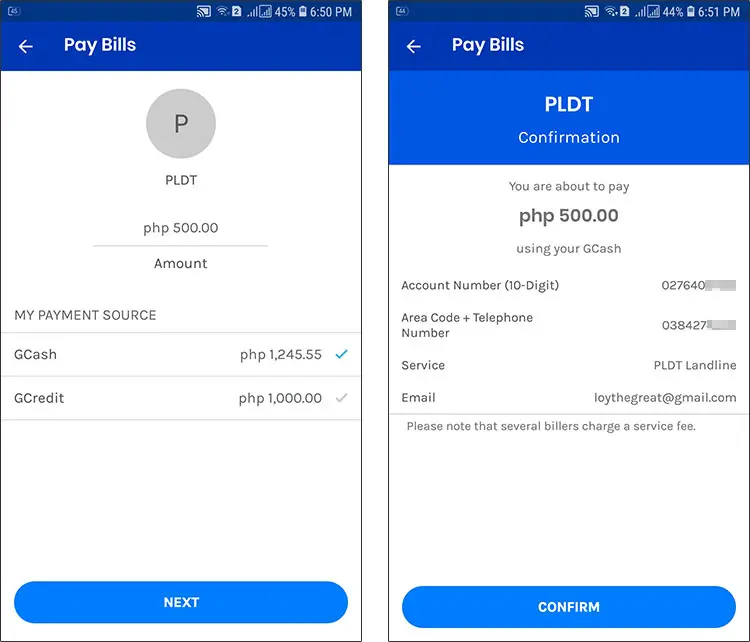 GCash will send you a text message and email confirming receipt of your payment. Take note that your payment is still being processed and it will take up to 24 hours for your payment to be posted to your PLDT account. Payments made after 8:00 PM will be processed on the next day.
If you encounter an error after clicking the "Confirm" button, don't press that button again to avoid duplicate transactions. Check your GCash balance to see if the amount was deducted and if you received a text message or email confirming the bills payment. In any case, GCash will prevent you from making the same payment for one hour.
To check if your bills payment was already posted to your account, you may download the MyPLDT Smart app to check your PLDT balance in real time. You can also login to the PLDT MyHome website to manage your PLDT account, view your balance and many more.
Normally, bills payments via GCash will be posted to your PLDT account within 24 hours. In most cases, it takes an hour or less for the payment to reflect in your PLDT balance statement, unless the payment was made after 8:00 PM. If your payment is still not posted after 24 hours, contact GCash by calling 2882, or submit a support ticket.
Final Thoughts
That's pretty much it. You've just learned how to pay your PLDT Home Fibr bill using GCash. Why visit the PLDT store or go to a payment center when you can pay your PLDT bills using GCash, right? You'll save time and energy, and you avoid waiting in line or mingling with crowds, too.
If you have any questions or concerns about your GCash account, call 2882. For PLDT, call 171.