Some desktop computers don't have built-in wireless connections installed by default, unlike laptops. In order to connect your PC to the Internet, most people use WiFi adapters or dongles, or even wires. But what if you don't have a WiFi adapter? Good thing is that you can connect your desktop or PC to WiFi without an adapter, and I'll teach you how in this article.
In the good old days before the widespread adoption of WiFi, computer users had to attach wires from the modem to their computer because that's the only way they can access the Internet. But with WiFi available, those long Ethernet cables have slowly become a thing of the past, as you can easily connect to the Internet wirelessly.
The only time where using an Ethernet cable makes sense is if the modem or router is placed near your computer. But if the router is situated several meters away, then it's better to just use a USB WiFi adapter if your computer doesn't have one built-in.
WiFi adapters are cheap and you can buy one for around ₱300 ($6). The problem is that these USB WiFi adapters tend to heat up with prolonged use, so they often have a short lifespan of several months. It doesn't matter if it's from a well-known brand or not – it will break down in short order. In fact, we once bought a TP-Link WiFi adapter and it lasted for only six months.
So if you use a USB wireless adapter for your PC, it's probably a good idea to have an extra adapter as backup because you will never know when it stops working. But if you don't have a backup and your adapter no longer works, you can use your smartphone as a temporary WiFi adapter until you can buy a new one.
How to Connect Your Desktop to WiFi Using Your Mobile Phone
It's actually very easy to connect your desktop computer to WiFi using your smartphone. You will learn how to use your phone's USB tethering feature to connect it to your computer.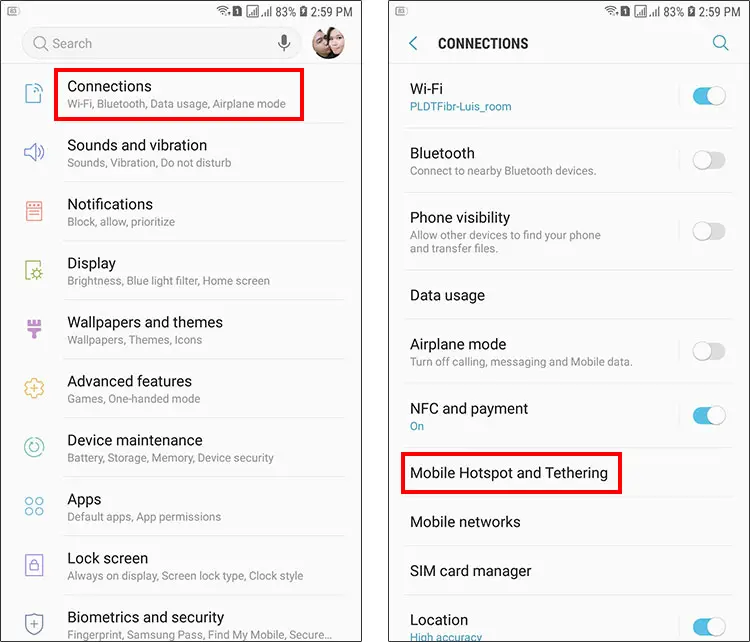 Here's how to connect your desktop or PC to WiFi using your smartphone:
Connect your smartphone to your computer using a USB cable. You can use the cable of your phone charger. You will hear a notification sound on your computer if the connection is successful.
Turn on the WiFi on your phone, if you haven't done it already.
Go to Settings on your phone.
Look for USB tethering and activate it. In the screenshots provided, it's in Connections > Mobile Hotspot and Tethering. Your phone might be different so just search for "USB tethering."
You can now see the USB tethering icon on your phone's notification drawer.
Check your computer's taskbar to see if the desktop icon has appeared in place of the WiFi symbol. If it is, then you have a successfully connected your desktop computer to WiFi using your smartphone.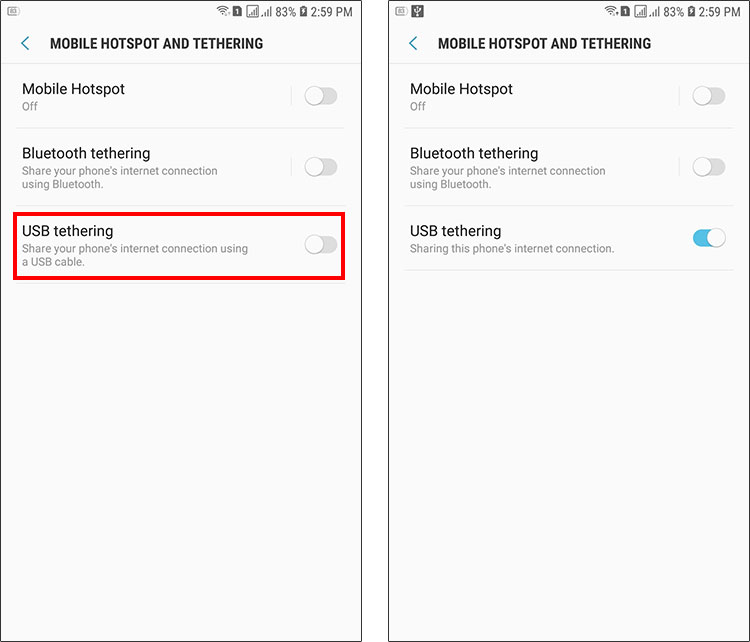 You can go to Settings > Network & Internet in Windows 10 to check the status of your Internet connection. As you can see, your computer is now connected via Ethernet instead of WiFi, and is using your phone's WiFi connection to access the Internet.
That's it. You've just learned how to connect your desktop or PC to WiFi without an adapter or cable. If you have a spare smartphone that you don't use, you can turn it into a makeshift USB WiFi adapter or dongle. But with how cheap WiFi adapters are nowadays, it's better to buy one instead of using your mobile phone. We recommend using your smartphone only as a temporary solution if you don't have a WiFi adapter or if your current one is defective.
Wrapping Up
As the saying goes, when there's a will, there's a way. With only a smartphone and a USB cable, you can have your own makeshift WiFi adapter and start surfing the Internet straight away. There are no complicated setups and no tinkering with your computer – just plug it and activate USB tethering on your smartphone.
If you have any questions about connecting your PC or desktop computer to WiFi without an adapter or cable, feel free to comment below and we'll do our best to respond.