Are you a GCash user who is interested in the various GCash fees and service charges? Then you've come to the right place. I'll share with you the complete and updated list of GCash fees so that you will know the additional costs incurred every time you cash in, cash out or transfer money in GCash.
GCash is a mobile wallet that offers a convenient way to send money, pay bills and shop online. With GCash, you don't have to carry wads of cash because you can simply pay using your smartphone. While GCash is so easy and convenient to use, it does have transaction fees and service charges that every user should be aware of.
Some services in GCash, such as fund transfers to another GCash user, are free of charge. However. withdrawal to banks via InstaPay now incur a ₱15 fee per transaction, effective November 1, 2020.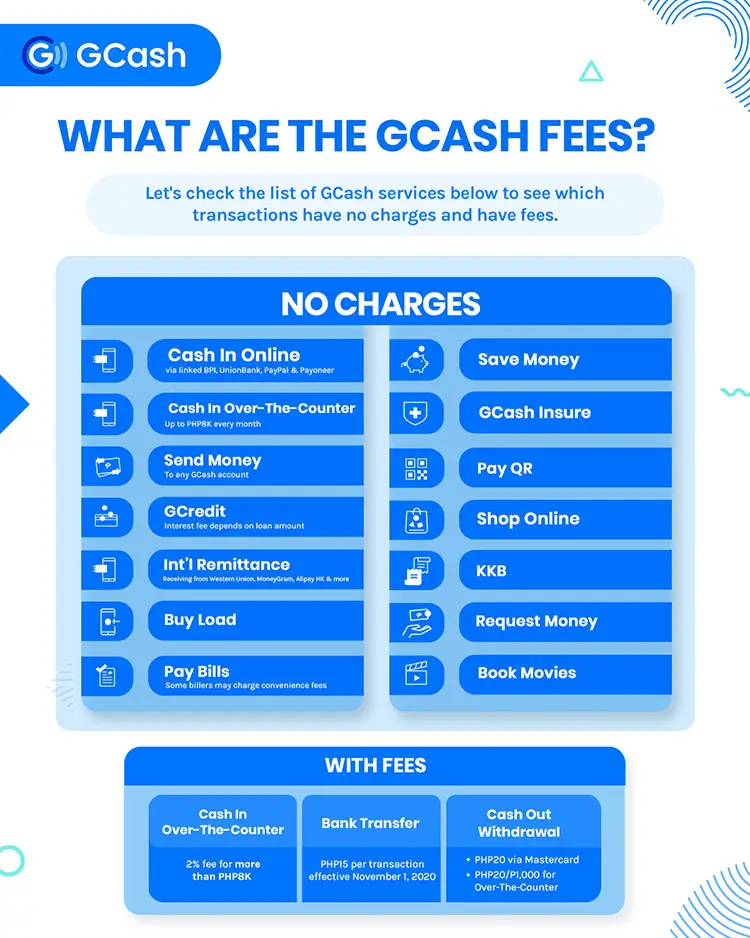 The recent increase in GCash fees, especially on bank transfers via InstaPay, definitely took many users by surprise. Some GCash users balked at the idea of shouldering the fees, while some have started to look for alternatives just to avoid paying extra.
So if you're a GCash user, it's probably a good idea to determine how much it costs to send money to and from GCash. That way, you will know if the GCash fee is worth eating up or not.
GCash Cash In Fees
These are the GCash fees for cash-in transactions (in other words, to add money to your GCash wallet):
Cash-in transactions via over-the-counter outlets such as Palawan Pawnshop, Cebuana Lhuillier and Bayad Center are free until you exceed the monthly free cash-in limit of ₱8,000. The fee will be automatically deducted from the total cash-in amount. Refer to this page for a sample computation of over-the-counter cash-in fees.
GCash cash in fees via online or mobile banking depend on the bank. The following is a list of GCash cash in fees corresponding to each partner bank:
To avoid transaction fees when cashing in from banks, you can link your BPI or UnionBank account to GCash and add money instantly on the GCash app. However, GCash will impose a ₱5 fee per cash in transaction via linked BPI and UnionBank accounts.
Read this article to learn how to cash in to GCash, link your bank account and add money to GCash via over-the-counter outlets.
GCash Cash Out Fees
The following are the GCash cash out fees for withdrawing money to over-the-counter outlets and ATMs:
You can consult this guide on how to cash out or withdraw money from GCash to over-the-counter partners like Palawan Pawnshop, Villarica and Bayad Center.
GCash Send Money Fees
Here are the additional costs to send money via bank transfer, or to transfer funds to another GCash user:
GCash-to-bank transfers via InstaPay are charged ₱15 per transaction. Go here for a list of partner banks where you can send money to.
GCash Bills Payment Fees
GCash fees for bills payment depend on the biller. Refer to the GCash app for the actual charges per biller.
GCredit Fees
If you're a GCredit borrower or interested in availing of a loan, you may check out the list of GCredit interest and penalty fees below:
GCash MasterCard Account Fees
The following are the GCash MasterCard fees for balance inquiry, dormancy and card purchase. Read this article to learn how to get your own GCash MasterCard ATM debit card.
Frequently Asked Questions
How can I withdraw money from GCash without fees?
It's not possible to cash out or withdraw money from GCash for free. The transfer fee for withdrawals from GCash to your bank account or another e-wallet (e.g. Maya) is ₱15, while there is a 2% fee for over-the-counter withdrawals (e.g. Cebuana Lhuillier).
How can I transfer money from GCash to PayPal?
You can send money from GCash to PayPal by following the steps outlined in this article.
Final Words
Knowing the different GCash fees will help you avoid any unexpected costs especially if you want to transfer a large sum of money. If the GCash service charge is too high for your liking, you can find other ways to send money that will help you save on costs. There are several alternatives to GCash such as Maya and Coins.ph that could potentially help you save money on fees.
If you have any questions or concerns about GCash, call the GCash hotline 2882 or email [email protected].