Wouldn't it be nice to shop right now and only pay for your purchases at a later date? Thanks to GCash GGives, you can buy now and pay later without the need for a credit card nor the hassle of applying for one. It's insanely easy to activate GGives on the GCash app and use it for shopping without shelling out any cash.
In many parts of the Philippines, cash is still king. Credit cards, online banking and virtual wallets are fast gaining popularity, but there's no doubt that cash is still the most common mode of payment. That might soon change as the country slowly transitions into a digital economy. Online payment platforms like PayPal and mobile wallets such as GCash are helping millions of Filipinos perform cashless transactions and reduce their dependence on cash.
With the new GGives "buy now, pay later" feature in GCash, Filipinos have all the more reason to use their e-wallets to pay for their shopping instead of cash. Instead of bringing wads of cash to the store, you simply whip out your mobile phone and pay for all your purchases using GCash. The amazing thing is that any GCash user can use GGives and you don't even have to submit a proof of income or fill out a bunch of application forms.
GGives is definitely going to be a gamechanger in the local fintech scene as it enables millions of GCash users to buy now and pay later at thousands of partner stores and retailers all over the country. Imagine paying the cashier using only your mobile phone, and you don't even need to top up your GCash wallet. With GGives, you can go shopping now and pay for your purchases in easy monthly installments.
If you're raring to give GGives a try, we've come up with this comprehensive guide to help you decide if it's for you. You will learn how to activate your account in GCash and how to use it when shopping. Don't have a GCash account yet? Read this article to learn how to open a GCash account for free.
What is GGives?
GGives is a "buy now, pay later" feature of GCash that allows you to shop without worries and to pay in easy installments. You can borrow up to ₱30,000 and pay in 3, 6 or 12 monthly installments or "gives" for as low as 0% interest.
GGives users are pre-approved based on their GScore, which is a trust rating based on their successful transactions in GCash. Basically, the higher your GScore, the higher your credit limit and your maximum spendable amount.
Once you have activated GGives in GCash, you can use it to pay for your purchases at more than 5,000 partner merchants nationwide. All you have to do is to scan the partner merchant's QR code using the GCash app and select GGives as the payment option. The minimum and maximum amounts you can borrow and spend are indicated in your GGives dashboard in GCash.
What's the Difference Between GGives and GCredit?
GGives and GCredit are both financial products offering short-term loans to qualified GCash users, but there are several differences between the two.
GGives is a service of Fuse Lending, Inc., a wholly owned subsidiary of GCash operator Mynt. GCredit, on the other hand, is powered by CIMB Bank, a Malaysian universal bank with headquarters in Kuala Lumpur. Both entities are regulated by the Securities and Exchange Commission (SEC).
At the moment, GGives is available only for static QR scan-to-pay purchases at selected partner merchants, while GCredit is available for both online payments and static QR scan-to-pay purchases.
It also seems that GGives offers a higher credit limit than GCredit for the same GScore. For instance, a GCash user with a GScore of 515 has a credit limit of ₱6,000 on GGives, but only ₱1,000 on GCredit.
Who Are Qualified for GGives?
To be able to use GGives, you must meet the following eligibility requirements:
You must be a fully verified GCash user. Check out this article to learn how to get your GCash account verified.
You must be a Filipino national aged 21 to 65 years old.
You must have a good GScore.
You must have a good credit record and have not committed any fraudulent transactions.
How to Activate GGives in GCash
Follow this step-by-step guide to activate your GGives in GCash. Make sure that your GCash account is already fully verified and you meet the eligibility requirements before applying.
Step 1: Select GGives in GCash
Open the GCash app and login using your MPIN. Once logged in, select "View all GCash Services." Scroll down and choose "GGives" under the "Financial Services" section.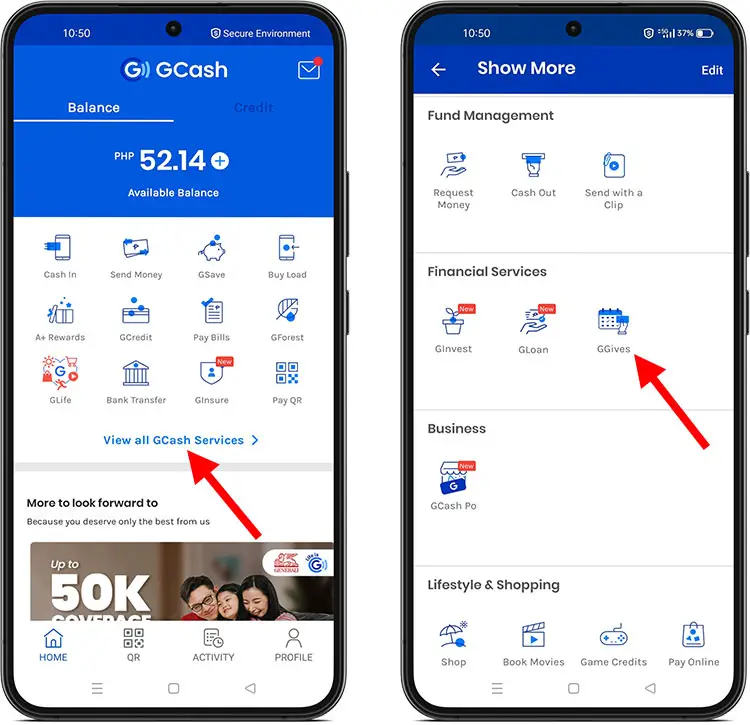 Step 2: Review Your Personal Information
Now that you're in the GGives dashboard, tap the "NEXT" button until you reach the application screen.
Review your personal information and check that everything is correct, and then tap "NEXT."
Note: GCash may ask you to update your personal information first before you can apply. Just click "UPDATE ACCOUNT INFO" in case that happens. Updating your information only takes less than 5 minutes. In most cases, GCash will review and approve your application within minutes, but in rare cases can take up to 7 days.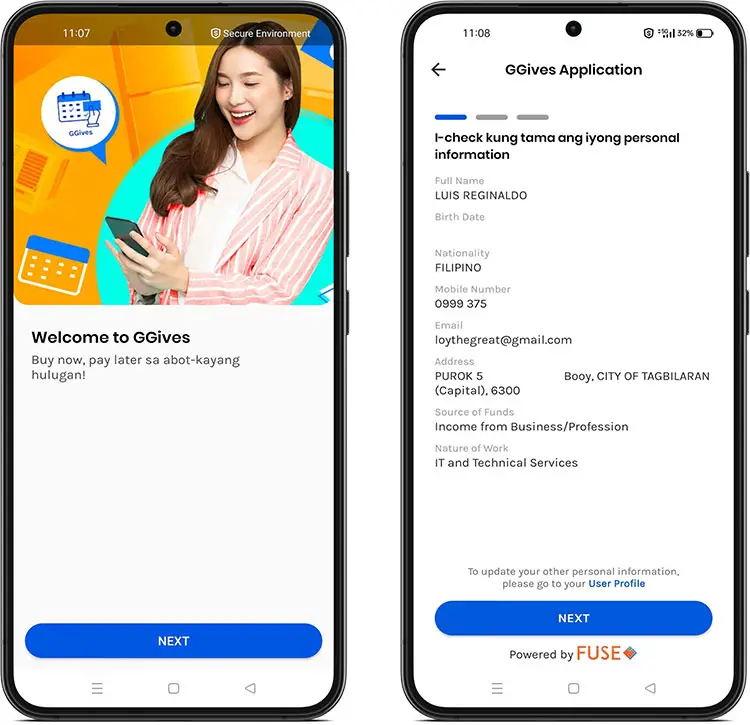 Step 3: Fill Out the GGives Application Form
The next step is to fill out your application. Provide the following information in your application:
Nickname – Example: Juan.
Sex – Choose either "Male" or "Female."
Civil Status
Other Mobile Number (Optional)
Landline Number (Optional)
Own a Small Business – Select "Yes" if you have a small business.
Emergency Contact – This is the person who will be contacted in case of an emergency.

First Name
Middle Name
Last Name
Contact Number – Enter the telephone or mobile number of your emergency contact.
Relation – Choose your relationship with your emergency contact. Example: "Sibling."
Click "NEXT" when you're done filling out your application.
Step 4: Review Your Application
Take the time to review your submitted information in your application, making sure that all details are correct and accurate.
Check both boxes for "I agree to the Terms & Conditions" and "I agree to the Data Privacy Agreement." Finally, press "ACTIVATE MY GGIVES."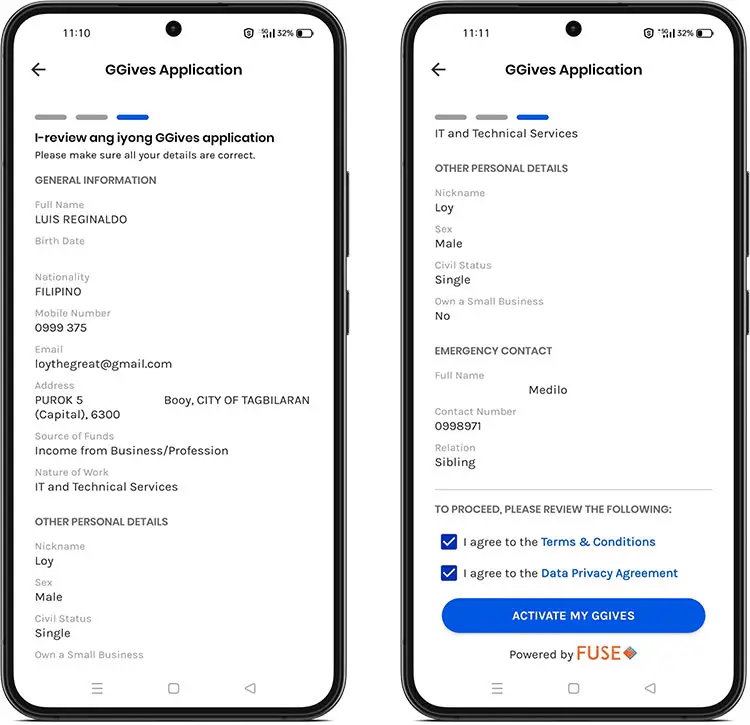 Step 5: Your GGives is Now Activated
Congratulations! Your account is activated and you can now pay via installment for your future purchases. You will receive email and SMS messages confirming your successful activation.
To view your maximum borrowing and minimum spending limits, just go to your GGives dashboard in the GCash app.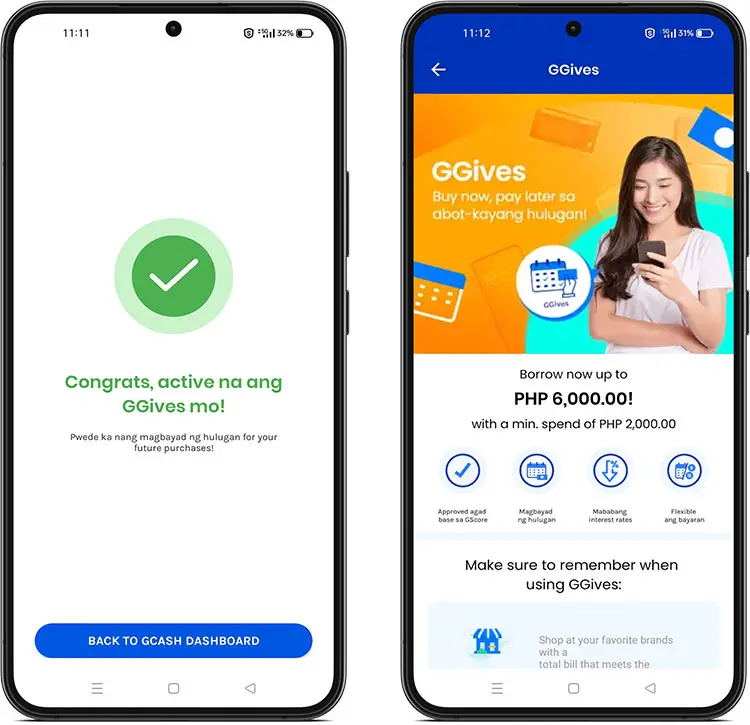 How to Use GGives When Shopping or Dining
As previously mentioned, you can use GGives when shopping or dining at more than 5,000 partner merchants nationwide. Partner merchants include but not limited to the following stores:
SM Supermarket
Robinsons Department Store
Puregold
Mercury Drug
Watsons
Kenny Rogers Roasters
LBC Express
Nike
Samsung
Check out this page for the complete list of supermarkets, restaurants, pharmacies and stores that accept GGives.
Here's how to use GGives to buy now and pay later using your GCash app:
Step 1: Scan the Merchant's QR Code Using GCash
Open GCash on your mobile phone and select the "QR" tab as shown on the screenshot. This will launch the QR reader. Scan the partner merchant's QR code, making sure that the QR code is within the frame.
Step 2: Select GGives as the Payment Option
Enter the amount to be paid and then press "Next." Take note that the amount must be equal to or greater than your minimum spending limit, but should not exceed your credit limit.
Next, select "GGives" as the payment option.
Step 3: Choose Your Installment Option
You have three easy installment options: 3 months, 6 months, or 12 months. Choose your preferred monthly installment term and then tap "NEXT."
Step 4: Review and Confirm Your Payment
Review your payment details, taking note of the following terms:
Loan Amount – The principal amount of your loan, exclusive of interest and penalties.
Monthly Hulugan – The exact amount you should pay each month.
# of Months to Pay – The number of months to pay off your loan.
First Due Date – The deadline to pay your first monthly due or hulugan.
Check the box for "I agree to the Disclosure Statement" and take the time to read the Disclosure Statement which is required under Republic Act 3765 or the Truth in Lending Act.
If you understand and agree to the payment terms of your loan, press "PAY PHP 0.00 TODAY" to proceed with the transaction.
Step 5: Enjoy Your Purchase!
Congratulations! You have successfully paid using GGives in GCash. Check your email for the Disclosure Statement and Loan Payment Schedule. Don't forget to open your GCash app to keep track of your charges and payment due dates.
GGives Fees and Interest Rates
The GGives interest rate is not fixed but varies depending on your GScore and loan term (number of months to pay). The interest rate ranges from 0% to 4.99% per month. You can view your interest rate and fees by going to the GGives dashboard in the GCash app.
Below is a sample amortization schedule in the dashboard with interest rate and fees: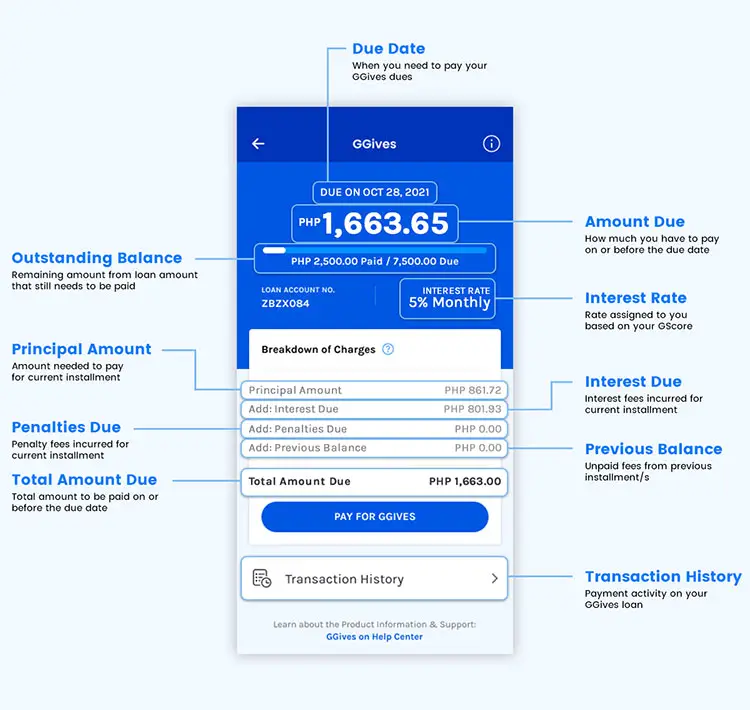 In case of late payment, there will be a fixed penalty fee of ₱100 per due date, plus a variable penalty fee, which is computed based on this formula:
0.15% x Number of Days Past Due x Outstanding Principal Balance = Variable Penalty Fee
For example, if your outstanding principal balance is ₱3,000 and the due date is on March 15 but you only paid on March 20 (5 days after the due date), then your penalty fee is computed as follows:
0.0015 x 5 days x 3,000 = ₱22.50 (variable penalty) + ₱100 (fixed penalty) = ₱122.50 (total penalty fee)
Frequently Asked Questions
Why is GGives not available for me?
GGives is available to selected GCash users only. You may check the eligibility requirements to see if you are qualified for the program. It's also possible that your GScore is not yet high enough to be eligible for the program.
Can I pay online using GGives?
GGives payments work by visiting a partner merchant's store and scanning their QR code. However, you can pay online by scanning the merchant's QR code displayed on your computer or another mobile device.
Can I avail of two or more GGives at one time?
No, you can avail of only one loan at a time. You must pay off your existing loan before getting another.
How do I pay my loan?
To pay your outstanding loan balance including interest and late payment fees, if any, just go to the GGives dashboard in the GCash app by clicking "View all GCash Services" and then selecting "GGives."
Will I get a cashback if I pay my dues early?
Yes, you will get a cashback if you pay off your loan in full before the end of the loan term. The interest cashback is equal to the total interest balance of the remaining monthly installments that are not yet due.
Can I use GGives to pay my bills?
No, it's not possible to pay your bills using GGives. However, you can use GCredit to pay your bills using the GCash app.
Wrapping Up
GGives is another wonderful innovation from GCash that gives ordinary Filipinos the opportunity to make purchases and payments on credit, even without a bank account or credit card. The next time you want to buy groceries at the supermarket but don't have enough cash, take advantage of its "buy now, pay later" feature. Don't forget to pay your monthly installments diligently before the scheduled due date to avoid unnecessary penalties.