Let's say that you want to pay your phone bill and it turns out that you don't have money in your GCash wallet. Instead of cashing in from your bank, you can use GCredit instead to pay your bills or purchases. GCredit offers instant, no-approval loans to qualified GCash users, and we'll show you how to use GCredit for your urgent financial needs.
GCredit is a personal revolving credit line that works like a flexible loan or credit card. What this means is that you get a limited amount of money that you can borrow anytime you want. You can borrow a loan amount not exceeding your credit limit, and you can even avail of multiple loans at the same time as long as the total loan amount doesn't exceed your credit limit.
For example, if you have a credit limit of ₱1,000 and you borrowed ₱600 to pay off your phone bill, you can still borrow the remaining ₱400. Once you've paid off your ₱600 loan plus interest, you can then borrow an amount up to ₱1,000 or whatever your credit limit is. The maximum credit limit is ₱30,000.
The credit limit depends on the individual's GScore, which is a trust rating that is computed based on your transactions in GCash. The higher your GScore, the higher your credit limit is, and the bigger the amount you can borrow in GCredit.
You can increase your GScore and your credit limit by performing more GCash transactions like cash-ins, paying bills, saving or investing money, buying prepaid load, and more. You can also increase your GScore by paying off your GCredit loans early. Simply put, the more you use GCash, the higher your GScore will be.
The beauty of GCredit is that you'll get instantly approved for a loan. There are no paperwork to file and no people to investigate your creditworthiness. GCredit is backed by Fuse Lending, a licensed lending institution regulated by the Securities and Exchange Commission (SEC).
There are a few downsides, however. For one, you cannot convert GCredit loans to cash, but you can use it to shop at merchants and stores that accept GCash QR payments. GCredit loans are limited to bills payments and in-store payments via QR code. Hopefully, GCash will someday allow users to convert their loans to regular GCash balance, so that it can be withdrawn as cash or transferred to bank accounts.
So are you interested to learn more about GCredit and how to use it to help defray the cost of living? Let's get started!
GCredit Requirements and Eligibility
Not all GCash users are qualified for GCredit. To qualify, your GScore must reach the minimum threshold for eligibility. Verified GCash users with a GScore of 400 and up are eligible for GCredit.
You will be notified via text once you reach the GScore threshold for opening a GCredit account. The starting credit limit for new GCredit users is ₱1,000.
Here's how to sign up for GCredit once you've reached the minimum GScore of 400:
Tap "Manage Credit" on the GCash app.
Verify your email and make sure that it is correct.
Enter any additional required information.
Start using GCredit.
To view your credit limit, tap "Manage Credit" on the GCash app. You can see your used and remaining credit limits, as well as unpaid charges, penalties and total amount due, if any.
GCredit Interest Rates
The GCredit interest rate is currently pegged at 5% per month. The interest rate is prorated, which means that it's assessed and adjusted according to the number of days you borrowed the loan. So even if you paid the loan after one day, you will still be charged the prorated interest rate.
The formula for the interest rate goes like this:
Principal Amount x 5% Interest Rate x (Number of Days ÷ 30 Days) = Total Interest Amount
For example, if the loan principal amount is ₱500 and you borrowed it for 12 days, the interest is computed like this:
₱500 x 0.05 x (12 days ÷ 30 days) = ₱10
Therefore, you will have to pay a total amount of ₱510 (₱500 principal + ₱10 interest) to settle your loan.
How to Use GCredit to Pay Your Bills
If you're short on budget and you have bills waiting to be paid, you can use GCredit as a temporary solution to your financial problems. There are 400+ billers on GCash that accept GCredit as bills payment, such as:
PLDT
Smart Communications
Globe
Meralco
Maynilad
Skycable
BDO Visa/MasterCard
SSS
To pay your bills using GCredit, tap "Pay Bills" on the GCash app and select the biller category (e.g. Telecoms) and then the name of the biller (e.g. PLDT).
Enter your payment details such as account name, amount and email. Tap "Next" to continue.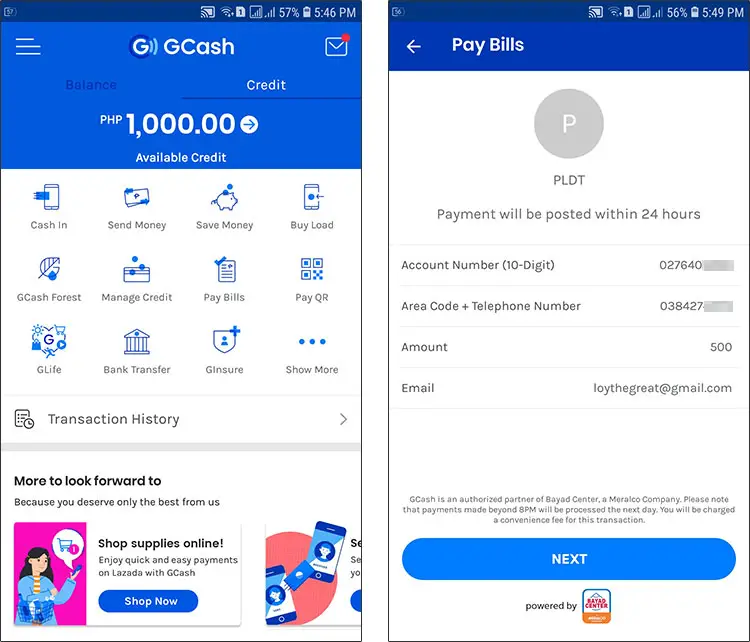 Select "GCredit" as the payment source. If the bill amount is higher than your available credit limit, you will not be able to select GCredit as the payment source. Click "Next" to proceed.
Take note that some billers will charge a service fee, which will be included in your principal loan amount. So don't be surprised if the principal turns out to be higher than your paid bill.
Review your payment details to ensure that they are correct, and then press "Confirm" to pay the bill using your GCredit balance.
After payment, you will receive text and email notifications of a successful bills payment. You may check your GCredit balance by selecting "Manage Credit." There you can view your used and remaining credit limits, and your total amount due including principal, interest and penalties, if any.
How to Use GCredit for Shopping
GCredit can be used to buy groceries, purchase medicines, and even pay for restaurant meals. There are over 60,000 stores and merchants that accept GCredit including:
Puregold
The SM Store
Jollibee
McDonald's
Penshoppe
Mercury Drug
Shell
Watsons
To use GCredit as payment when shopping at GCash partner stores, first select the "Credit" tab instead of "Balance" and then tap "Pay QR."
Select "Scan QR" and then scan the merchant's QR code, which is usually printed on a signboard that says "GCash Accepted Here." Enter the amount to be paid and choose GCredit as the payment option, if applicable. Review and confirm your payment, and wait for the text confirmation of your payment before leaving the store.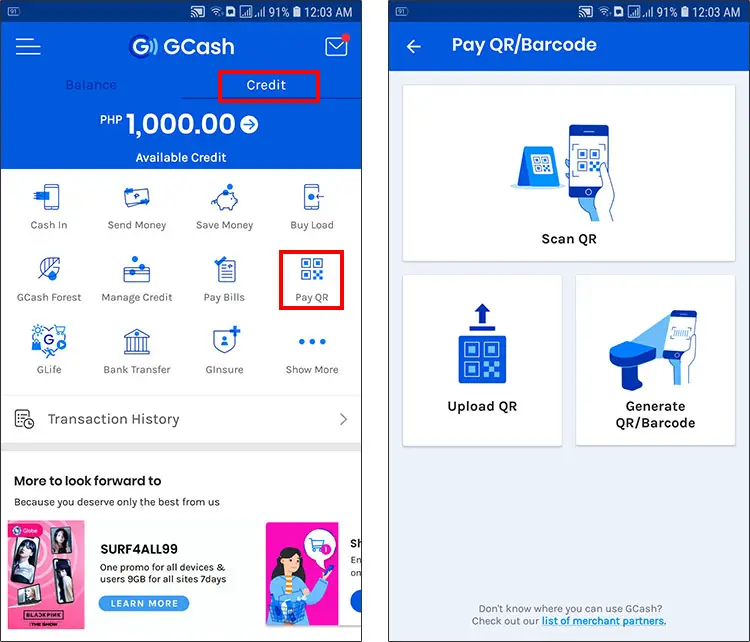 If the merchant doesn't have a QR code but accepts GCredit payments (you'll have to confirm this first with the merchant), you can generate a QR code and barcode, and have it scanned by their QR code or barcode scanner.
To do this, go to "Pay QR" and then "Generate QR/Barcode." Make sure that you have selected "GCredit" (not "Balance") beforehand. Show the QR code and barcode to the cashier for scanning.
The amount will be charged from your GCredit balance when the payment terminal successfully reads your generated QR code or barcode. You will also receive a text confirmation of your payment.
Can you use GCredit to pay for online purchases? Yes, you can pay for your online purchases on Shopee using GCredit. Just select GCash as the payment option upon checkout and then choose GCredit before paying. Read this article to learn how to use GCredit to pay for your Shopee orders.
At the moment, Lazada doesn't offer this option yet.
How to Pay Your Loan
GCredit loans are due 45 days after you took the loan. GCredit works on a 30-day billing cycle, so you will receive the bill 30 days after you availed of the loan, and you will be given another 15 days to pay off the loan.
For example, you borrowed on November 12. You will receive your bill on December 12, and you will have until December 27 to settle your loan dues. The earlier you pay your loan, the lower the interest you will incur.
Here's how you can pay your GCredit loan. First, make sure that you have enough money in your GCash wallet to pay the loan. You can add money via online banking, remittance centers and other cash-in options.
Next, tap "Manage Credit" on the GCash home screen. You can now see your total amount due including the interest. Tap "Pay for GCredit."
Enter the amount that you want to pay, which will be deducted from your GCash balance. You can pay less than the total amount due, but it's better to pay in full to avoid additional interest charges. Press "Next" to proceed.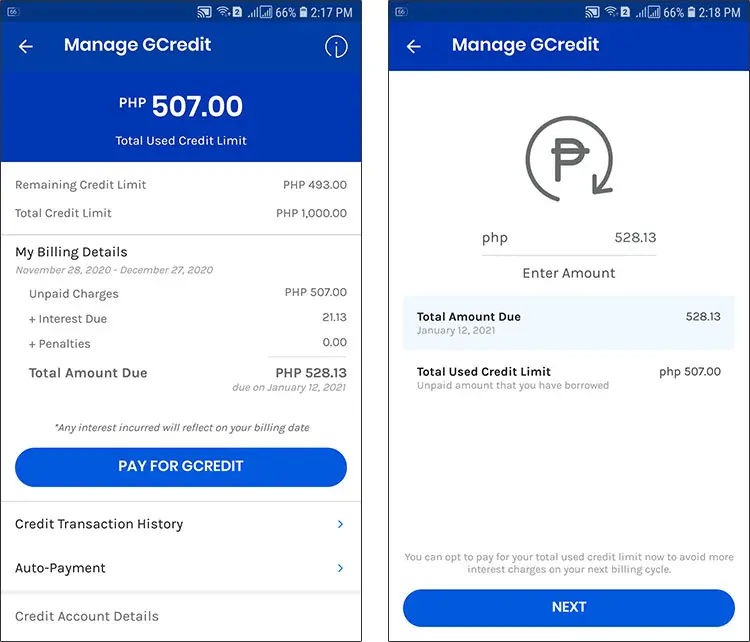 Review that you entered the correct amount and then tap "Confirm."
If payment is successful, you will receive confirmation via text message. Check your GCredit balance by going to "Manage Credit" to make sure that your payment has been posted.
Parting Words
There you have it. You've just learned what GCredit is and how to use it to pay your bills and other personal expenses. It's definitely a great help to many Filipinos who are struggling to make ends meet during these difficult times.
Should you avail of a GCredit loan, make it a point to pay your dues early to avoid accumulating interest and possibly defaulting on your loan, which could affect your credit score and make it harder for you to obtain loans from other lending institutions. Failure to pay your loan may result in penalties and the possibility of it going to collections.
If you have any additional questions about GCredit as well as GCash, call the toll-free hotline 2882 or send an email to [email protected].