PayPal is the favorite online payment processor for many Internet shoppers, businessmen and freelance workers. By simply providing an email address, PayPal users can send and receive money in an instant, without revealing sensitive credit card information. In this comprehensive PayPal Philippines guide, we will discuss how to set up your PayPal account, how to link your credit card or bank account, and how to withdraw funds to your bank or ATM account.
Founded in 1998, PayPal is available in 202 territories and has more than 270 million active accounts, making it the number one online payment system in the world.
I first started using PayPal way back in 2008 when it first became available in the Philippines, and since then, I have used it for many online transactions such as paying for purchases on eBay, accepting money from freelancing clients, donating to worthy causes, and withdrawing money to my Unionbank ATM card. It's such an indispensable part of my Internet life that it would be difficult for me to earn an online income without PayPal.
Even if you're not interested in making money on the Internet just like me, PayPal can still be used for making purchases from online shopping websites. You don't need a credit or debit card; all you need is a PayPal account and enough funds to cover the purchase.
So let's dive into the details on how to set up your PayPal account so that you can receive and send money instantly. Signing up for an account is 100% free so don't worry if you don't have extra money in your bank account yet.
How to Sign Up For PayPal
Step 1: Visit the PayPal website. Click the "Sign Up" button at the top right portion of the page.
Step 2: Select "Buy with PayPal" to open a personal account. If you want to open a business account, choose the other option. Click "Next."
Step 3: Enter your personal information including country (it's set to Philippines by default), first name, middle name, last name, and email address. Choose a password that's hard to guess and is a maximum of 20 characters long.
Click "Next" to continue with the registration.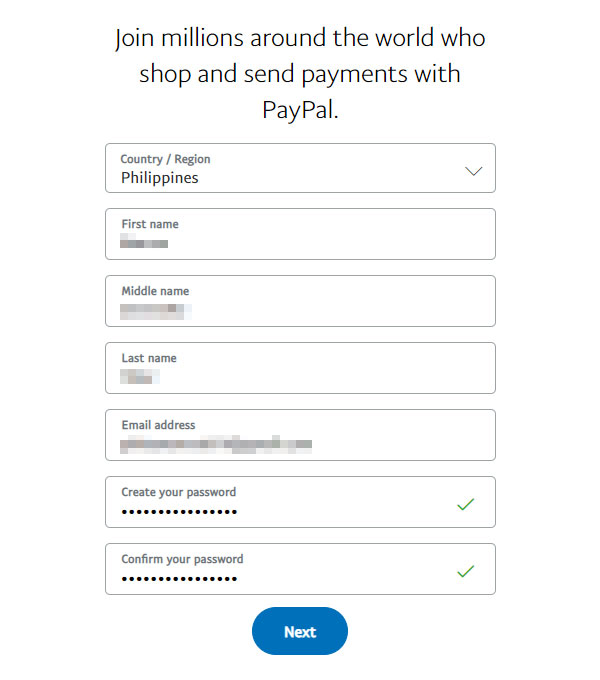 Step 4: Enter your birth date, ID type and number, address and mobile phone number. For the ID, you can choose either a passport or a national ID (such as UMID).
Check the box that says "I confirm that I have read, consent and agree to PayPal's User Agreement and Privacy Statement…"
Click "Agree and create account" when you're done.
Step 5: Congratulations! Your account has now been created. Click "Get Started" to continue to the next page.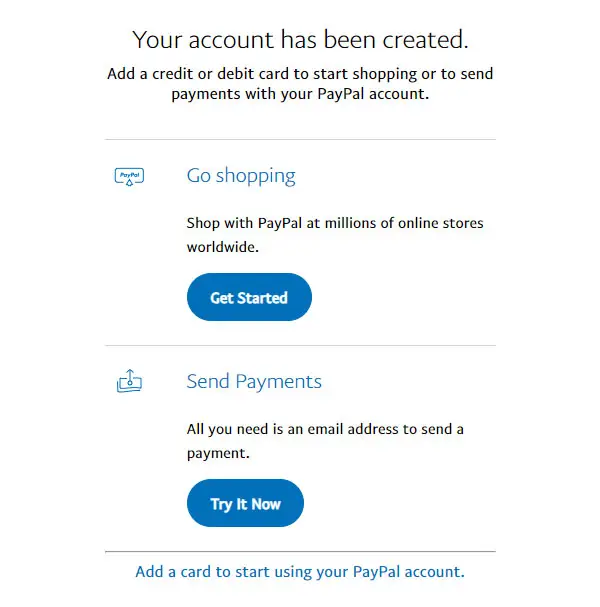 Step 6: You can opt to immediately link your credit or debit card. If you don't want to link your card yet or if you have none, click "I'll do it later."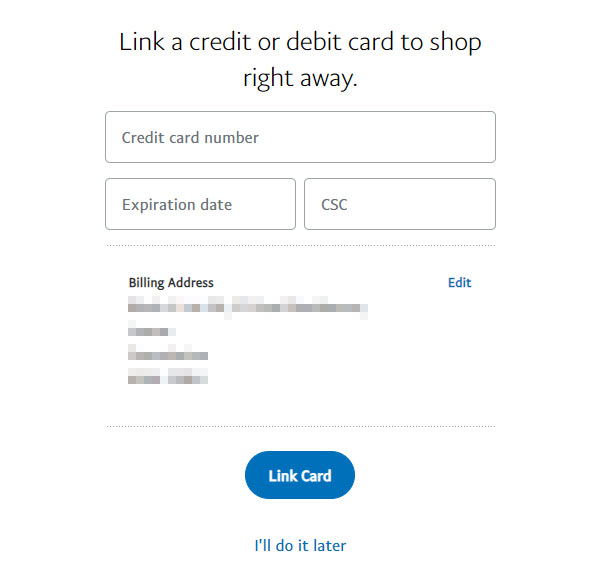 You will be presented with a security challenge. Solve it to proceed.
On the next page, click "Go to your account" to continue to your PayPal account.
Important: Open your email and look for the activation email from PayPal. Confirm your email by clicking on the provided link in the email.
It's also a good idea to confirm your mobile phone number to allow you to recover your password in case you forget it, and to activate two-step verification for extra security. This is completely optional but might be useful to some.
How to Link Your Credit or Debit Card to PayPal
Linking your credit or debit card to PayPal allows you send money or pay for purchases using your card while keeping your card information secure. If you want to buy or pay for something using your Visa, MasterCard or any credit or debit card, but you don't want to provide your card information, you can use PayPal to do so. PayPal will simply charge the transaction to your linked credit or debit card.
Step 1: On your account summary page, click "Link a card." If there's no such link in the account summary page because you have already linked your bank account, just click "Wallet" on the top menu bar.
Step 2: Select "Link a credit card."
Step 3: Enter your credit/debit card number, card type (this will be automatically filled out), expiration date, and security code. The security code is the number found at the back of your credit/debit card.
Double check that everything is correct. Click "Link Card" to continue.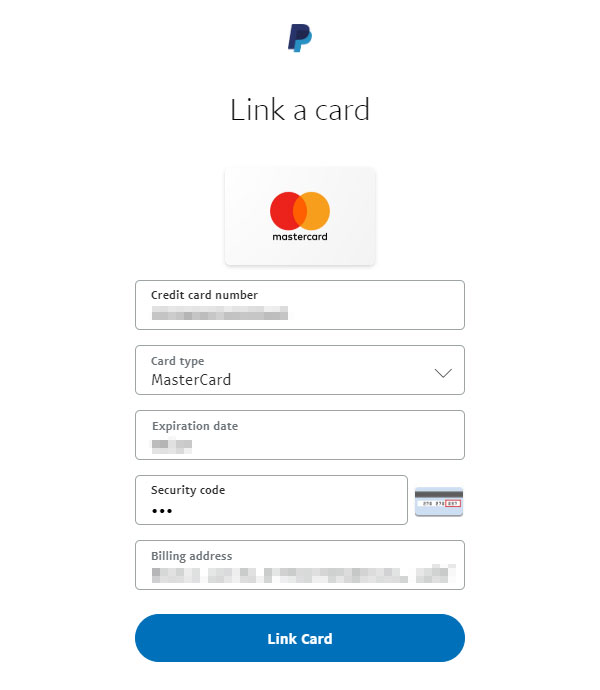 Step 4: Congratulations! You have now linked your card to PayPal. You can now use your credit or debit card to fund your online shopping and purchases via PayPal.
How to Link Your Bank Account to PayPal
Linking your bank account to PayPal allows you to transfer money to your bank.
Step 1: On your account summary page, click "Link a card." If there's no such link in the account summary page, just click "Wallet" on the top menu bar.
Step 2: Choose "Link a bank account."
Step 3: Enter your bank account information such as:
Bank name (start typing the name of the bank and PayPal will make suggestions)
Bank code (go here for the list of bank codes)
Account number (this is your bank account number, not your credit card number)
We have come up with a list of PayPal bank codes that correspond to your bank. In this example, the bank code for Banco de Oro Unibank is 10530667.
In any case, there's no need to enter the bank code because PayPal will automatically provide the correct code depending on your bank.
Ensure that your name and bank information match your bank account to avoid additional charges. Click "Link Your Bank" to proceed.
Step 4: The next page will show whether the linking was successful. Click "Done" to complete the process.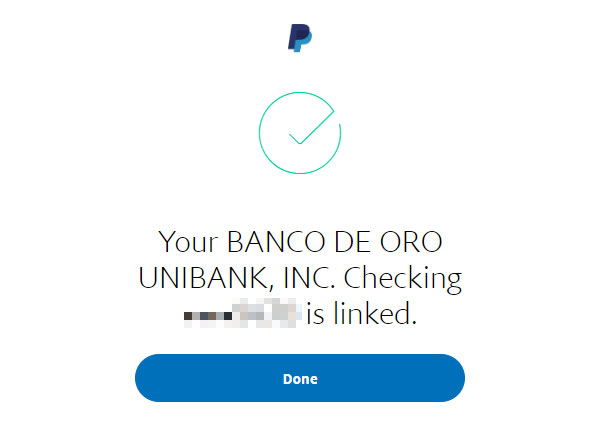 Congratulations! You have successfully linked your bank account to PayPal. You can now start transferring money from PayPal to your bank account.
PayPal Account Verification
To be able to withdraw funds from PayPal to your bank account and lift withdrawal limits, you need to verify your PayPal account. Withdrawal limits are placed on new accounts to help reduce fraudulent transactions due to stolen credit cards and unauthorized usage of bank accounts.
Verified accounts have no withdrawal limits to bank accounts, which means that you can transfer unlimited amounts of money to your bank. The daily withdrawal limit for credit and debit cards is $500 or ₱25,000.
Both verified and unverified accounts have no sending limits.
To lift your withdrawal limits, link and confirm your credit or debit card with PayPal. In the next step, I will teach you how to confirm your credit or debit card to get verified and to lift your withdrawal limits.
Confirming Your Card and Verifying Your PayPal Account
On the Wallet page, you will see an option to confirm your credit or debit card. Click "Confirm your card" to start the process.
Read the instructions on the next page. Click "Get a Code" to proceed.
Your card will be charged a verification fee of ₱100, which will be refunded after you successfully confirm your card. Check your bank statement for the PayPal charge and confirmation code. This will appear within 5-7 days or often much earlier.
You can check your bank statement using your online banking account. Otherwise, you'll have to personally visit your bank and ask for a bank statement.
The confirmation code is usually the set of four numbers between PP* and COD.
Once you have the code, follow the link to verify your card. This can be found in your notifications. Enter the four-digit code and click "Submit."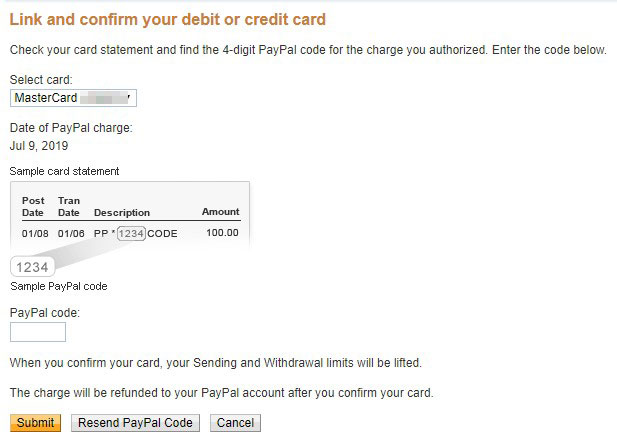 Congratulations! You have now successfully confirmed your card and verified your PayPal account. Check your email for the message that your credit/debit card is confirmed.
How to Withdraw Money From PayPal to Your Bank Account
Now we've come to the exciting part – withdrawing money to your bank account or credit card.
For verified accounts, there is no withdrawal limit for PayPal-to-bank transfers. There is a daily withdrawal limit of ₱25,000 for transfers to your Visa credit or debit card. To know your withdrawal limits, visit this page.
Step 1: Start by clicking "Transfer funds" on the Summary page or on your PayPal wallet.
Step 2: Choose where you want to transfer the money. In this example, I chose my UnionBank account. Click "Next" to proceed.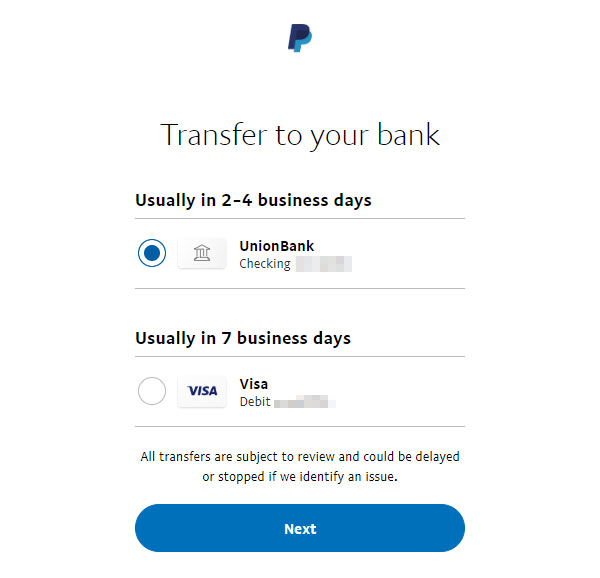 Step 3: Enter the amount you want to withdraw. Click "Next" to proceed.
Step 4: Review your withdrawal request. Take note of the converted amount and the withdrawal fee. Withdrawals to Philippine bank accounts are automatically converted to pesos.
Click the "Transfer (amount) Now" button to continue.
Step 5: Your withdrawal request is now underway. Your money will arrive in 1-7 days depending on your bank and several other factors. You can also check your email for the confirmation of your request.
PayPal Withdrawal Fees
The withdrawal fee for transfers from PayPal to bank or Visa card is only ₱50 for amounts below ₱7,000. Withdrawals are free for transfers ₱7,000 and higher.
Your bank may charge additional fees, however. I've heard that BPI charges ₱150 while it's ₱200 for BDO. There are no additional charges for UnionBank.
That is why I recommend UnionBank EON for PayPal withdrawals. Aside from the low withdrawal fee, transfers to my bank account are usually completed in more or less one business day. So if I request a withdrawal on Monday, I usually have the money in my ATM on Tuesday night.
I've had my UnionBank EON account since 2009 and have successfully performed hundreds of withdrawals from PayPal without a hitch. It only costs ₱350 a year and doesn't have an average daily balance to maintain. Learn more about UnionBank EON here.
Funding Your PayPal Account
I've talked about how to transfer money from PayPal to your bank account, but how about transferring money from your bank account to PayPal?
Unfortunately, it's not yet possible to fund your PayPal account using your Philippine bank account or credit card. The only way to add money to PayPal is to transfer the funds from another PayPal account, via direct payment to your PayPal account or by receiving money from another PayPal user.
How to Use PayPal
Now let's talk about how to use your PayPal account. You may find PayPal useful for many personal and business transactions such as paying for goods, sending money to a friend, or receiving your salary. Let's have a rundown of the things that you can do with PayPal.
Paying for Online Purchases
You might find PayPal useful for online shopping and purchases. Any website or e-commerce platform worth its salt has PayPal as a payment option. Most merchants allow customers to pay instantly and seamlessly using PayPal checkout.
The main benefit of using PayPal for buying stuff online is that you're covered under PayPal Buyer Protection. It allows you to request a refund or file a dispute in case you didn't receive your ordered item, or if the item is defective or isn't as described. Customers have up to 180 days to file a dispute.
Unfortunately, most online shopping websites and merchants in the Philippines don't have PayPal as a payment option. Maybe sellers are not yet aware of the benefits of using PayPal, or maybe there are relatively few PayPal users in the Philippines that merchants don't see the need to offer it. Hopefully, more merchants will start offering PayPal as the local e-commerce industry grows and matures.
Sending and Requesting Money
Perhaps you have a friend who is in dire need of money. You can send money straight to his PayPal account simply by providing his email address. You can also request money from other PayPal users. To send or request money, just click "Send & Request" on the top menu and follow the instructions.
Take note that there's a transaction fee of 3.9% plus ₱15 for domestic payments within the Philippines, and 4.4% + $0.30 for international transfers. You can use this PayPal fee calculator to determine the additional charges.
You can choose "Sending to a friend" to transfer money to someone without being charged transaction fees.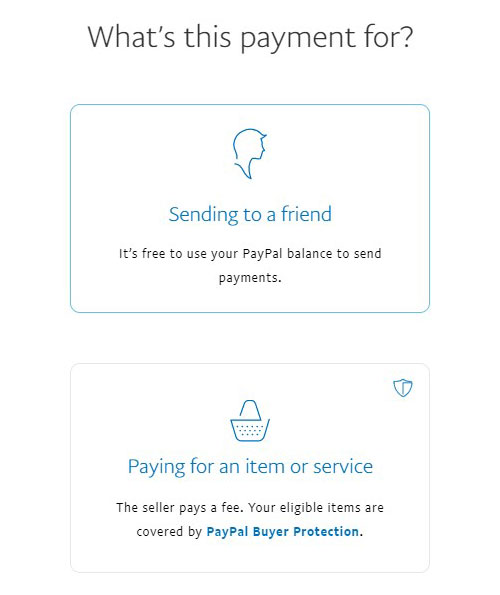 Freelancing and Online Jobs
PayPal is the preferred payment method for many employers and freelance workers. If you want to earn a living from the Internet, a PayPal account is a must-have in your arsenal. Employers can pay your salary through Paypal, and you can then transfer the money to your bank account.
Before I became a full-time blogger, I worked as a freelance writer for a US-based company, and their sole method of payment was PayPal. So if not for PayPal, I wouldn't have quit my job and start working from home. PayPal opened many opportunities for me to earn a decent income from the Internet.
If you have an online business, you can also use PayPal to accept payments from customers. Granted, most Filipinos are still not aware of PayPal, but it's a nice option to have in case your customer asks for it.
Conclusion
PayPal is really useful for those who intend to work online or simply do some online shopping. I hope that this comprehensive PayPal Philippines guide helped you in signing up for PayPal, verifying your account, linking your card or bank account, and transferring money. If you have any questions or concerns regarding PayPal, you may call their customer service hotline 1-402-935-2050.