Water can be damaging to electronics, so you have to take extreme caution to prevent it from getting into your cellphone's charging port. But no matter how careful you are, sometimes water and moisture may come into contact with your phone, especially if you carry your device everywhere you go. Luckily for you, there are a several ways to get water out of your phone's charging port without bringing it to the repairman.
You've probably lost count of the number of times you've bought your phone to the beach or even the bathroom – places where it's easy to get your phone wet. Most mobile phones nowadays are water-resistant, but that doesn't mean that they are totally impervious to damage from water and moisture getting into the innards of your device.
The most obvious place for water to get into your phone is the charging port (or charger port) as it's often the largest receptacle in your device. When water gets into your charging port, it might prevent your phone from charging. Depending on the amount of water that infiltrated your phone, it might take anywhere from a few minutes to several days for the moisture to completely evaporate and for your phone to start charging normally again.
You certainly don't want to wait several days to be able to charge your phone again, do you? Skip the waiting and learn how to get water out of your phone's charging port with these do-it-yourself fixes.
Method 1: Shake Your Phone Gently
Let gravity do the work! Gently shaking your phone will help to get rid of water droplets that may be lurking inside its charging port.
With your phone in an upright position and the charger port at the bottom, shake your phone gently up and down for a few seconds, just like you would do with a ketchup bottle. You can also shake your phone from side to side, but shaking it vertically works best in getting rid of water from your charging port.
Be sure not to shake your phone too vigorously as it could potentially lead to damage to internal components.
Method 2: Put Your Phone in a Bowl of Rice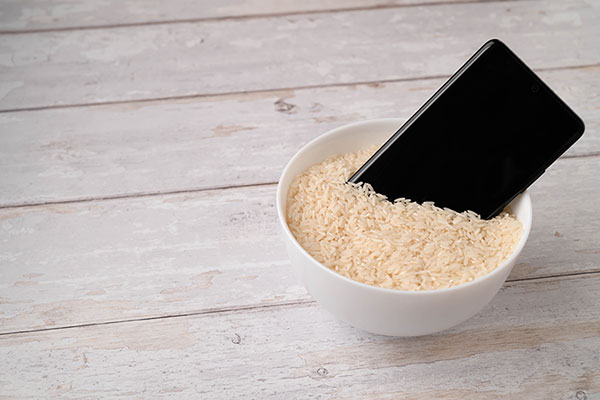 If shaking your phone doesn't help and there's still water in the charging port, you can try putting it in a bowl of uncooked rice for several hours or even overnight. Although not as good as silica gel in absorbing moisture, rice is a pretty solid alternative if the former is not available.
Rice is considered a desiccant, which means that it will readily absorb moisture from the environment. Researchers from the University of Huddersfield found out that half a kilogram of rice can absorb 80% of moisture from a wet phone after 12 hours and 100% of moisture after 48 hours.
Put a few cups of uncooked rice in an airtight container and place your phone on top of it, making sure that no grains can enter the charging port. Seal the container and wait for 4-8 hours before testing your phone. Depending on the amount of moisture inside your phone, as well as the amount of rice you used, it can take anywhere from a few hours to a whole day to completely get rid of water from the charging port.
Method 3: Use Silica Gel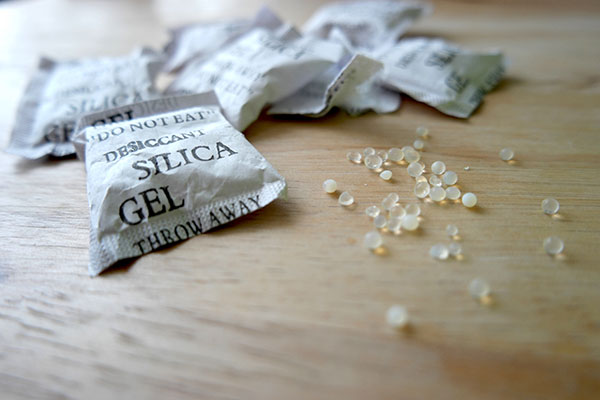 You've probably seen those small packets of sand-like material inside your bottle of vitamins. This material is called silica gel and it's a better desiccant than rice. You can use silica gel to get rid of water from your phone's charger port and never have to worry about little grains of rice entering your device.
To use silica gel to dry your wet phone, get an airtight container or bag such as a ziplock bag, and place two or three packets of silica gel inside it together with your phone. Wait for a few hours before checking your phone for leftover moisture. It can take up to 24 hours for the silica gel to completely dry out the charging port depending on the amount of water that entered it.
You can buy silica gel from the local hardware store and supermarket, or from online shopping sites like Amazon.
Method 4: Just Air-Dry It
If you're not too convinced about using rice or silica gel to get rid of water from your phone's charging port, you can just simply air-dry it. Place your phone several meters away from an electric fan to air-dry the charging port. Be careful not to place it too near the fan to avoid pushing the water further inside the charger port.
If you have a dehumidifier, you can use it to hasten the air-drying process by placing the phone close to it. Dehumidifiers help absorb moisture from the air as well as from nearby objects such as your mobile phone.
Methods We Don't Recommend
There are dozens of ways to get rid of water from your mobile phone. Some are effective while some are not, and can even be harmful to your device. We list down the methods that are proven to be ineffective or can be detrimental to your phone.
Use a hair dryer
The hair dryer (or blow dryer) is for your hair and should not be used to get rid of water from your phone's charging port, as the heat can damage sensitive components. It can also push water and moisture further inside the charging port. If you have to use a hair dryer, make sure that you use cold air (if the dryer has this feature) and that you place your phone a few meters away to avoid pushing water deeper.
Wipe with a piece of cloth
You might be tempted to grab a piece of cotton or microfiber cloth and try to wipe the water from your phone's charging port, but it's actually not advisable to do this. Charging ports are small and sticking a piece of cloth inside it can loosen or dislodge some parts. It's much better to air-dry the charger port using a small fan or just wait a day or two for the moisture to evaporate on its own.
Parting Words
Many phones have a liquid detection alert system that will notify you that water has entered your phone, particularly its charging port. When that happens, refrain from charging your phone as doing so might cause irreversible damage to the sensitive electronics in your device. Follow the recommended methods listed in this article or, if you're too worried about accidentally damaging your phone, simply wait for the water or moisture to dissipate on its own.