Everyone wants to have a house that they can call their own. As a member of the Home Development Mutual Fund (HMDF) or commonly known as the Pag-IBIG Fund, you are entitled to housing benefits and loans that allow you to build your dream home.
To avail of the wonderful benefits of the Pag-IBIG Fund, you have to pay your Pag-IBIG contributions diligently and on time. One way to ensure that your monthly contributions are remitted properly is to check your Pag-IBIG contributions online. So how do you check your Pag-IBIG contributions online?
The Pag-IBIG website used to have an online facility that allowed members to check and verify their contributions using their Pag-IBIG membership ID (MID) number and other information. However, the agency decided to revamp their website and came up with the Virtual Pag-IBIG platform which allows Pag-IBIG members to verify their MID, view their records, pay their contributions online, among others.
Through Virtual Pag-IBIG, you can check your Pag-IBIG contributions online to see if your premiums – whether paid by you or by your employer – were remitted and posted. This is especially useful for members who pay their contributions voluntarily. You can just log in to your Virtual Pag-IBIG account to know the status of your contributions and other records. For example, you can see how many contributions you have made and when you remitted your last contribution.
How to Sign Up For Virtual Pag-IBIG
Any Pag-IBIG member can sign up for a Virtual Pag-IBIG account, including voluntary members, OFWs and Loyalty Card holders.
To start, open the Virtual Pag-IBIG website and click "Log In or Create Account" as shown in the screenshot below. A pop-up message will appear. Click "Continue."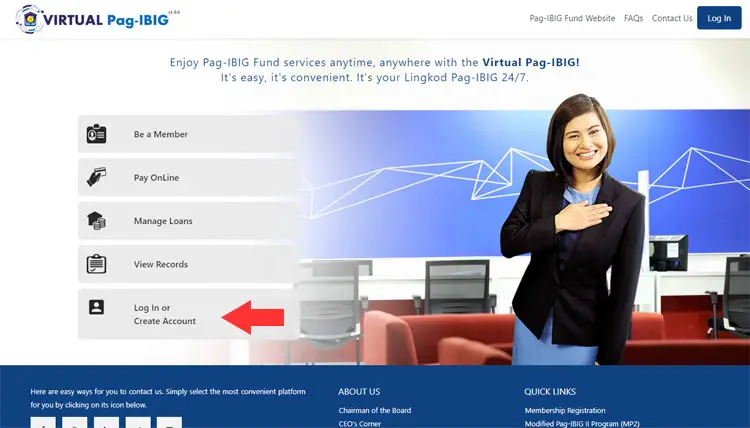 Click "Create Account" if you don't have an account yet.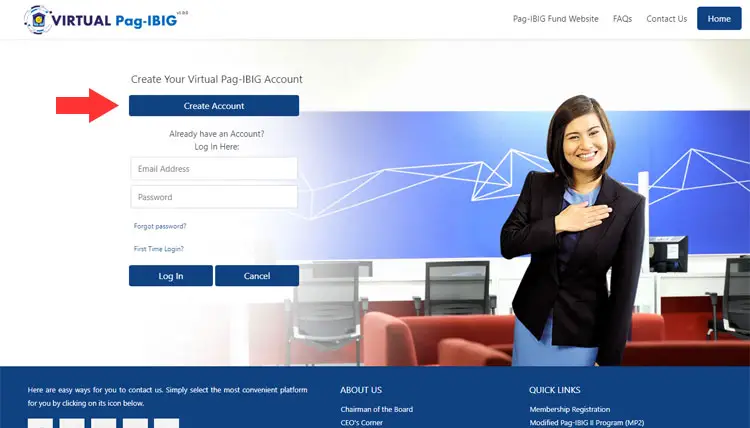 If you don't have a Pag-IBIG Loyalty Card, choose the second option which is to create your account online and activate it at a Pag-IBIG Fund branch. Click the "Click Here" button.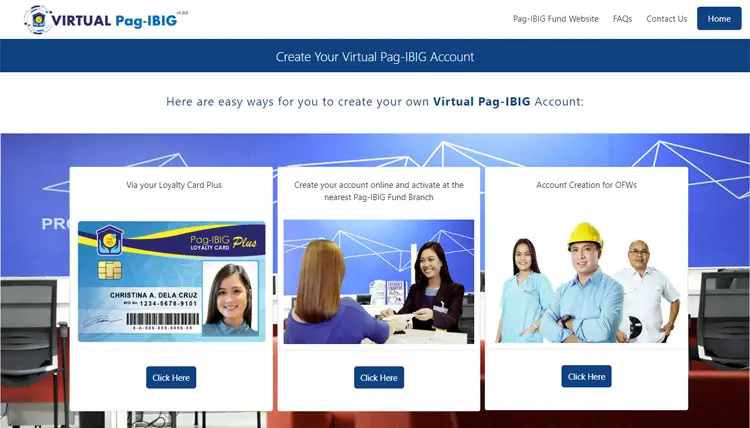 Enter your account information including your Pag-IBIG MID number, last name, first name, middle name, date of birth and mobile number. All fields are required except for middle name which you can omit by checking "No middle name."
Tap "Proceed" to go to the next step.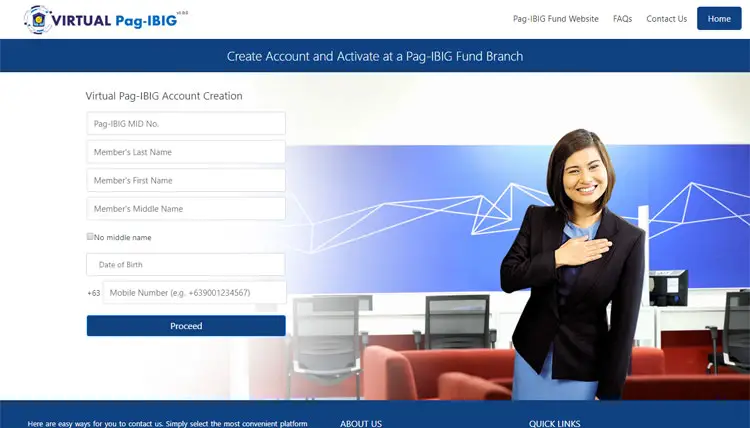 A pop-up will say that a one-time PIN (OTP) will be sent to your mobile number. Click "OK."
Enter the OTP code sent to your mobile number. If you didn't receive an OTP code, click "Resend OTP."
Click "PROCEED."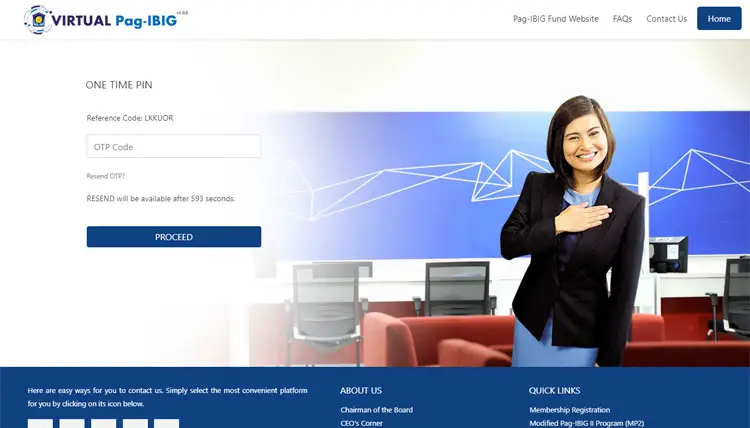 You will be directed to a page where you'll submit additional information.
Provide your email address, three (3) security questions, mother's maiden name, and place of birth.
Upload a scanned copy or photo of your passport or two (2) valid IDs. The maximum upload size is 1MB. If your photo is too large, you may have to resize it using image editing software like Adobe Photoshop or a web-based app like PicResize. In my case, I resized my photos to 800×450.
Take a selfie of yourself holding any of the IDs you provided and upload it.
Check the box next to "I certify that…" Click "Submit."
As the Virtual Pag-IBIG system is fairly new, don't be surprised if you encounter errors during registration. It took me several tries to complete the registration because the system refused to upload my IDs. If you encounter an error that prevents you from completing the registration, just refresh the browser and start over again.
After clicking "Submit," you will see a message that says: "You have successfully created your Virtual Pag-IBIG account. Please go to the nearest Pag-IBIG Fund Branch to activate your account."
Virtual Pag-IBIG Account Activation
Now go to the nearest Pag-IBIG branch within the next 7 days to activate your Virtual Pag-IBIG account. Don't forget to bring a valid ID.
After a few minutes, you will receive an email from the Pag-IBIG Fund informing you that your account has been activated.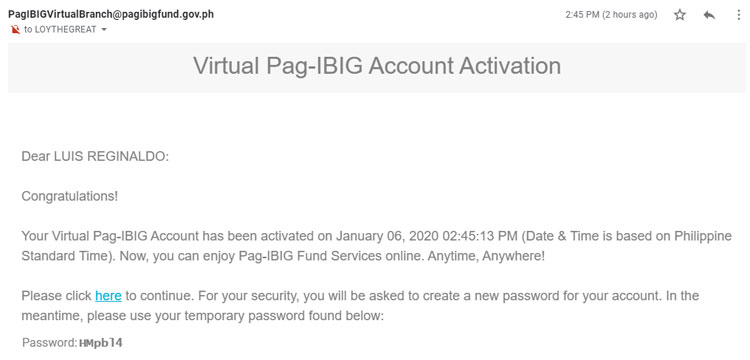 Click on the link in that email and enter your email address and temporary password. Click "SUBMIT."
You'll be asked to create a new password. Click "SUBMIT" when you're done.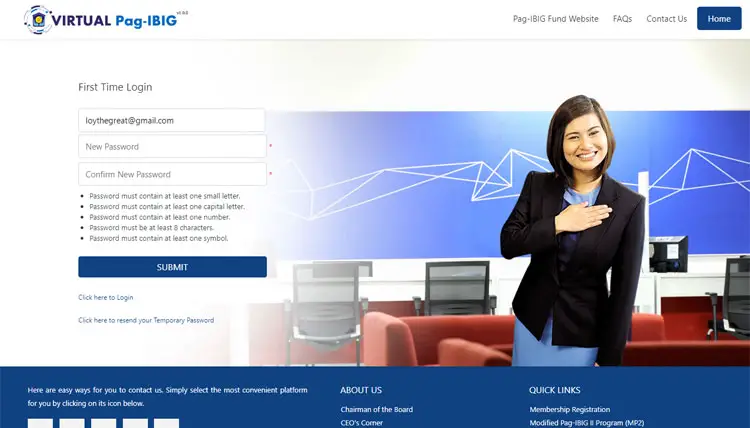 If everything goes well, you will see a message saying: "Password reset successful. You can now log in to Virtual Pag-IBIG."
Congratulations! You have successfully activated your Virtual Pag-IBIG account. Now it's time to login to your account to check your Pag-IBIG contributions.
How to Check Your Pag-IBIG Contributions
Go to the Virtual Pag-IBIG website and read the data privacy statement. Check the box to agree and click "Proceed."
Click the "Log In" button and click "Continue" when prompted.
Enter your email address and password, and click "Log In" to access your Virtual Pag-IBIG account.
Once logged in, you can view your regular savings or mandatory contributions, Pag-IBIG MP2 savings, and loan records (if any).
Click "Regular Savings (Mandatory Contributions)" on the left sidebar menu.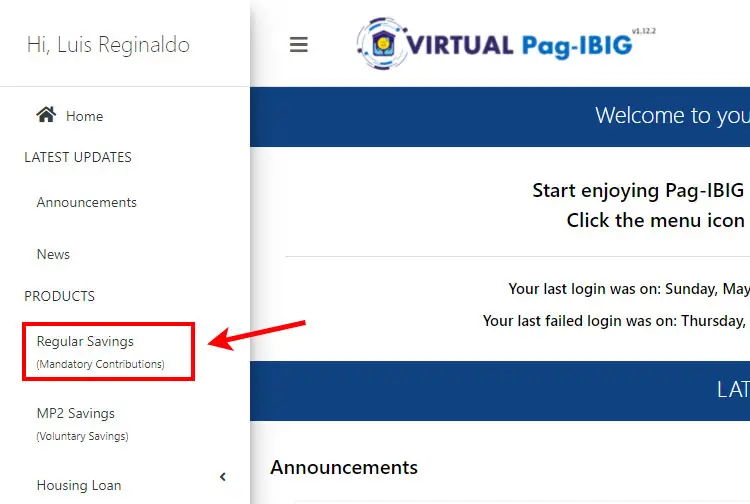 You can now view a summary of your Pag-IBIG I regular savings account. To view your Pag-IBIG contributions, enter the year in the field provided (e.g. 2021) and click "View Contributions."
You will be shown a list of your Pag-IBIG contributions with information such as transaction date, reference number, period covered, and contribution amounts.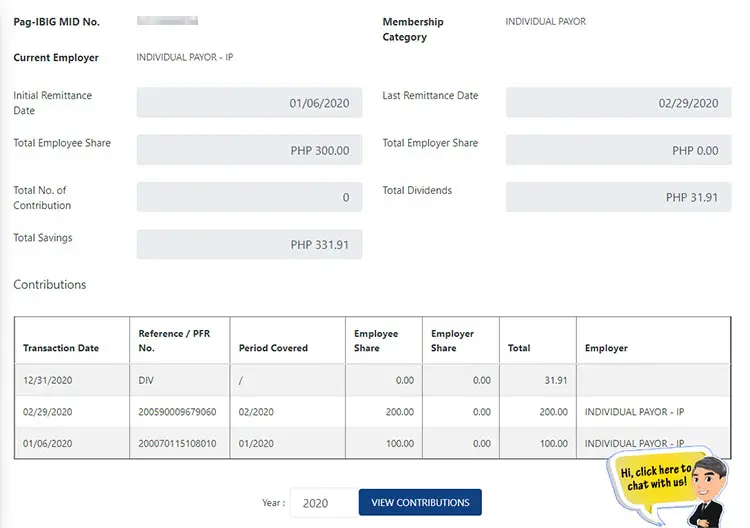 There you have it. You just learned how to sign up for Virtual Pag-IBIG and check your Pag-IBIG contributions online. If you have any issues or concerns, call the Pag-IBIG 24/7 hotline at 8-724-4244 (8-Pag-IBIG) or email [email protected].