As a member of the Social Security System (SSS), you are entitled to social security benefits that can help you in times of financial distress, sickness, pregnancy, or retirement. Aside from these benefits, you can also avail of an SSS salary loan. You can use the loan for your personal needs, business purposes, or for any reason you see fit.
To apply for a salary loan, you'll need to go to the SSS office and fill up some forms. The good news is that you can now apply for an SSS salary loan through the Internet. That means that you don't have to personally file your loan application at the SSS branch nearest you. You only have to fill out an online application form and then wait for your loan application to be approved.
Applying for an SSS salary loan is certainly better than taking a risk with loan sharks or any of the several online lending firms that have cropped up recently. Aside from the low interest rates and favorable payment terms, you don't need to provide collateral. In case of loan default or failure to pay your debt, your unpaid loan will be deducted from your social security benefits.
If you're interested to know how to apply for an SSS salary loan online, look no further. I've come up with this complete step-by-step guide on SSS salary loan applications to help you apply for an SSS loan using your computer or smartphone. No need to visit the SSS branch and talk personally with their loan officers.
SSS Salary Loan Requirements and Eligibility
First things first, you need to know if you're eligible for an SSS salary loan. You must fall under all of the following criteria to be eligible for the SSS salary loan:
You must be a currently employed, self-employed or voluntary member.
You must have posted at least 36 monthly contributions to avail of a one-month loan, or at least 72 monthly contributions for a two-month loan. Six (6) of these contributions must have been posted in the last 12 months prior to the filing of application.
Your employer, if any, must be updated in the payment of contributions.
You must not be more than 65 years old at the time of application.
You must have not been granted final benefits, such as death, retirement or total permanent disability.
You must have not been disqualified because of fraud committed against SSS.
For personal loan applications at the SSS office, you should provide two valid IDs. But since you will be applying for the SSS loan online, there's no need to present an ID. You can read this page for a list of valid IDs accepted by SSS.
SSS Online Loan Application Process
In the past, you have to go to the SSS branch to apply for a salary loan. Nowadays, you can apply for an SSS salary loan using your computer or mobile device, and you don't need to submit documents and IDs to SSS when doing so.
To apply for an SSS salary loan online, make sure that you have a My.SSS account and you have posted at least 36 monthly contributions. If you don't have a My.SSS account yet, go here to sign up. Only current SSS members can register for My.SSS. If you're not yet an SSS member, read this article to learn how to become one.
Step 1: Log in to Your My.SSS Account
Log in to your My.SSS account at the SSS website.
Click E-SERVICES and then "Apply for Salary Loan" as shown in the screenshot below.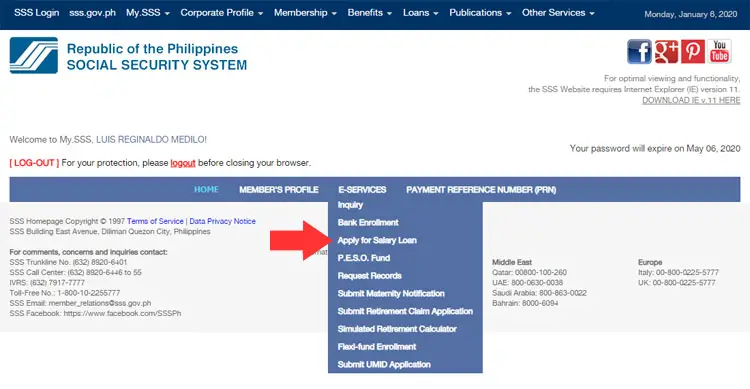 Step 2: Enroll Your Bank Account
If you see this message below, you will have to enroll your Unionbank savings account for electronic loan disbursement. If you don't have a Unionbank account, your SSS salary loan will be released through check.
You may also need to update your local mailing address using the link provided.
If you don't see this message in your My.SSS account, proceed to Step 4.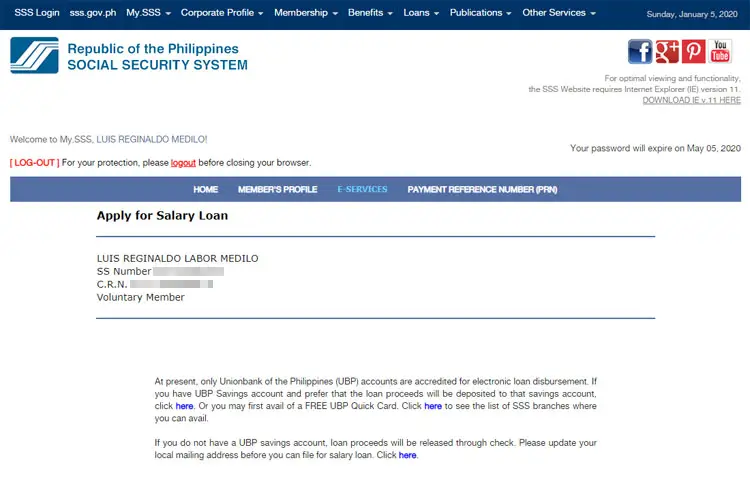 For bank enrollment, select UNION BANK OF THE PHILIPPINES from the dropdown list. Enter your Unionbank account number twice.
Check the box before "I agree that the information…" and click "Enroll Savings Account." Click "OK" when a pop-up message appears.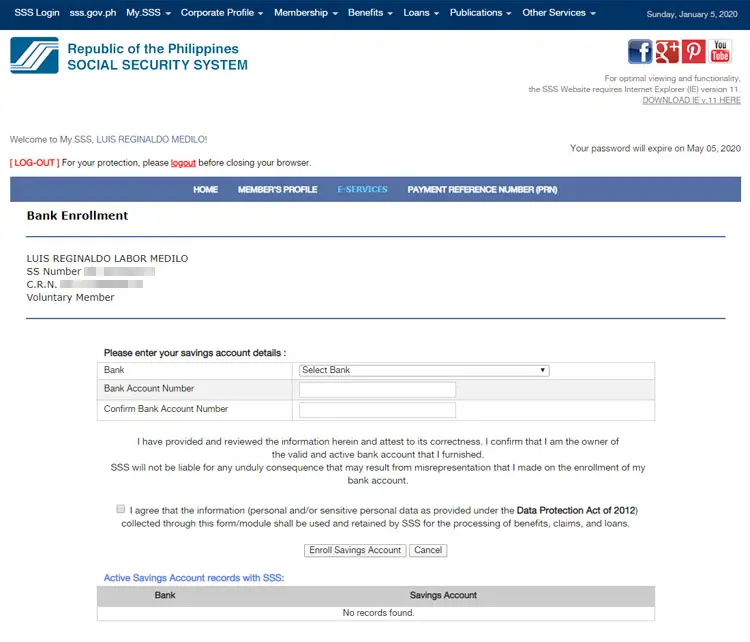 Step 3: Update Your Local Mailing Address
To update your local mailing address, you may have to use the new SSS member portal. I've tried updating my mailing address on the My.SSS website but it constantly gives me errors. The same thing happened on the SSS mobile app.
Log in to the SSS member portal using the same user ID and password as your old My.SSS account.
Click "My Information" and then the "Update Information" button at the bottom of the page.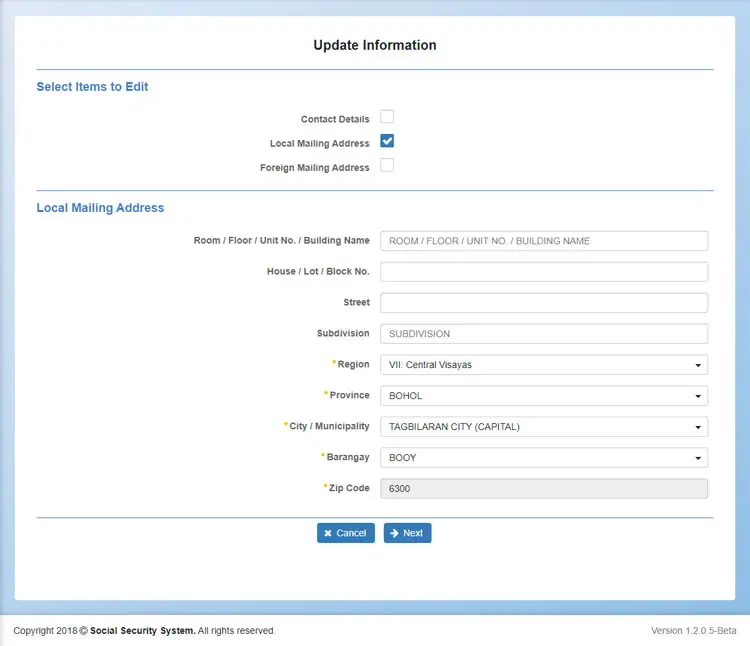 Enter your complete mailing address including street, barangay, city or municipality, province and region. When you're done, click "Next."
Review your provided information. Click "Update."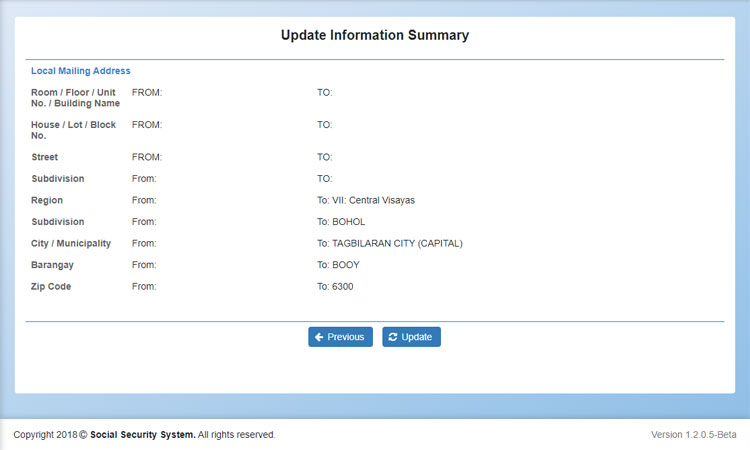 Step 4: Fill Out the Application Form
Now go back to your My.SSS account and go to E-SERVICES > Apply for Salary Loan.
Choose the loanable amount from the dropdown box.
Select the bank from your list of enrolled banks (in this case, Union Bank of the Philippines). The bank account number will be automatically filled.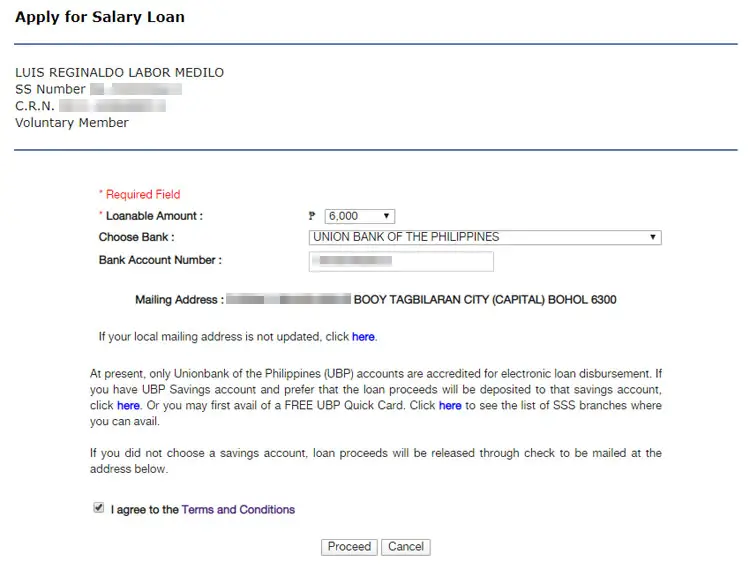 Check the box next to "I agree to the Terms and Conditions." A new window will pop up containing the terms and conditions. Read it carefully.
Click "Proceed" to continue to the next step.
Step 5: Read the Disclosure Statement
Read the system-generated Disclosure Statement, which contains financial information about your SSS salary loan including amortization, interest rates, schedule of payments, and other charges and deductions. You can download or print it for your reference and record keeping.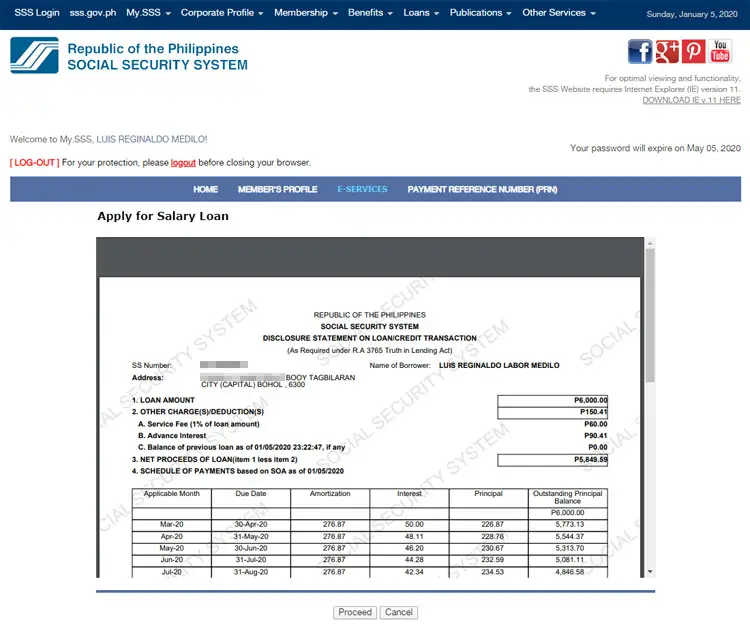 If you agree with the terms of the loan, click "Proceed."
Step 6: Submit Your Application
This is final step before you submit your application. Read the certification, agreement and promissory note on the page, and if you think that there are mistakes in your application, then click the "Cancel" button.
Otherwise, click "Submit" to submit your SSS salary loan application.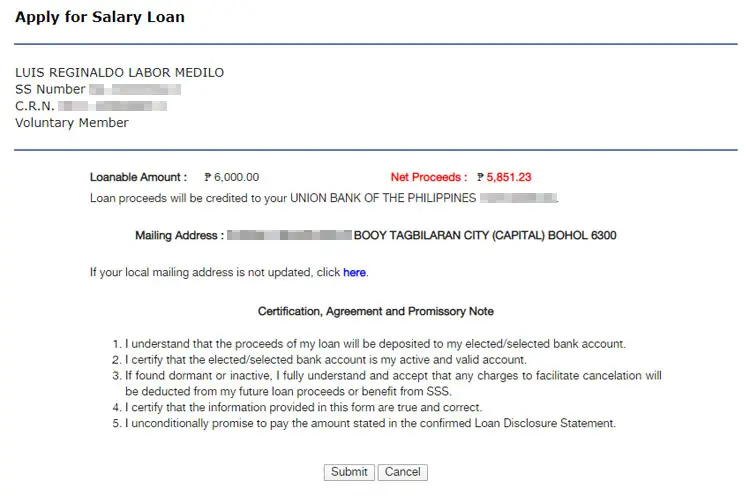 Step 7: Wait for Approval
Congratulations! You have successfully submitted your SSS salary loan application. Save or record your transaction number in case you need it. You will also receive a confirmation email from the SSS containing the transaction number.
Step 8: Check the Status of Your Loan
You can learn about the status of your SSS loan by going to E-SERVICES, clicking Inquiry, and then going to Loans > Loan Status/Loan Info.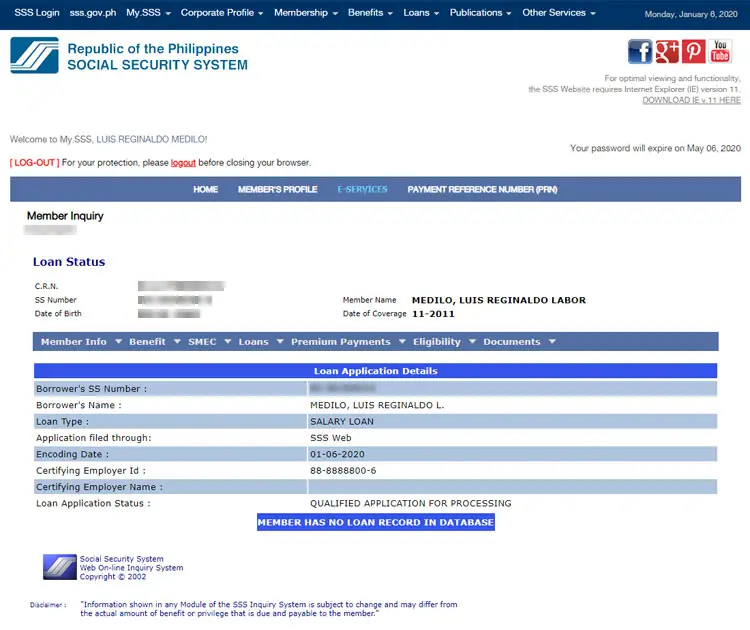 It will take about 2-3 weeks for your SSS loan application to be approved. Be sure to check your loan status in your My.SSS account from time to time. In my case, my loan was approved in just two days.
Be sure to check your bank account to confirm that you have received the money. If you preferred to receive the money by check, give it a few days for the check to arrive in your mailing address.
After your loan is approved, you can log in to your account to view information about your loan and to generate a statement of account. Just enter the date of computation to generate a statement of account, which lists your past and current dues, your outstanding principal balance, and the total amount of payments made.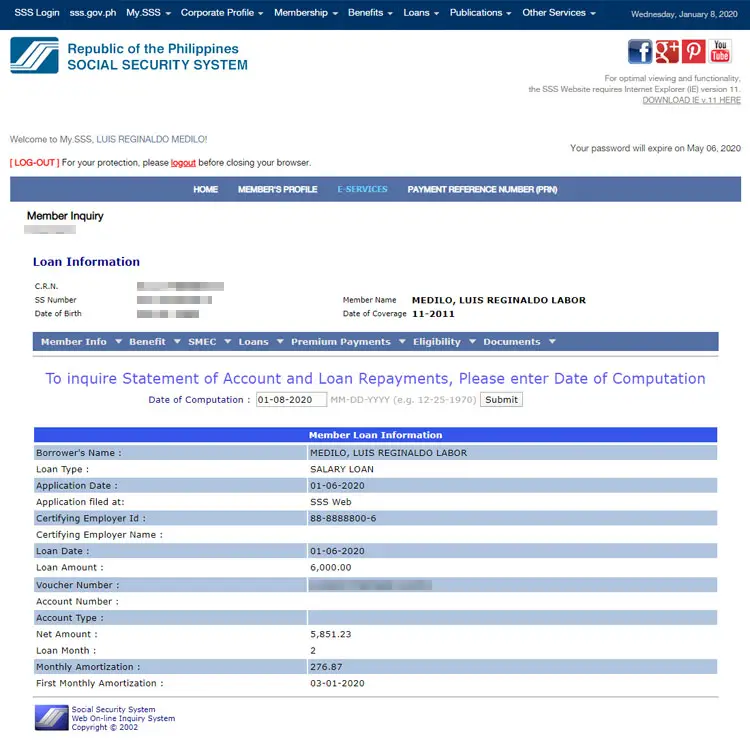 Schedule of Payments
The SSS salary loan is payable within two years in 24 monthly installments. A complete breakdown of your payables can be found in the Disclosure Statement.
The loan amortization starts in the second month after the date of the loan approval. For example, if your loan was approved on February 14, 2020, then your loan amortization starts on March 2020.
The payment due date or deadline will be on the last day of the month following the applicable month. If the payment deadline is a Saturday, Sunday or holiday, you can pay on the next working day. For example, the payment deadline for February 2020 is March 31, 2020.
You can pay your amortizations at any SSS office, SSS-accredited bank, authorized payment center, or online payment service like GCash. Member-borrowers must use their payment reference numbers (PRN) when paying.
Interest, Fees and Penalties
SSS charges an interest of 10% per annum (year) based on the diminishing principal balance, until your loan is fully paid. In addition, there is a 1% service fee which will be deducted from the loan amount.
If you fail to pay on or before the payment deadline, you will be charged a 1% penalty per month until you settle your dues. Any excess payments will be applied to the outstanding principal balance, which means that you can pay your loan in advance.
Non-Payment of Loan
As a member-borrower, it's your obligation to pay your dues on time. But sometimes life gets in the way and you might fail to repay your loan. Don't worry though because SSS has contingency measures in place in case of loan default.
A loan default happens if you fail to pay your amortizations for more than 6 months. If that happens, the full balance of your defaulted loan will become due. For self-employed and voluntary members, the unpaid loan will be deducted from his or her short-term benefits such as sickness, maternity or disability benefits.
If the member-borrower dies, becomes disabled, or retires, the unpaid loan including interests and penalties will be deducted from the corresponding benefit (death, disability or retirement).
Final Thoughts
Getting a loan from the SSS doesn't have to be a nerve-wracking experience since you can apply for it through the SSS website. You can then use the loan to pay debts or even start a new business. It's not much but it certainly helps in difficult times. Be sure to repay the loan on time to avoid any penalties and the possibility of defaulting on your loan.
For more information about the SSS salary loan, visit the SSS website. Or you can call the SSS toll-free hotline 1-800-10-2255777 (1-800-10-CALLSSS).