SM Advantage is a rewards and loyalty program that gives its members certain privileges when shopping at The SM Store, SM Supermarket, SM retail partners, and external partners like Shell and PLDT. For every purchase using an SM Advantage Card, you will earn points that can be redeemed for rewards and perks. You will get 1 point for every ₱200-400 worth of purchase depending on the establishment.
Aside from earning points, SM Advantage members can also enjoy great discounts and freebies at SM establishments and retail partners. Some of the perks or freebies that you can avail with your membership are discounts on beauty treatments, gym memberships and free food.
SM also holds special sales and promos exclusively for SM Advantage members from time to time. SM Advantage Card holders can avail of an additional discount on top of the prevailing discount during the sale or promotion.
SM Advantage will help you save thousands of pesos every year especially if you spend a lot of money shopping or dining at SM malls and supermarkets. The membership fee is only ₱200 which is a fairly small amount considering the privileges and benefits you will get from being an SM Advantage member. You will get back your membership fee many times over, not only through SMAC points but also through discounts and promotions that are exclusive to SM Advantage Card holders.
How to Get an SM Advantage Card
If you don't have an SM Advantage Card yet, you can get one by going to any cashier counter at The SM Store, SM Supermarket and SM Hypermarket, or the customer service counter at any SM mall. Pay the membership fee of ₱200 which is good for 5 years. You will immediately receive your brand new SM Advantage Card that includes your name and 16-digit card number.
Another way to apply for an SM Advantage Card is through online. Go to the SM Advantage website and click "BECOME A MEMBER NOW" at the top of the page (you can also go directly here). Fill out the online form including your name, birthday, email, mobile number and home address.
After submitting the form, you will receive an email with a link to a payment processor where you will pay the ₱200 membership fee. Make the payment and then claim your new SM Advantage Card at the customer service counter of any SM store.
After receiving your SM Advantage Card, you'll need to activate the card to be able to use it. Text SMAC ACT <16-digit card number> to 2256. For example: SMAC ACT 5294625106750923.
You can now start using your SM Advantage Card to accumulate SMAC points. But how will you know how many points you already have? You can either ask the cashier or you can check your points using the My SMAC mobile app.
How to Check Your SM Advantage Points
On your smartphone, download and install the My SMAC mobile app from Google Play or the App Store. Launch the app and tap "Register."
Enter the 16-digit SM Advantage Card number. The app will automatically verify that your card number is valid and then show another field for inputting your name. Tap "SUBMIT."
Enter the one-time password (OTP) sent to your mobile number. If you're using a phone with your registered mobile number, the app will automatically enter the OTP. Press "NEXT."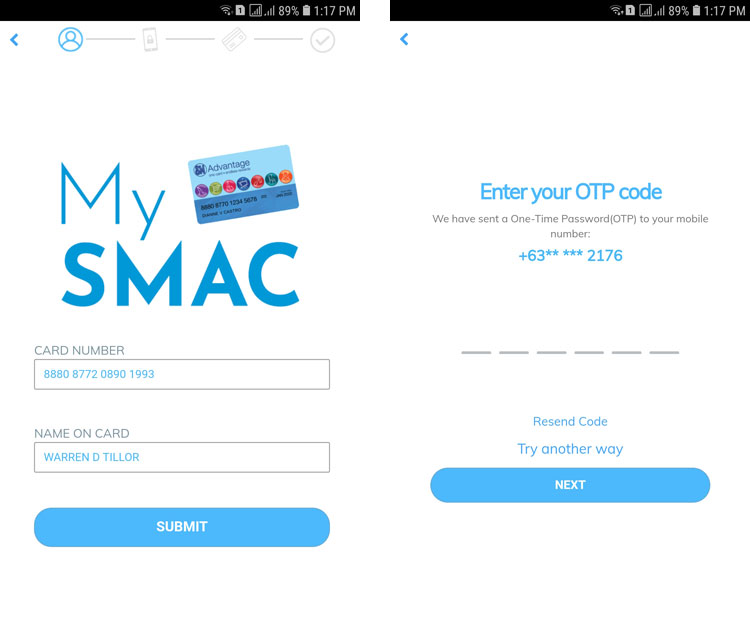 Complete the registration by entering the required information like email address and password. Don't forget to remove the first "0" digit of your mobile number.
Check the box that says "I understand and agree…" and tap "NEXT."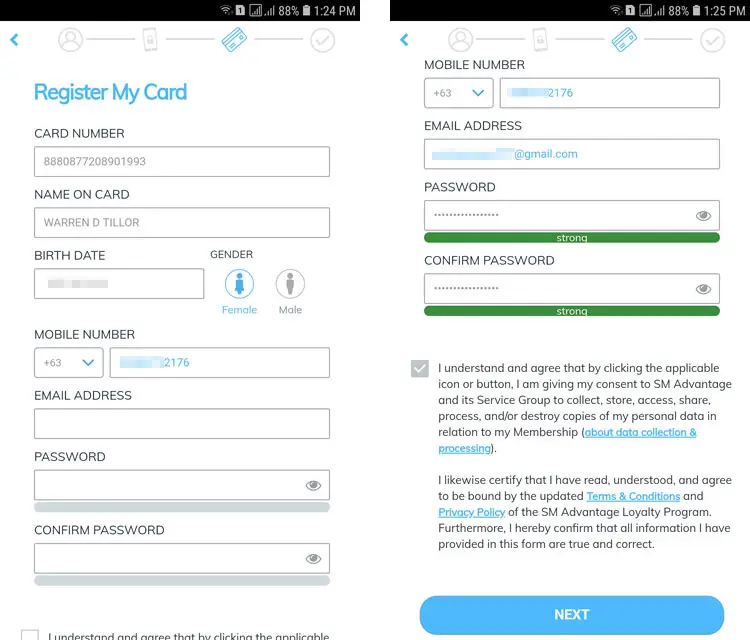 Once again, enter the OTP that was sent to your mobile number. Tap "NEXT."
A popup message will appear telling you to complete your registration by clicking the link sent to your email address.
Open the email and click on the link to complete your My SMAC registration.
Go back to the My SMAC app and login to your account using your email address and password.
Choose the offers that you would like to see in the My SMAC app, such as fashion, food, health and beauty, home and lifestyle, and travel and leisure. Tap "NEXT."
Select and answer three security questions to secure your My SMAC account. Click "Save Changes." Tap "OK" when a popup appears.
Next, you can choose to connect your Facebook account for easy login. It's completely optional though so just press "Skip" if you want.
To view your account information, tap "Account" at the bottom of the screen. You will see your card number, membership dates, and points balance as well as links to manage your account.
Tap "Points Summary" to view a breakdown of your SM Advantage Card points, including dates and points earned for each transaction.
That's it! You have successfully registered for My SMAC and checked your SM Advantage points. Take note that it will take 7-10 working days for your points to be credited after the transaction, so please be patient.
Aside from checking your SMAC points, you can also use the app to view available perks and coupons. Choose a perk and tap the "Redeem" button, and then give your phone to the cashier for validation.
How to Earn and Redeem SMAC Points
You will earn SM Advantage points for purchases made through these SM retail and partner establishments:
The SM Store
SM Supermarket
SM Hypermarket
SM Cinema
SM Appliance Center
Ace Hardware
Toy Kingdom
Uniqlo
Savemore
Walter Mart
Watsons
Miniso
Forever 21
Shell
PLDT Home
Agoda
and many more.
You'll earn 1 point for every ₱200-400 worth of purchase at these participating stores. Purchases that are less than ₱200 will still earn a fraction of a point. For instance, ₱100 will earn you 0.25 point at the SM Supermarket.
Visit this page for a complete and updated list of establishments where you can earn and redeem SMAC points.
Once you've accumulated at least 20 SMAC points, you can redeem your points at The SM Store, SM Supermarket, SM Hypermarket, or partner establishment. Each point has a redemption value of ₱1 and can be used to pay for your purchases at the cashier.
SMAC points will expire 90 days (3 months) after your membership expires. Renewing your membership will transfer unused points to your new SM Advantage Card. You can also transfer your points to another member by tapping "Points Transfer" in the My SMAC app.
If you're a Globe Rewards member, you can convert your Globe Rewards points to SM Advantage points using the Globe Rewards app. 130 Globe Rewards points are equivalent to 100 SMAC points.
When you've spent at least ₱300,000, you'll be eligible for SM Prestige, an elite membership program that gives you access to the SM Prestige Lounge, courtesy checkout lanes, priority fitting rooms, exclusive offers, and other privileges. Click here to learn more about SM Prestige.
Getting an SM Advantage Card is definitely worth the price of admission. For a small fee, you'll earn points for future redemption and enjoy exclusive discounts and freebies. Remember that your card can be used not only at SM stores and supermarkets but also at partner establishments like Watsons, Shell and PLDT. So take the time to apply for an SM Advantage Card to enjoy the privileges that come with it. Happy shopping!