Do you want to learn something new or upgrade your skills without having to go to school or college? Then consider enrolling in one of the several free TESDA courses being offered by the Technical Education and Skills Development Authority.
Through the TESDA Online Program (TOP), Filipinos can study and take up courses that can enhance their knowledge, further their careers, or help them land a job – all in the comfort and convenience of their homes. There's no need to physically attend classes because everything is done online. There are no books to buy, no teachers to listen to, and no exams to answer. Best of all, it's totally free.
The TESDA Online Program is geared for out-of-school youth, unemployed individuals, college students, OFWs, and even professionals who lack the time or financial means to take a traditional course at a learning institution. You can study at your own pace and in your own time, using a computer, laptop or smartphone. You can enroll in as many or as few courses as you want, and finish them anytime at your leisure.
These free TESDA courses are open to everyone, regardless of educational attainment. So even if you never finished school, you can still take these TESDA online courses and be granted a Certificate of Completion (depending on the course), which you can use for employment purposes. Furthermore, some TESDA online courses will grant you a National Certificate after assessment at a TESDA training center.
So if you're interested in enrolling in these free TESDA courses, then read on. I've written this guide to help you register for the TESDA Online Program and take up these courses.
List of TESDA Online Courses for 2021
As of this writing, these are the free TESDA courses that you can avail through the TESDA Online Program:
21st Century Skills
Agriculture
Automotive
Construction
Electrical and Electronics
English Courses
Entrepreneurship
Heating, Ventilation, Air Conditioning, and Refrigeration
Human Health / Health Care
Information and Communication Technology
Lifelong Learning Skills
Maritime
National TVET Trainers Academy
Process Food and Beverages
Social, Community Development and Others
Tourism

Bread and Pastry Production NC II

TVET
More courses will be added soon so stay tuned! I will update this page from time to time to include courses that will be added in the future.
How to Enroll in TESDA Courses Online
To enroll in a free TESDA online course, please use a computer or laptop with a stable Internet connection. You can also use your smartphone or tablet since the TESDA website is responsive and suitable for mobile devices.
Step 1: Sign Up and Activate Your Account
Go to the TESDA Online Program website at www.e-tesda.gov.ph.
Click "Not yet registered? Click here" as shown in the screenshot below, or you can go directly to the signup page here.
Enter your account information such as username and password, as well as your personal information like name, email address, sex, civil status, employment status, birthdate, highest educational attainment, and age group. Fields with red asterisks (*) are required.
Be sure to save or remember your password to avoid login problems. If you forgot your username or password, click here to recover it.
Provide your complete mailing address including street, barangay, city or municipality, province, region, and contact number.
Choose your learner/trainee/student classification. Examples are students, out-of-school youth, micro-entrepreneur, overseas Filipino worker (OFW), and persons with disabilities (PWD). If you have a disability, select it under "Type of Disability."
Agree to the privacy disclaimer by choosing "Agree." Solve the captcha or security question and then click "Create my new account."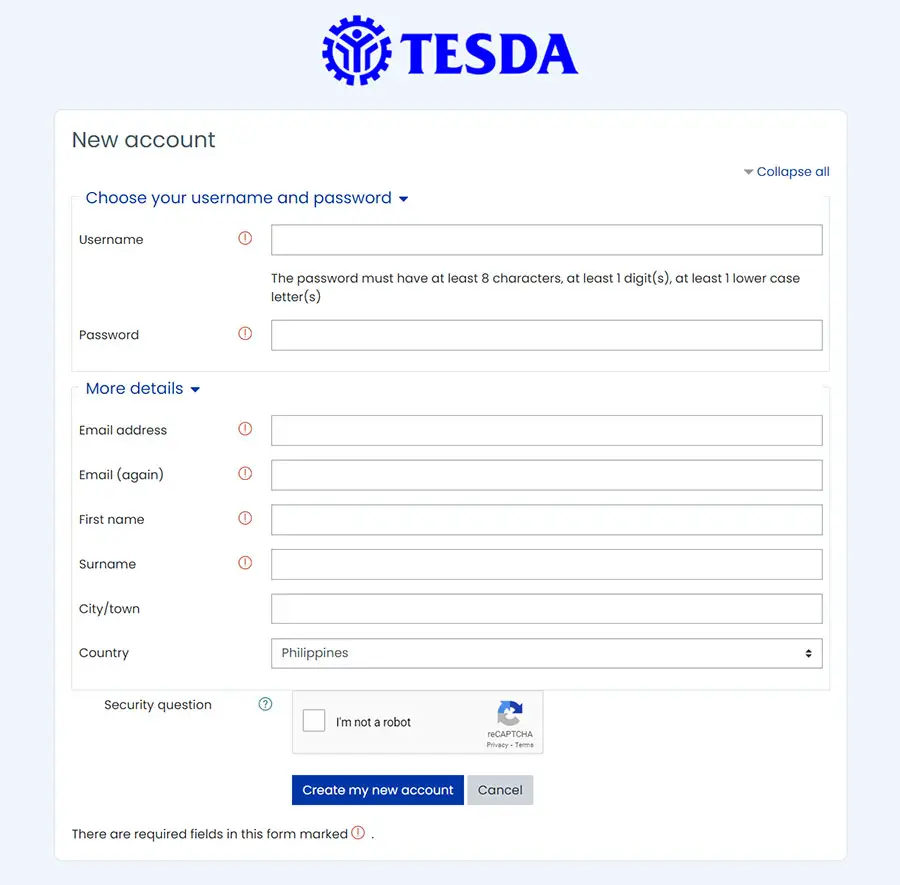 Check your email for the activation instructions. If you haven't received an email from TESDA after several minutes, trying checking your Spam folder.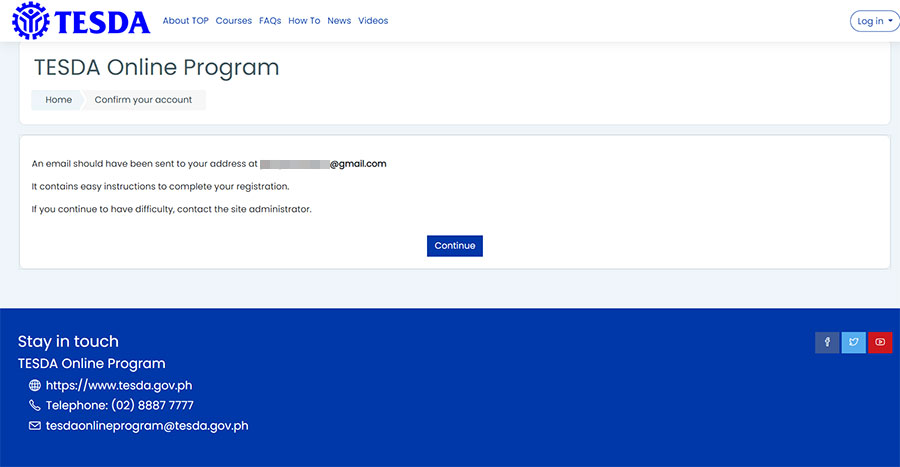 Open the email with the subject "TESDA Online Program: account confirmation" and click on the link inside that email.
Congratulations! You have successfully registered for the TESDA Online Program. Click "Continue."
You're now logged in to your account. You can go through the tour or end it altogether. I recommend going through the tour to quickly familiarize yourself with the system.
Step 2: Enroll in a TESDA Course
Click "Courses" on the left navigation menu as shown by the red arrow in the screenshot below.
You can see the list of TESDA courses that you can enroll in. Click "Expand all" at the top right portion to view all courses.
Now let's try enrolling in a course. We'll choose "SMART Android Mobile Apps Development for Beginners" under Information and Communication Technology > ICT Courses. Click the name of the course.
You can see a summary of the course. Click "Enrol me" to enroll in this course.
Step 3: Study the Lessons
You can now see the course lessons or modules. Lessons are usually released on a staggered basis which means that you can't jump to the next lesson unless you complete the current lesson.
By the way, you can easily unenroll from the course by clicking "Unenrol me from…" on the right sidebar navigation.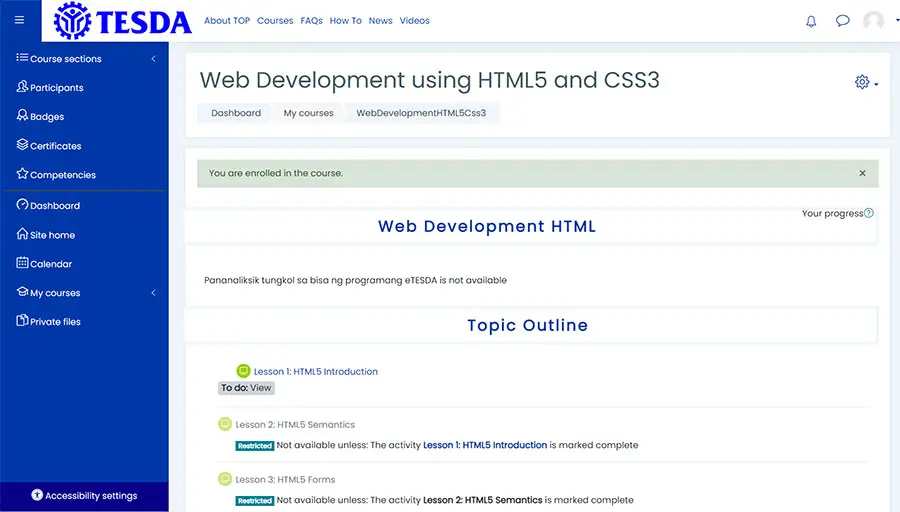 Let's click the first lesson which is "Setting Up the Development Environment." Depending on the content of the lesson, you will be shown a video or text content.
After watching the video or reading the lesson, it will be marked as complete and the next lesson will be unlocked. You can move on to the next lesson even if you don't finish watching or reading the current lesson, but that would defeat the purpose of learning. I suggest completing each lesson from start to finish to get the most out of the course.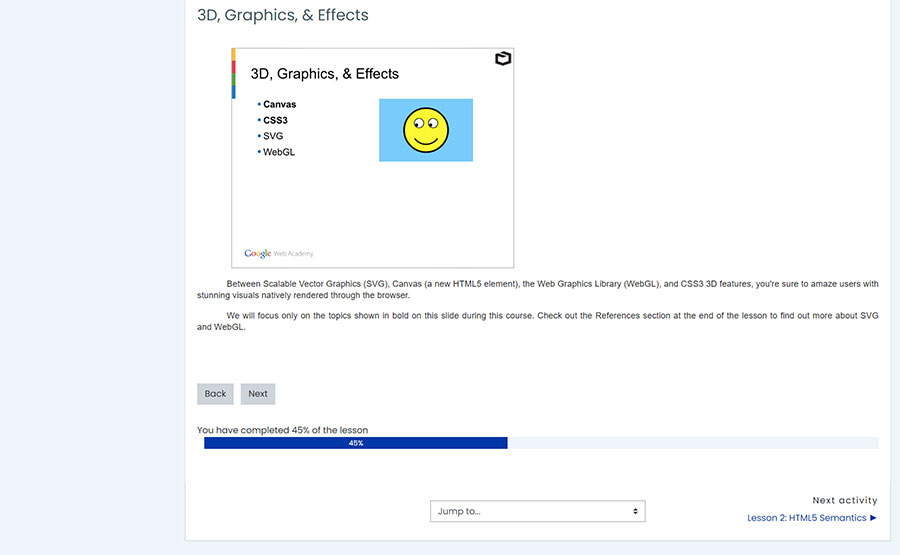 For some courses, the lessons will be delivered in text format with "Back" and "Next" buttons, along with a percentage bar. The screenshot below is for the "Fruit Grower" course.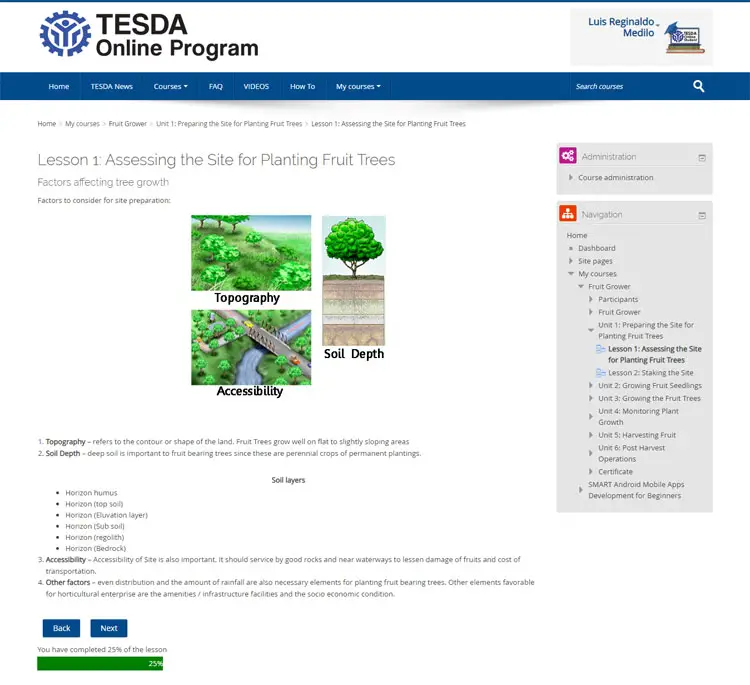 In some instances, you may need to refresh the browser to see that the lesson is marked as complete. The lesson is considered as complete when a checkbox appears on the right side.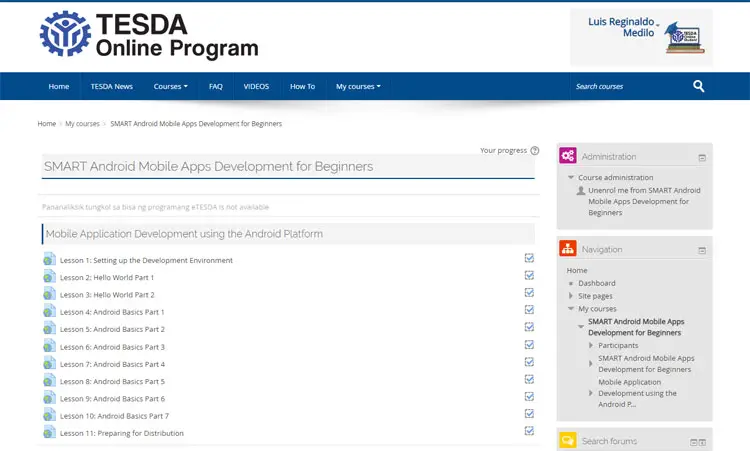 There's no time limit so you can finish the course for as long as you want. You can leave the page and come back anytime you want. Your progress will be saved automatically so you don't have to worry about starting over again if you leave the page or log out of the website.
Step 4: Get a Certificate of Completion
Some courses will award you a Certificate of Completion after completing the course. The certificate is computer-generated and can be acquired in the final lesson of the course.
For National Certificate (NC) courses such as Cookery NC II, you can schedule a face-to-face assessment for National Certification at a TESDA-accredited assessment center.
Conclusion
TESDA has really made it easier for anyone to gain additional knowledge and skills in their chosen professions through the TESDA Online Program. Hopefully, the agency will add more courses to the program to cater to the needs of millions of Filipinos who are eager to advance their education and careers.
If you encounter any technical problems or if you have any question about the TESDA Online Program and TESDA courses in general, email [email protected] or call the eTESDA Division at (02) 887-7777.