Do you know that Landers Superstore has an online shopping website where you can buy groceries and dry goods? Through the Landers online shopping website, you can order fresh meat, vegetables, canned goods, household products and many more, and have them delivered to your doorstep.
Many of us are accustomed to buying items from Lazada or ordering food from Foodpanda. But online grocery shopping is fast becoming popular with the introduction of on-demand grocery delivery services. These services allow you to buy groceries and household items from supermarkets and have them delivered to your home. Some supermarkets and department stores even offer their customers the option to buy groceries online and either pick them up at the store or have them delivered.
This is definitely great news for many Filipinos who don't have the time and energy to go to the supermarket and make a beeline at the checkout counter. Let's admit it, some of us hate to do grocery shopping. So if you're one of those who are too busy (or just too lazy) to shop for groceries, Landers Superstore has got your back. Not only can you avail of exciting promotional offers and promos as a Landers member, you can also shop at their exclusive online store.
About Landers Superstore
According to their website, the Landers Superstore "aims to provide a superior, blissful, and convenient membership shopping experience for Filipino families."
Landers has a wide selection of goods ranging from groceries to food to home decor to electrical appliances, as well as exclusive products from some of the world's beloved brands. Landers members can enjoy non-stop deals and perks such as in-store discounts, free haircuts at Federal Barbers and discounts on gas at Landers-Caltex gas stations.
Unlike most supermarkets and department stores, Landers Superstores are large and spacious with wide aisles, making it a convenient and hassle-free shopping experience. After you're done shopping, you can enjoy delicious food and drinks at their in-house restaurant, cafe and bakery.
To be able to shop at Landers, you must pay apply for a membership and pay a ₱600 membership fee that's good for one year. You can get your Landers membership card at a Landers store or at the Landers online shopping website.
As a Landers member, you can avail of the following benefits and privileges:
Access to a wide selection of top-notch local and international branded goods
Participation in Super Crazy Sale, Super Fuel Sale and other promotional activities
Excellent food and drink choices from Landers Central, Doppio, and Dough & Co.
Free haircut or shampoo and blow-dry services at Federal Barbers
Up to ₱10 off per liter on gasoline at any Landers Caltex stations
Discounts at Capital Care Pharmacy
Fast and easy shopping at the Landers online store
How to Join Landers
Here's how to join Landers and get your membership card.
First, go to the Landers online store and click "Apply Membership."
Choose your membership type. Click the "New" button for the Premium Membership Card if you're a first-time applicant, or "Renewal" to renew your existing membership. You can also click "Add Card Extension" to extend the validity of your Landers membership card.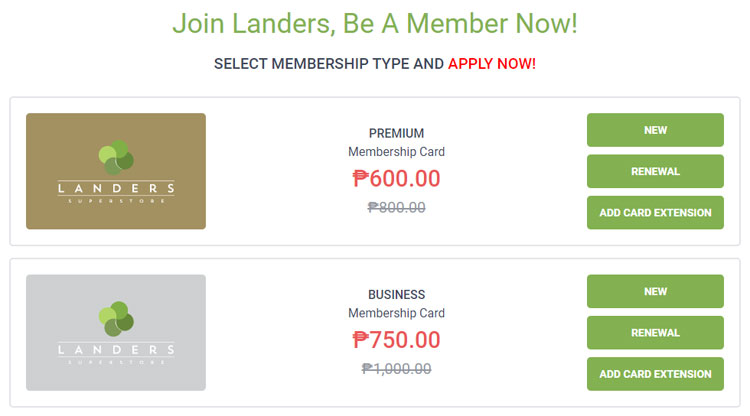 Next, enter your personal information including your complete name, birthdate, email, and address. Choose your preferred Landers branch and nominate a password. Click "Sign Up" to proceed.
Your membership card is now added to the cart. Enter your voucher code, if any, and click "Checkout."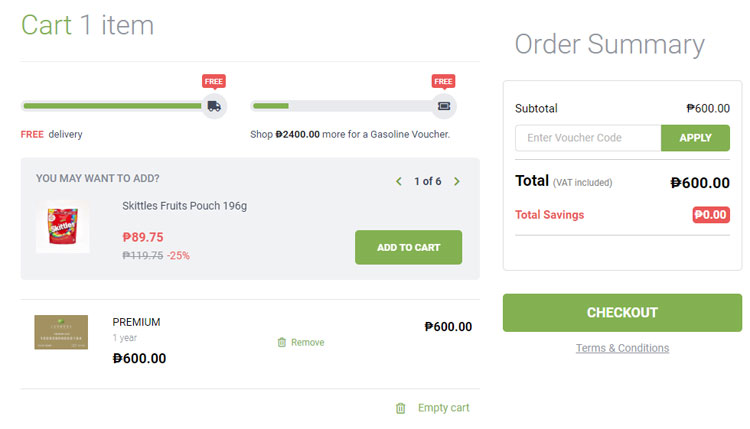 Select your payment method. For this product, you can only select "Credit/Debit Card by PayMaya." Cash on delivery is not available for membership orders. Click "Place Order."
It's time to pay for your membership. If you have a PayMaya account, you can click the "Pay with PayMaya" button. But if you prefer to pay using your debit or credit card, enter your card details and click "Pay Now."
After you've successfully paid, you will receive an email from Landers containing your membership code. Claim your membership card at any Landers Superstore branch. Just present a valid ID and show the email at the membership counter.
You don't need to claim your Landers membership card in order to start shopping online right away. As long as you've already paid for your membership and received your Landers membership code, you can immediately start shopping for groceries at the Landers online store.
You can view your membership by going to "My Membership." There you can link or unlink your card. Your card is automatically linked after paying for your membership.
How to Shop at the Landers Online Store
Now that you're already a members of Landers, you can now start shopping at their online store.
Choose the items you want to buy by clicking "Add to Cart." They will be added to your shopping cart. Once you've added all the items, click "Cart" to go to your shopping cart.
In your shopping cart, you can remove items or increase the number of each item. Take note of the personal shopper fee and the delivery fee. Orders worth more than ₱4,000 are delivered for free. Click "Checkout" to proceed.
Provide your delivery address and your mobile number for delivery notifications. Click "Next" to continue.
Click your preferred delivery schedule. You can also include some special instructions.
Click "Next" to proceed to payment.
Select your payment method. You can choose to pay via credit or debit card, or through cash on delivery (COD). Orders worth more than ₱5,000 are not eligible for COD.
Click "Place Order" to go ahead with your order.
Check your email for the confirmation of your order. In some cases, Landers may call or text you to verify your order. Failure to respond to the call or SMS may result in the cancellation of your order.
You can track your order by going to My Orders > Track Order.
That's it. All you have to do is to wait for your order to be delivered. Sit back and relax as your personal shopper prepares your items for packing and delivery. Present a valid ID and your cash payment (if you selected COD) upon delivery of your order.
Conclusion
You just learned how easy it is to order your groceries from the Landers online store. You don't need to go to the store to apply for a membership; you can do it online and then order items from the online store afterwards.
The membership fee might be a little steep but it's definitely worth the price of admission, considering the discounts, deals and freebies that are offered to members. That is not to mention the hassle-free and convenient shopping experience at the Landers Superstore. No more queuing in long lines or pushing your cart amidst the crowd!
To learn more about Landers online shopping, visit their help center or email [email protected].