Shopee is my favorite place to shop online because I can earn Shopee coins. With Shopee coins, I can get big discounts on my purchases. The problem is that in order to earn Shopee coins, you have to buy something using a cashback voucher or join games like Shopee Shake. But do you know that you can earn free Shopee coins simply by paying your bills?
That's right! Just pay your bills through Shopee and you will get free Shopee coins without buying anything or wasting your time on games like Shopee Shake and Shopee Farm. Instead of paying your bills and getting nothing out of it, why not earn Shopee coins from it?
Many of us pay our bills through online banking or e-wallets like GCash. However, Shopee now accepts online bills payment and is offering free cashback vouchers to users who pay their bills through the platform. You can get as much as 250 coins for every ₱800 bill. If you split your bill, you can earn even more coins. Sounds exciting, right?
In this article, I will teach you how to pay your bills on Shopee and earn free Shopee coins. But first, make sure that you already have an active ShopeePay wallet. You can still pay your bills on Shopee using other payment methods but you'll have to use ShopeePay to earn free Shopee coins. If you have a GCash account, you can use it to top up your ShopeePay wallet.
How to Pay Your Bills on Shopee
The first thing you need to do is to open the Shopee app and then go to "Load, Bills & eServices."
Under "Bills Payment," click "Pay Now."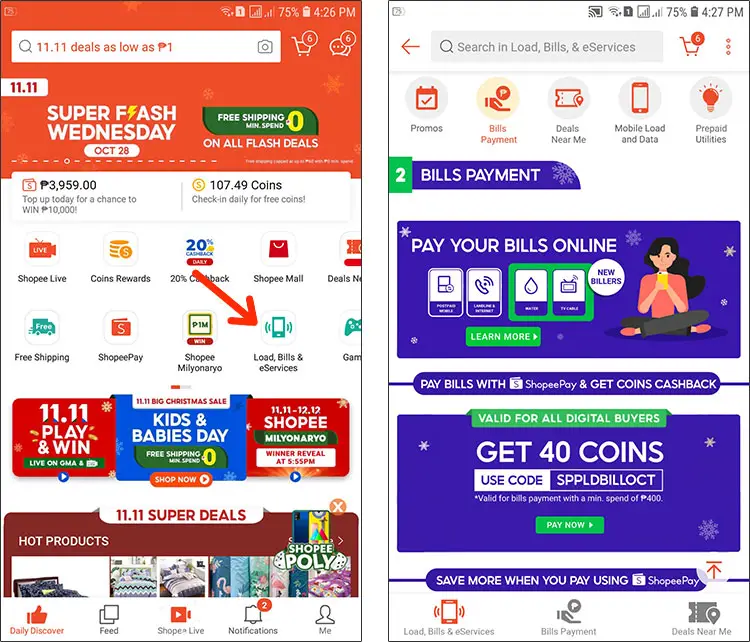 Choose from any of the following biller categories:
Postpaid mobile (Globe, Smart, Sun Cellular)
Landline and Internet (PLDT, Globe, Converge, etc.)
TV cable (Cignal, Gpinoy, Gsat)
Electricity (Meralco, VECO, Davao Light)
Water (Manila Water, Maynilad, etc.)
Next, select the biller. For example: Smart.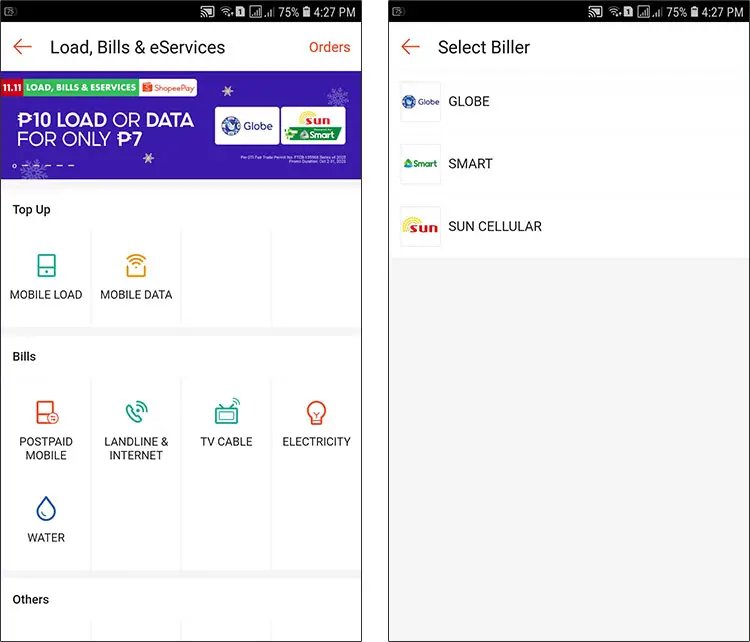 Enter your payment details as follows:
Account Number
Identifier – This is usually your mobile number, landline number or account name
Amount – The exact amount to be paid in Philippine pesos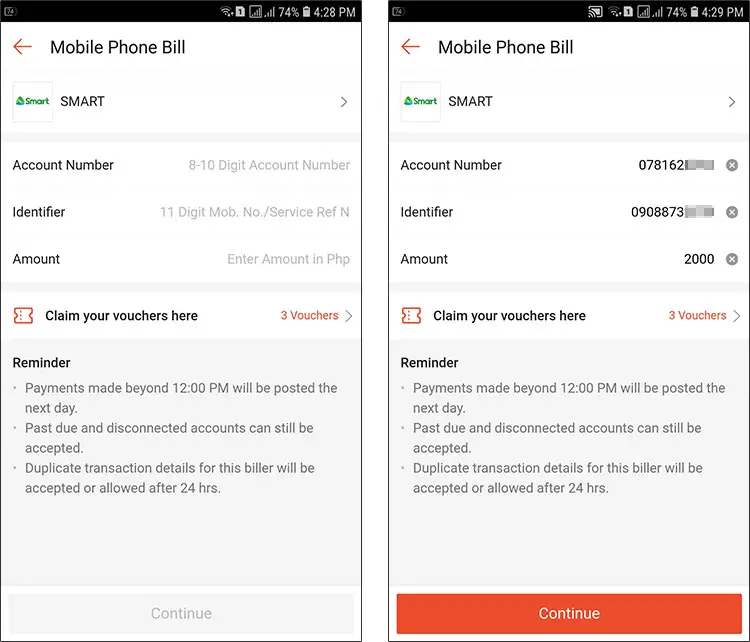 Click "Claim your vouchers here" to view available cashback vouchers. Tap the "Claim" button to claim the voucher.
Tap "Continue" to proceed to checkout.
On the checkout screen, review your payment details and then set the payment option to "ShopeePay."
Tap "Voucher" to select a cashback voucher. You can also enter the voucher code. Press "OK" after selecting the voucher.
The cashback voucher is now being applied to your order, and you can already see the amount of Shopee coins that you will earn.
Click "Pay Now" to go ahead with the payment.
Enter your ShopeePay PIN when prompted.
Your bills payment is now being processed. However, your free Shopee coins have not yet been credited to your account. What you'll do next is to confirm that your bills payment was already posted and then claim your free Shopee coins.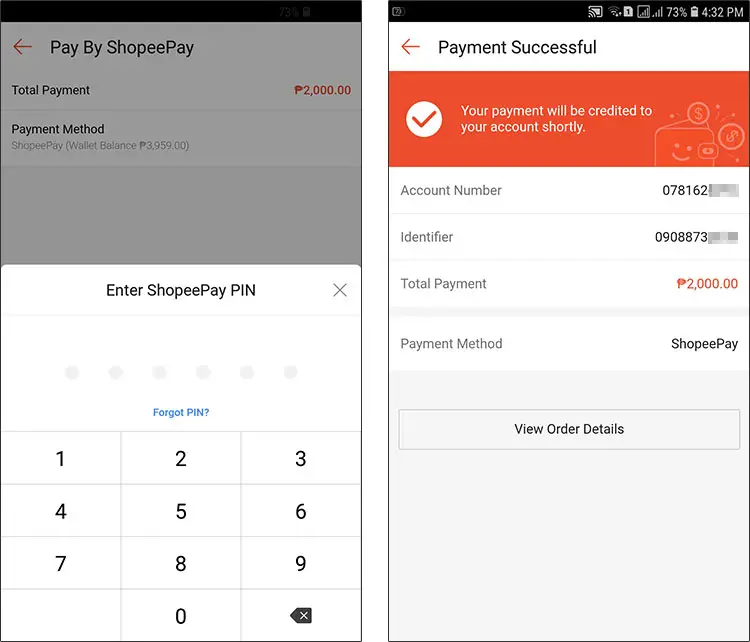 If you paid your PLDT, Smart or Globe bill, you may login to their website or mobile app to check if your payment was already posted.
How to Claim Your Free Shopee Coins
Go to "Load, Bills & eServices" and then "Bills Payment." Click "Pay Now" and select "Orders" on the upper-right corner.
Select the "To Receive" tab. Go to your order and click "Order Received." Click "Confirm."
That's it. Your free Shopee coins are now credited to your account. You can now use your coins to get up to 25% off on your Shopee purchases.
How to Get More Shopee Coins
I'm going to share with you a trick to earn more Shopee coins.
Each cashback voucher for bills payment has a minimum spend. For example, a 15% cashback voucher has a minimum spend of ₱1,000 and capped at 150 coins.
What you can do is to split your bill. For example, if you have a ₱3,000 PLDT bill, you can split it into 3 separate bills worth ₱1,200, ₱1,000 and ₱800. Your bills must have different amounts. Otherwise, Shopee will consider it a duplicate and refuse the payment.
You can then pay each bill individually, using your available cashback vouchers. If you can't apply a voucher to a bill, you can try paying the bill on the next day. Shopee has a limit to how many Shopee coins you can claim in a single day.
If I'm not mistaken, Shopee releases a new set of cashback vouchers every month. I don't know until when Shopee gives away coins for bills payments, so take advantage of it while you can.