The Internet is an essential part of modern life. It used to be that you have to have a landline installed in order to access the Internet. But with the proliferation of mobile phones, wireless data and WiFi, anyone can access the Internet without a landline connection. Mobile data promos like Smart GigaSurf has also made it easy and affordable for ordinary Filipinos to get Internet access without being burdened by expensive bills.
Smart GigaSurf promos are bulk mobile data packages that can be registered by Smart and TNT prepaid subscribers. A GigaSurf promo gives you a specific amount of Internet data and set validity period. For example, the GigaSurf50 promo gives you 1GB of mobile data and 1GB per day for videos, good for 3 days. There are also other GigaSurf promos that cater to different needs, such as Giga Stories which are ideal for users of Facebook, Instagram, Twitter and TikTok. There are also GigaSurf promos for mobile gamers.
The good thing about Smart GigaSurf promos is that they are stackable, which means that you can transfer your unused data over to your new promo subscription. For instance, if you have 300MB left in your GigaSurf50 promo and it expires in a few hours, you can subscribe again to the promo and your unused data will be added to your new 1GB data allocation.
Smart Bro users can also register to these GigaSurf promos. Read this article to know which promos can be registered by Smart Bro users.
List of Smart and TNT GigaSurf Promos
Below is the complete and updated list of Smart and TNT GigaSurf promos that you can register. You can use the search box above the table to look for specific terms i.e. TikTok. You can also sort by price and validity.
Smart GigaSurf promos are stackable, so you can register for another GigaSurf promo before your current promo expires, and then your unused data allocation will be transferred to your newly registered promo.
How to Register to GigaSurf Promos
It's easy to register to Smart GigaSurf promos. All you have to do is to text the specific keyword to 9999. For example, to subscribe to GigaSurf99, text GIGA99 to 9999.
Wait for the text message confirming that you have successfully subscribed to the promo.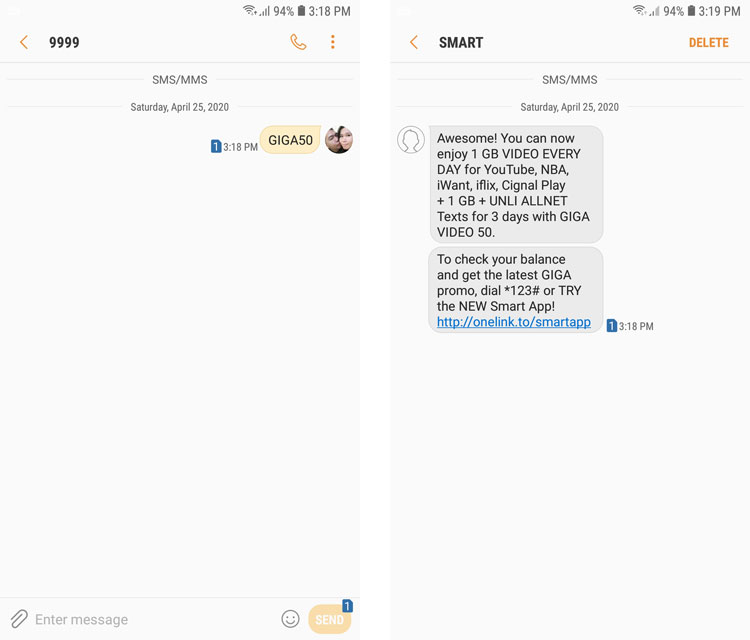 Some GigaSurf promos can only be registered by dialing the USSD code *123#.
To subscribe to a GigaSurf promo via *123#, select "GIGA" and then choose the category (for example, STORIES for Giga Stories). Choose your desired promo and then select "Subscribe." Make sure that you have enough load balance to subscribe to the promo.
Wait for a text message confirming that you have registered for the promo.
How to Check Your Balance
To check your balance, just text BAL to 2200. Or you can dial *123# and select "Balance/Services" and then "Check Balance."
You will receive a text message informing you of your load balance, remaining data allocation and expiration dates.
Do you know that you can share your data with your friends? That is possible with the Smart Pasadata feature!
First, register for the promo via text or *143#. Once you're registered, text PASADATA <11-digit number> <amount in MB> to 808.
For example: PASADATA 09123456789 100MB to 808.
There is a transaction fee of ₱1 per transfer.
You and your recipient will receive a confirmation text message. The Pasadata feature is only available to Smart, Smart Bro and TNT prepaid subscribers (sending to postpaid subscribers will result in an error).
The minimum amount of data that you can send is 50MB. There is no limit to the amount of data you can send, as long as you have enough data in your promo. Only open access data can be shared, and you cannot pass your received data to another person. Shared or passed data is valid for 24 hours only, regardless of the amount.
Need Help?
With these Smart GigaSurf promos, you'll no longer have to worry about losing access to the Internet. They're cheap, long-lasting and can even be shared with your friends. And due to the fact that they're stackable, you can make your Internet data last longer beyond the initial expiration data.
If you have any questions about Smart and TNT GigaSurf promos, or about Smart promos in general, call the hotline number *888 on your mobile phone.