Planning to buy a new smartphone but you're a little strapped for cash? Instead of borrowing money from your parents or getting a loan from some dubious online lending app, why not "buy now and pay it later" on Shopee? With SPayLater, you can buy anything you want on Shopee and pay it next month, and you can even pay on installment basis to make things easier on your pocket.
Shopee is one of the largest online shopping sites in the Philippines and is known for its daily flash sales and free shipping promos. No wonder that the average Filipino can't resist the opportunity to grab their favorite items at a tempting discount! Oftentimes, shopping online on Shopee is cheaper than at the local mall or supermarket, and it's way more convenient because all you need is a smartphone and an Internet connection.
That said, not everyday is payday, so there may be times when you really want to buy something on Shopee but don't have the financial capacity to do so. Rather than fret over the lost opportunity to buy your favorite items at a discounted price, you can simply activate SPayLater and only pay for your order at a later date. It's like having your own credit card that you can use solely on Shopee, but the key difference is that there's no lengthy and complicated application process.
So are you ready to buy now and pay later on Shopee? In this guide, you will know what SPayLater is, its benefits, fees, and eligibility requirements, as well as how to activate it and use it to purchase items on Shopee.
What is SPayLater?
SPayLater is Shopee's "buy now, pay later" service that gives users a credit line of up to ₱50,000, which they can use to purchase any item on the Shopee platform. SPayLater users have the option to pay their loan on the next month or via monthly installments of up to 12 months.
The available credit limit granted to a SPayLater user depends on his/her spending behavior and payment history. The credit limit may be adjusted at the discretion of Shopee and depends on the user's repayment history. Thus, it's important to pay your bills on or before the due date to avoid unwanted adjustment of your credit limit.
Aside from credit adjustment, delayed payments may result in account restrictions such as limited access to Shopee app features and limited usage of vouchers. A late payment fee will also be applied to the outstanding balance.
SPayLater is a financial product of SeaMoney (Credit) Philippines, Inc. and is regulated by the Securities and Exchange Commission (SEC).
Who Are Eligible for SPayLater?
SPayLater is available to Shopee users who are at least 21 years old and have a valid ID.
Valid IDs that are accepted by SPayLater are:
SPayLater Fees, Interest Rates and Due Dates
Shopee charges a processing fee of 0 to 2% and a monthly interest rate between 1 to 5%. The following are the fees and interest rate in SPayLater:
Processing Fee: 0 – 2% of the total amount.
Interest Rate: 1 – 5% per month of the total order amount. The interest rate is based on your personal credit profile.
Late Payment Fee: 2.5 – 5% per month of the outstanding balance.
The due date is either on the 5th or the 15th of each month. You can choose your preferred due date upon activation of your SPayLater account. You will be billed 10 days before the due date. For example, if your due date is on April 15, you will be billed on April 5. Make sure to pay your loan at least one day before the due date to avoid credit adjustment and late payment fees.
How to Activate SPayLater in Shopee
Before you can buy now and pay later in Shopee, you must first activate SPayLater in your ShopeePay wallet. Follow these steps to activate your SPayLater account:
Step 1: Go to your ShopeePay wallet
On the Shopee app home screen, click your ShopeePay wallet which also shows your balance. You can also click the "Me" tab and select "SpayLater."
Once inside the ShopeePay wallet, you will see an "Activate SPayLater" banner. Click the "Activate Now" button to start the activation process.
Step 2: Click "Activate Now"
Click the orange "Activate Now" button to proceed.
Next, enter the 6-digit verification code that will be sent to your registered mobile number. Press "Next" to continue.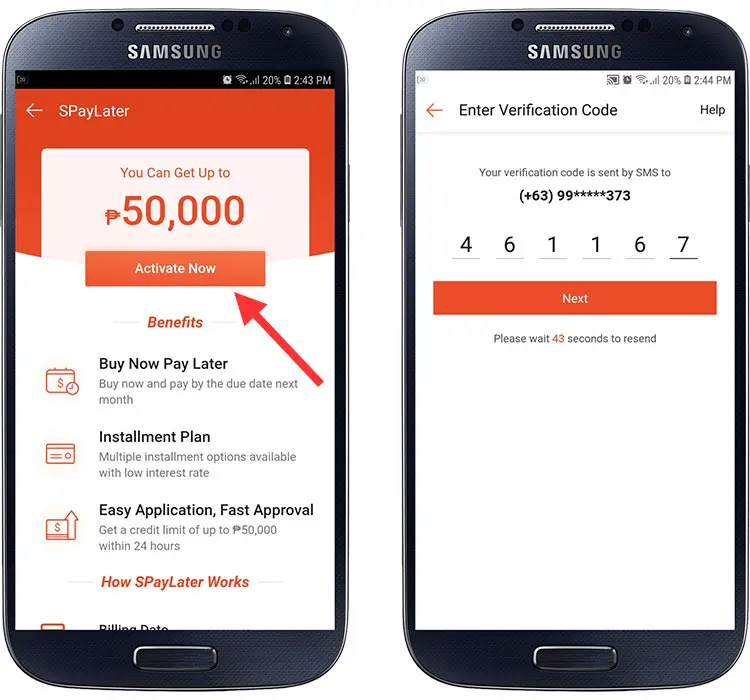 Step 3: Take a photo of your valid ID
You will now be asked to upload a photo of your valid ID. Be sure to read the instructions on how to take a photo of your ID.
The default ID is UMID but you can change it by tapping "Select ID Type." Tap "Upload your UMID" (or whatever ID you've chosen) and then take a clear photo your ID, making sure that you've positioned the card inside the frame.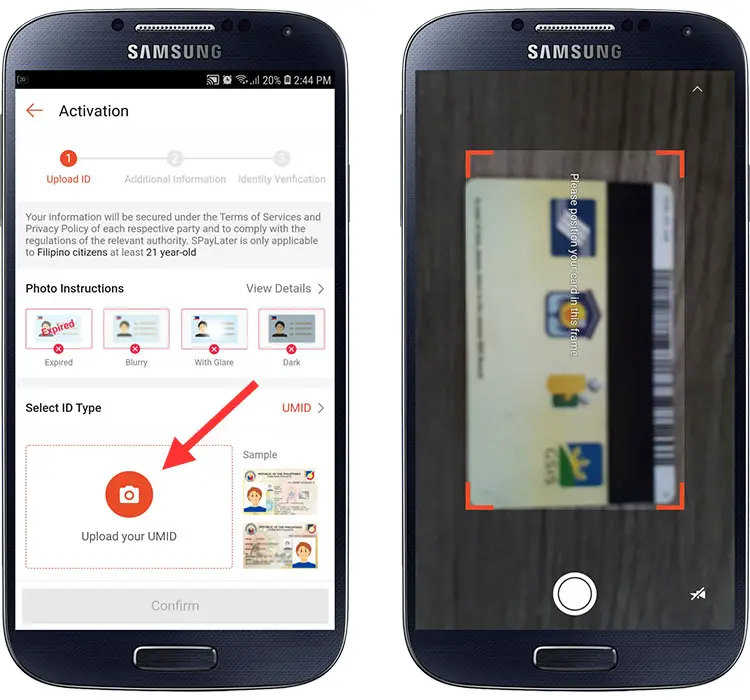 Step 4: Upload your ID
After uploading your ID, review your ID details including the ID number, first name, middle name and last name. You can view your uploaded ID by tapping "View" or take a new photo by tapping "Retake."
If your ID details are correct, press "Confirm." A popup will ask you to double check your personal information. Tap "Confirm" to proceed.
Step 5: Enter your personal information
The next step is to provide additional information including place of birth, occupation, company/business name, industry, and monthly income. You also have to enter your emergency contact including his/her name, contact number and his/her relationship to you.
Finally, check the two checkboxes (terms and conditions, privacy policy) and press "Confirm." A confirmation popup will appear, so press "Confirm" once again.
Step 6: Undergo facial verification
The final step in activating SPayLater is to undergo the facial verification process, where you will have to take a selfie photo of yourself.
Click "Start Facial Verification" and take a selfie photo, making sure that your face is positioned inside the frame. After your selfie photo is uploaded, wait a few seconds for Shopee to verify your information.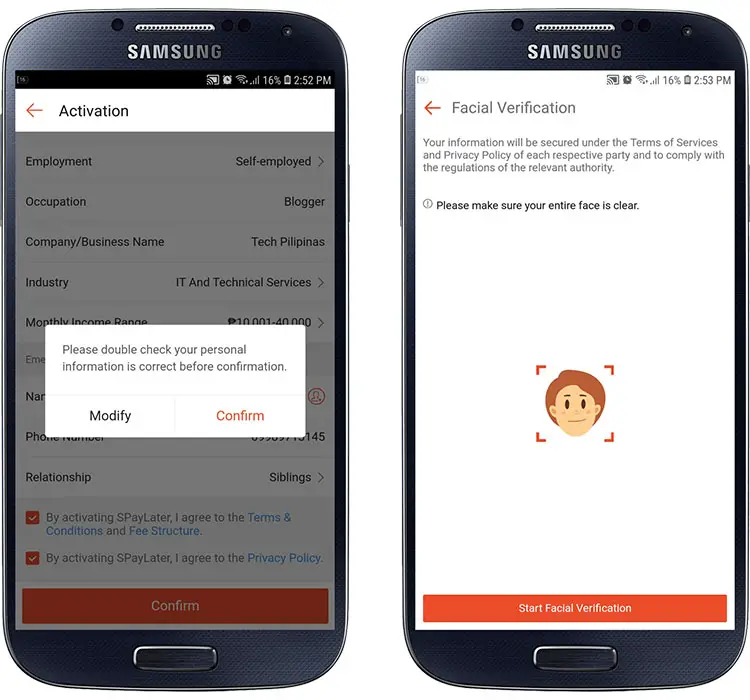 Step 7: Congratulations! You have successfully activated SPayLater
You can now start using SPayLater to purchase items on Shopee and pay for them at a later date. Your credit limit will be immediately shown upon activation.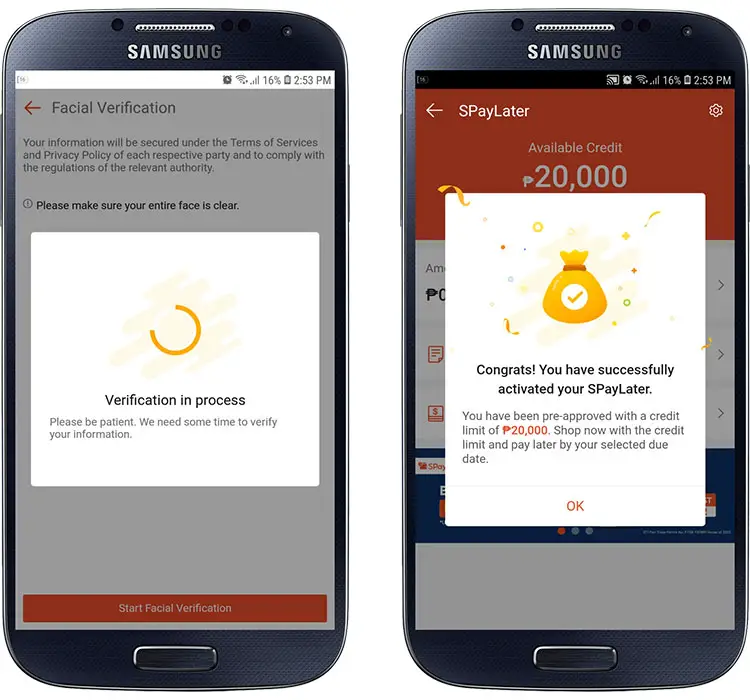 Step 8: Select your due date
You will be asked your preferred due date every month, either on the "5th" or the "15th" of the month. After selecting your due date, press "Confirm."
You can now see your SPayLater dashboard which shows your available credit, payables, bills and latest transactions.
How to Use SPayLater to Buy Items on Shopee
With your SPayLater account already activated, it's time to use it to pay for your Shopee purchases.
Assuming that you have already added your items to the shopping cart and proceeded to checkout, the next step is to change your payment method to SPayLater. To do this, on the Checkout screen, go to "Payment Option" and tap "Select payment method."
You can now see SPayLater as one of the payment methods. Select any of the following payment terms:
Buy Now Pay Later – Pay your loan on the next month's due date.
Installment 3X – Pay your loan in 3 monthly installments.
Installment 6X – Pay your loan in 6 monthly installments.
Installment 12X – Pay your loan in 12 monthly installments.
Once you've selected SPayLater and its corresponding payment term, press "CONFIRM."
You'll be sent back to the Checkout screen. Verify that SPayLater is selected as the payment option, and then tap "Place Order."
You'll be asked to verify your ShopeePay PIN. Tap "OK" to proceed.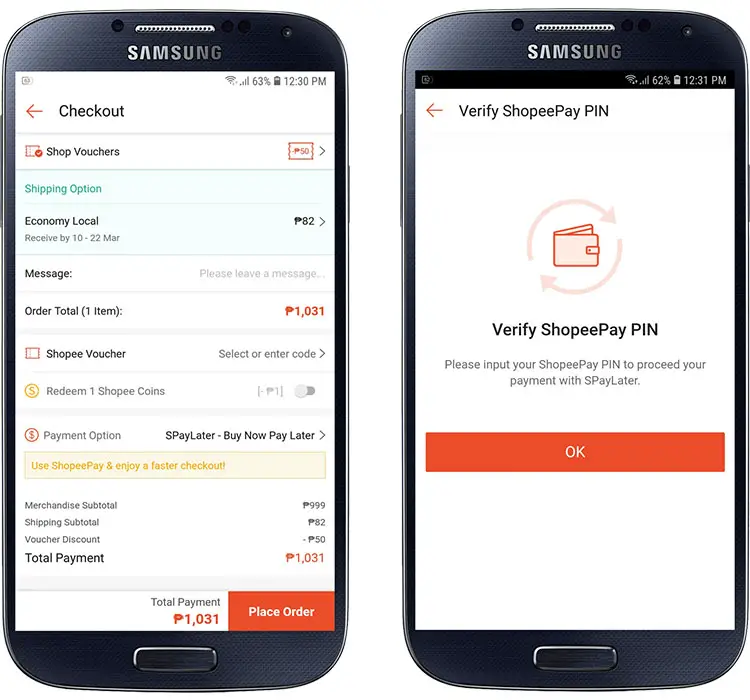 Now enter your 6-digit ShopeePay PIN. If you have not set your PIN, you will have to enter the verification code that will be sent to your mobile number.
That's it! You have successfully paid for your purchase using SPayLater. Take note of the total payment amount and the available credit limit. You can go to your SPayLater account by clicking "View my SPayLater."
Frequently Asked Questions
Why is SPayLater not available in my Shopee wallet?
At the moment, SPayLater is only available to selected Shopee users who have been on the platform for a certain period of time.
Why is SPayLater not available when I try to pay for an item?
Currently, only selected Shopee sellers can accept SPayLater payments. Shopee is working to bring the SPayLater service to more sellers in the future.
What happens if I don't pay my bills before the due date?
If you fail to repay your loan on or before the due date, you will be charged a late payment fee of 2.5 to 5% per month. Your Shopee account may also get restricted and your credit limit reduced.
How do I increase my credit limit?
Your SPayLater credit limit is subject to the discretion of Shopee and is based on your Shopee spending history. Shopee may also review your SPayLater account from time to time and adjust (increase or decrease) your credit limit periodically.
Can I still collect Shopee Coins if I use SPayLater?
Yes, you can still get Shopee Coins when you purchase items using SPayLater. Shopee Coins will be credited to your account after acknowledging that you've received your order.
What is the minimum order amount with SPayLater?
There is no minimum or maximum order amount for using SPayLater, as long as it's within your available credit limit.
Can I request a refund for items paid with SPayLater?
Yes, you can request a refund for SPayLater purchases. For orders from only one seller, any return or refund request will be applied to all items. For orders from more than one seller, any refund request will be applied to all other items from the same seller.
Where can I view my credit limit and transaction history?
You can see your SPayLater account dashboard by going to the "Me" tab on the Shopee app and selecting "SPayLater" under "My Wallet."
Wrapping Up
SPayLater is indeed a welcome addition to your Shopee experience, one that allows you to buy the things you've always wanted even if you have no extra money. Unlike traditional lending firms, SPayLater doesn't require you to put up collateral or submit documents. You can simply apply on the Shopee app and your SPayLater account will be activated in a matter of minutes so that you can start shopping straight away. It's that easy!
To learn more about SPayLater, just login to your Shopee account or call the Shopee customer service hotline (02) 8880-5200.