If you're working as a freelancer or have dealt with foreign clients, you might already be familiar with online payment systems such as PayPal and Payoneer. Sometimes, you are required to provide your bank code and/or SWIFT code
Opening a PayPal account is easy and free; the hard part is connecting your account to your local bank so that you will receive your hard-earned dollars here in the Philippines. New users will have to input the correct PayPal bank codes for their local bank before they can withdraw their money.
That is why we've come up with this complete list of bank codes and SWIFT codes. You will need these codes for withdrawing your money from PayPal to your local bank, as well as international wire transfers and other online banking transactions.
What is BRSTN or Bank Code?
The Bank Routing Symbol Transit Number (BRSTN) is a 9-digit code that identifies the name, city and country of a bank. It's the most commonly used bank identifier code used among Philippine banks for transferring funds.
PayPal users are often required to enter the BRSTN when linking their PayPal account to their local bank. However, PayPal may insert the bank code automatically after selecting your bank.
List of PayPal Bank Codes
Below is a table of banks in the Philippines and their corresponding BRSTN or PayPal bank codes. To avoid inconvenience, please contact your bank to verify that its bank code is correct and accurate before using it for your transactions.
If your bank is not on the list, it means that either your bank or PayPal doesn't allow fund transfers, so you cannot withdraw your money to that bank.
Most of the bank codes in this list are provided by PayPal itself, so you can be assured that these are correct and accurate. Please let us know if some of these bank codes are incorrect.
How to Link Your Bank Account to PayPal
Before you can withdraw money from your PayPal account to your Philippine bank account, you need to link your bank account to PayPal. Sign in to your PayPal account, click Wallet at the top menu and click Link a bank account.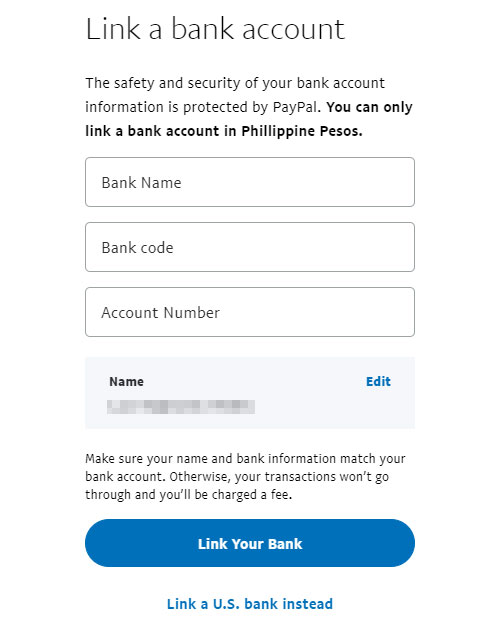 Just enter the name of the bank, the PayPal bank code and your bank account number to link your bank account to PayPal. Make sure that your account number is correct to avoid charges.
What is a SWIFT Code?
The Society for Worldwide Interbank Financial Telecommunication (SWIFT) code, also known as Bank Identifier Code (BIC), is an international code for identifying banks.
The SWIFT code is made up of:
Institution or bank code (4 letters)
Country code (2 letters)
Location code (2 letters or digits)
Optional local branch code (3 characters).
For instance, BDO Unibank has a SWIFT Code of BNORPHMM. This is broken down into:
BNOR is the bank code
PH (Philippines) is the country code
MM (Metro Manila) is the location code

Some banks have a local branch code at the end of the SWIFT code. For example, HSBC Cebu branch has a SWIFT code of HSBCPHMMCEB, with CEB as the local branch code.
List of SWIFT Codes
Here's the list of SWIFT codes that you can use to transfer money from banks abroad. You will need the SWIFT code of the receiving bank in order to send money to it.
If you think that any of the information above is incorrect, please inform us by commenting below.