There are few things worse than losing Internet access in the middle of work or an online study session. In case that happens, you can seek assistance from your Internet service provider who can look at the cause of the problem and help you troubleshoot it. If you're a PLDT subscriber, you can call the PLDT hotline number to speak to a customer service representative who will promptly assist you with your question or problem.
PLDT is the largest telecommunications company in the Philippines with over 2 million fixed line Internet subscribers. The company offers telephone and high-speed Internet plans to residential and commercial customers, including PLDT Fibr and PLDT Biz. Aside from fixed line plans, PLDT also offers prepaid WiFi kits with wireless Internet access, although these devices are now supported and managed by their subsidiary Smart Communications.
Whether you are experiencing Internet connection issues or you simply want to request a billing statement, you can dial up the PLDT toll-free hotline to talk to a customer service agent and get immediate assistance. The PLDT hotline is free for both PLDT and Smart subscribers and you won't be charged as long as the call is made from a PLDT landline phone or a Smart mobile number. Calls from other telcos and mobile networks will be charged the prevailing airtime rate (the standard airtime rate for Globe-to-PLDT calls is ₱7.50 per minute).
Aside from the PLDT toll-free hotline, customers can also get assistance through the company's social media accounts on Facebook and Twitter. Those are great alternatives if you don't have access to a landline phone, even if support is slower that way. If you have the time and motivation, you can also visit the PLDT store nearest you.
PLDT Hotline 171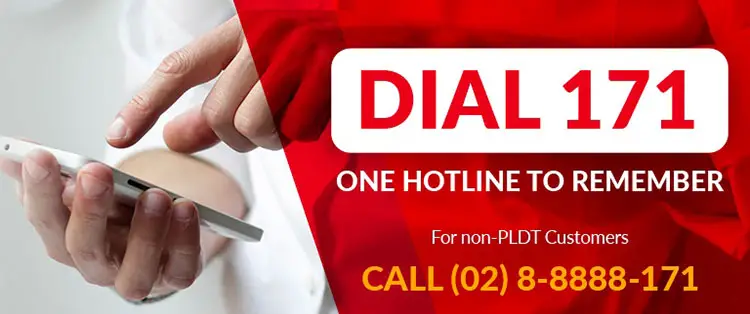 PLDT customers can call the toll-free hotline 171 directly using their PLDT landline phone or Smart mobile number. The PLDT customer service hotline is available from 8:00 AM to 7:00 PM on weekdays (Monday to Friday) and from 8:00 AM to 5:00 PM on weekends (Saturday and Sunday).
Upon calling the PLDT customer service hotline 171, the system will automatically detect your telephone number (if you're calling from a PLDT landline). If you're calling from a telephone or mobile number that is not associated with your PLDT account, you will have to enter your PLDT landline number.
From there, you will have to choose the option that is appropriate for your inquiry. These are the types of assistance that you can get from PLDT customer support:
Request a billing statement
Know the status of your account application
Request reconnection of your disconnected line
Get help with Internet or landline connection issues
Upgrade or downgrade your plan
Transfer your line or account
Depending on your inquiry, you can choose to speak to a PLDT customer service representative or just follow the self-service menu.
PLDT Hotline (02) 8-8888-171
If it's not possible to call PLDT customer service from a PLDT landline or Smart mobile number, you can call (02) 8-8888-171. This also applies to callers from mobile networks other than Smart (e.g. Globe, TM). Metro Manila customers don't need to include the area code 02 when dialing.
Take note that long-distance and airtime charges may apply when calling from non-PLDT and non-Smart numbers.
PLDT Customer Service Website
The PLDT website has a customer support page where you can find quick answers to common support questions. It contains hundreds of frequently asked questions regarding your Internet, landline, bills, payments, gadgets and devices, and more.
It's advisable to consult the PLDT support page first before you call the PLDT customer service hotline. Chances are, you will find the answer to your query on that page, removing the need to call customer support.
You can also read and follow the customer user guide, which contains instructions on how to troubleshoot technical problems such as a slow or non-existent Internet connection. If you still continue to experience issues after following the troubleshooting instructions, that is the time to call PLDT.
PLDT Facebook Account
PLDT entertains questions and inquiries on their official Facebook accounts, PLDT Home and PLDT Cares. Just send a message to their Facebook account and include your name and PLDT telephone or account number. Depending on the volume of messages they receive, you will usually receive a response in 24-48 hours, so only use this support channel for non-urgent inquiries.
PLDT Twitter Account
If you are a Twitter user, you can mention or tag the PLDT Cares account @PLDT_Cares and they will reply to your tweet as soon as possible. You can also message them directly.
PLDT Sales and Service Centers
Visiting the PLDT store is probably the best way to get personalized assistance for any question or concern regarding your PLDT account. After all, you'll be talking face-to-face with a real person.
Aside from in-store appointments, PLDT allows customers to book an online or virtual appointment with their chosen PLDT sales and service center. All you have to do is to visit this page and find your nearest PLDT store. After finding your store, click "Book Appointment." Select the type of service, set the date and time of the appointment, and then enter your personal details. Afterwards, visit the PLDT store during the scheduled date and time (for in-store appointments) or go online for the virtual meeting.
Final Thoughts
Timely and competent customer service is a hallmark of a great company. As a PLDT subscriber, it's your right to seek assistance from the company if and when you have issues and concerns with your Internet or telephone connection.
Always remember to consult the PLDT website or their customer user guide before giving them a call or sending them a message. Many customer support questions are already answered on the PLDT website and user guide, so consult them before contacting PLDT.