PLDT Home Fibr is touted to be the most advanced Internet service in the Philippines, thanks to fiber optic technology that delivers speeds of up to 1 gigabits per second. But does PLDT Home Fibr live up to the hype or is it just a waste of money? Find out in this PLDT Home Fibr review!
I've been a loyal Globe subscriber for the past 8 years until I switched to PLDT just recently. When we moved to a new house two years ago, Globe told us that their DSL lines cannot reach us due to the remoteness of our location (we're situated about 400 meters from the main road).
With no other option, I decided to subscribe to the Globe wireless LTE plan that requires an outdoor antenna. I was paying ₱1,299 a month plus additional fees for data addons because the data cap of 50 GB a month is not enough for the entire household. So all in all, I was paying about ₱2,300 a month for a paltry 10 Mbps of Internet.
Then one day, a PLDT salesman wandered around our place and asked us if we're interested in getting a PLDT Home Fibr plan. He said that they're expanding to our location and some of our neighbors have already signed up. I've heard wonderful things about PLDT Fibr so I signed up without hesitation. The salesman told me to wait for the technician to come over and install our line.
That was in April 2019. After several follow-up texts and calls, the technician finally arrived in July and installed the line. Another technician, the installer, arrived several days later to set up the equipment and connect us to the Internet.
I chose Google Wifi Plan 2299 with unlimited bandwidth and a maximum speed of 30 Mbps (now upgraded to 50 Mbps), and comes with a Google Wifi three-piece set and a landline phone. It costs a little bit more than the Unli Fibr Plan but I can take advantage of the wider and more extensive network coverage of the Google Wifi wireless mesh router. So despite the fact that the modem is located in my sister's bedroom in one corner of the house, I can still enjoy blazing fast Internet in my bedroom upstairs. That is all possible with Google Wifi.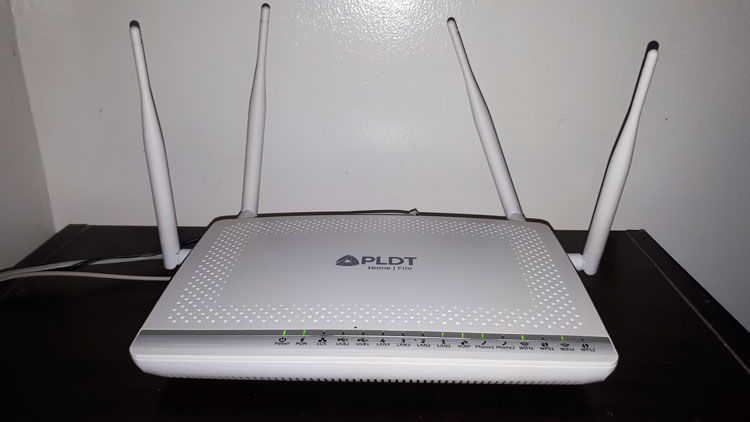 The PLDT installer placed the main Google Wifi router near the modem since it has to be connected by wire. I placed the other two wireless routers in the living room and upstairs. The routers were configured to automatically connect to the main router even if they're turned off or restarted.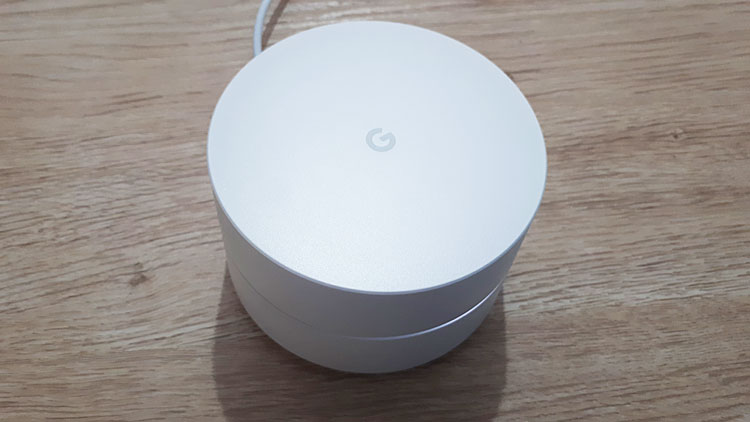 The PLDT installer asked me to create the Wi-Fi network password. He also explained to me how Google Wifi works and walked me through the Google Wifi mobile application – how to test the Internet speed, how to test the mesh or the connection quality between Google Wifi mesh points, and how to restart the network.
With PLDT Home Fibr installed, I finally said goodbye to my old Globe LTE plan that was prone to slowdowns and disconnections.
PLDT Home Fibr with Google Wifi Review
Let's review the PLDT Home Fibr Internet plan according to speed, performance and customer service.
Take note that this PLDT Home Fibr review is based on my own tests and personal experience. Your experience might be different based on several factors such as location and proximity.
Speed and Latency
Speed is the most important factor in choosing an Internet plan, and the PLDT Home Fibr is no slouch in that department. Compared to my previous Globe LTE plan, PLDT Fibr is blazingly fast.
This is the result of a speed test on the main router located in my sister's bedroom: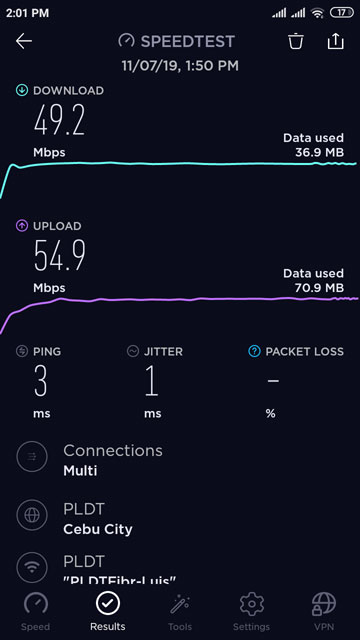 This is the result of the speed test on the Google Wifi router upstairs near my bedroom: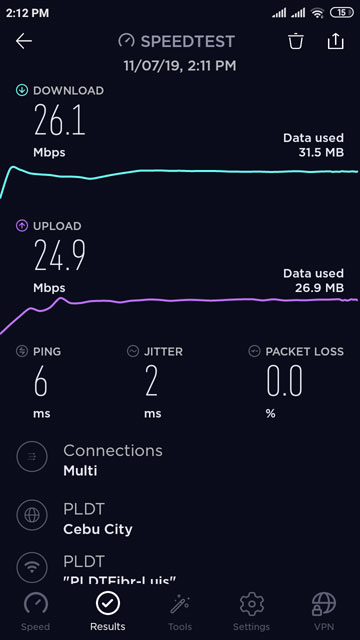 As you can see, the Internet speed in my bedroom is only half that of the usual Internet speed in my sister's bedroom where the modem and the main Google Wifi router are located. I can blame that on the size and the design of our house; the Wi-Fi points are situated too far away from each other and there are walls and doors separating them. I'm considering buying additional Google Wifi routers to lessen the distance between them and perhaps improve the Internet speed upstairs a little bit.
Now for the ping test using EMCO Ping Monitor, the ping quality has been mostly good, with an average latency of 94.04 ms and a packet loss of only 0.85% over a four-hour period. Take note that the ping test was conducted on my computer upstairs – which is far away from the main router – so it's not an accurate indicator of the actual latency of the network.
Using command prompt, the average latency is 53 ms, with most pings in the 40-60 ms range. That is pretty good as 50 ms is the recommended latency for online gaming.
Performance
Watching Netflix was a forgettable experience with my old Globe LTE plan, but not with PLDT Home Fibr. There were no lags and buffering even when I skip forward. I can now enjoy my favorite Netflix shows and movies with no delays and interruptions.
On YouTube, I can enjoy 1080p Full HD resolution with little to no buffering.
I'm not much into gaming due to my busy schedule, but I often watch people play on Twitch. Just like with Netflix, I hardly encounter any buffering. There were rare moments when the stream started buffering but these only lasted a few seconds.
PLDT Home Fibr is not perfect and there may be times when you temporarily lose connection or suffer from lag and buffering, but those are few and far between. Streaming is mostly a smooth and uninterrupted experience.
Using Google Wifi
As I've mentioned before, my plan comes with Google Wifi which I can control using my smartphone. With the Google Wifi app, you can see what devices are connected to the network, test the Internet speed, block a device from connecting to the network, and set a priority device.
You can even create a guest Wi-Fi network for visitors and guests. It's great for parties and events where your guests can still access the Internet without them knowing the password for your main Wi-Fi network. You can enable and disable the guest network anytime you want, and change the password as you see fit. It's like a "disposable" network that you can activate only during events.
You can test the integrity of your network such as the Internet speed, the connection quality between Wi-Fi points, and the Internet speed on each device connected to the network.
Since I only have three Wi-Fi points, the mesh quality for my network is quite poor. I'm planning to buy additional Google Wifi routers to reduce the distance between Wi-Fi points and improve connection quality. But I have to make do with what I have right now.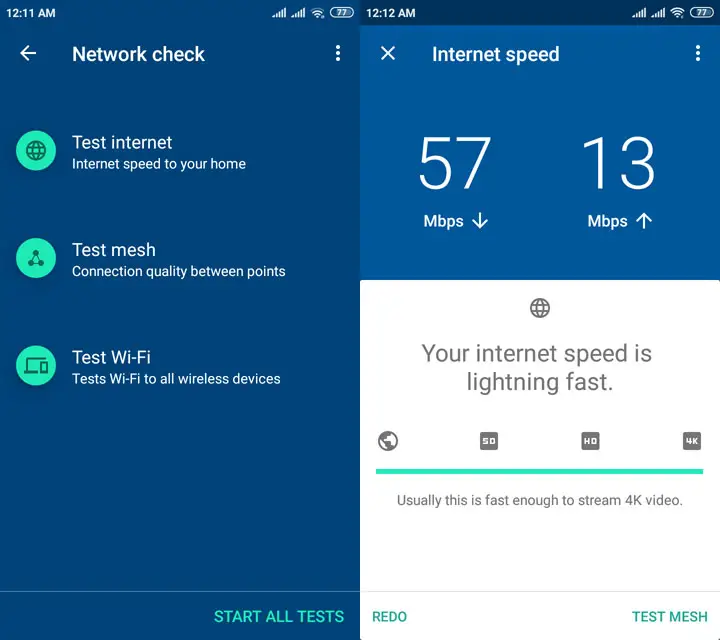 On a shared network, speed may slow down if many devices are connected to the Internet at the same time. When that happens, you can set a priority device so that the network reserves more bandwidth for that device. You can then enjoy the maximum possible speed while other devices will have limited Wi-Fi speed. Only one device can be prioritized at a time, for up to four hours.
On my old Internet plans, I had to log in to the router's admin area using a web browser to control the Wi-Fi network. Google Wifi is different because there's no need to log in with a password since it's connected to your Google account. It's so easy and straightforward to use and you don't have to struggle with technical terms. Just a few taps on your smartphone allows you to test connection speeds, limit access to devices, prioritize a device, among others.
Customer Support
With regard to customer support, I called the PLDT hotline 171 and as expected, I had to press a few numbers before I can speak with a customer service representative. I was able to talk to the first agent regarding my speed upgrade, and then she transferred me to a technical support agent for further assistance. I had to wait for two minutes before speaking with the tech support agent.
The funny thing is that I chose to speak in "English" and then the agent started talking in Tagalog. Not that I mind though because I can understand Tagalog alright.
Verdict and Conclusion
Coming from someone who had to endure slow and unreliable Internet from wireless connections and portable Wi-Fi devices, I have to say that PLDT Home Fibr is the best Internet plan that I've ever had.
On my old Internet plans, I had to restart the modem at least once or twice a month. The only time I had to restart the PLDT Fibr modem was when my sister complained that she cannot call us on the landline phone. Internet speeds remain constant and consistent throughout the day even during peak hours like 6 PM.
The only problem is that I cannot enjoy the maximum speeds unless I'm situated near the modem or main router. Using an Ethernet cable is out of the question. Putting up additional Wi-Fi points could theoretically increase Internet speed by reducing the distance between routers and going around physical barriers like walls and doors, and that's what I'm planning to do.
I just hope that PLDT will soon offer another speed upgrade for Home Fibr customers. I mean, 50 Mbps with unlimited bandwidth isn't bad at all but for ₱2,299 a month, I would expect much more, especially when compared to Internet plans being offered in other countries. I've read that you can get 1 Gbps Internet in Singapore at a similar price point.
All in all, I'm thoroughly satisfied with PLDT Home Fibr. It's not perfect but it's the best Internet plan there is for household consumers.
To learn more about PLDT Home Fibr, visit their website: https://pldthome.com/fibr.
The Review
PLDT Home Fibr with Google Wifi
A high-speed Internet plan that uses fiber optic technology to deliver fast Internet with equal download and upload speeds. Utilizes Google Wifi mesh routers for fast and consistent Internet in remote corners of the home.
PROS
Super fast Internet with reliable uptime
Minimal to no lags and buffering
Google Wifi delivers fast Internet to distant locations in the home
Comes with unlimited bandwidth
CONS
Could offer more for the price
Review Breakdown
Speed

0

Performance

0

Reliability

0

Ease of Use

0

Value for Money

0