You've seen all those Facebook profiles with only one name and you might be wondering how to have it, too. Having a single name on Facebook definitely looks cool and makes your profile stand out from the rest. The problem is, Facebook doesn't normally allow everyone to have one name; the last name or surname in your profile is mandatory in most cases.
Fortunately for you, there is a workaround that will allow you to set a single name and hide your surname on Facebook. However, it is not as easy and straightforward as going to your account settings and changing your name. You will have to use a VPN, specifically an Indonesian one.
Why Indonesia? That's because most Indonesians don't have family names. In Indonesia, a single name is considered as a full name. So it's only natural that Facebook allows Indonesians to register only a single name for their Facebook profiles. Examples of famous Indonesians with single names are Sukarno and Suharto who are former presidents of Indonesia.
If you want to have one name on Facebook just like what Indonesians do, you will have to use a VPN to make Facebook believe that you are from Indonesia. A VPN or virtual private network hides your real IP address and replaces it with a different IP from another country. By using a VPN, your location will be hidden from websites that you visit, giving you online anonymity and allowing you to access websites that are normally blocked in your country.
Is It Risky?
Accessing Facebook using a VPN could potentially lead to restrictions on your account. Facebook routinely checks your IP address every time you login to your account, and if they notice that you used an IP address that is not associated with your location, they might place a temporary hold on your account.
If your account is temporarily restricted due to VPN use, Facebook may ask you to identify your friends in order to lift the suspension and regain access to your account. In rare cases, you will be asked to provide documents to prove your identity.
Be aware that by using an Indonesian VPN to set a single name on Facebook, there's a small risk that your Facebook account will get suspended or banned. We will not be held responsible for anything that could happen to your Facebook account after following our method.
How to Set a Single Name (One Name) on Facebook
With all those warnings and precautions out of the way, let's go straight to the juicy details.
The first thing you should do is to install a VPN app on your phone. We recommend VPN Indonesia because it gives you a free Indonesian IP address. Other VPN apps don't provide an Indonesian IP address or will charge you a fee to get one.
You can use a different VPN but make sure that it gives you an IP address in Indonesia.
Step 1: Connect to a VPN
Open the VPN Indonesia app and then tap "Connect to Indonesia VPN" (the green button).
A connection request dialog will appear with the message, "VPN Indonesia wants to set up a VPN connection that allows it to monitor network traffic. Only accept if you trust the source." Tap OK.
It will take a few seconds to be connected to the VPN. The app will notify you once you're connected and the timer will start (there is a one-hour limit per session for free users).
Closing the app will not disconnect your VPN. You can check the status of your connection on your phone's notification panel and on the VPN Indonesia app.
Step 2: Go to Facebook settings
Now it's time to change your name to a single name on Facebook. Open the Facebook mobile app and tap the menu icon on the upper-right corner.
Tap Settings & Privacy and then Settings.
Under "Account Settings," select Personal Information.
Select Name to update your name.
Step 3: Remove your last name
You can now change your Facebook name. Remove your surname and middle name (if any), leaving only your first name. You can also change your first name to anything you want.
After changing your name, tap Review Change.
Review your new name to make sure that it's correct. Take note that you will not be able to change your name within the next 60 days.
Enter your Facebook password and tap Save Changes.
Step 4: Enjoy your new single name
Congratulations! You now have one name on Facebook. Be sure to disconnect your VPN as soon as possible to avoid possible problems with your account. Your new name will still be there even if you don't use a VPN.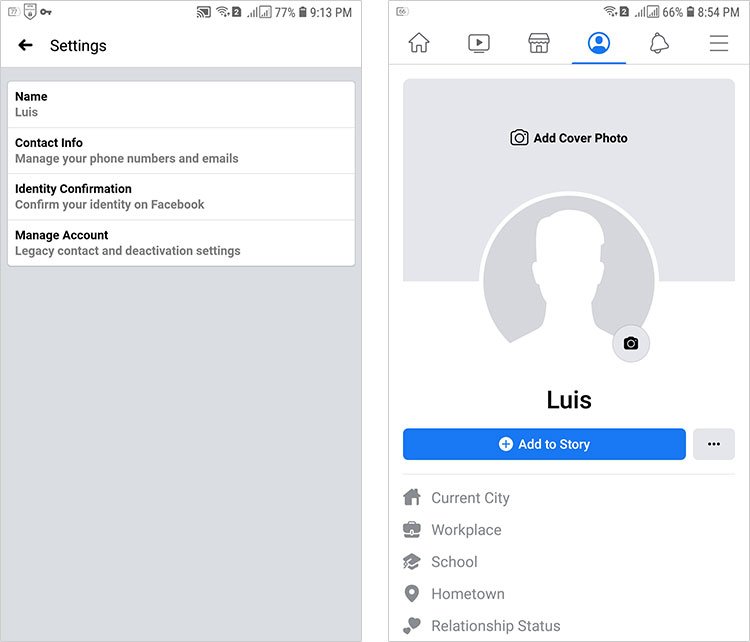 You don't need to change your city or hometown, or even change your language to Bahasa Indonesia. You can set a single name on Facebook and hide your surname as long as you use an Indonesian VPN. That's the only requirement.
Final Thoughts
Having only one name on Facebook is a good way to differentiate yourself from other profiles that mostly have two or more names. Should you decide to change to a single name on Facebook, be aware that there is a small risk that your account may get restricted, so only proceed with the change if you're willing to take the risk.
We hope that this short tutorial helped you. Don't forget to share this article with your friends who are also interested in having one name on Facebook. If you want to know how to show your followers on Facebook, check out this article, too.