Keeping your computer in tip-top shape is so important for work productivity. Nobody likes to work on a computer that runs as slow as molasses. Unfortunately, computers – just like humans – become more prone to problems as they get older. This is where Avast Cleanup Premium comes in. It's a software that cleans and speeds up your PC to fix those annoying problems that are plaguing your computer.
If you notice that your PC takes a long time to start up or run programs, then it's time to clean up and optimize your computer. However, it takes a little bit of technical knowledge to know how to optimize your PC without messing things up. You should know which files to delete to free up disk space, for example. Lacking that knowledge, you're better off using software that safely does the dirty job for you.
Since Avast Cleanup Premium comes from the maker of the famous Avast free antivirus software, you can be sure that it's a genuine product that's free from malware or adware. Registry cleaners and PC tuneup software often have a bad reputation for carrying adware or malware. I'm sure that you have encountered a suspicious ad inviting you to download a program that instantly speeds up your computer. With Avast Cleanup Premium, you don't have to worry about viruses and malware because it comes from a well-known developer of antivirus programs.
What is Avast Cleanup Premium?
As the name implies, Avast Cleanup is a software that cleans up and speeds up your computer. It's an all-in-one program that tunes up and optimizes your PC through a variety of methods.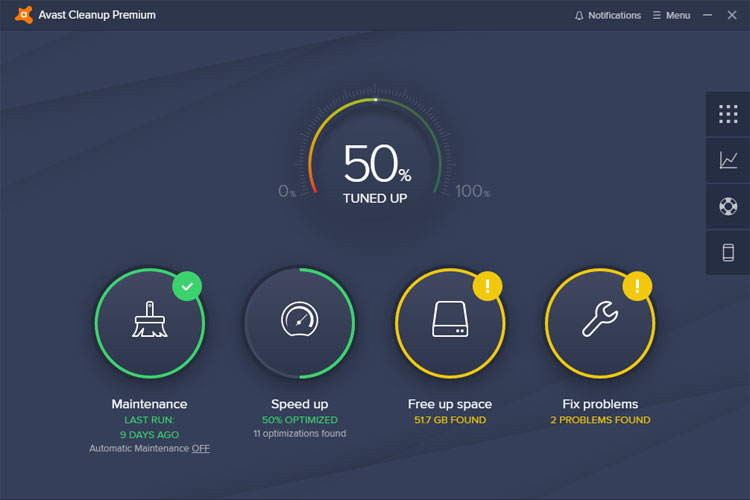 Registry Cleaner
As you use your computer over time, it slowly increases the size of the Windows registry, a database that stores the settings for Windows and other software or applications. Installing and using software adds to the Windows registry until it becomes too bloated and slows down your PC. Sometimes even removing or uninstalling programs will not remove their entries in the Windows registry and you'll have to do it yourself either manually or by using a registry cleaner.
Some applications also place hidden junk in the registry. Avast Cleanup removes hidden junk and cleans up the Windows registry safely.
Browser Cleaner
All web browsers give you the option to clear your browsing and download history, but Avast Cleanup Premium allows you to do it with just one click. Avast Cleanup clears the browser cache and cookies from more than 25 browsers, including Chrome, Firefox and Edge. Your downloaded files will be left untouched.
Disk Cleaner
Avast Cleanup Premium frees up space in your PC by removing temporary files, logs and leftover junk from 200+ applications as well as system junk from Windows. Avast Cleanup does the job safely, so you don't have to worry about losing your precious data and files.
Bloatware Remover
Bloatware can be quite annoying. Some programs install bloatware on your computer, such as toolbars that suddenly appear on your web browser. Avast Cleanup detects and removes unwanted bloatware including third-party trials, toolbars, plugins and advertisements.
Shortcut Cleaner
Avast Cleanup removes dead and broken shortcuts from your desktop area and history lists across Windows and third-party applications. This ensures that your apps and files open quickly and properly.
Sleep Mode
Avast's patented tuneup feature puts resource-draining applications to sleep so that your PC will run and feel like new. You can choose which programs and apps to hibernate based on the slowdown severity.
Software Updater
Outdated applications can leave your computer exposed to security risks, crashes and bugs. With Avast Cleanup Premium, you can update your programs and applications automatically or manually. No need to download and manually update each application when you can do it all at once in Avast Cleanup.
Automatic Maintenance
Avast Cleanup Premium has an automatic maintenance feature to clean and tune up your PC regularly without you doing anything. You can choose what to delete during the automatic maintenance and it runs in the background so it doesn't interrupt your work.
Avast Cleanup Premium Review
My computer is already four years old and I noticed that it's already quite slow especially when I open multiple applications simultaneously. I thought about buying a new PC as deleting unused files and using system cleaners failed to increase my computer's speed significantly. Even uninstalling applications didn't work – it still took several seconds for my computer to start up.
I have already resigned to the idea that my PC is already old and there's not much I can do to make it run like new, until one day Avast showed an offer of a 60-day trial for Avast Cleanup Premium (after which I will be charged about $13 for one PC for one year).
With nothing to lose except my time, I signed up for the offer and installed Avast Cleanup. Long story short, I noticed a significant improvement in my computer's performance.
Let's start by clicking "Maintenance."
Avast Cleanup Premium takes several minutes to detect the stuff bogging down your computer but after it does, it will start working its magic.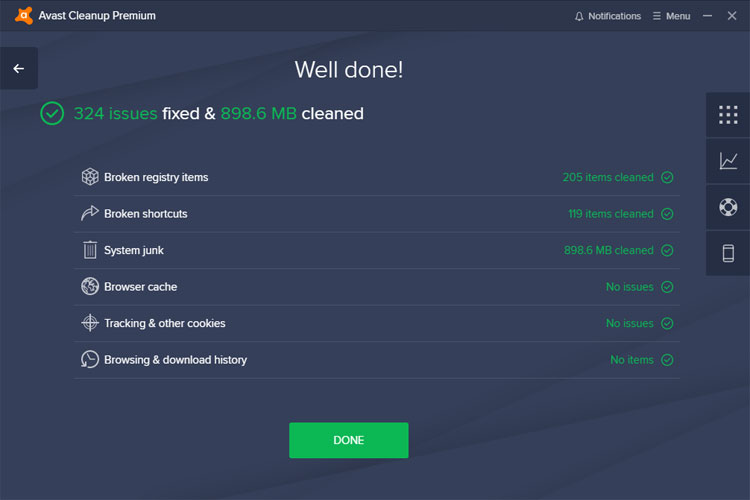 Next, we'll go to "Speed up." You can see how optimized your PC is. Click "Background and startup programs" to show which programs or applications are slowing down your computer.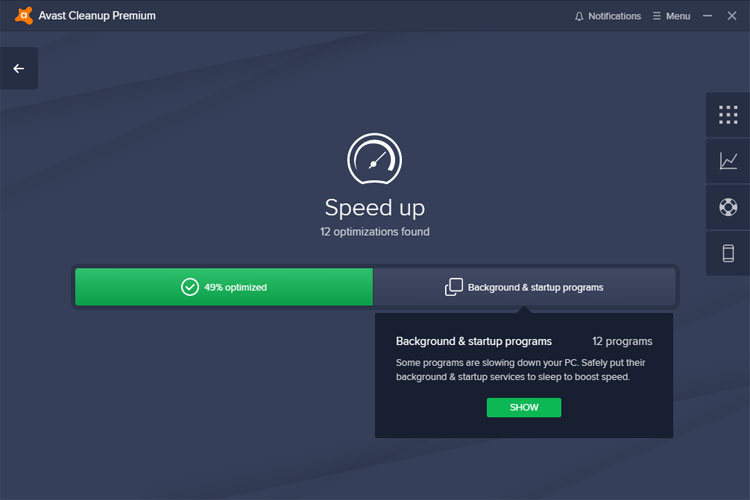 You can now see the programs that are slowing down your PC, ranked by slowdown severity. Make sure that you choose those programs that are not crucial to the operation of your computer. In my case, I chose not to put Intel applications to sleep as I'm worried that it might affect my PC's performance.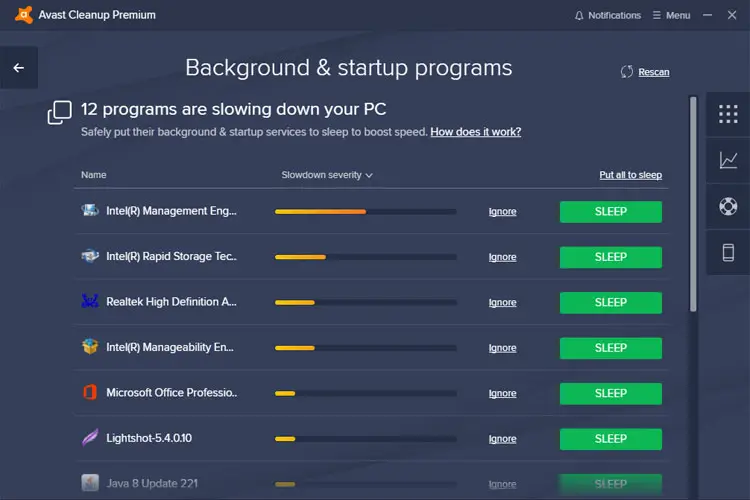 Now let's click "Free up space."
Avast Cleanup tells me that I have 51.5 GB of junk files in my PC. That number includes files in my Downloads folder. That doesn't make any sense since not everything in my Downloads folder are unwanted junk.
In this case, I would keep "Downloads" unchecked to avoid losing my downloaded files.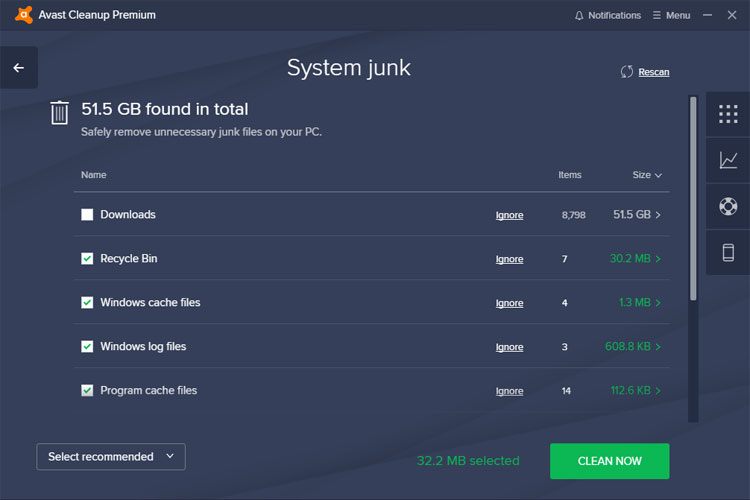 Finally, we go to "Fix problems." This is where we can update existing applications and scan the disk for errors.
Avast Cleanup will show a list of outdated programs that are in need of updates. With just one click, you can update these programs to their latest versions.
The problem is that not all programs can be updated through Avast Cleanup Premium. I was able to update Mozilla Firefox and Dropbox but failed to do so with Adobe AIR and the Flash Player plugin.
Disk Doctor detects and fixes corrupted parts of your computer's internal and external drives. After scanning for errors and repairing the disk, you will have to restart your computer. Keep in mind that it will take several minutes for Avast Cleanup to fix those errors after restarting your computer.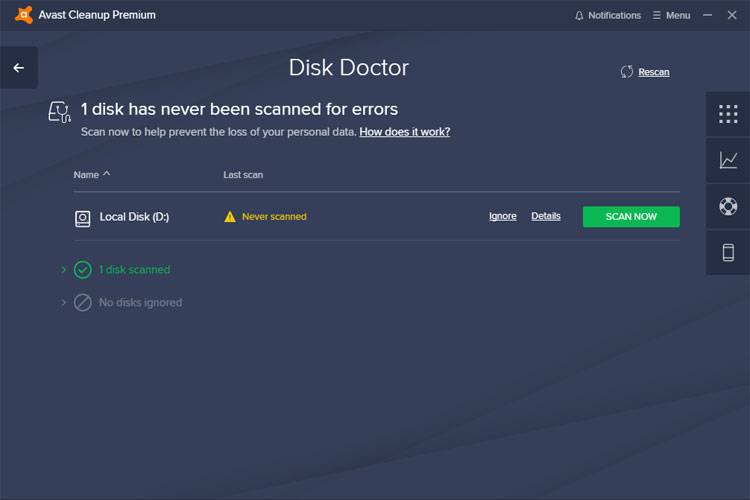 You can even view the statistics of your PC tuneup, such as the number of items cleaned and the amount of disk space regained.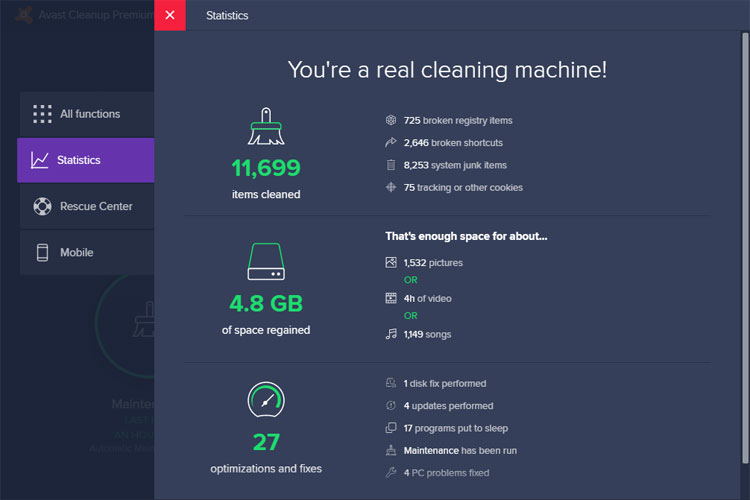 In case something goes wrong, you can go to the Rescue Center to safely undo any changes. By default, backups are available for up to two weeks only but you can change that in the settings.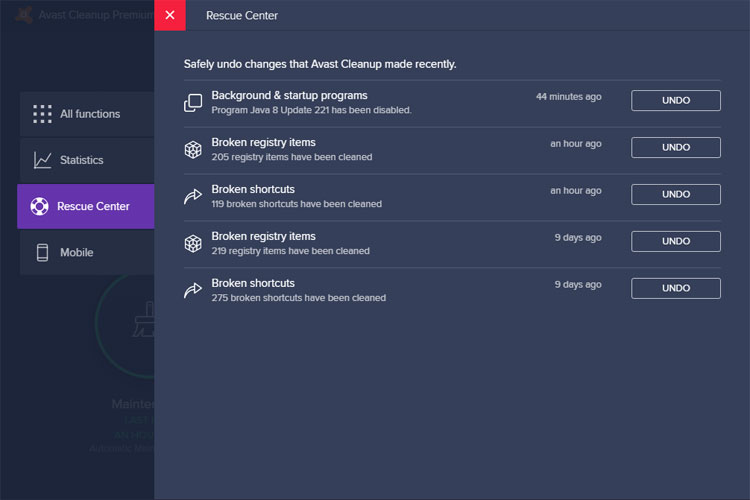 You can choose to turn on Automatic Maintenance in the settings so you don't have to launch Avast Cleanup from time to time to optimize your computer. The automatic maintenance feature does a great job of cleaning up junk in the background without sacrificing performance. You can even enable automatic updates of your programs and applications without lifting a finger.
Results and Verdict
Avast Cleanup Premium was able to speed up my PC, mostly due to its ability to put background and startup programs to sleep. I had problems with applications running in the background and slowing down computer processes, and Avast Cleanup fixed this issue.
Based on a PCMark 10 test, Avast Cleanup Premium was able to improve the overall score by 55 points. Improvements in computer performance are more significant in the web browsing score and the app start-up score.
Take note that my computer was already tuned up and optimized by Avast Cleanup about a month ago. I imagine that a higher improvement in benchmark scores would be measured for a computer that wasn't optimized by Avast Cleanup beforehand.
In terms of real-life results, I can say that Avast Cleanup Premium greatly improved the performance of my computer. The difference is night and day when it comes to Windows boot time and application startup time. I can launch programs faster and switch between applications more flawlessly than before. Programs also don't crash as often as before.
Is Avast Cleanup Premium Worth It?
I would say that Avast Cleanup Premium is definitely worth the cost. Other PC cleaning programs like Wise Care 365 and CCleaner might offer better value for money because they're free after all.
However, if you have a little extra money to spare, Avast Cleanup is an excellent option because it doesn't take a lot of technical knowledge to run it. Avast Cleanup's interface is easy for laypeople to understand with tooltips and helpful information. You can just run it once and turn on automatic maintenance to keep things simple.
I would recommend Avast Cleanup Premium for people who are looking for an easy, quick and convenient solution to speed and tune up their computers. Avast Cleanup Premium costs $49.99 for one PC for one year (pricing may differ depending on region).
The Review
Avast Cleanup Premium
All-in-one software that optimizes and tunes up your computer to remove unwanted junk, bloatware and registry entries, making your PC run faster than ever before.
PROS
Easy to run without technical knowledge
Can perform automatic maintenance
CONS
A little costly compared to similar software
Review Breakdown
Performance

0

Ease of Use

0

Reliability

0

Value for Money

0
Avast Cleanup Premium DEALS
We collect information from many stores for best price available