With Metrobank Direct online banking, you can use your Metrobank account to pay bills, transfer money, view your account balance, and more through the Internet. If you have a Metrobank account, you should definitely enroll in Metrobank Direct to experience the ease and convenience of online banking. It's nice to be able to check how much money you have in your account using just your computer or smartphone, isn't it?
Here's a step-by-step guide on how to enroll your Metrobank account with Metrobank Direct online banking. At the moment, you can only enroll a Metrobank account with an ATM card. Non-ATM accounts can still be enrolled with Metrobank Direct by filling up an EBanking enrollment form at the nearest Metrobank branch.
Metrobank Direct Online Enrollment Step-by-Step Process
Step 1: Open the Metrobank Direct website at https://personal.metrobankdirect.com.
Click the "Sign up now!" link inside the Secure Login form.

Step 2: Choose "ATM CARD" in the dropdown box. Click "Continue" to proceed.

Step 3: Enter the requested information including your preferred user ID, ATM card number and ATM PIN.
Important: You must add three zeroes (000) at the end of your 16-digit ATM card number.
Enter your PIN using the virtual keyboard which will pop up upon clicking the ATM PIN field.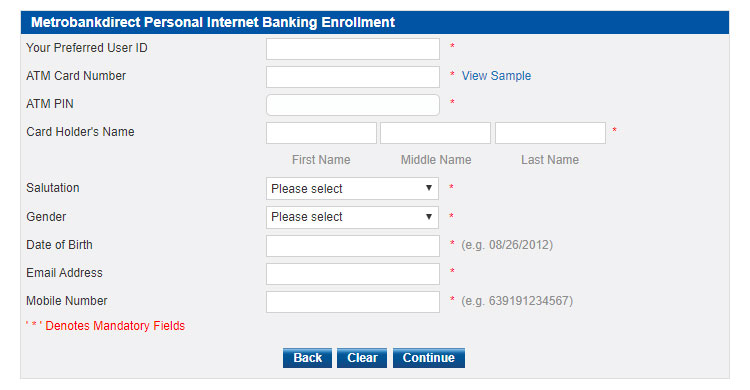 Click "Continue" when you're done.
Step 4: Review the details of your Metrobank Direct online enrollment. This is your chance to make any changes. Click "Back" to edit your information or "Confirm" to proceed with your enrollment.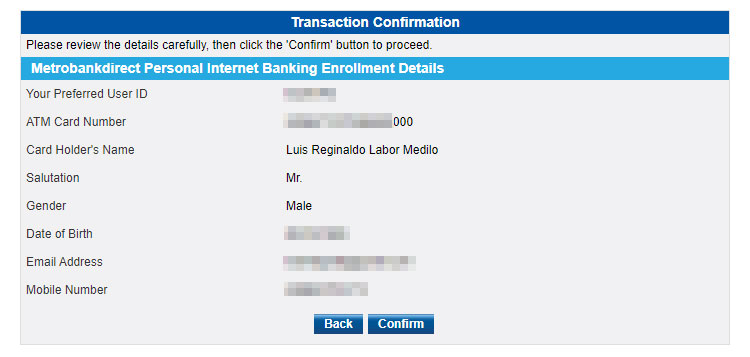 Step 5: View your Metrobank Direct enrollment details. You can choose to print it or close the browser window.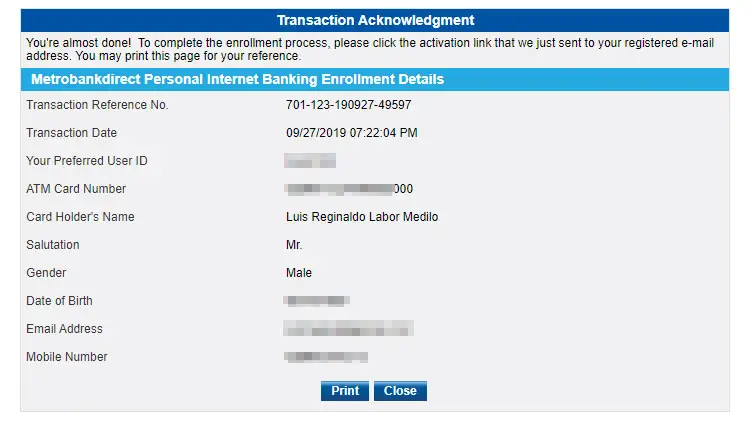 Step 6: You will receive an email from Metrobank with the subject "Metrobankdirect User Activation." Click the activation link inside that email and enter the temporary password. Click "Continue" to proceed.
Step 7: Read the terms and conditions. Click "I Agree" to continue.
Step 8: Choose three security challenge questions and their corresponding answers. Click "Save" when you're done.
Step 9: Check your phone for the one-time password (OTP). Enter it into the provided field and click "Continue."
If you haven't received the OTP activation code after a few minutes, click "Regenerate OTP Code" to get a new one.
Step 10: It's time to change your password. Enter the temporary password that was provided in the activation email. Also enter your new password twice. Your new password must be 10-32 characters long, contains at least one uppercase and lowercase letter, includes numbers, and has a special character.
Click "Continue" to proceed.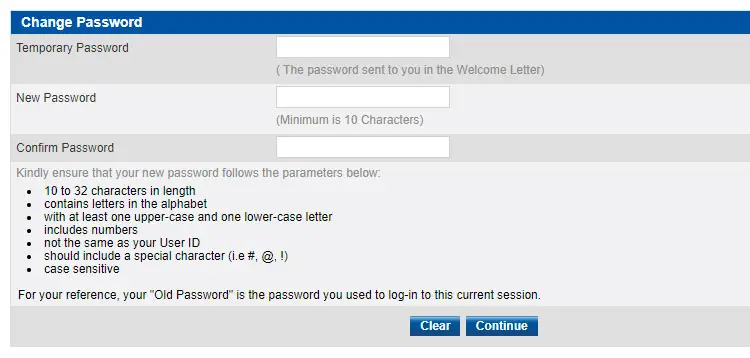 Step 11: Congratulations! Your Metrobank Direct online banking account is now activated and ready for use. Click "Login" to sign in to your Metrobank Direct account.

With your Metrobank Direct online banking account, you can view your account statement, transfer funds to another account, pay your bills, open new accounts, and even pay your taxes.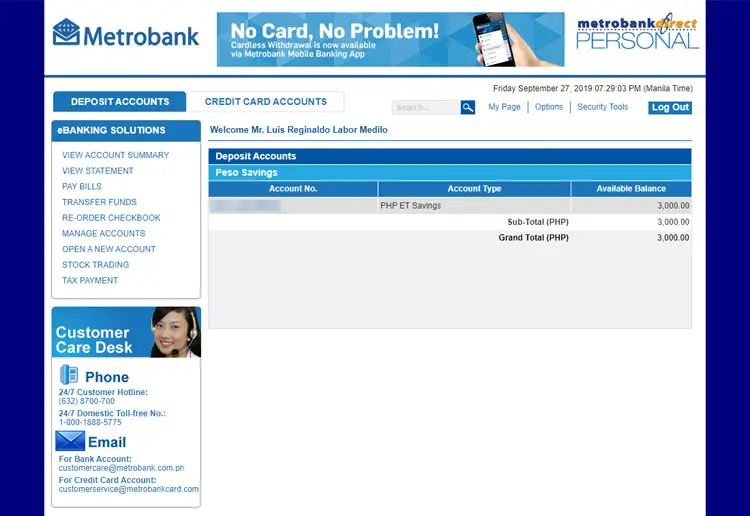 Metrobank Direct Online Banking Features
Metrobank Direct has a demo account where you can try out all the features of the online banking facility. Just go to this page to access the Metrobank Direct demo account and test its features such as bills payments and online fund transfers.
Let's have a quick overview of each of Metrobank Direct's Internet banking features.
View Account Summary
You can check your enrolled accounts, their account types, and their available balances. By clicking the link of a specific account, you can see a breakdown of your account balance.
View Statement
You can access the details of the transactions made for your particular Metrobank account. View your transactions for the day by clicking "View Today's Transaction," or view past transactions from the current and previous months based on the cut-off date of your account by clicking "View Statement Criteria."
Pay Bills
Metrobank Direct allows you to pay your bills with hundreds of companies including airlines, credit cards, online shopping sites, government agencies, schools, telcos, and utilities.
Just enter the category, biller, subscriber or account number, reference number, and phone number, and then choose the account to debit as well as the payment amount.
You can opt to pay immediately or schedule your payment up to 90 days in advance. You can also set up a recurring bill payment schedule for up to 3 years.
Transfer Funds
Transferring money from one account to another is easy and convenient with Metrobank Direct. To transfer funds, you have to enroll your other Metrobank accounts and other third-party accounts by going to the Manage Accounts section. You can also transfer funds to unregistered third-party accounts with a default transaction limit of ₱5,000 (this can be increased through the Manage Accounts section).
Just like bill payments, you can schedule your fund transfers up to 90 days in advance and set up recurring fund transfers for up to 3 years. Make sure that your account is funded at least one banking day before the date of transfer.
Peso transfers from Metro Manila accounts to countryside/provincial branches (and vice versa) as well as inter-regional fund transfers will be levied a fee of ₱25 per transaction. Dollar transfers within the region will be charged $1 while fund transfers from Metro Manila to provincial branches (and vice versa) or inter-regional transfers will be charged $2 per transaction.
Re-Order Checkbook
Metrobank checking account holders can order up to 9 checkbooks per request. You can schedule a recurring checkbook reorder for up to 3 years.
Manage Accounts
This is where you can enroll your other accounts, unenroll accounts, modify your accounts, manage transactions limits, and more.
Enroll Accounts – Register your other Metrobank accounts and third-party accounts for fund transfers.
Unenroll Accounts – Remove your own account or third-party accounts.
Stock Trading – Enroll your account to be used for stock trading.
Modify Accounts – Designate which accounts to use for different financial transactions such as bill payments, fund transfers and tax payments.
Manage Transaction Limit – Set the maximum transaction limits for your account.
Edit Template – Change or edit your saved fund transfer templates.
Open a New Account
With Metrobank Direct, you can open a new account online without going to the branch. All you need to do is to choose the account to withdraw from and enter the amount to initially fund your new account. Your new account will be opened at the same branch as that of your source account.
After opening a new account, you will have to go to the Metrobank branch to claim your proof of deposit (passbook or ATM card) within three banking days.
Stock Trading
Metrobank customers can start investing in the stock market through the First Metro Securities online trading facility. You can then use your Metrobank Direct account to fund your stock trading transactions with First Metro Securities.
To be able to use the online trading facility, go to Manage Accounts and then click Stock Trading to enroll your account. Afterwards, visit the First Metro Securities website and fill out the online application form. Print, sign and bring the application documents to your Metrobank depository branch.
Metrobank Direct Mobile Banking App
While you can access your Metrobank Direct account using your web browser, it doesn't have some of the features available in the mobile app. One such important feature is the ability to transfer money to a non-Metrobank account via InstaPay or Pesonet. At the moment, transferring money to another bank is only possible through the Metrobank mobile app.
You can also check the foreign exchange (forex) rates, apply for a car or home loan, and locate nearby Metrobank branches.
The mobile app also employs advanced security features such as the OTP generator, so every time you log in through the mobile app, you will have to input a one-time password (OTP) sent to you via SMS. You can also activate in-app OTP so you don't have to wait for the OTP via SMS.
Unfortunately, the web-based Metrobank Direct online banking facility doesn't have an OTP feature, which makes it vulnerable to hacking and phishing attempts. Our suggestion is to use the mobile app exclusively and to avoid opening emails purportedly coming from Metrobank.
Conclusion
With Metrobank Direct, you can enjoy the ease and convenience of banking in the comforts of your home using your computer or mobile device. Should you have any issues or problems with Metrobank Direct online banking, call the 24/7 customer service hotline (632) 8700-700 or the domestic toll-free number 1-800-1888-5775. You can also send an email to [email protected].