Interested to know how to get a police clearance for business, legal or employment purposes? Here's some good news! You can now get your police clearance online through the National Police Clearance System of the Philippine National Police (PNP).
The police clearance is a document that serves as a background check by the police, and lists the criminal or derogatory records that the holder may have, if any. Just like the NBI clearance, the police clearance is one of the requirements for employment in the Philippines and abroad. It proves that the applicant is a law-abiding citizen and has not committed a crime nor is wanted by the law.
The police clearance can also serve as a valid ID for your transactions and dealings with government agencies and private companies. However, not all government bodies consider it as a valid ID. For example, the police clearance is not a valid ID for DFA passport applications.
Information that are included in the police clearance are: name, address, birth place, birth date, citizenship, and gender. It also contains the holder's photograph, signature and thumbmark or fingerprint. Each clearance has a unique QR code and number, and is valid for only 6 months.
National Police Clearance System
The National Police Clearance System (NPCS) is a centralized web-based facility for the checking of criminal records and the issuance of police clearances. The online system is a significant departure from the old setup in which each city or town has its own database of criminal records. The NPCS taps into an up-to-date, nationwide database for the verification of records.
Under the NPCS, criminals and lawless elements will have a harder time hiding from the law due to its nationwide coverage. Under the old system, criminals and wanted persons can escape detection in a different town or city because each locale has its own database.
The NPCS makes it easier and faster for applicants to acquire their police clearances through the Internet. Through the web-based platform, applicants can simply provide their personal information and pay the police clearance fee online. Applicants will still need to personally appear at a police station for verification and processing.
Local Police Clearance vs. National Police Clearance
What's the difference between the local police clearance and the national police clearance?
The two types of police clearance differ by scope. The local clearance only covers the city or municipality while the national clearance covers the whole country.
This means that you can use the national clearance anywhere in the Philippines. For example, if you want to apply for a job in Manila but you're from Cebu, you don't need to apply for a local police clearance in Manila – you can use the national police clearance instead.
Furthermore, the national police clearance is a multipurpose clearance, so you can use it for any purpose, while the local police clearance has to have a specific purpose (such as local employment) which will be printed in the certificate.
The local police clearance also has more requirements, such as community tax certificate (cedula), barangay clearance and valid IDs, while the national clearance only requires two valid IDs.
To summarize, these are the advantages of the national police clearance over the local clearance:
Wider scope or coverage. The national clearance can be used anywhere in the Philippines.
Multipurpose. It can be used for any purpose.
Fewer requirements. You only need to present two valid IDs.
Faster processing. If you applied online, your data no longer need to be inputted by the processor, so you will get your clearance faster.
As of now, online applications are not yet required, so you can get a national police clearance as a walk-in applicant. Just ask for it at the police station and their officers will process it personally.
National Police Clearance Requirements
These are the police clearance requirements that you must present at the police station on the date of appointment:
Two (2) valid IDs
Reference number
Official receipt
You will be provided with the reference number after submitting your application to the NPCS. The official receipt will be generated after payment.
The PNP requires two valid IDs for your clearance application. Here is a list of valid IDs accepted by the PNP:
PNP ID
Voter's ID
Passport
Postal ID
PRC license
LTO driver's license
SSS ID or SSS UMID
GSIS UMID
PhilHealth ID
Pag-IBIG ID
TIN ID
Senior citizen's ID
OFW ID
IBP ID
PWD ID
Alien Certificate of Registration
School ID with registration form
Other government IDs
Your IDs must be unexpired, original (not photocopied), and must have your full name, clear photo, and signature.
If only one valid ID is available, you must present it together with the certified true copy of your birth certificate along with the original official receipt.
Police Clearance Online Application Step-by-Step Process
Step 1: Visit the National Police Clearance System website at https://pnpclearance.ph.
If you're a first-time applicant, click REGISTER.
Step 2: Read the terms and conditions. Check all the checkboxes and click "Next." You will have to check all the boxes until you see the "I Agree" button.
Step 3: Enter all the required information. Required fields are indicated by an asterisk (*).
Make sure that you have an active and working email address. When you're done, click "Register."
A popup will appear with the message, "Do you want to save it? Please check all the information before you proceed. Editing is not allowed after saving."
If you're sure that all provided information are correct and accurate, click "Save." Otherwise, click "Cancel."
Step 4: You have successfully registered with NPCS. Enter your email address and password, and click "Sign in."
Step 5: You're now logged in to the system. But first, you must edit your profile before you can proceed with the police clearance application. Click "Edit Profile."
Enter all the required information for your profile. Required fields are indicated by a red asterisk (*).
Note that even though the mobile number is not indicated as a required field, the system will still ask for it.
Click "Save Profile" when you're done.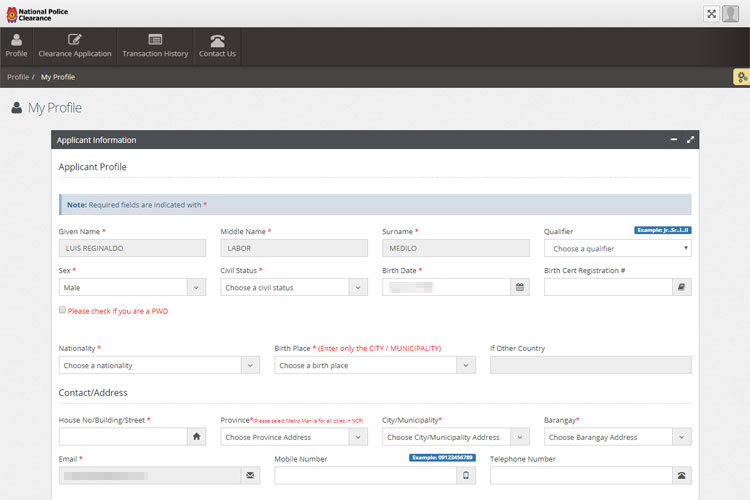 After you have successfully updated your profile, you will be redirected back to main page.
Click "Clearance Application" to start your police clearance online application.
Step 6: Set your appointment schedule by choosing the police station where you want to have your clearance processed. Tip: Start typing the location of the police station and the system will provide the suggestions.
After selecting the police station, choose the date and time of appointment (whether AM or PM). Click "Next" to proceed.
Step 7: Choose your payment option. At the moment, only Landbank is available so click its button. It will show the police clearance fee which is ₱150. Click "Next" to continue.
Step 8: You will be shown some notes and reminders. Click "Save Appointment" to proceed to payment.
Step 9: Pay the police clearance fee through the "Click here to pay" button. Optionally, you can change the police station and appointment date.
Step 10: In the Landbank payment portal, choose your payment option from the dropdown box, either Landbank or Bancnet.
If you choose Landbank, enter your Landbank account number. If you don't have a Landbank account, select Bancnet. Click "Submit" to proceed.
Step 11: It's time to pay the police clearance fee. Check the box next to "I certify that I am at least 18 years old and have read, understood, and agreed to the Terms and Conditions."
Enter your PIN on the PIN pad, and enter the one-time password sent to you via text message. Leave the joint account indicator as zero (0) unless it's a joint account.
Click "Submit" to proceed with the payment.
A popup will appear with the message, "You are making a non-reversible transaction." Click "OK" to continue.
If the payment is successful, the status of your application will be changed to "PAID." Click the "Print Transaction Details" button for your official receipt.
The next step is to go to the police station on the scheduled date of appointment. You can still change your schedule, however, by clicking the "Change Appointment Date" button. Your payment is valid for 15 days so you can still claim your clearance within 15 days even if you failed to appear at the police station during your scheduled appointment date.
Scheduled Appointment and Verification
Go to the police station on the scheduled date and time of appointment. Bring along your two valid IDs, reference number, and official receipt.
If you don't have the official receipt, just give the reference number to the officer-in-charge. He will check it with the system to make sure that you have already paid.
Before your clearance is released, your fingerprints, signature and photo will be taken. Your biometrics and personal data will be checked against the PNP nationwide database for possible criminal records.
If there's a "hit," (which happens if you have namesake) your application will undergo further verification. Just wait for the advise or instruction from the verification officer. It will not take too long, however, and you'll usually get your clearance in less than an hour. In my case, it only took less than 10 minutes.
If you see any errors in your clearance, you may have to edit your profile and reapply for a new clearance. The PNP will not reprint your clearance in case of errors.
That's it! The National Police Clearance System has really made it easier and more convenient to get your police clearance. Be sure to share this article with your friends who are interested in getting their police clearances online.