Imagine that you ordered an item in Lazada, but a few minutes later, you changed your mind. Is it still possible to cancel your order in Lazada and get your money back?
A lot of people have been asking in various forums about how to cancel their orders in Lazada, as well as how to get refunds. Some people asked if it's still possible to cancel an order even if the parcel has already been shipped.
Lazada allows you to cancel your order if the item is still being processed and not yet packed for shipping. As long as your parcel is not yet packed by the seller or warehouse, you can go ahead and cancel the order.
You can see if the order has already been processed and packed by going to My Orders in the Lazada website (make sure that you're logged in) and clicking the Manage button for the particular order. Under the order details, check if there's a message like this: "Your package has been packed and is being handed over to our logistics partner."
On the Lazada app, tap "Account" and then "View All Orders." Choose the item and then click "Track Package." Scroll down and check if there's a message saying that your item has been packed by the seller or warehouse.
If your order has already been packed by the seller or warehouse, then unfortunately you can no longer cancel your order.
If you can see a "Cancel" button or link for your order, that means that you can still submit a cancellation request. That button will disappear when it's no longer possible to cancel your order.
Steps to Cancel Your Order in Lazada
These are the steps in cancelling your order in Lazada. The following steps are for orders placed through the Lazada website. The process is more or less the same in the Lazada mobile app.
First, click the "Track My Order" link at the top menu and select your order. You can also click "My Orders" under "(Your Name) Account" and then select your order.
You can now see the order details for the item. Click the "CANCEL" link as shown in the screenshot below.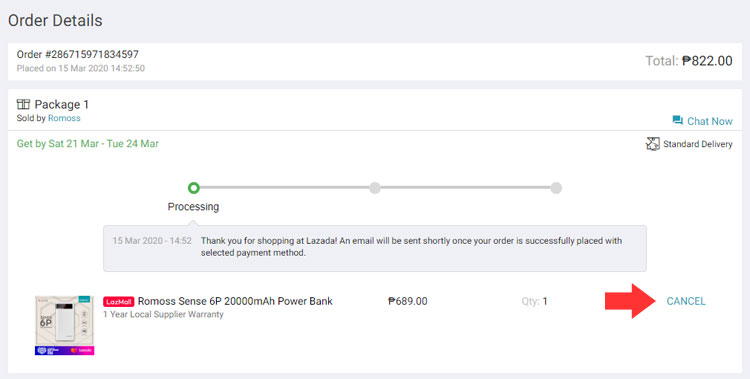 You will be directed to the "Request Cancellation" page.
Select the item or items that you want to cancel, and then choose the reason for your cancellation in the dropdown box on the right. Some reasons for cancelling your order are:
Decided for alternative product
Fees – shipping costs
Found cheaper elsewhere
Change payment method
Change/combine order
Delivery time is too long
You can write any additional information about your cancellation although that is not required.
Read the cancellation policy and then check the box confirming that you have read and accepted Lazada's cancellation policy. Click "SUBMIT" to go ahead with the cancellation.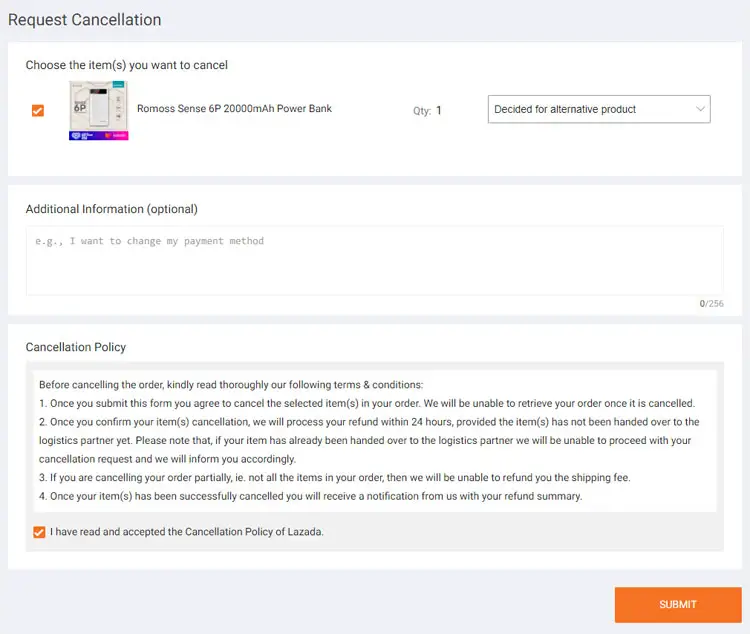 Your cancellation request will be automatically approved. You can click the "Check your order status here" button to confirm the status of your cancellation request.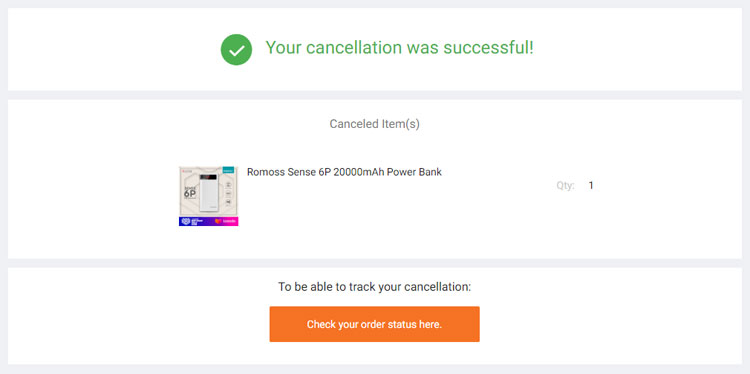 You will also receive an email confirming that your order has been cancelled.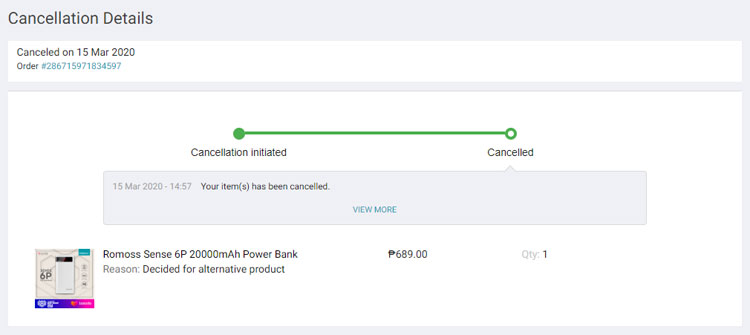 Refunds on Cancelled Orders
In case you have already paid for your order, your refund will be processed within 1-2 business days from the time of your cancellation request.
Lazada will email you once they processed your refund. How long the refunded amount will reflect on your account depends on the payment method.
Credit card = 5-15 banking days
Debit card = 5-45 banking days
Lazada Wallet = Within 24 hours
Installment = Depends on the issuing bank
Lazada Store Credit = 1-2 business days
GCash = 1-3 days
If you haven't received a refund beyond the expected date, chat with Lazada's customer care specialists or call their hotline number (02) 7795-8900.
How to Cancel Your Order If It's Already Packed
What if your order is already packed? Can you still cancel it?
Yes, you can still cancel your order if it's already packed (but not yet shipped) as long as the seller agrees to cancel it.
You can follow these steps to cancel your order if it's already packed:
Chat with the seller first to see if he agrees to cancel your order.
Chat with Lazada Customer Care and type "Talk."
Select the order that you want to cancel.
Tell the customer service agent that you want to cancel your order. Specify the reason why you want to cancel the order.
The customer service agent will fill up the cancellation form. Wait for the agent to tell you that the cancellation form has been filled up and submitted to the seller.
Chat with the seller and ask him to sign the cancellation form.
After the seller signs the cancellation form, Lazada will cancel your order and issue a refund.
What If Your Order Has Been Shipped?
Some people have asked if you can cancel your order in Lazada if the item has already been handed to a logistics partner and is being shipped.
The simple answer is no, you can no longer cancel shipped orders. Obviously, it's not possible for the seller to take back your order once it's already being delivered by the shipper.
However, some people suggest that you simply refuse to accept the item. The courier will have no choice but to return the item back to the seller or warehouse, because you can't force someone to accept the delivery of an item.
Most Lazada sellers have experience handling returned items and it's not uncommon for customers to refuse the item because they can't pay for it. It's all part of doing business especially with online shopping where returns, refunds and failed deliveries are common.
Sellers take a loss every time you cancel an order that's already been shipped, so we suggest taking this recourse only if you have no other option.
Will you be banned from Lazada for refusing to accept the item? Probably not, unless you repeatedly abuse it. I once failed to accept delivery of an item which I ordered through cash on delivery (COD) and I was still able to shop and order through COD the next time around.
Need Help?
We hope that this article answers your questions about how to cancel your order in Lazada. If you have further questions and clarifications, contact the Lazada customer support team or call the Lazada hotline number (02) 7795-8900. Please direct your questions to Lazada, as we will not be able to answer your specific questions.