Everyone knows that GCash is a great app for sending or receiving money, paying your bills, shopping online, buying prepaid load and many more. But do you know that you can earn money in GCash, too? GCash can be an excellent moneymaking app for students, unemployed and even those with full-time jobs who are looking to make some extra cash on the side.
If you didn't know already, GCash is a mobile wallet app that allows you to make cashless transactions, whether online or in stores. It's like a virtual wallet that stores your money in your phone so that you don't have to pay in cash; you just whip out your mobile phone, launch the GCash app and pay via QR code or fund transfer. Mobile wallets like GCash have revolutionized the way we pay and spend money.
Aside from being an e-wallet for cashless transactions, GCash can also be used to earn money. You can either earn money passively, where you do nothing and just wait for your money to grow, or actively, in which you perform a little bit of work. Either way, you can earn money online in GCash with minimal to no risk and with hardly any effort. It may not make you rich but it helps you pay the bills and keep the lights on.
You can earn money primarily on the GCash app, but there are also third-party applications that pay out your earnings to your GCash wallet. I will discuss these apps so that you can try them out, but the focus of our article is on how to earn money solely using the GCash app. I will also talk about how to earn money in GCash without inviting other people to join.
Disclaimer: This article is for informational purposes only and should not be considered as financial investment advice. We cannot guarantee that you will make money by implementing the methods in this article. Consult a qualified investment professional before making any financial decisions.
Earn Money in GCash by Selling Prepaid Load
Another way to earn money in GCash is to sell prepaid load to your family, friends or neighbors. You can buy cellphone load for Smart, Globe, TNT, TM, and DITO ranging from ₱5 to ₱1,000, as well as prepaid promos.
To earn a profit from selling prepaid load, you can add a "transaction fee" on top of the load amount. For example, you can sell ₱100 cellphone load for ₱110, keeping the ₱10 difference as your profit. The more load you sell, the more profit you will earn.
If you have a lot of friends or neighbors, you can offer to sell prepaid load to them. Every time they want to buy load, you simply buy load for them using your GCash app. You collect the payment and keep the profit. Easy peasy!
Let's say you're able to sell ₱2,000 worth of cellphone load every day. In that scenario, you would earn a profit of ₱200 per day or ₱6,000 per month. You'll earn more if you have a sari-sari store or convenience store in a busy area, because prepaid load is one of the most sellable products out there.
Be a GCash Pera Outlet Partner
If you have a sari-sari store or any business with a storefront, you can apply to be a GCash Pera Outlet partner and offer bills payment and cash remittance services to your customers. Take note that your business must be registered with the government with the appropriate permits such as a Mayor's Permit or a DTI Certificate.
To apply for a GCash Pera Outlet partnership, open the GCash app and tap "View All." Select "Pera Outlet" and tap the "Apply Now" button to start the application process. Fill out the application form and upload photos of your store and business permits.
Once you're approved to be a GCash Pera Outlet partner, you can offer cash in, cash out, bills payment, and money remittance services using your GCash app. You can earn as much as ₱10,000 per month (or even more) by being a GCash Pera Outlet partner!
Save Money and Earn Interest with GSave
If you have some extra money lying around, why not put it into your GCash savings account? Instead of putting your money in a bank account that earns less than 1% interest per year, you can deposit it in a high-interest savings account in GSave.
These are the partner banks in GSave where you can save your money and earn interest of up to 12% per year:
GSave by CIMB – High interest rates, no fees, and free insurance.
#MySaveUp by BPI – Easiest way to start your savings.
#UNOReady by UNO Digital Bank – High-rate savings, daily interest and time deposits.
EzySave+ by Maybank – Convenient way to save. Plus get a free debit card.
Here's a comparison of the different GSave partner banks and traditional banks:
GSave is available to semi and fully verified users, so make sure that you verify your GCash account first. All deposits are insured by the Philippine Deposit Insurance Corporation (PDIC), so your funds are safe and secure.
To access your GCash savings account, open the GCash app and tap "GSave." Select your partner bank and follow the instructions to start saving money and earning interest.
Be an Investor with GFunds
You don't have to attend seminars or read books to become an investor (although they do help). With GFunds, you can easily invest your money and earn passive income from your investments. You can invest as low as ₱50 and you can redeem your money anytime.
To start investing in the GCash app, tap "GInvest" and then go to "GFunds." You may have to answer a few questions to determine your risk profile. Tap "View Investment Products" to see what investment funds are available for you to invest in. Choose the fund and click "Subscribe" to invest your money into that fund.
GFunds is a good way to get your feet wet with investing. As with any form of financial investment, there is risk involved. Be sure to educate yourself on the fund's historical performance and risks before investing your hard-earned money.
Earn Dividends with GStocks
The stock market is one of the best ways to make money (just ask Warren Buffett). You don't have to get a stockbroker to buy stocks, because through the GCash app, you can invest in the biggest companies in the country such as Jollibee, San Miguel Corporation, Ayala Corporation, SM, Globe Telecom, and more.
At the moment, only GStocks PH is available for trading (GStocks Global is coming soon). To start investing in the Philippine stock market via GCash, tap "GInvest" and select "GStocks PH." Tap "Get Started" and then select your broker which is "AB Capital Securities, Inc."
Just like any other form of investment, there is risk involved in stock market trading. Be sure to do your research on the companies that you're planning to invest in.
Invest in Cryptocurrency with GCrypto
Besides stocks, cryptocurrency (or crypto for short) is another popular way to earn passive income. To invest in crypto, you first have to join a cryptocurrency exchange such as Binance and Coinbase. But you don't need to do that because you can invest in crypto on the GCash app itself!
Powered by PDAX, the Philippines' largest crypto exchange, GCrypto allows GCash users to easily buy and sell cryptocurrencies such as bitcoin. To start trading crypto in the GCash app, tap "View All" and then select "GCrypto."
Cryptocurrency trading can make you rich if you're lucky, but be aware that the crypto market is extremely volatile. Therefore, you should only invest money that you can afford to lose.
Play Games to Win Cash Prizes
Do you know that you can play games and earn money in GCash at the same time? With GCash Games, you can enjoy playing mobile games and stand a chance to win exciting cash prizes!
Some games where you can win real money are:
BingoPlus – Play bingo and win the ₱75 million jackpot prize.
Color Game Live Perya – Play for as low as ₱10. Get the triple color to win 60x your bet.
Tongits Kingdom – Play the popular card game tong-its and win big prizes.
To start playing, tap "View All" and then select "Games" (it's under the "Enjoy" section).
Another favorite is Goama Games, which offer both free and paid skill-based competitive games. Pay a small entry fee (as low as ₱10) to join a tournament and compete for the top spots in the leaderboards to win cash and other exciting prizes.
To start playing games, open the GCash app and tap "GLife." Select "Goama Games" and choose the game that you want to play. You can start playing in free tournaments to hone your skills before entering a paid tournament.
You can also try mgames, a collection of fun games with cash prizes. New players are entitled to one free spin, and you can earn free spins by placing second or third in a match. To participate in games, you can buy tokens (1 token = ₱15) using your GCash balance.
Find Part-time Work with GCash Earn Money
This is fairly new, but GCash has a feature called Earn Money which provides ways for users to earn extra money on the side.
As of this writing, the only way you can earn money is by referring jobs to your friends. If you refer a job and your referral gets accepted to the position, you will earn a fixed commission ranging from ₱1,000 to ₱2,500.
Stay tuned because you will soon be able to earn money by working on part-time gigs and by completing tasks and surveys. To access this feature in GCash, tap "View All" and select "Earn Money" (under the "Enjoy" section).
Earn Rewards with Alipay+ Rewards
Do you know that you can earn cashback vouchers, discounts, and other exciting perks with Alipay+ Rewards? Technically, it's not free money, but with these cashback vouchers, you can save a little money when you purchase items using GCash and Alipay+.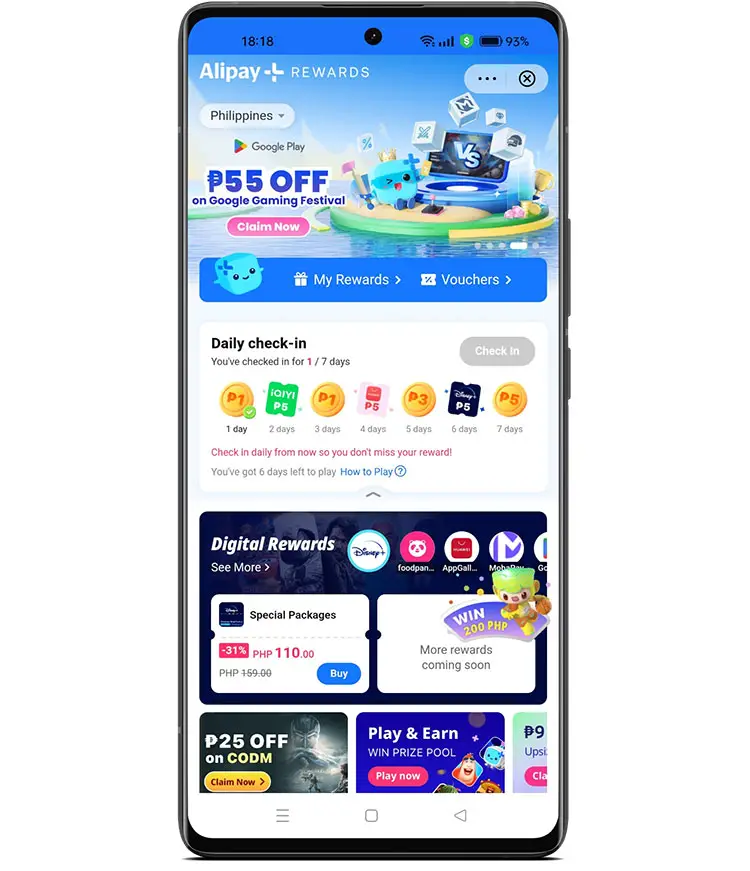 On the GCash app, tap "A+ Rewards" to get started. You can earn rewards by checking in daily, collecting badges, and purchasing digital vouchers. You can also earn rewards by using GCash and Alipay+ to shop online, order food, buy groceries, etc.
Apps to Earn Money in GCash
There are various mobile apps where you can earn money in GCash by completing tasks, playing games, referring friends, joining raffle contests, and many more.
Although some users have reported making money with these third-party apps, we cannot guarantee that they will continue to pay out in the future. They might be here today but gone tomorrow. Many such apps have disappeared due to saturation or unsustainable business practices, and some have even turned out to be scams. So before you join a moneymaking program, make sure that you've done your research so that you don't get scammed or waste your time and effort.
However, if you are looking for an income-generating opportunity that doesn't involve any skill or manual labor, then these moneymaking apps are worth a try. In most cases, it will take many hours of grinding before you accumulate enough money to pay out to GCash, so you need lots of time and patience. These apps will definitely not replace your job due to their low income potential, but they're good enough for some extra cash to help pay the bills.
Disclaimer: Tech Pilipinas and the author of this article are not connected nor affiliated with these third-party applications. We will not be held responsible for any loss or damages in connection with your dealings with these apps. Please perform your due diligence before using or investing money in these apps.
Brainy
Brainy by Rayole is a mobile app where you can play free games and win coins. These coins will then be converted to cash which can you can withdraw to your GCash wallet.
In order play these games, you will need tickets, which you can earn by watching video ads. You can also earn coins by participating in tasks and completing surveys.
Download the app (available to Android users only) to get free ₱5 in your account. You can also earn more money by inviting your friends to download and use Brainy.
MatchMe
Also by Rayole, MatchMe is an app where you can earn "gold" by playing games, watching videos, performing simple tasks, and answering surveys. Your accumulated gold can then be with withdrawn as cash to your GCash account once you reach the threshold.
Download the app from Google Play and sign up to start earning rewards.
BuzzBreak
Note: BuzzBreak is no longer recommended because of its overly restrictive withdrawal policy.
BuzzBreak is an app that lets you earn points for reading articles, watching videos, installing apps, answering surveys, inviting friends and completing simple tasks. You can even earn points by simply opening the BuzzBreak app. Once you've accumulated enough points, you can then cash out your points to your GCash wallet. You can cash out a minimum of ₱1.
By signing up, you will get ₱1 instantly in GCash. Download and install the BuzzBreak app on Google Play and use the referral code B40185982 to earn a bonus reward.
If you spend a lot of time on your phone and you love to read the news or watch videos, you can do it on BuzzBreak and get rewarded for it. Be aware that the app is full of ads (I guess that's how they make money).
Final Thoughts
When times are hard, it's nice to know that you can earn money in GCash to help you somewhat with your daily expenses. GCash may not make you a millionaire but it's still a great way to make a little cash in your free time.
I will update this article as soon as I discover more ways to make money with GCash. Don't forget to share this article with your friends who might be interested to know how to earn money online using their GCash wallet.