Having a GCash account makes life so easier because you don't need to use cash to pay your bills, buy prepaid load or go shopping online. It's like a virtual wallet that keeps your money safe and accessible in your smartphone. It's also a great way to transfer or send money to your loved ones, and you can easily withdraw your money anytime you want.
Let's say that your friend sent money to your GCash wallet and now you want to encash it. So how do you withdraw that money from your GCash account? Obviously you can use GCash to buy grocery items or pay your restaurant bill, but what if you prefer to convert the money to cash? Many people also use GCash as some sort of a "remittance center" where they conveniently transfer money from their bank accounts or credit cards to their recipient's GCash account.
The good news is that withdrawing money from your GCash wallet is fast and easy as long as you have a bank account. Thanks to InstaPay, GCash to bank transfers are completed instantly, even during non-banking days or hours. If you don't have a bank account, you can still withdraw your money at over-the-counter partners like Palawan Pawnshop and Bayad Center.
You can also easily withdraw your money using a GCash MasterCard that's linked to your GCash wallet. The GCash MasterCard can be used to withdraw money at over 20,000 BancNet and MasterCard ATMs all over the country.
GCash Cash Out to a Bank Account
The easiest and quickest way to withdraw money from your GCash wallet is to a partner bank account. Since GCash to bank transfers are facilitated by InstaPay, you will have the money in your bank account within minutes.
These are the banks where you can cash out from your GCash wallet:
AllBank (A Thrift Bank), Inc.
Asia United Bank (AUB)
Bangko Mabuhay
Bank of Commerce
BanKo, A Subsidiary of BPI
BDO Unibank
BDO Network Bank
BPI / BPI Family Savings Bank
Cebuana Lhuillier Rural Bank
China Banking Corp.
China Bank Savings, Inc.
CTBC Bank (Philippines) Corp.
Development Bank of the Philippines (DBP)
Dungganon Bank
East West Banking Corp.
East West Rural Bank
Equicom Savings Bank
ING Bank N.V.
ISLA Bank
Land Bank of the Philippines
Maybank Philippines
Malayan Bank Savings and Mortgage Bank
Metrobank
Partner Rural Bank (Cotabato)
Philippine Bank of Communications (PBCOM)
Philippine Business Bank
Philippine National Bank (PNB)
Philippine Savings Bank (PSBank)
Philippine Trust Company
Philippine Veterans Bank
PNB Savings Bank
Quezon Capital Rural Bank
Rizal Commercial Banking Corp. (RCBC)
Security Bank
Sterling Bank of Asia
Sun Savings Bank
UCPB Savings Bank
Union Bank of the Philippines
United Coconut Planters Bank (UCPB)
Wealth Development Bank
You don't need an online banking account to perform a cash out transaction. All you need are the bank details of the receiving party such as the account name and bank account number.
To perform a GCash cash out to a bank account, open the GCash app and tap "Bank Transfer." Make sure that your GCash account is already verified as you cannot send money otherwise.
Select the bank where you intend to transfer the money to. To see the complete list of partner banks, tap the "View All" icon.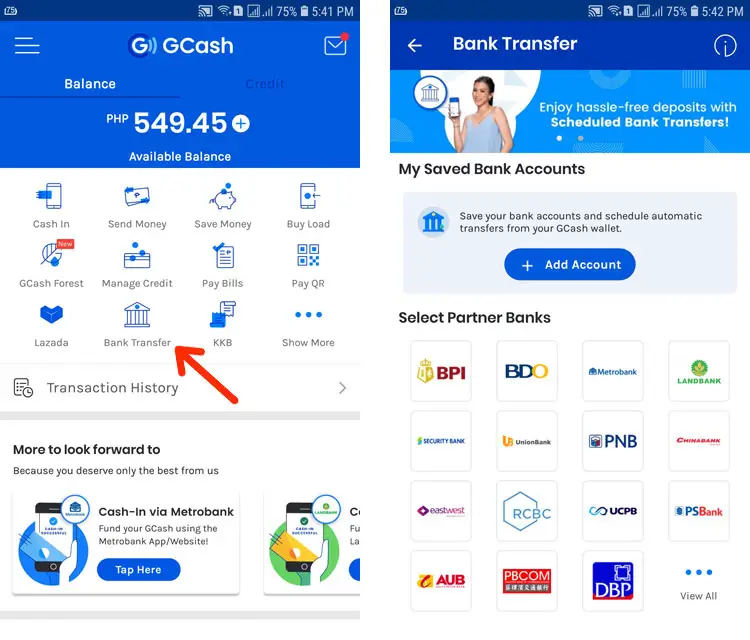 In this example, we'll be withdrawing money from GCash to BDO.
After choosing BDO from the list of banks, enter the amount, the account name, account number and email address (optional). The maximum amount that you can transfer is ₱50,000. Tap "SEND MONEY" when you're done.
Review your transaction details and make sure that the account name and number are correct. Press "CONFIRM" to go ahead with the withdrawal request.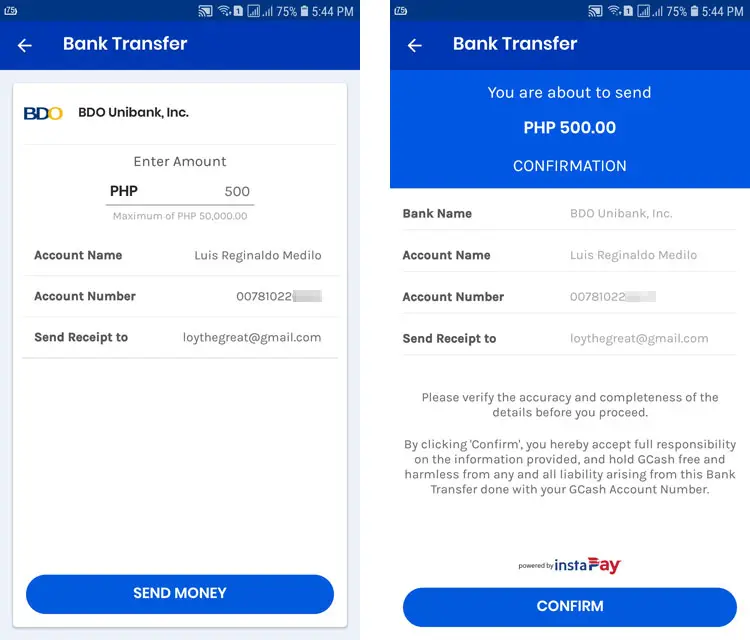 That's it. You have transferred money from GCash to your bank account. You will receive a text confirmation and an email receipt if you provided your email.
As mentioned before, GCash withdrawals to bank accounts are instant. If you haven't received the money within 24 hours, you may contact the receiving bank and provide the ticket number to verify the status of your transaction.
Now that the money is in your bank account, you can withdraw it via an ATM or over-the-counter. Be sure to first check that the funds are successfully received by logging in to your online banking account (if you have one). This is to avoid any inconveniences in the rare instance that the GCash to bank transfer was delayed or unsuccessful.
GCash Cash Out to Over-the-Counter Partners
If you don't have a bank account where you can send your GCash funds, you can opt to cash out at the following over-the-counter partners:
Villarica Pawnshop
Tambunting Pawnshop
Palawan Pawnshop
Bayad Center
ExpressPay
Puregold
SM
Robinsons
On the GCash app, you can see which over-the-counter remittance centers and stores accept GCash cash outs by tapping "Show More" and then "Cash Out."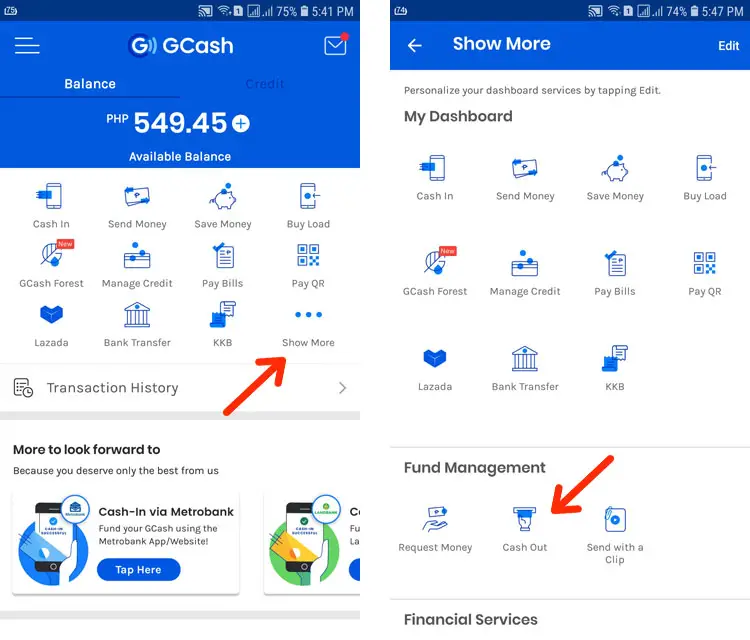 You can view the cash out instructions and a map of nearby branches by selecting a cash out partner (for example: Palawan Pawnshop). You may click the "View nearby partners" banner to see the nearest cash out locations in your place.
Here's how to cash out over-the-counter:
Go to your chosen over-the-counter partner outlet (such as Palawan Pawnshop).
Inform the cashier that you would like to cash out from your GCash.
Fill up the GCash Service Form and include your GCash mobile number.
Give the form and your valid ID to the cashier.
Wait for the text confirmation of your cash out and reply with your 4-digit MPIN.
Claim the money from the cashier. Count your money before leaving.
Since this cash out transaction involves replying to an SMS confirmation with your GCash MPIN, you can't really use it to send money to your friends or loved ones back home. Only the GCash account holder can cash out this way.
GCash Cash Out Using the GCash MasterCard
Another way to withdraw money from GCash is by using a GCash MasterCard, a prepaid debit card that you can use to pay for both online and offline purchases. The GCash MasterCard can be ordered online or at partner convenience stores. Read this article to learn how to get your own GCash MasterCard.
In order to withdraw money using your GCash MasterCard, you will have to link it first to your GCash account. Once linked, the card will draw the money from your GCash wallet, whether it is to pay for purchases or to withdraw money at an ATM.
You can withdraw money using your GCash MasterCard at any BancNet ATM anywhere in the country. It can also be used at MasterCard ATMs abroad. The local ATM withdrawal fee is ₱20 per transaction and the overseas withdrawal fee is ₱150 per transaction.
Need Help?
You've just learned how to cash out your GCash funds to your bank account, remittance center or ATM. GCash is reliable and secure so you're assured that your money arrives safely at your intended receiver. In case you entered the wrong payment details or if the money didn't arrive at your receiver, you can ask for assistance by submitting a support ticket or calling 2882. Provide the reference number or ticket number of the transaction to expedite their investigation.