Regularly reloading your Cignal TV account is important if you want to continuously enjoy the best satellite TV service in the country. Imagine if your Cignal prepaid subscription expired just before an important event such as the Miss Universe pageant or the NBA Finals. You don't want that to happen, do you? Fortunately, you can easily load your Cignal account using GCash to avoid such an inconvenience.
Cignal TV is the Philippines' premier direct-to-home satellite TV provider with up to 134 free-to-air, SD and HD channels such as HBO, CNN, Fox, National Geographic, Disney, History Channel, Discovery, MTV and many more. It's an affordable alternative for households and commercial establishments that cannot be serviced by cable TV providers. Cignal TV is available as a prepaid subscription where you can purchase Cignal reload cards and e-PINs to reload your account and enjoy access to premium channels depending on your plan.
If you don't have the time to buy reload cards from an authorized Cignal dealer, you can purchase e-PINs online from GCash instead. An electronic PIN or e-PIN is a set of numbers that you will use to reload your account by entering it on the Cignal web loading tool or by texting the code. Buying e-PINs is preferable to purchasing reload cards because you don't have to go outside the house; everything will be done online using your mobile phone. Redemption of e-PINs is almost instant and your Cignal subscription will resume immediately after reloading.
In this short tutorial, we'll teach you how to load your Cignal TV account using GCash so that you can enjoy the best in home entertainment without any interruptions. If you don't have a GCash account yet, make sure to read this article to learn how to open a free account and use your mobile wallet to send and receive money, pay bills, shop online and many more.
How to Load Cignal Prepaid via the GCash App
Buying Cignal load on the GCash app is just like purchasing prepaid load for your Smart or Globe mobile number. After successful purchase, you will receive the e-PIN via text message.
Follow these steps to load your Cignal account using GCash:
Step 1: Open the GCash app and login using your MPIN. Click "Buy Load" on the home screen.
Step 2: Enter or select the mobile number where the Cignal e-PIN will be sent. Tap "NEXT" to proceed.
Step 3: Select the "PAYTV" tab on the load menu. You will have to swipe to the left to do this.
Step 4: Choose the Cignal prepaid load denomination that you want to purchase (e.g. Cignal Prepaid Load 300). Tap "NEXT" to continue.
Step 5: Review your payment details and tap the "Pay" button to confirm your purchase.
Step 6: If your purchase is successful, you will receive a text message containing the PIN which you will use to reload your Cignal prepaid account. Do not lose or delete this text message.
The next step is to redeem your purchased Cignal prepaid load and reload your Cignal account using the PIN that was sent to you.
How to Load Cignal Prepaid Using PIN
There are two ways to reload your Cignal TV prepaid account using your purchased e-PIN: through the web loading tool and via SMS.
How to Reload Using the Web Loading Tool
The Cignal web loading tool is a self-service online loading platform that will credit your purchased load to your Cignal TV prepaid account.
To reload your Cignal account, open the web loading tool on your browser and enter the following information:
Prepaid Account Number – Enter your Cignal account number.
Pin – Provide the PIN that was sent to you via text message after you've purchased the Cignal load on GCash.
Captcha Code – Type the text from the image. If not legible, click "Generate New Image" to get a new image.
Click "SUBMIT" when you're done.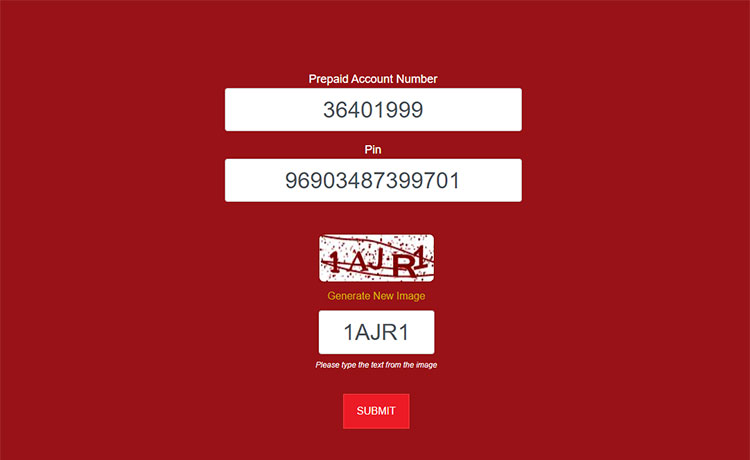 If the Cignal account number and PIN are correct and valid, a popup dialog will inform you that your account will be loaded shortly.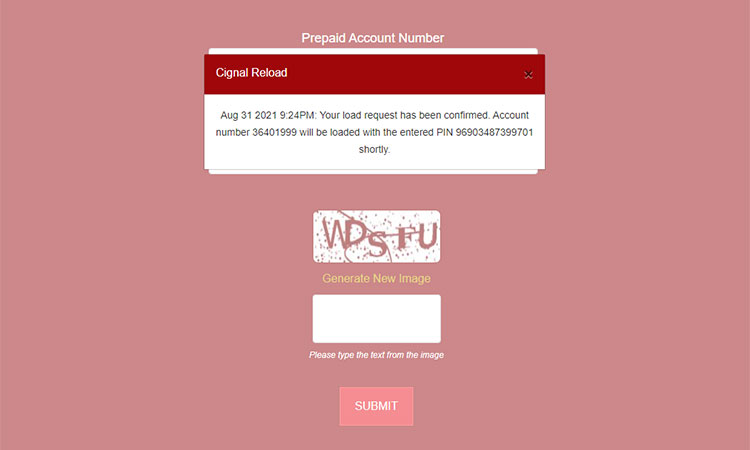 How to Reload via SMS (Smart and Sun Subscribers Only)
If you can't use the web loading tool, you can simply text CIGNAL <PIN> to 5353. For example: CIGNAL 96903487399701. You will be charged ₱1 per transaction.
If this is your first time to reload your account, you must first text CIGNAL REG <Cignal Account Number> to 5353 before texting the PIN. For example: CIGNAL REG 36401999. This is a one-time procedure and you don't have to repeat it for succeeding reloads.
Frequently Asked Questions
Where can I find my Cignal account number?
To know your Cignal account number, text CIGNAL SC <12-digit CCA or smart card number> to 5353. For example: CIGNAL SC 000001212422. You will receive a text message containing your account number.
The CCA number can be found at the bottom of the set-top box while the smart card number is located at the back of the smart card (you must gently pull out the smart card from the Cignal box).
What should I do if reloading is unsuccessful?
If your load transaction failed (e.g. you didn't receive the PIN), you may call the CignalCare hotline (02) 88-888-222 (Metro Manila) or #88-222 (provincial toll-free). The hotline is available from Monday to Sunday, 6:00 AM to 12:00 AM. You can also email [email protected].
Can I buy Cignal load using an unverified GCash account?
Yes, you can buy Cignal load even if you have a basic (unverified) GCash account. Learn more about GCash verification and limits in this article.
How can I check the expiration of my load?
To know when your Cignal load will expire, text CIGNAL EXP to 5353. For example: CIGNAL EXP 36401999. Service is available to Smart and Sun subscribers only and standard SMS rates will apply.
Final Thoughts
With GCash, there's no need to panic when you've realized that your Cignal prepaid subscription has expired. Just whip out your smartphone, open the GCash app, and promptly buy the Cignal load offer that you want. You can then continue binge watching your favorite TV shows and movies in the relative peace, quiet and comfort of your home.