Do you have a Landbank account but you've forgotten your bank account number? Don't fret because you can recover your account number with a minimum amount of fuss. You don't have to go to the bank to inquire about your account number because you can do it online and in the comfort of your home.
The Landbank account number is a unique 10-digit number that is assigned to a checking or savings account with the Land Bank of the Philippines. Upon opening a savings account, you will be given your account number which you will use for online, ATM-based and over-the-counter transactions such as deposits, fund transfers and withdrawals.
So before you send or receive money with your bank account, make sure that you have the correct account number as it's required for over-the-counter deposits and online fund transfers. Providing the wrong or incorrect bank account number will result in failed transactions. There have been cases where the transferred funds were accidentally credited to the wrong account due to an incorrect bank account number.
Fortunately, your bank account number can be easily located by simply looking at your Landbank ATM card. This only applies to ATM savings accounts, however. Some Landbank cards, such as cash cards and prepaid cards, only come with the card number but not the account number. But even if your Landbank account number is not printed on the card, you can still retrieve your account number through various ways such as logging in to Landbank iAccess.
Landbank Account Number vs. Landbank ATM Card Number
The Landbank account number is not to be confused with the Landbank ATM card number. There are several key differences between the two:
The Landbank account number consists of 10 digits while the ATM card number has 16 digits.
The bank account number is assigned to a bank account while the ATM card number is assigned to a particular credit or debit card.
The bank account number is permanent and cannot be changed. The ATM card number is temporary and lasts for up to 10 years.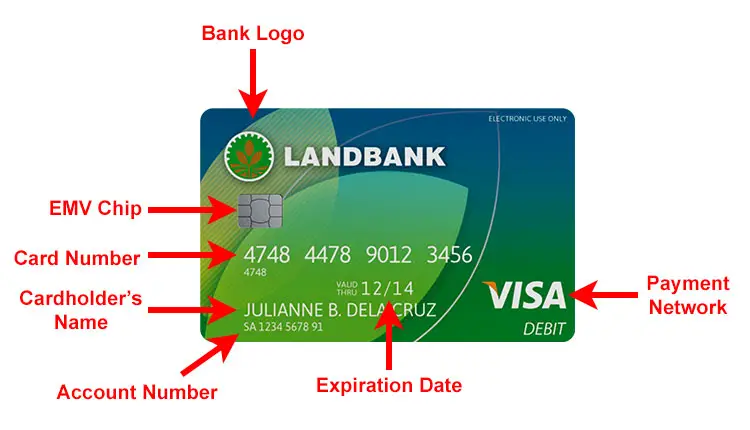 The 16-digit Landbank ATM card number consists of the following parts:
The first digit denotes the payment network of the card. For example, Visa cards start with "4" and MasterCard cards start with "5."
The first 6 digits of the card number is the Bank Identification Number which indicates the bank that issued the card.
The next 9 digits are unique identifiers that are linked to the cardholder's bank account.
The last digit is the check digit that indicates the validity of the card.
How to Find Your Landbank Account Number
Depending on the type of bank account and ATM card you have, knowing your account number is as simple as checking your card. However, if your card doesn't have your account number, then you may have to login to your online banking account or contact your bank.
Check Your Landbank ATM Card or Debit Card
Do you have a Landbank debit card or ATM card? The bank account number might be located at the bottom-left portion of the card, just below the cardholder's name. For ATM savings accounts, the bank account number starts with the initials "SA" (e.g. SA 1234 5678 91).
Take note that not all Landbank cards have their bank account numbers printed on them. Examples are cash cards, credit cards, e-Cards, and prepaid cards.
Check Your Landbank Passbook
If your savings account comes with a passbook, then you can check the passbook for your account number. The bank account number is usually printed on the first leaflet alongside your name and address.
Login to Landbank iAccess Online Banking
Another way to know your bank account number is to login to Landbank iAccess on the online banking website or the mobile banking app. You must already have enrolled your account to Landbank iAccess to do this.
To view your account number on the iAccess website, login to your account and click "Account Summary" on the sidebar menu. Your account number is listed on the first column under "Account Number (Account Type)."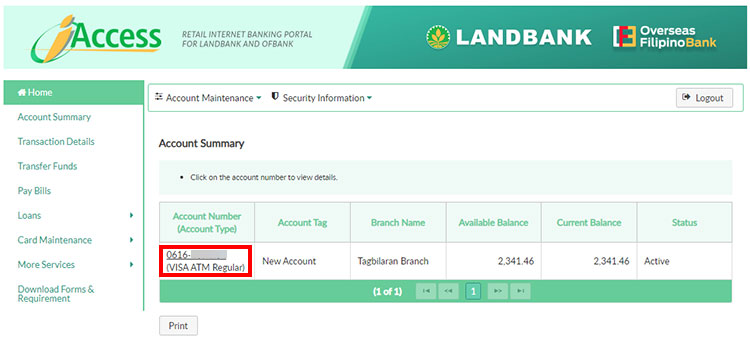 For the Landbank mobile app, all you have to do is to open the app to view your account number. You may download the app from Google Play or the App Store if you haven't done so already.
Call Landbank Customer Service
If none of the aforementioned methods work, you may call 24/7 customer service at any of the following numbers. Be sure to have a pen and paper ready in which to write down your account number.
Customer Care Hotline: (+632) 8405-7000
PLDT Toll-Free Hotline: 1-800-10-405-7000
Landbank customer service hotlines are available 24 hours a day, 7 days a week including weekends and holidays. Airtime and long-distance charges may apply when calling from a mobile phone (₱8 per minute) or from a non-PLDT landline phone. If calling from a mobile phone (e.g. Smart, Globe, DITO), just dial 2-8405-7000.
Email Landbank
You can also request a copy of your bank account number via email. To do this, just compose an email requesting for your account number and send it to [email protected].
Here's a sample email that you can send to Landbank (be sure to replace the personal information with your own):
Dear Landbank,
Good day! I would like to request for my savings account number because I have unfortunately lost my copy of it. Kindly refer to my account information as listed below:
Name: Juan dela Cruz
Address: Maria Clara Street, Tondo, Manila
Birthday: January 1, 2000
Mobile Number: 09123456789
I have attached a photo of my valid ID for further verification. Thank you very much and more power!
Respectfully,
Juan dela Cruz
Attach a photo or scanned copy of any valid ID (e.g. passport, UMID, postal ID) and send the email to [email protected] with the subject line "Account number inquiry."
Landbank will usually respond within 1-2 days, except during weekends and holidays, in which case they will reply on the next banking day.
Visit the Nearest Landbank Branch
As a last resort, you may visit the nearest Landbank branch to inquire about your account number. You may use this branch locator to find the Landbank branches in your locality. Bring a valid ID for identification purposes.
Wrapping Up
Without your Landbank account number, you will not be able to accept deposits and fund transfers, so take good care of it. Thankfully, you can still find or recover your account number in case you've lost or forgotten it. Once you've retrieved your bank account number, be sure to keep it in a safe and secure place such as a private notebook, so you don't have to go through all the time and effort to recover it.