Remember when Pinoy movies were all the rage in cinemas? Those were the times when action stars reigned supreme and slapstick comedy was every family's idea of fun and entertainment. These days, Tagalog flicks are no longer the flavor of the month, but it doesn't mean that you can no longer enjoy them. Thank to the Internet, it's never been easier to watch free Pinoy movies online.
Before the Internet became ubiquitous, you need to go to the local theater or cinema to watch your favorite celluloid heroes. If you want to stay at home, you borrow or rent VHS tapes to play on your cassette player. Downloading Hollywood and Pinoy movies from the Internet was a slow and painful process, so most people buy or borrow CDs and DVDs from video rental stores – and sometimes from bootleg street vendors.
Fortunately, the Internet has improved to a point where live and on-demand video streaming is not only fast but also cheap. Why spend time and effort going to the cinema when you can watch Pinoy movies online, right? Of course, going to the movies with your friends is definitely more fun than sitting alone on your couch while eating popcorn, but the ease and convenience of online video streaming are unmatched.
If you're one of countless Filipinos who are still enamored with Pinoy movies, you're in luck because there are several websites and apps that allow you to watch local films for free. You don't need to hunt for download links on Facebook because you can watch Pinoy movies on demand using your computer or smartphone. Best of all, you don't have to risk infecting your device with malware and viruses by visiting shady and suspicious websites (we'll only feature legal and legit Pinoy movie sites and apps).
So strap yourself for the ride and let's check out the websites and apps that let you watch Pinoy movies without spending a single centavo.
Free Pinoy Movie Sites
Aside from Netflix (which isn't free, by the way), there are a few Pinoy movie sites that will not pepper you with annoying popup ads (and trigger your antivirus program). These video streaming websites are legally safe because they have the proper licenses to broadcast and distribute Tagalog movies on the Internet.
iWantTFC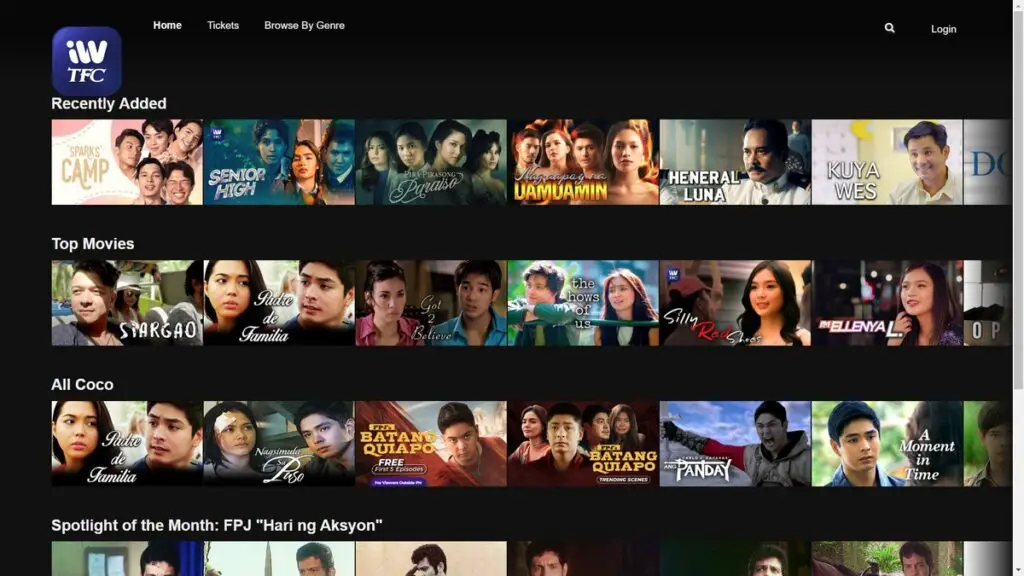 iWantTFC is an on-demand streaming platform owned and operated by ABS-CBN Corporation. With more than 1,000 titles available including horror, drama, comedy, and romance, iWantTFC has everything you need for an afternoon movie marathon.
Aside from full-length Pinoy movies, iWantTFC also features ABS-CBN's best TV shows such as Showtime, Maalaala Mo Kaya (MMK), and TV Patrol. So if you're a Kapamilya at heart, you should definitely join iWantTFC to get your regular fix of Filipino movies and TV shows.
To watch Pinoy movies on iWantTFC, just sign up for a free account and choose the genre and movie that you want. It's free to watch Tagalog movies on iWantTFC, but you can subscribe to the premium plan for ₱119/month or ₱1,070/year. The paid subscription lets you watch movies without ads on up to two (2) devices at a time (the free plan has ads and you can only watch on one device at a time).
Tubi TV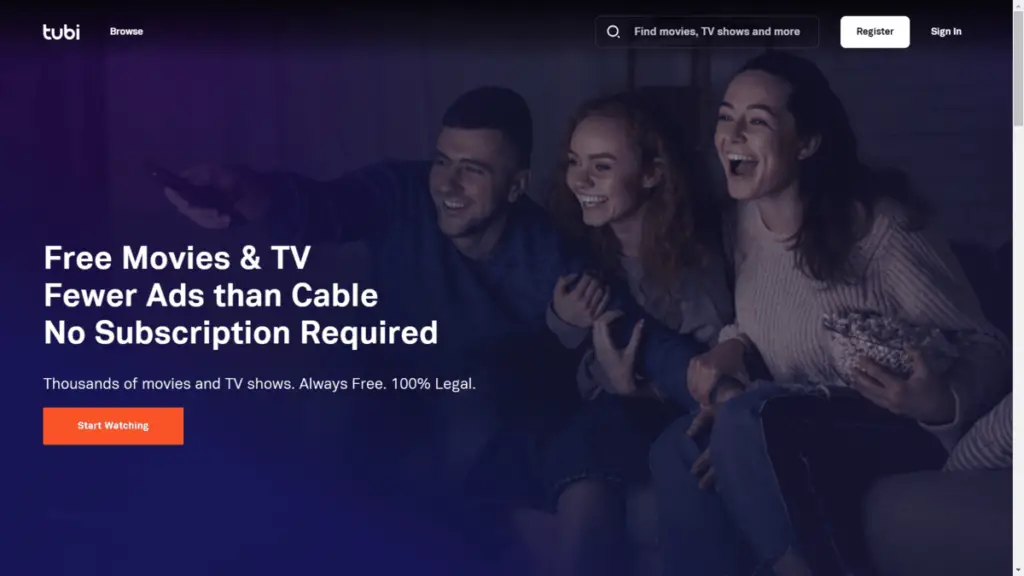 Tubi TV is an American video-on-demand content platform owned and operated by Fox Corporation. Although the site is American, it has a small but growing library of Pinoy movies such as Heneral Luna and Bonifacio: Ang Unang Pangulo. Check out this page for list of Filipino movies available on Tubi.
As an ad-supported website, Tubi doesn't require a paid subscription to watch their movies. Tubi is also available as a mobile app on Android and iOS.
JuanFlix
A project of the Film Development Council of the Philippines (FDCP), JuanFlix is an online archive of contemporary Tagalog movies including short films and award-winning classics such as the award-winning Himala, Banaue, and Temptation Island.
JuanFlix is definitely your next destination if you're a fan of independent or indie films. If you're looking for classic Filipino movies, JuanFlix is the answer, too. But be aware that the free movie collection is limited, so you may have to shell out ₱99 a month to watch the best films available on the platform.
Filmdoo
Still searching for Pinoy movies? Then try your luck with the pay-per-view streaming platform Filmdoo. It's a massive library of films from around the world, including the Philippines.
Unlike other streaming websites, Filmdoo doesn't require a monthly fee; you can "rent" a movie for only $2.99 (around ₱170) each. It's a bit more expensive, all things considered, but it's probably a better option if you only need to watch a single movie that you can't find elsewhere.
Filmdoo does have free content, though, but the collection is quite limited. As of this writing, there are more than 1,300 movies that you can watch for free (even K-drama), but only six are from the Philippines. Bummer!
Free Pinoy Movies on YouTube
Do you know that there are tons of free Pinoy movies that you can watch on YouTube? You might think that you can only watch trailers and short clips of films on YouTube, but surprisingly, there are hundreds of full-length Tagalog movies that you can watch for free.
Many of these movies are available on YouTube channels of well-known film producers such as Star Cinema and Regal Films, while others were uploaded by cable TV channels and independent film studios. Definitely check them out to see if they suit your fancy.
Cinema One
You probably know Cinema One as a cable TV channel that shows both foreign and local films. However, they also have a YouTube channel where you can watch full-length Pinoy movies featuring local stars such as Fernando Poe Jr., Nora Aunor, Dolphy, Robin Padilla, and many more. It's also the home of Cinema One Originals which is a collection of award-winning indie films.
ABS-CBN Star Cinema
Probably the biggest collection of Tagalog movies on YouTube, the ABS-CBN Star Cinema channel has everything you need for a whole day of fun and entertainment. As of last count, there are a total of 397 full-length Filipino films in the channel, not including Tagalog-dubbed Hollywood movies.
Regal Entertainment
The oldest surviving movie studio in the country, Regal Films (now Regal Entertainment) is forever etched in the minds of Filipino moviegoers. The legendary movie outfit has reinvented itself as a modern media company with its own YouTube channel, which showcases Pinoy movies from the 1970s until the present.
Viva Films
Viva Films is another iconic film studio that has withstood the test of time. Hundreds of full-length Pinoy movies are available on their YouTube channel, including popular classics by Sharon Cuneta, Eddie Garcia, Vilma Santos, Christopher De Leon, and many more. The channel also features trailers of upcoming films and official music videos from popular singers like Sarah Geronimo.
TBA Studios
TBA Studios, a leading commercial film outfit in the Philippines, has a small library of popular Tagalog movies including Heneral Luna and Goyo: Ang Batang Heneral. The channel mostly features official trailers of upcoming movies, but it's still worth subscribing to because they upload full-length films from time to time.
Enjoy Watching!
There are other options to watch free Tagalog movies online, such as Pinoy Movies Hub, but we will not feature them because they are in a gray area, legally speaking. Many of these sites are not licensed nor given permission by the copyright owners of movies in their collection, so to be on the safe side, we will not mention them.
Nevertheless, it's not difficult to find free Pinoy movies online as long as you know where to look. If you can't find them on Google, you can also search on YouTube where full-length Filipino films are plentiful.
We hope that you continue to support and patronize the local movie industry. Enjoy watching!