Are you a big fan of Blackpink, BTS or TWICE? Scoring concert tickets of your favorite K-pop artists just got easier with SM Tickets! All you need is a computer or smartphone with Internet access, and you're on your way to meet your idols in person.
So why use SM Tickets when you can purchase concert tickets personally? Firstly, you'll avoid the long queues and hours of waiting at the ticket outlet. You don't have to leave the house just to book your concert tickets.
Secondly, you'll be able to choose your seats particularly for the Producer's Seats and VIP section. You can choose seats that will give you a favorable view of your idols during the concert. And if you book early, you can even take front row seats so that you can watch the concert without annoying obstacles and distractions.
And lastly, when you buy concerts tickets from SM Tickets, you'll have the opportunity to receive additional perks and rewards that are not available to other concertgoers. These perks are usually provided by the sponsors of the event. In fact, I got a free massage voucher the last time I bought a ticket from SM Tickets.
So the next time you have the desire to watch Coldplay (and someday, Taylor Swift 🙂), just go to the SM Tickets website and grab your concert tickets. It's easy, convenient and hassle-free!
How to Buy Concert Tickets on the SM Tickets Website
Here are a few things to keep in mind before buying concert tickets from SM Tickets:
Use your real name when registering to an SM Tickets account.
Make sure that the credit card to be used has the same name as the name in your SM Tickets account.
A valid government ID must be presented for ticket redemption.
Only the cardholder who purchased the ticket online can redeem it.
Ticket redemption through a representative is not allowed.
With that out of the way, let's go through the steps in purchasing concert tickets on the SM Tickets website.
Step 1: Register or login to SM Tickets
Login to your SM Tickets account or register for a free account if you don't have one yet.
Once you're signed in to your SM Tickets account, proceed to the concert's event page to learn more about the event and to view the seat plan. A list of upcoming events can be found on this page.
Step 2: Choose your seat location and section
In the event page, you'll see the seats and tickets available for sale, along with their respective locations and prices.
To select a seat, click the "Select Section" dropdown box and then choose your seat section. Next, click the "SELECT SEATS" button on the right.
Solve the captcha puzzle to proceed (this helps prevent automated registrations).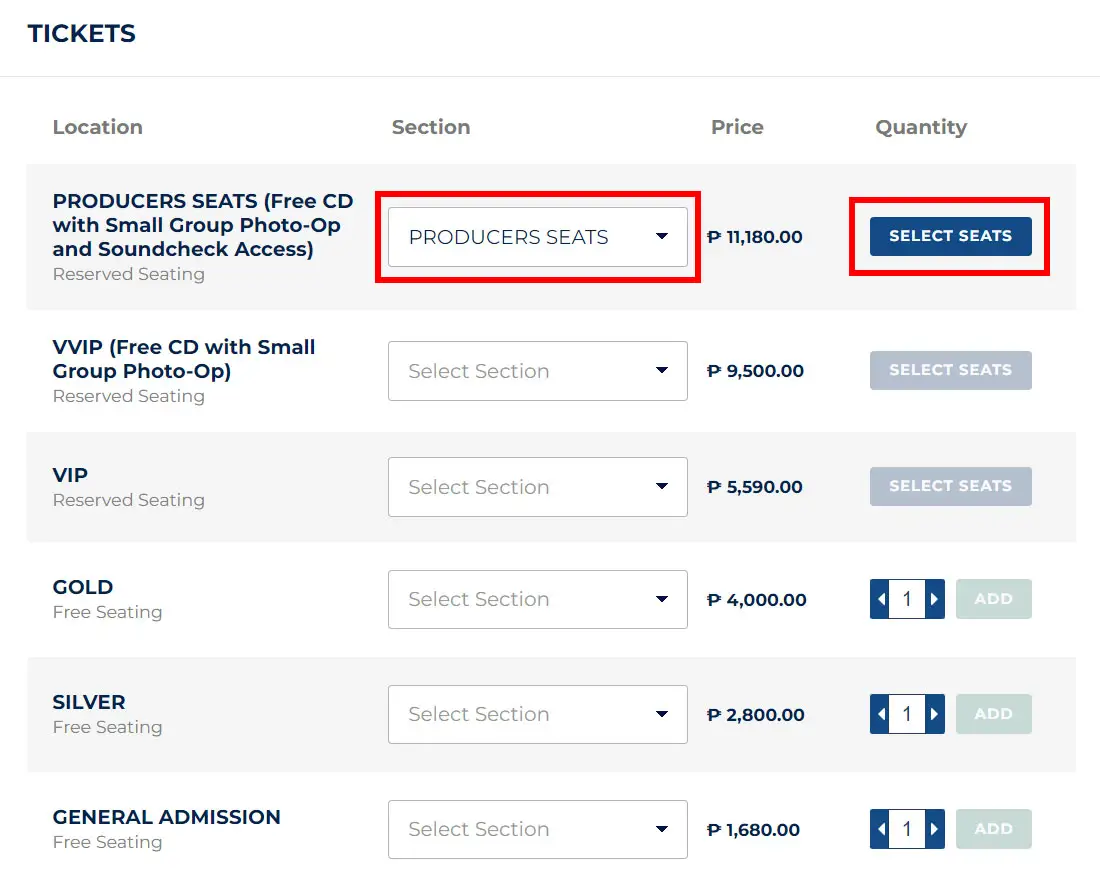 Step 3: Select your seats
You're now presented with a virtual seat plan wherein you can select your seats during the concert. Seats that are already taken are shaded gray while available seats are in white.
You can hover over an available seat to see its row and seat number.
Important: If there's a horizontal scrollbar at the bottom of the popup screen, you can scroll or swipe right to view the entire seat plan. You might miss some available seats if you don't do it.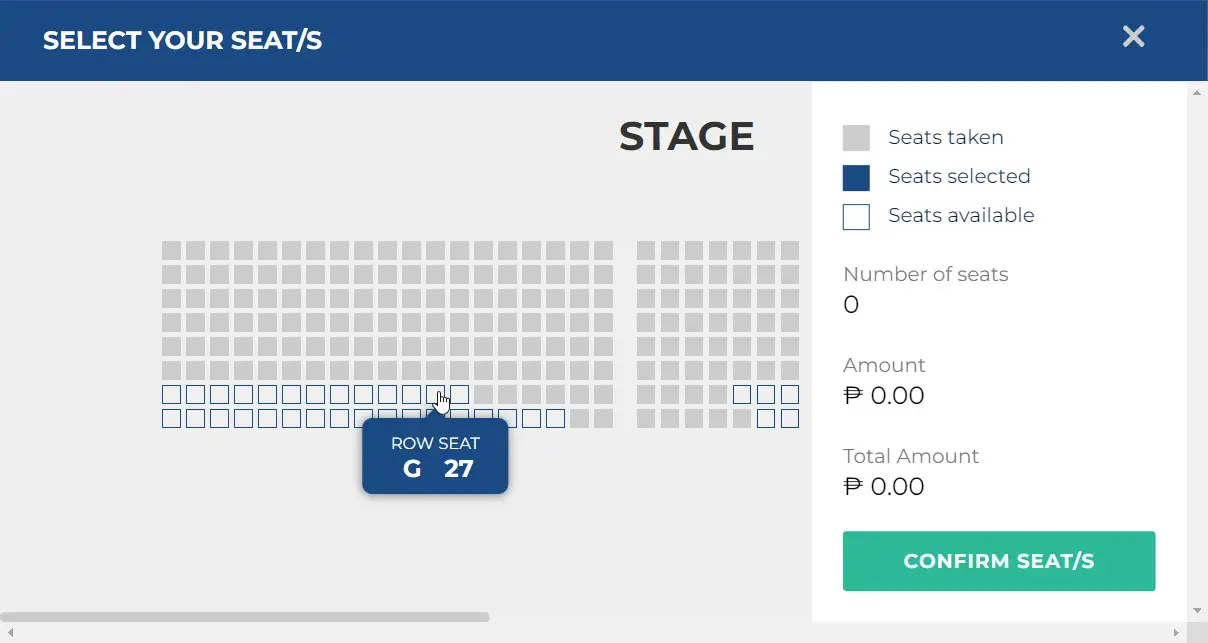 Click an available seat slot to select it. You may select multiple seats.
Once you've selected a seat, it will turn blue. Feel free to unselect a seat and choose another one. The total price amount will be updated accordingly.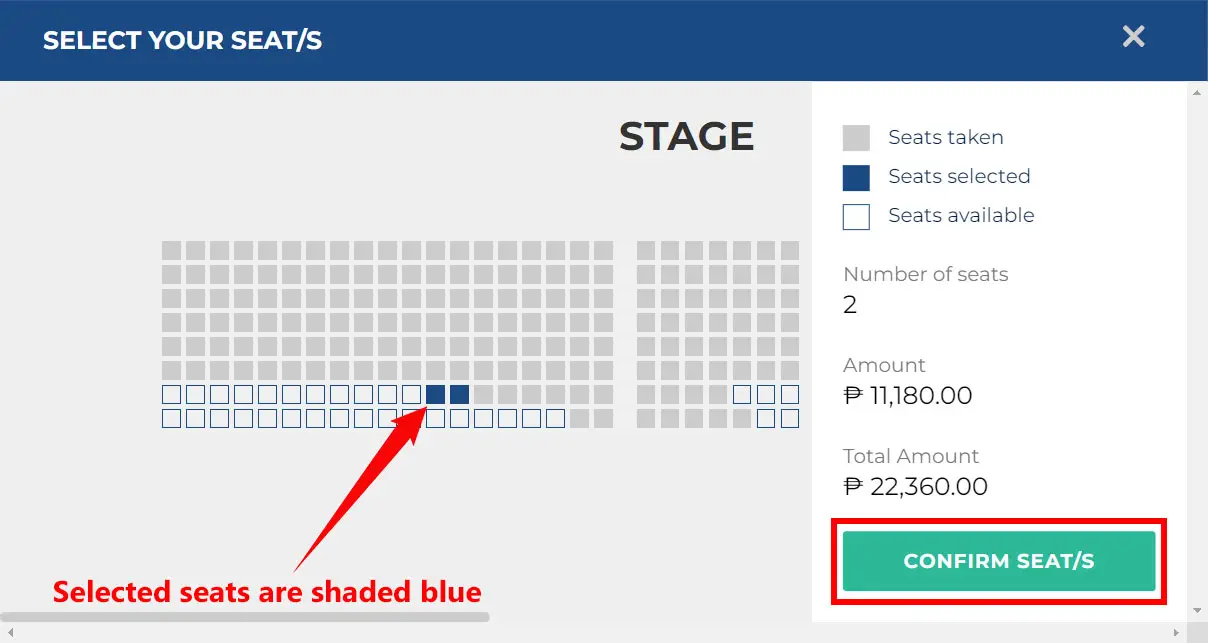 Once you're satisfied with your chosen seats, click the "CONFIRM SEATS" button.
Step 4: Choose the payment method
It's time to pay for your concert tickets. These are the payment methods on the SM Tickets website as of this writing:
Credit/debit card (Visa, MasterCard, American Express, Discover, JCB, and Diners Club)
Maya (formerly PayMaya)
GrabPay
Note: If you use a credit or debit card, the name on the card must match the name in your SM Tickets account.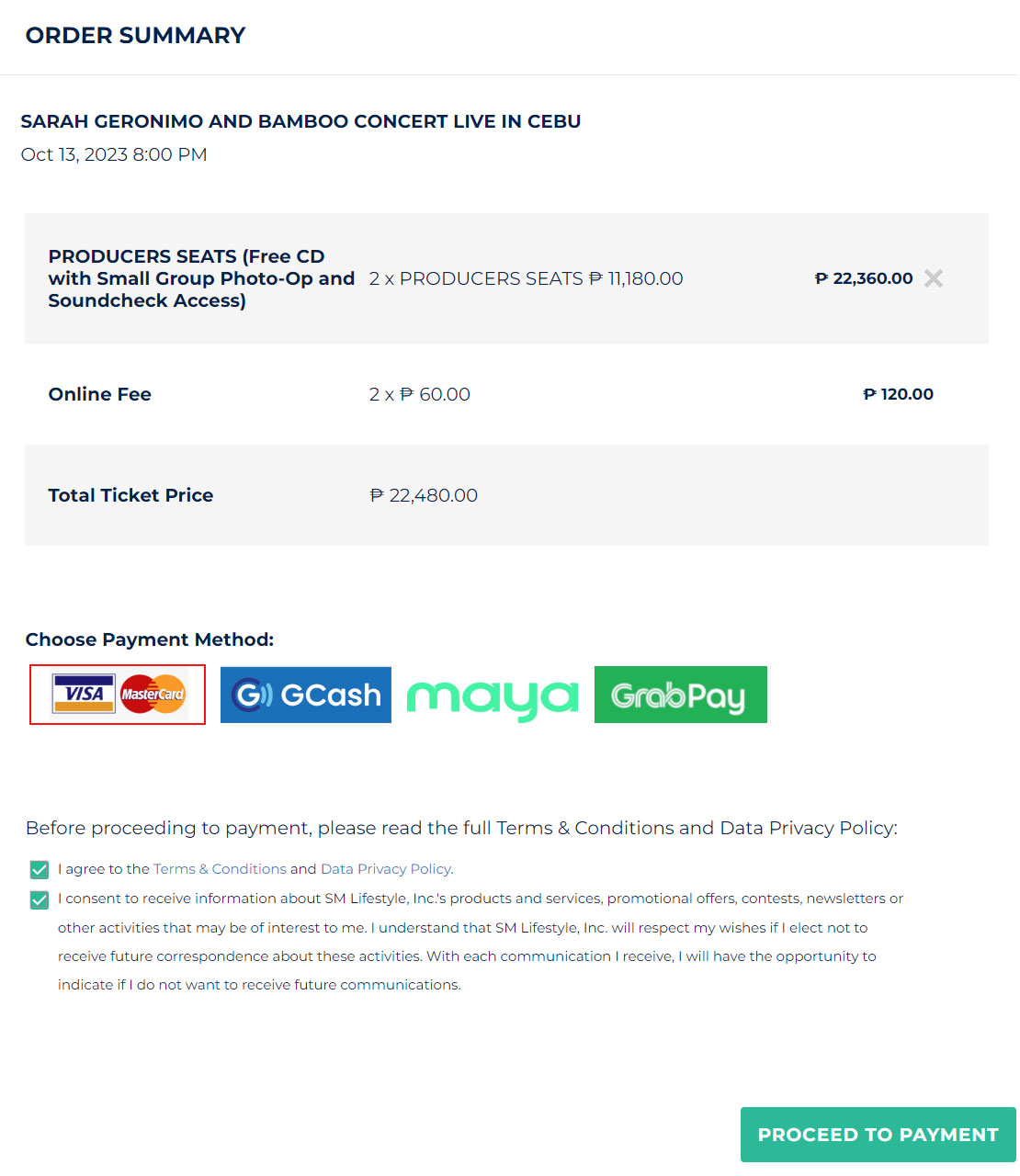 Select your preferred payment method, and then tick the checkboxes that you agree to the Terms and Conditions and the Data Privacy Policy and that you consent to receive information about SM Lifestyle's offers.
Click "PROCEED TO PAYMENT" to continue to the online payment page.
Step 5: Complete your payment
If you selected credit/debit card as the mode of payment, provide your card details including card number, expiry date and CVV. You're given up to 15 minutes to complete the transaction.
Click "Submit" to complete the payment.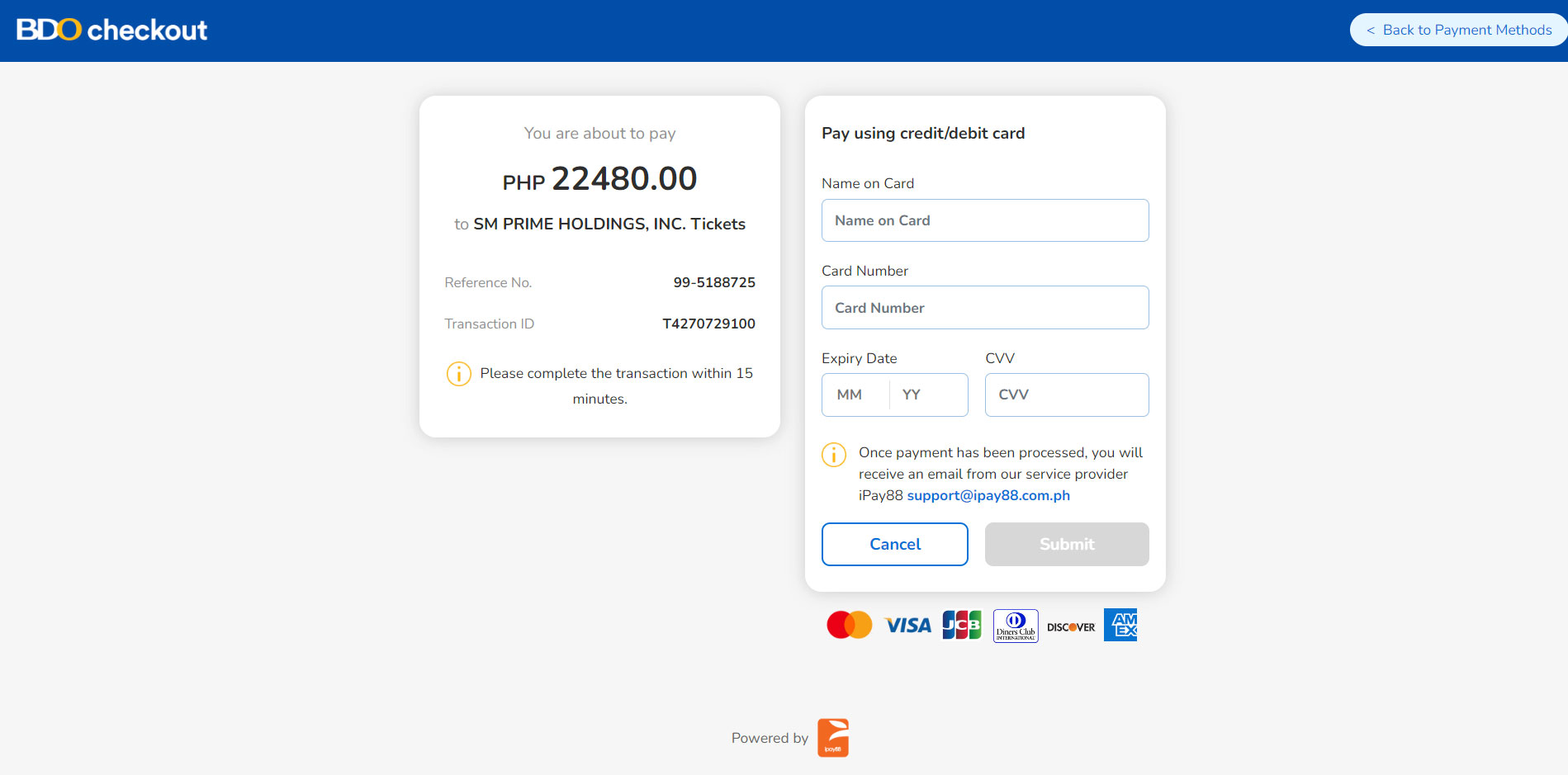 If you selected an e-wallet such as GCash or Maya, you'll need to login to your mobile wallet account and complete your payment there. Make sure that you have enough balance to cover the total payment amount.
Step 6: Ticket was successfully purchased
Congratulations! You have successfully booked your concert tickets on SM Tickets online. You will receive a confirmation email along with the receipt.
Take note that the voucher is not the actual ticket to the event. You will have to claim your tickets at the nearest SM Tickets outlet.
Click "GO TO MY ACCOUNT" to view and download your ticket claim voucher.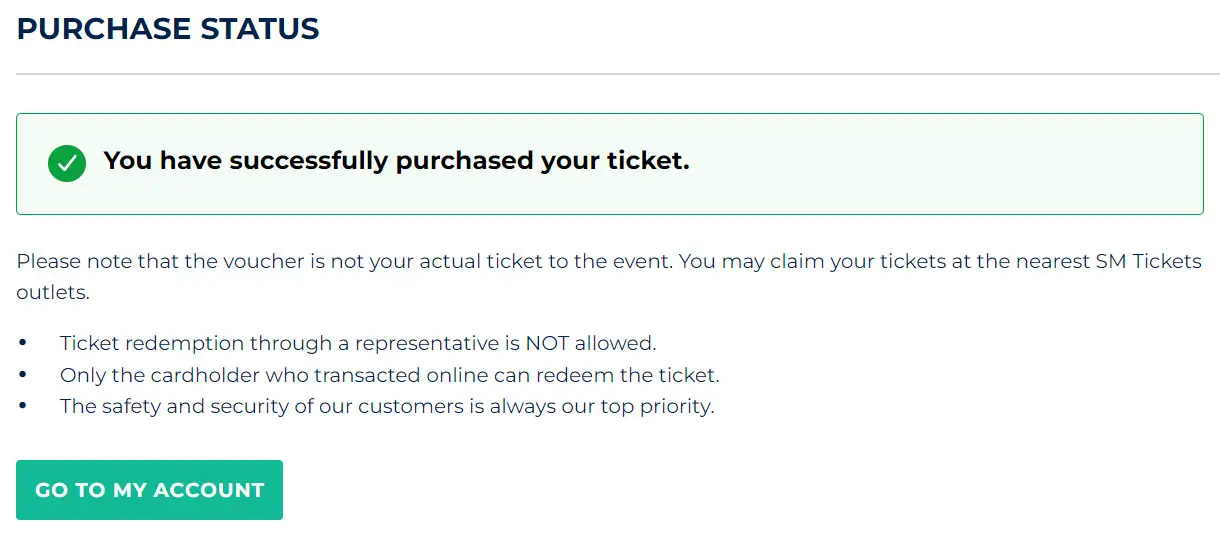 Step 7: Download and print your ticket voucher
In your SM Tickets account dashboard, click the "VIEW VOUCHER" button to open or download your claim ticket voucher.
Be sure to print your voucher. SM Tickets outlets will not accept a digital copy of your voucher – only printed ones (hard copy).
How to Claim Your SM Tickets
After printing your voucher, proceed to the nearest SM Tickets outlet to claim the actual concert tickets.
If you used your credit/debit card to purchase the ticket, you must personally redeem the ticket and you must present the physical card that was used for the purchase. Representatives are not allowed.
Bring the following to the SM Tickets outlet for the redemption of the actual ticket:
Printed voucher(s)
Valid government ID
Credit card that was used to pay for the ticket (if paid through credit card)
Note: The name on your valid ID and credit card must match the name in your SM Tickets online account.
SM Tickets outlets are located at SM Malls, SM Supermarket and SM Stores nationwide. Check out this page for the list of SM Tickets outlets.
Hope You Enjoy the Show!
SM Tickets is arguably the easiest and most convenient way to buy concert tickets online – at least in the Philippines. Why waste your precious time queueing at the ticket outlet when you can buy tickets online, right? With SM Tickets, not only you'll save time, you'll also save your effort and energy.
Keep an eye on your emails as SM Tickets may send some important announcements and instructions regarding the concert or event. If you have any questions and concerns, just fill out the feedback and inquiry form or email [email protected].
Enjoy the show!