As a proud basketball country, there's nothing more exhilarating than watching our national team, Gilas Pilipinas, win. Most of us show our support for Gilas by watching their games on TV. But for those without cable TV access, there's an alternative way to watch Gilas Pilipinas and that is through the Internet via free online live streams.
The Internet has really democratized the way we watch sports. I can still remember trying to watch the PBA on TV by twisting the antenna pole (that was long before the arrival of cable TV). Nowadays, you simply open your smartphone or computer, and you can watch basketball to your heart's content. You don't even have to pay a single centavo aside from your Internet bill.
For those who don't have the wherewithal to watch Gilas Pilipinas play on cable or free TV, there are free online livestreaming sites and apps where you can catch the action. Some Gilas live streams are legit and have the proper licenses to broadcast the games, while others are operating outside the boundaries of the law. To be on the safe side legally, you should only watch Gilas through legit online livestreaming sites.
In this guide, I'll share with you some safe and legit livestreaming websites and apps where you can watch Gilas Pilipinas for free (or almost free). I'll save you from the hassle of dealing with shady unknown sites with their annoying popup ads as well as the risk of getting your device infected by viruses.
Where to Watch Gilas Pilipinas Live Stream in the 2023 Asian Games
The Philippine men's national basketball team or Gilas Pilipinas are currently campaigning in the 2023 Asian Games in Hangzhou, China. Bannered by the naturalized PBA import Justin Brownlee, Gilas Pilipinas are hoping to finish with a medal in a packed field that includes hosts and defending champions China.
The official broadcasting partner of the 2023 Asian Games for the Philippines is One Sports. As such, games of the men's basketball competition are shown on platforms owned and operated by One Sports and its sister company Cignal TV.
Smart LiveStream App
Right now, the best way to watch Gilas live online is through the Smart LiveStream mobile app. You can download the app for free from Google Play (for Android users) or the App Store (for iOS users).
After installing the Smart LiveStream app, register for a free account by entering your Smart mobile number. A one-time password (OTP) will then be sent to your mobile number in order to validate your account.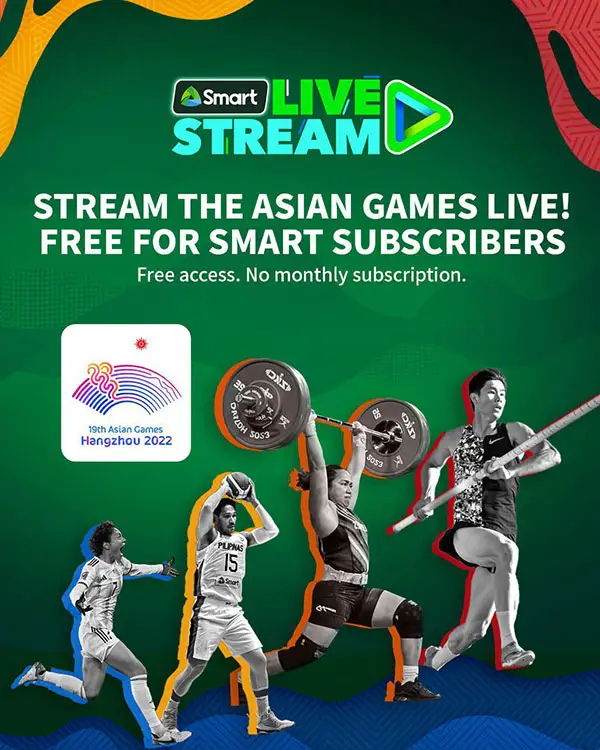 Live streaming on the Smart LiveStream app is free to all Smart subscribers. There are no one-time or monthly subscription fees to watch Gilas Pilipinas live on this app. However, there are ads shown before or in between streams, but they are not as annoying as those on YouTube (plus you can skip them).
To start watching Gilas Pilipinas live on the Smart LiveStream app, tap "Schedule" and look for the channel that broadcasts the 2023 Asian Games (it's either Channel 1 or Channel 2).
Pilipinas Live App
Can't watch on the Smart LiveStream app because you're not a Smart subscriber? Then download the Pilipinas Live mobile app because it features live online broadcasts of the Asian Games including the men's 5×5 basketball competition.
Unlike the Smart LiveStream app, however, Gilas livestreams on the Pilipinas Live app are not free. To access premium content, you'll need to pay the ₱149 subscription fee which is good for 30 days. I think the fee is worth it because not only you can watch the Gilas Pilipinas team play, you'll also get live and on-demand access to the PBA, UAAP, MPBL and other local sports leagues.
To subscribe to the premium plan, just tap "Menu" and select "Manage Plan." Press "Subscribe Now" and choose the "Premium" plan. You will be sent to Google Play where you can pay using your GCash account or credit/debit card.
Cignal Play App
If you're a Cignal TV subscriber, you can watch the action unfold on the Cignal Play mobile app. The app is free to download and use, but to watch the 2023 Asian Games, you'll need an active Cignal TV subscription. That's great for Cignal subscribers, but if you're not, just forget it.
Cignal Play not only streams sports events but also TV shows and movies. If you don't have the time to watch TV, you can watch your favorite TV shows on the Cignal Play app on your phone, but make sure that your subscription is still active. If not, you can easily reload your Cignal TV account using GCash.
What About YouTube?
Unfortunately, you can't watch Gilas Pilipinas live on YouTube. That is because YouTube has a very strict copyright policy and any unauthorized livestreams will get taken down quickly. Neither One Sports nor Cignal have made the 2023 Asian Games available for free viewing on YouTube (but you can watch recaps and highlight videos).
So your best bet is to download the Smart LiveStream app if you want to watch Gilas live for free. It only takes a few minutes to install the app and register your account. If you're not a Smart subscriber, you can borrow your friend's phone or ask him to register an account on your behalf.
Gilas Pilipinas Schedule
Here is the schedule for the Gilas Pilipinas Philippine men's national basketball team for the 2023 Hanzhou Asian Games:
October 6, 2023 (8:00 PM) – Gilas Pilipinas vs Jordan (Final)
Final Thoughts
You don't have to troop to the arena to support your favorite basketball team. Thanks to the Internet, it's now possible to watch and support Gilas Pilipinas in the comfort and convenience of your home. Best of all, you don't have to shell out money because there are free online livestreaming apps that will deliver entertainment to your living room.
Don't forget to share this article with your friends who might be interested to learn how to watch Gilas Pilipinas live for free.