Have you taken the PRC board exam and you want to check your exam scores? Now you can do so by using the Licensure Examination and Registration Information System (LERIS) website. You don't need to contact the PRC or visit their office to inquire about your board exam scores because you can easily do it through the Internet. You can use the PRC LERIS website for the verification of rating so that you will know your board exam rating or grades.
Online verification of rating is also useful if you've recently passed a PRC licensure examination and you can't wait for the snail mail containing your exam scores to arrive from the Professional Regulation Commission. Unless you're a board topnotcher, you will not immediately know your exam rating, so you can use PRC LERIS to check and verify your exam scores overall or by subject.
The LERIS website is not only useful for online verification of rating but also for the online application of licensure exams, registration of new passers, and renewal of PRC ID cards. You can check out this guide to PRC online registration and application for the step-by-step process for each transaction.
PRC Online Verification of Rating Step-by-Step Process
Follow these easy steps to conveniently check your PRC board exam scores or grades using the PRC LERIS website.
Step 1: Open the PRC LERIS Website
Go to the PRC LERIS website at https://online.prc.gov.ph. Dismiss all pop-ups and click the link under "VERIFICATION" as shown in the screenshot below.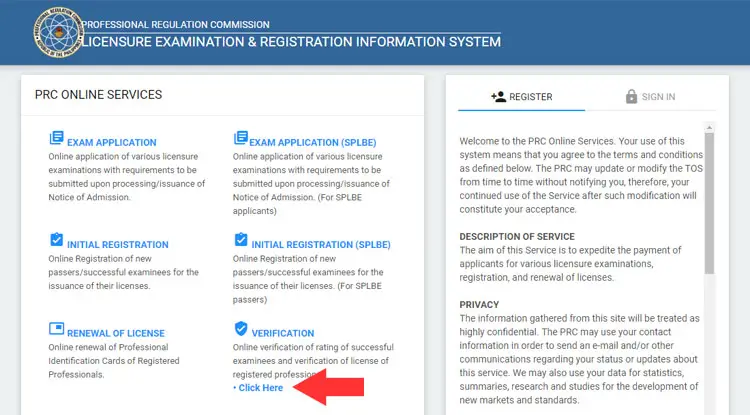 Alternatively, you can go straight to the online verification of rating page at https://online.prc.gov.ph/Verification.
Step 2: Choose Verification of Rating Tab
By default, the "VERIFICATION OF RATING" tab will always be shown first. Make sure that the tab is selected.
You can ignore the other tabs ("verification of license by name" and "verification of license by license number") as these will not show your board exam ratings. These are only meant to verify that a person is a registered professional.
Step 3: Enter Your Personal Information and Exam Details
Input all the required information in the online verification of rating form, as follows:
Examination Name – Simply choose your PRC licensure examination from the dropdown field. For easier selection, type the first few letters to narrow down your choices.
Examination Date – This is the month and year when the board exam took place. Select the examination date from the dropdown field only after choosing the examination name. Otherwise, the field would remain empty.
Application No. – Your application number can be found in your Notice of Admission (NOA).
First Name – This is pretty self-explanatory. Just type your first name and it will automatically be capitalized.
Last Name – Enter your family name or surname.
Birthdate – Enter your date of birth, either by using the online calendar popup or by typing it in MM/DD/YYYY format. For example: 07/30/1990 for July 30, 1990.
Make sure your information are correct and then click the green "VERIFY" button.
Step 4: View Your Board Exam Rating
You can now see your board exam rating or grades, including your overall grade average and the breakdown of scores by subject.
At the moment, there's no way to print or save your board exam scores directly, so just copy the information and paste it to a word processor for printing.
How to Get Your Certificate of Rating and Certificate of Passing Online
The Professional Regulation Commission has made it easier for licensed professionals to get their Certificate of Rating and Certificate of Passing through the PRC LERIS website. These certificates can be used as proof of your status as a licensed professional and the veracity of your exam rating for employment purposes.
To request for these certificates, just sign in to your PRC LERIS account, click "Select Transaction," and click the "Certifications" tab. (If you don't have a LERIS account, just follow these steps to open one.)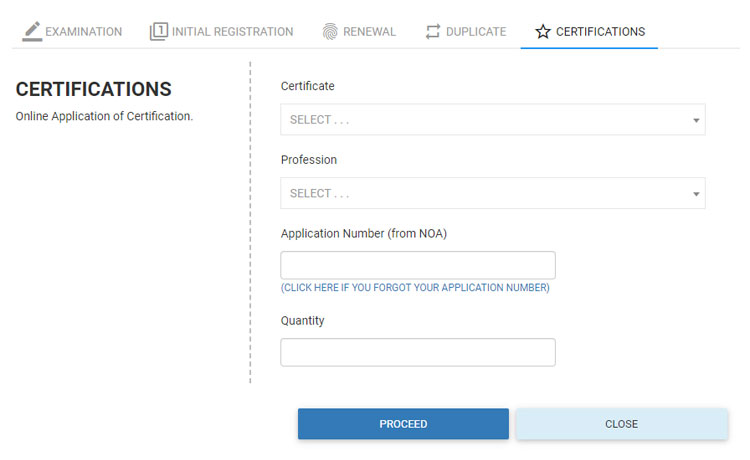 Choose either "Certificate of Rating" or "Certificate of Passing," and enter your profession. Enter your application number (which can be found in the Notice of Admission) as well as the quantity or number of certificates you need. If you don't know or forgot your application number, just click the link below that field to choose the date of exam instead. Click "Proceed" when you're done.
On the next step, choose your preferred PRC regional office. The system will provide you with a scheduled appointment date and time. You can also click "Reschedule" to choose a new appointment date and time. Click "Proceed" to continue to the next step.
View the transaction summary which includes the PRC branch, appointment date and the amount to be paid. Click "Submit." Choose your preferred payment option from the dropdown field and click "Submit." Enter your ATM account number and click your PIN on the PIN pad. Click "OK" to confirm the payment.
Click the "Print" button to print your payment confirmation and "OK" to continue. Go back to your profile page by clicking "Go Back to Profile."
Click "Existing Transactions" to view your payment details. Click "Print Document" to print your Order of Payment form and your claim slip.
Go to your selected PRC regional office on your scheduled appointment date and time, and submit your Order of Payment form and claim slip to claim your certificate.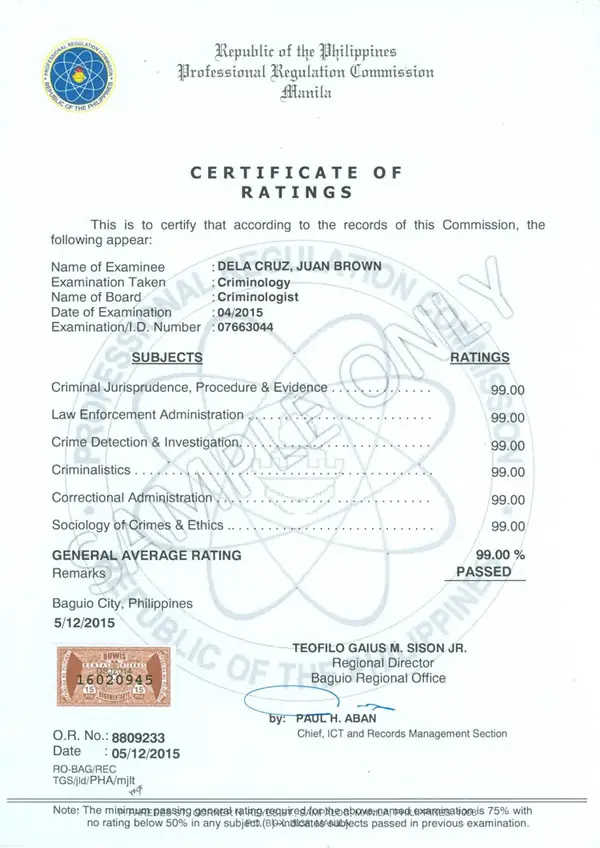 Parting Words
Thanks to the Internet and the PRC LERIS website, you can easily and quickly check your board exam scores without leaving your house. We hope that this short guide on PRC verification of rating will help you in your professional career.
If you have any issues or difficulties in verifying your exam scores, just contact the PRC rating division by emailing [email protected] or calling 8735-1534. For assistance with PRC LERIS, email [email protected].