Do you want to send a text message but don't have enough cellphone load? You can send a free text message to anyone in the Philippines using the Internet! There are several websites and mobile apps that allow you to send free SMS in case you ran out of prepaid load. All you need is an Internet connection and you're good to go.
As the "text capital of the world," the Philippines is the country with the highest volume of SMS or text messages sent everyday. Due to low Internet penetration and usage, most Filipino prefer to send text messages when communicating with friends, families and loved ones. Over the past few years, online messaging apps such as Facebook Messenger and Viber have gained popularity as more and more people connect to the Internet, but text messaging still remains the primary mode of long-distance communication.
A few enterprising Filipinos took advantage of the popularity of the Internet and text messaging, and established platforms that allow users to send free SMS to anyone with a mobile phone. Perhaps the most famous one was Chikka, which unfortunately, closed down last year. Luckily, there are still other websites and applications that fill the void left by Chikka.
In this article, we'll discuss the various free SMS websites and mobile apps that offer free texting online. We'll talk about the advantages and disadvantages of using each one, and we test each service to make sure that they really work as expected.
AFreeSMS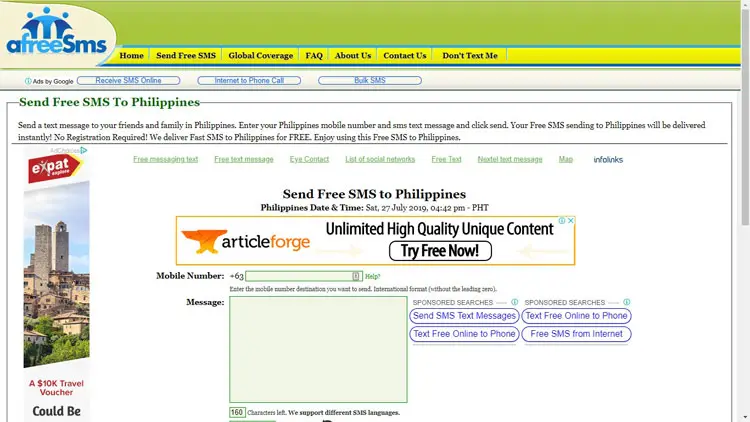 AFreeSMS is a website that offers free SMS not only in the Philippines but also in many countries around the world. It's probably the most visited free SMS website with almost 2 million users every month. AFreeSMS allows you to send unlimited text messages with no restrictions and an easy-to-use online form.
Pros: Text messages are received within seconds, which is quite surprising for a non-local website. After sending the message, a nice confirmation message is shown which shows relevant information such as the date, recipient number, mobile carrier, and the text message. The recipient receives a clean text message with no information that it originated from AFreeSMS.
Cons: The website is full of ads and popups, and clicking the form field generates an annoying pop-under ad. It's also not responsive or mobile friendly, which means that it's quite difficult to use on mobile phones. There's no option to enter your name and mobile number, so you may want to include them in the text message.
TxtLibre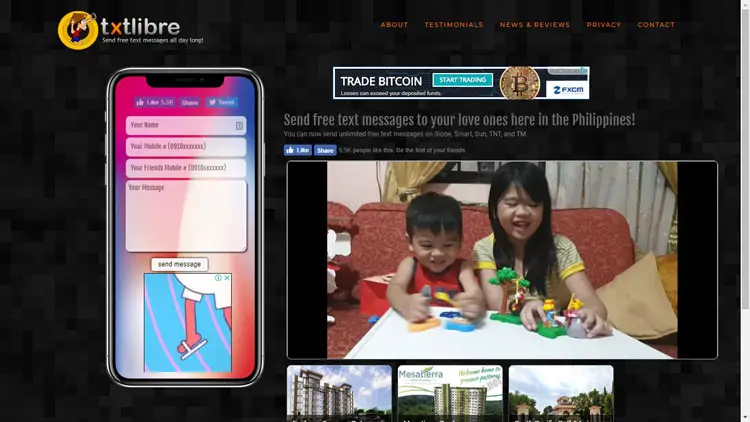 TxtLibre is a relative newcomer which is fast becoming a popular choice among Filipinos who want to send a free text message. The website has an unassuming design with a large graphic of a mobile phone where you can enter your details.
Pros: TxtLibre allows you to input your name and mobile number so that the recipient knows who the real sender is. There is no captcha code so sending a text message is easier than the others. You can send unlimited text messages and they arrive in less than a minute.
Cons: It often shows a "network busy" message with an instruction to reload the browser. An auto-play video is shown, which consumes precious bandwidth. The resulting SMS includes a message that it came from TxtLibre.
MagTXT
MagTXT is another well-used website for sending free SMS in the Philippines. MagTXT claims to be run by a team of experts in mobile technology and software development. Upon visiting the MagTXT website, you will see a bunch of articles about almost everything under the sun, but on the top-right portion of the page, you will see a blue button that says, "Free & Unlimited SMS/Texting." Clicking that button will reveal a web form where you can enter your name, recipient's mobile number and message.
Pros: You can include your name, which lets the recipient know who the sender is. You can send as many text messages as you possibly can.
Cons: Text messages often take a long time to arrive, ranging from a few seconds to several hours. The user has to click a button on top of an ad in order to show the form. The received text message mentions the MagTXT website.
FSMS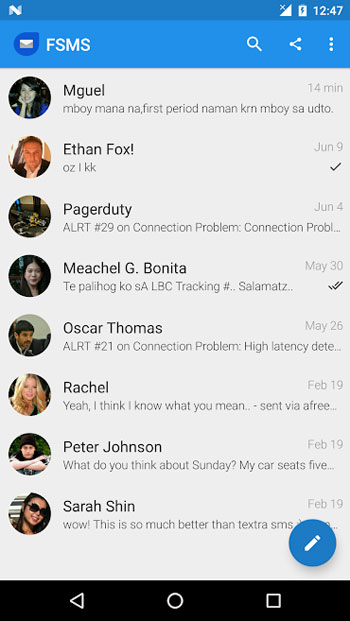 FSMS is an Android mobile app with half a million installs that allows you to send free text messages to the Philippines, even if you're outside the country. FSMS can access your phone contacts for easy sending of messages (without entering the number). Aside from that, you can block unwanted messages, backup and restore your messages, and password protect your conversations. There's no sign-in option yet.
Pros: Text messages arrive quickly in a minute or two. Has several useful features that make it a little similar to the defunct Chikka app, such as phonebook access. It also allows you to switch between regular SMS mode (using the SIM card) and free SMS mode (using FSMS service). FSMS has an option to activate delivery reports to know if your recipient has opened your message.
Cons: The app constantly nags you to make FSMS your default SMS app. Shows annoying ads when you compose a new message. You are allowed to send up to 40 SMS per day only.
PreText SMS
PreText SMS is a Filipino-made Android messenger app that provides free texting to all mobile networks in the Philippines. You can set PreText SMS as your default messaging app to manage, synchronize and backup all your text messages.
Pros: PreText SMS has a two-way messaging features that allows your recipients to reply to your message directly and you will immediately receive it in your app. Has several great features such as quick access to contacts, easy switching between free and SIM modes, blocking of unwanted messages, and SMS backup and restore. Text messages are received within seconds.
Cons: Just like most free apps, PreText SMS shows ads prominently especially after sending a message. It has a premium subscription for ₱279 monthly or ₱105 weekly where you can send unlimited free SMS with no annoying ads and surveys (at the moment, the free version only has 20 free SMS per day).
UnliPinas
UnliPinas is a new challenger in the free SMS market. The app has a neat and clean interface with a simple and user-friendly design. You can send unlimited text messages and when your recipient replies, his or her message will go straight to your UnliPinas app. It cannot be set as a default SMS app, however.
Pros: Unlike other free SMS apps, the UnliPinas app allows you to send as many text messages as you want. It can also access your phonebook, and has the option to block messages.
Cons: The app shows full-screen ads after opening messages. The names of your contacts are not shown in the messages list, which could cause confusion. Messages often take a long time to arrive (usually in 2-5 minutes). The app lacks several features that other free text apps have, such as password protection and SMS backups.
Final Words
With these free SMS websites and mobile apps, you don't have to worry if you ran out of load and you need to send an urgent text message. All you need is a working Internet connection to text your friends, family and loved ones at no cost to you. OFWs and foreign residents who want to keep in touch with their loved ones in the Philippines may also find these free SMS services useful.
If you know a website, online platform or application that provides free texting to mobile subscribers in the Philippines, just let us know by contacting us or writing a comment below.